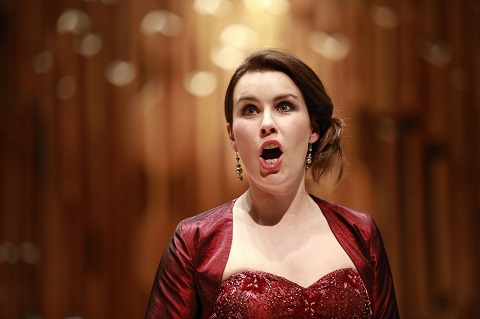 Haydn's 'Representation of Chaos' from The Creation was a fitting
opener, presenting as it does both mysterious obscurity – what Charles
Burney described as 'organised confusion' – and the explosive brilliance of
the birth of Light. Here, sharply defined woodwind sparkled tantalisingly
within the sonic darkness; the slightly raw horn sound and the hard edge of
the timpani evoked an unruliness which was swept aside by the cleansing
power of the fortissimo C-major chord which heralds the blaze of the fire
of heaven – a truly divine musical moment. Bass-baritone's Henry
Waddington's 'And in the beginning' was coloured by quite liberal vibrato,
slightly at odds with the orchestral delicacy and reticence, and the
Classical Opera Chorus's gentle sotto voce delivery of
'And the spirit of God mov'd upon the face of the waters', but
subsequently Waddington was a bolstering presence alongside tenor Stuart
Jackson (as Uriel).
Photo credit: Benjamin Ealovega
Source: Opera Today