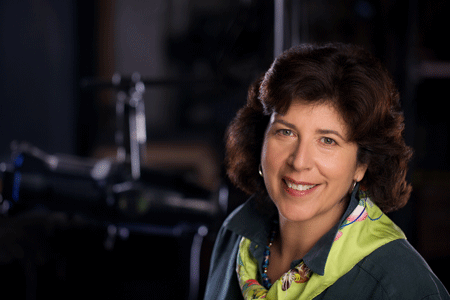 As one of opera's most important contemporary leaders and contributors, Artistic and General Director Francesca Zambello has directed in the world's most prestigious opera houses. That she personally brings her same considerable gifts and artistry to bear with Robin Hood in the rustic Cooperstown Theatre Barn speaks volumes of her belief in, and commitment to this important outreach and developmental program. Ms. Zambello has motivated her large, talented cast of teens, tweens, and Young Artists to a consistently engaging performance level, and has melded them into an enviably focused, energetic, seamless ensemble. She is ably abetted in this pursuit by inventive choreographer Eric Sean Fogel.
Composer Ben Moore and librettist Kelley Rourke have provided a wealth of witty material. Mr. Moore's score is eclectic and accessible, a pastiche of secco recitative, bel canto arioso, Rossinian choruses, and even an occasional dash of classy Disney. Ms. Rourke's tongue in cheek script, while clearly advocating environmental protection and a moral high ground, never lectures or scolds, but rather makes its point with heart and humor.
Two exceptional Young Artists anchored the show and inspired their young cast mates to the same high level of execution. Zachary Owen's flexible, rich bass was a fine fit for the comically nefarious Sheriff of Nottingham. His charismatic stage presence made him a physically appealing, merrily melodious, musically satisfying villain you love to hate. As Robin Hood's avian adviser Scarlett, Kayleigh Decker was given some of the loveliest passages in the piece, and she responded by lavishing them with an alluring, warmly scintillating soprano. Ms. Decker is the "conscience" of the plot and her consistently poised presence and polished singing were eminently enjoyable.
Young Henry Wager was the captivating title character, with all the appeal of a young Michael J. Fox. Mr. Wager has a secure, pleasantly reedy voice and his assured singing, especially of some tricky harmonies, was a real asset in the afternoon's success. His Maid Marion, Catie LeCours was a tomboyish delight, but when she modulated her secure belt voice and went into the upper ranges, Ms. LeCours showed off a floating, flutey soprano. These two leading players are too young to have a "love duet," so let's call it a "like duet," a very pleasant, tuneful exchange which the pair made into one of show's highlights, right down to the tender, unembarrassed hug at the selection's finish.
Morgan Hill-Edgar's accurate singing as King Richard revealed a serious, focused performer of real promise. Jackie the Janitor and Ronnie the Riveter were impersonated with infectious gusto by Andrew Pulver and Shane Bray, respectively. Maria Noto played the Scout with determined intent; Rachel Powles "played well with others" as Sam the Scribe; and Molly Bello was a willing accomplice as Jo the Jailor.
David Moody conducted with relaxed enjoyment, as Aurelia Andrews accompanied at the keyboard with flair and color. The Youth Chorus was well prepared by Tracy Allen. Although not on the Festival main stage, all the technical elements were of the same high caliber, with Ryan McGettigan's eye-catching scenery leading the way. The cut out trees were cleverly covered with newspaper collages, and the leaves were artistically hung squares of green material. A forest "floor" of gradated platforms facilitated a good selection of levels for varied stage pictures, as did a ruin of a tower stage right.
Peter W. Mitchell has devised a most effective lighting design, one that is especially ambitious and satisfying. His rich use of colors and well-timed cross fades and specials added considerably to the achievement. Last but not least, Sophie S. Schneider's spot on, imaginative costumes were a riotous blend of hip-rustic chic, and rowdy, villainous audacity. The Sheriff's electric blue suit with the shockingly contrasted accoutrements was a knockout.
That the audience responded well to this "world premiere" creative outreach concept is evidenced by the fact that performances of Robin Hood are regularly selling out. What a meaningful way to engage young people in opera. What a hopeful program to provide students and parents alike a gateway experience to becoming lifelong operagoers. If the art form is to sustain, much less thrive, Glimmerglass Festival is providing a potent Survival Guide, along with a jolly good show.
James Sohre
---
Cast and production information:
Sheriff: Zachary Owen; Robin Hood: Henry Wager; Scarlet: Kayleigh Decker; Marion: Catie LeCours; Scout: Maria Noto; Jackie the Janitor: Andrew Pulver; Ronnie the Riveter: Shane Bray; Sam the Scribe: Rachel Powles; Jo the Jailor: Molly Bello; King Richard: Morgan Hill-Edgar; Conductor: David Moody; Director: Francesca Zambello; Choreographer: Eric Sean Fogel; Set Design: Ryan McGettigan; Costume Design: Sophie S. Schneider; Lighting Design: Peter W. Mitchell; Youth Chorus Master: Tracy Allen; Pianist: Aurelia Andrews

Source: Opera Today