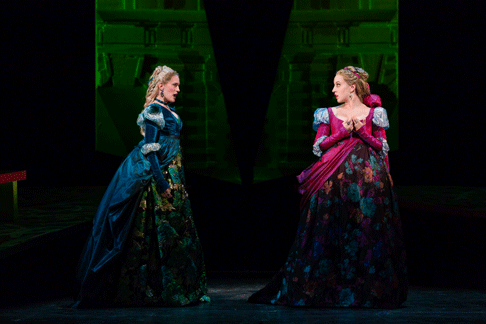 Someone seemed to have lost about thirty minutes of music.
That does not mean the production was not exceedingly enjoyable. It most certainly was. But for Handel purists this opus may have seemed more like heavy hors d'oeuvres than a hearty main course. I am far from being a Xerxes scholar but as my seat mate said at intermission, "I enjoyed the A sections, but kept waiting for the B-A to follow." Na, ja, I will stop talking about what I "think" wasn't there and focus very agreeably on what was.
Tazewell Thompson has directed the proceedings with invention, dimension and great attention to detail. Mr. Thompson finds wonderful variety in the interaction of his colorful characters, and moves the cast around with purpose and motivation. He has fostered an impetuous spontaneity in crackling confrontations, and invested more introspective musing with a brooding serenity. And it must said, he coaxed Arsamenes and Romilda into some pretty uninhibited smooching. Tazewell has been well served by his design team in creating a majestic sweep, and providing engaging visual interest that enlivened what could have been a static event.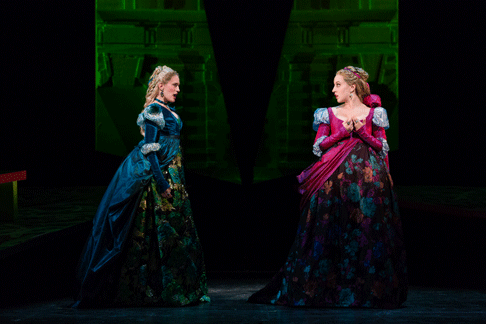 Katrina Galka as Atalanta and Emily Pogorelc as Romilda
Set designer John Conklin has fashioned a modular concept of changeable beauty, constantly morphing configurations of floating, slightly raked platforms that are decorated with Pollock-like swirls and colors. Angled, disjointed hanging flats with architectural details in relief vie for position in Mr. Conklin's settings, and he has anchored the whole with a floating, silver tree of life symbol. This crafty image first transforms into a piece of jealous iconography with blood red roots, then makes a cheeky commentary when it next appears, as completely upended as are Xerxes' love relationships. The totality of his design look is underscored with popping, fire red accents of platform edges, stairs, or picture frames.
Sara Jean Tosetti has provided a truly sumptuous costume design, her lavish attire not only delighting the eye, but also tellingly defining the characters. With his accomplished lighting, Robert Wierzel was another conspicuous conspirator in the design team's accomplishment with a sensitive, fine tuned plot of color washes and precisely calculated specials. I must also acknowledge that make-up and hair designers J. Jared Janas and Dave Bova provided another effective 'look' as they did for the entire Festival.
Conductor Nicole Paiement led a pulsating account of the score, brimming with inner rhythmic life and a good variety of appealing colors. Maestra Paiement found a captivating humanity in the score and inspired her accomplished soloists in turn to sensitive and propulsive vocalizing. The accommodating orchestra could not have been bettered with especial kudos reserved for the "Team Xerxes Continuo": Katherine Kozak (Harpsichord), Ruth Berry (Baroque cello), Michael Leopold (theorbo, Baroque guitar), and Spencer F. Phillips (bassoon).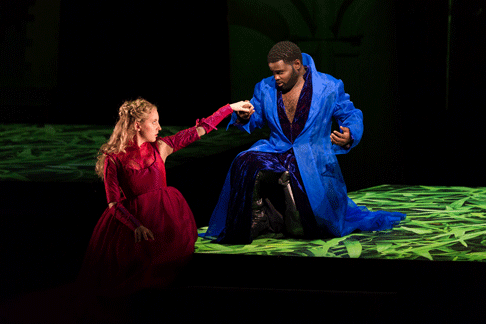 Emily Pogorelc as Romilda and John Holiday as Xerxes
Counter tenor John Holiday, Jr. keeps going from strength to strength. Mr. Holiday was every bit the titular star the evening required, not only singing with haunting, piercing beauty, but also looking every inch the heroic persona. John's handsome presence and resplendent vocalizing added up to a memorable achievement. The excitable and exciting Allegra de Vita gave him powerful chase with her fiercely sung Arsamenes. Ms. De Vita was adept at hurling out vigorous phrases replete with well-modulated coloratura, as well as possessing the skill to gently caress deeply felt legato passages.
Emily Polgorelc found a tragic nobility in Romilda and her elegant, poised vocal impersonation was an aural delight. As the sassy Atalanta, Katrina Galka regaled us with a fusillade of soprano pyrotechnics, her stylish, flexible soprano ringing out with aplomb. Bass Calvin Griffin was a sprightly Elviro possessed of charming vocal and theatrical gifts. Abigail Dock offered an empathetic, fluidly sung Amastris, her characterization enhanced by a most winning stage presence. Brent Michael Smith was the stalwart, solidly voiced Ariodates.
Maestra Paiement provided insightful program notes that informed us Handel deliberately eschewed the da capo format with some of the set pieces. Still, it often felt like something might be missing. Hey though, how often do I get to say that a Handel opera actually left me wanting more?
In the end, this exhilarating Xerxes was a summer delight so entertaining that it was over too soon.
James Sohre
---
Cast and production information:
Xerxes: John Holiday, Jr.; Arsamenes: Allegra de Vita; Elviro: Calvin Griffin; Romilda: Emily Polgorelc; Atalanta: Katrina Galka; Amastris: Abigail Dock; Ariodates: Brent Michael Smith; Conductor: Nicole Paiement; Director: Tazewell Thompson; Set Design: John Conklin; Costume Design: Sara Jean Tosetti; Lighting Design: Robert Wierzel; Hair and Make-up Design: J. Jared Janas, Dave Bova; Continuo: Katherine Kozak (Harpsichord), Ruth Berry (Baroque cello), Michael Leopold (theorbo, Baroque guitar), Spencer F. Phillips (bassoon)
Photos © Karli Cadel/The Glimmerglass Festival
Source: Opera Today