Barrie Kosky, Intendant (General Director) of Komische Oper Berlin, has built his company's considerable reputation on a series of highly regarded, outrageous, colourful productions such as their Don Giovanni, Die schöne Helena (Offenbach's La belle Hélène) and fabulous revivals of interwar German operettas like Oscar Straus' Die Perlen der Cleopatra. Debussy's sobering drama of familial dysfunction and abuse, Pelléas et Mélisande, would seem to demand a less exuberant approach, as well it did in a compelling new production which opened Oct. 17, seen here on Dec. 2.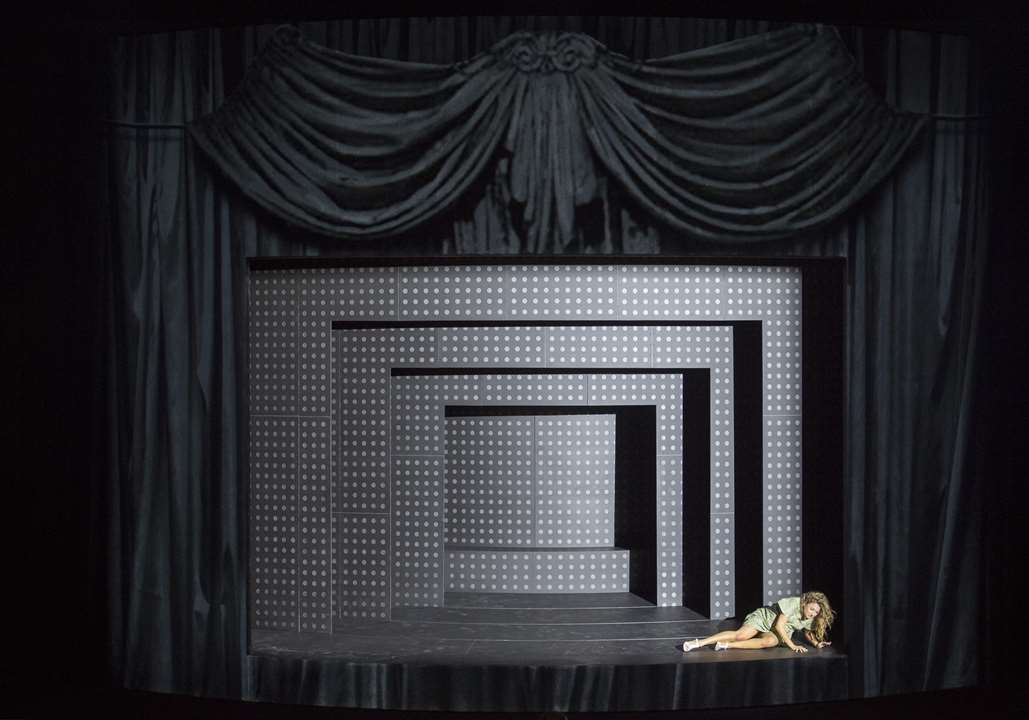 Fluid set
The ingenious, permanent set consists of a series of convex shells of diminishing perspective, a traditional proscenium cut out of each. Characters shift on and offstage by way of a set of stage revolves, allowing the opera's numerous short scenes to seamlessly flow, one to the next. The production's first half references film noir and silent movies with its grainy, jumpy projections and dramatic lighting. Surely Kosky must have intended a Marlene Dietrich reference in the grotto scene where Mélisande sports a chic 1930s head scar as you can almost literally hear her declaim "I vant to valk alone" in the German film icon's trademark accent.
In the second half, things turn unbearably violent, and we switch to the realm of cinema verité as the lighting palette becomes more stark, revealing the ugliness beneath the surface. The stage revolve is used to brilliant effect to reveal the 'family' frozen in an Addams Family or American Gothic-style portrait. After enduring the horrors of physical abuse and fratricide, Mélisande physically moves each character back to their rightful places in the 'portrait'—a desperate attempt to restore normalcy to an irreparable situation.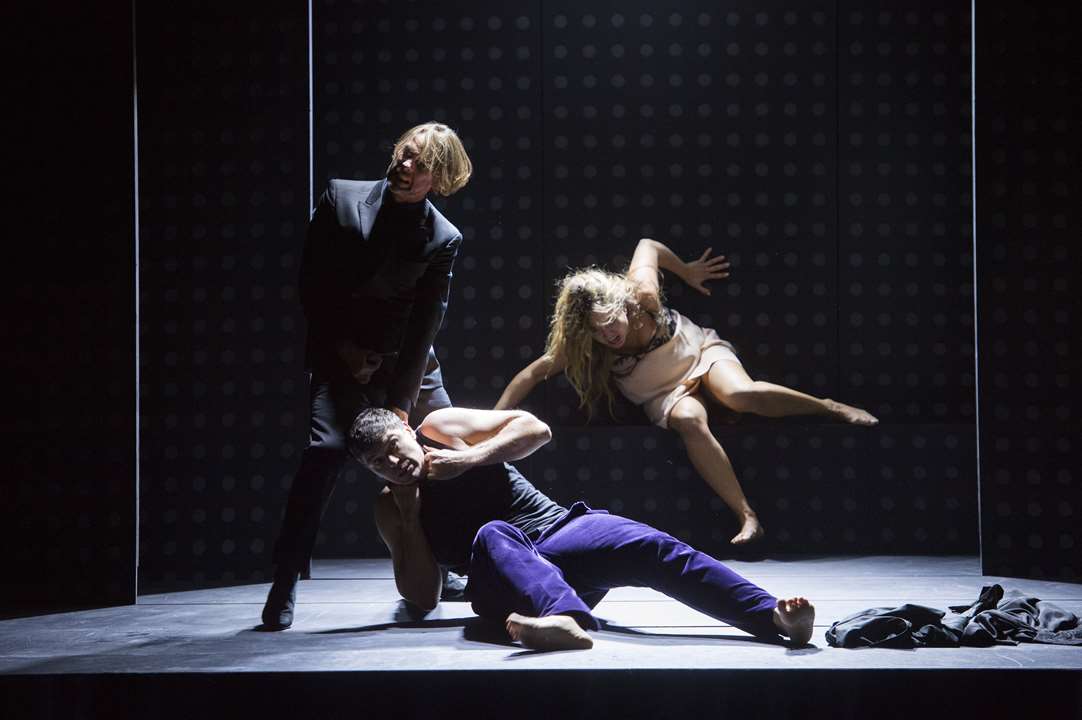 Disturbing characterizations
In a uniformly strong cast, the standout was baritone Günter Papendell as Golaud, absolutely uncompromising and compelling as the older brother who cannot contain his jealousy nor comprehend his young wife's unhappiness. Of all the singers, Papendell handled the reams of notoriously difficult text with the greatest command. The colour of the French language, while entirely determined by its distinctive vowels, still demands consonants be uttered crisply and cleanly to achieve maximum comprehension. Papendell achieved this and more by bringing the language alive with his deep understanding of its cadence, enlivening its sounds with well-considered dramatic intent.
The other performers fared less well in this respect. While soprano Nadja Mchantaf gave of herself unstintingly as a young woman trapped in a house full of male abusers, her astonishing physicality was not entirely equalled vocally. Beauty of sound often dominated textual clarity—a uniformly veiled tonal quality masked clear vowels which, coupled with missing consonants, resulted in a less than complete portrayal.
British baritone Jonathan McGovern's Pelléas enters as the nebbish younger brother to Golaud—there is no mistaking his low status in the pecking order of this household. Saddled with this characterization, it is a little difficult to understand why Mélisande is drawn to her husband's brother but then again, in this piece, none of the relationships are easily defined. McGovern's lightish, tenorial tone is well-suited to Debussy's cruel vocal demands which presented him no particular hurdles. If the last ounce of 'face' was missing from McGovern's portrayal, again it could be that his inflection of the text was just a bit too uniform, resulting in a wash of sound that failed to unlock the libretto's full dramatic potential.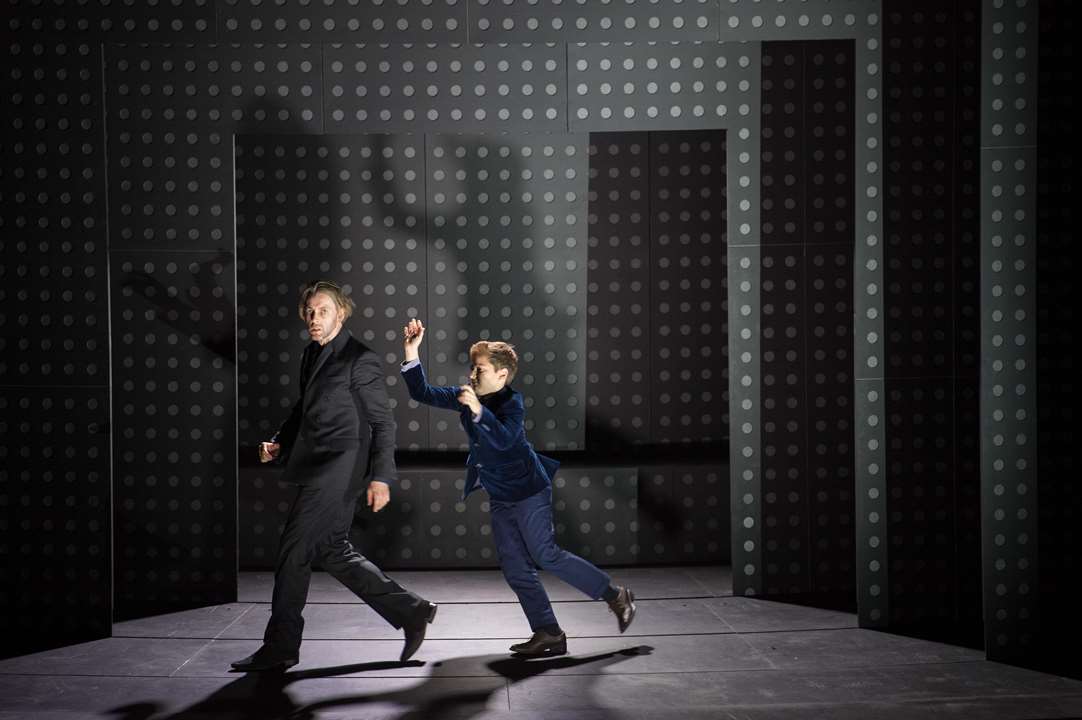 On the other hand, bass Jens Larsen intoned Arkel's seemingly benign lines resonantly, yet with absolute clarity. Kosky's repulsive characterization requires him to physically abuse a fully-pregnant Mélisande. Mezzo-soprano Nadine Weissmann delivers Genèviève's recitation of Pélleas' letter at the opera's start with great beauty of tone—she is a concerned, but ultimately ineffectual presence throughout, unable to intervene in the abuse that infects her household. Boy soprano Gregor-Michael Hoffmann was astonishing as Yniold—in any production, always disturbing as Golaud's victim son/pawn/spy—here, a ruined, nail-biting mess who nevertheless sang with clear, carrying tone.
A Toronto conductor makes his mark
It is hard to imagine this was Canadian conductor Jordan de Souza's (Kapellmeister at the Komische) first time conducting Debussy's challenging score. His vocal accompaniment was always fully supportive yet never overwhelming. The pacing seemed just right and the sound was allowed to bloom and crescendo in the dramatic orchestral interludes when required. Individual instrumental solos emerged with clarity and purpose.
Ultimately, this Pelléas succeeded on the strength of its dramaturgy—a concept fully of its time yet simultaneously timeless in the universality and applicability of its message.