When you have a known quantity that is as successful as Mozart's Le nozze di Figaro, one of the most frequently performed operas in the world, why mess with a good thing? After all, you have a strong story told by great characters, and fantastic music. Challenge accepted by Calgary-based Cowtown Opera. The company's mandate is to explore the intersection of classical and popular culture with innovative and contemporary performances in English. The result is a hilarious production of Figaro's Wedding, which combines Mozart's music with a cheeky, modern-day libretto by Joel Ivany.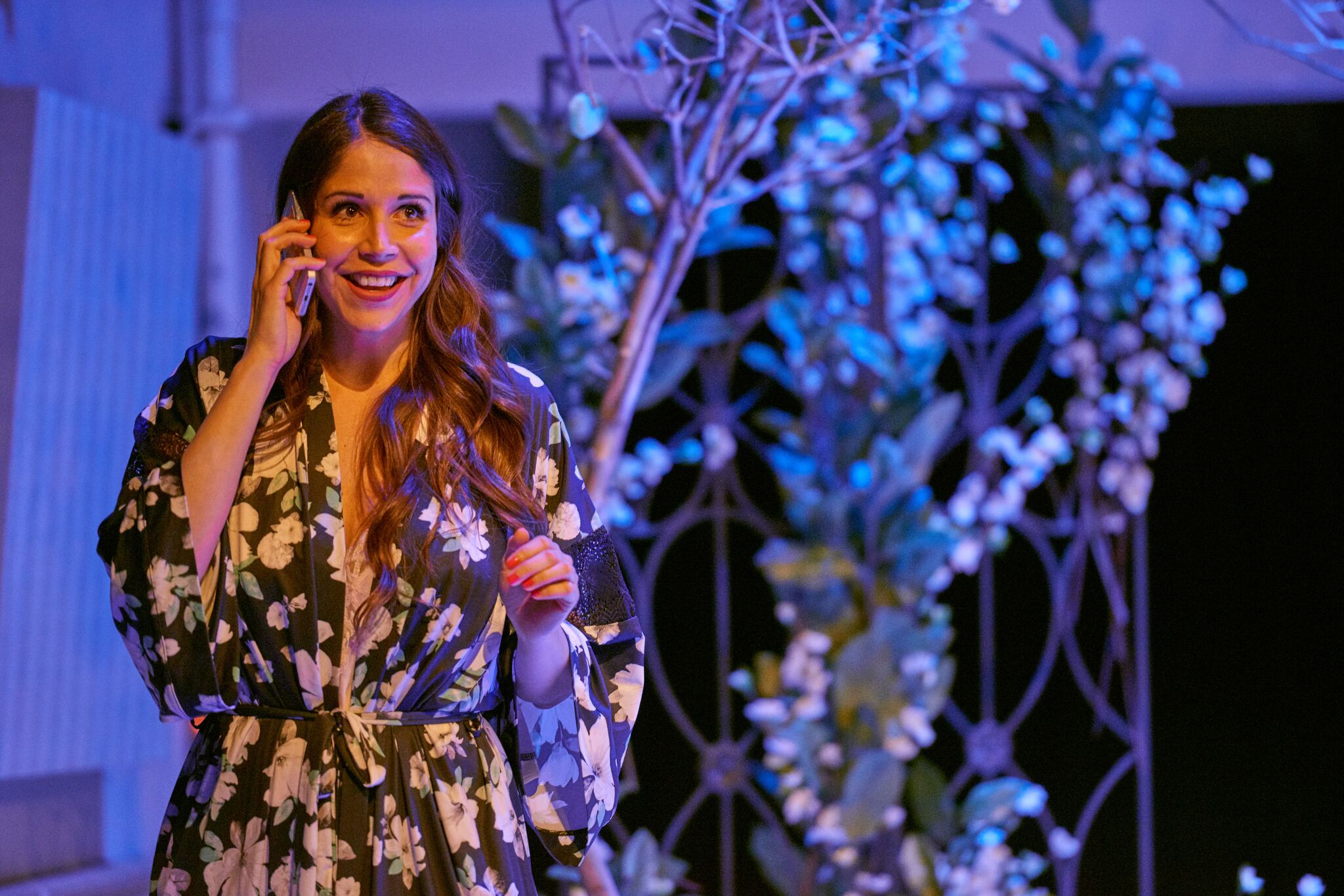 Cowtown Opera brings proven adaptation to Calgary
Figaro's Wedding premiered at Toronto's Against the Grain Theatre in 2013. On this night, Figaro's Wedding proved to be an effective vehicle for Cowtown Opera to offer a unique operatic experience in Calgary. Ivany doesn't stray too far from the original story at the heart of the opera. Figaro and Susanna are still getting married. Figaro's wealthy boss still has the hots for Susanna, while his wife, Rosina, conspires with Figaro and Susanna to expose his treachery. And Cherubino still has feelings for Rosina. Still with me?
Bring in the adaptation. Susanna is not so much Rosina's maid as her BFF. The lusty Count Almaviva and his gardener Antonio are melded into one character named Alberto. Basilio is a penny-pinching wedding planner instead of a music teacher. Text messaging is an important vehicle to advance the story. And Cherubino ('Bino for short) is cast as a lesbian, instead of a girl playing a boy. How's that for putting a well-known pants role on its ear?
Saucy textual updates in Cowtown Opera Figaro
Mozart's score is still left largely intact. Figaro's Wedding is a greatest-hits compilation from Le nozze di Figaro, so you still get arias such as 'Voi, che sapete' and 'Non piu andrai.' But the adaptation means a new libretto by Ivany to fit a reimagined premise. When in opera do you hear the lyrics "what a horny little girl!" or, "Your smacks are a spicy treat!"? I'll leave it to your imagination to guess the context in which those are sung.
Cowtown Opera's venue is the intimate Mamdani Opera Centre, a converted church in downtown Calgary that serves as the administrative and rehearsal headquarters for Calgary Opera. And yet, director Aaron Coates makes brilliant use of its limited space, using the converted sanctuary, a balcony and an adjoining room to full advantage. Coupled with intelligent lighting cues by designer Lisa Floyd, the result is a dynamic, interactive experience for the audience.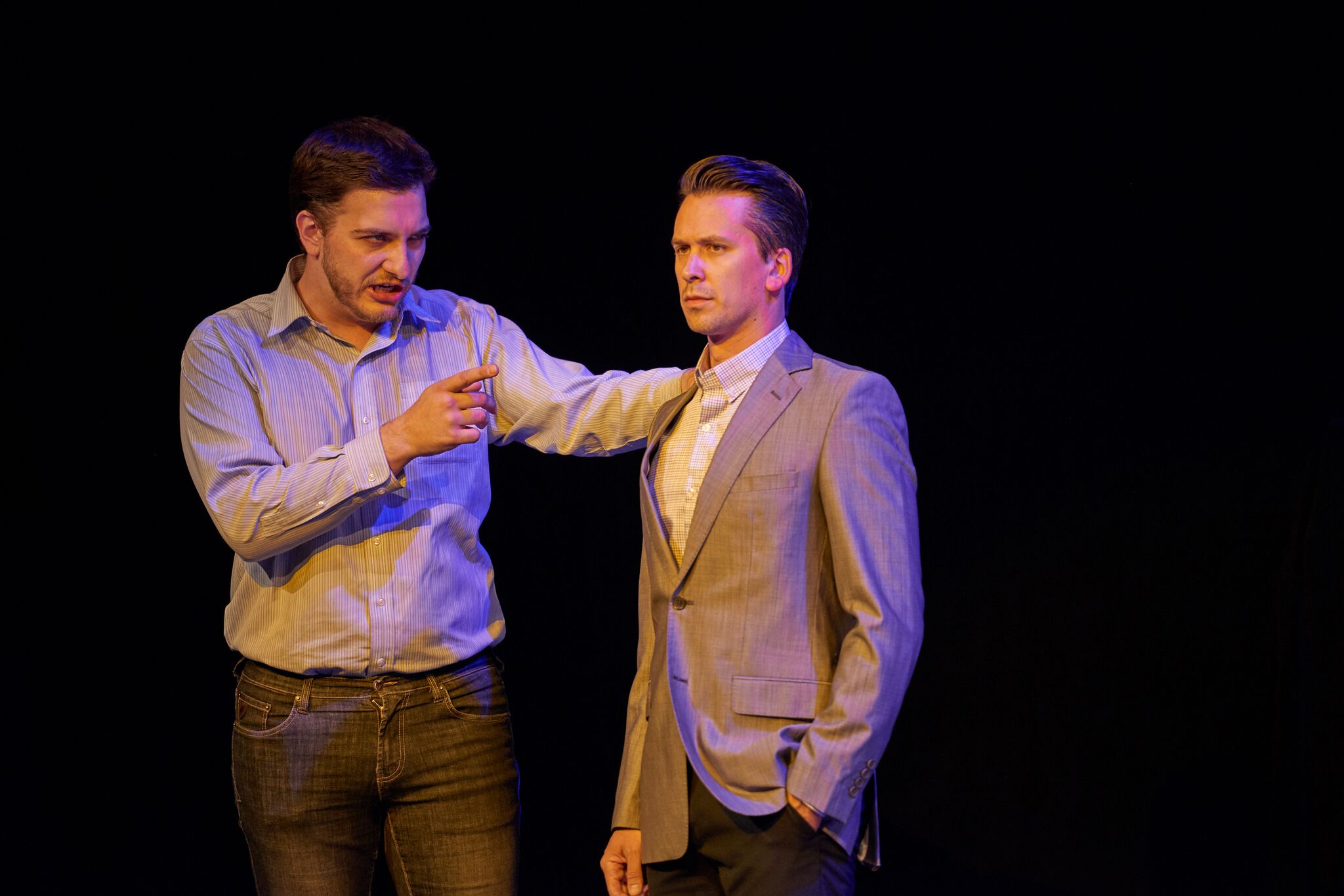 Of course, it is the singers who have to sell the performance by weaving the experience of Mozart's music with Ivany's new libretto. As the titular Figaro, bass-baritone Ian Fundytus offers an honest, expressive interpretation. Fundytus' secure, warm tone is well-suited to the role. And while his higher notes may have been a little laboured on this night, Fundytus excels with his natural, committed acting; his movements and gestures are reminiscent of Jimmy Fallon in a comedy skit.
Natalie Callander is a charming Susanna opposite Fundytus' Figaro. Blessed with a bright, sweet soprano, Callander offers an endearing performance of a young bride dealing with the pressures of her wedding day. And while her voice is on the small side compared to the rest of the cast, she makes great use of the physical space, her vibrant tone ever consistent and she excels in the duets and larger ensembles. Of note, Callander's delivery of the aria 'Deh vieni, non tardar' (reimagined with new lyrics) was a highlight, her vocalism strong and secure within the two-octave demands of Mozart's music.
The supporting characters make the most of their limited time on stage. Tenor David Fertal is fabulous as the flamboyant wedding planner Basilio. Soprano Lisa Mulgrew plays a convincing bill collector turned selfie fiend Marcellina. And baritone Joel Balzun is simply hilarious as Bartolo, the priest who presides over Figaro and Susanna's wedding. Ivany's plot twist involving Marcellina, Bartolo and Figaro is especially brilliant, or dare I say legendary, as are the homages to the popular television show How I Met Your Mother.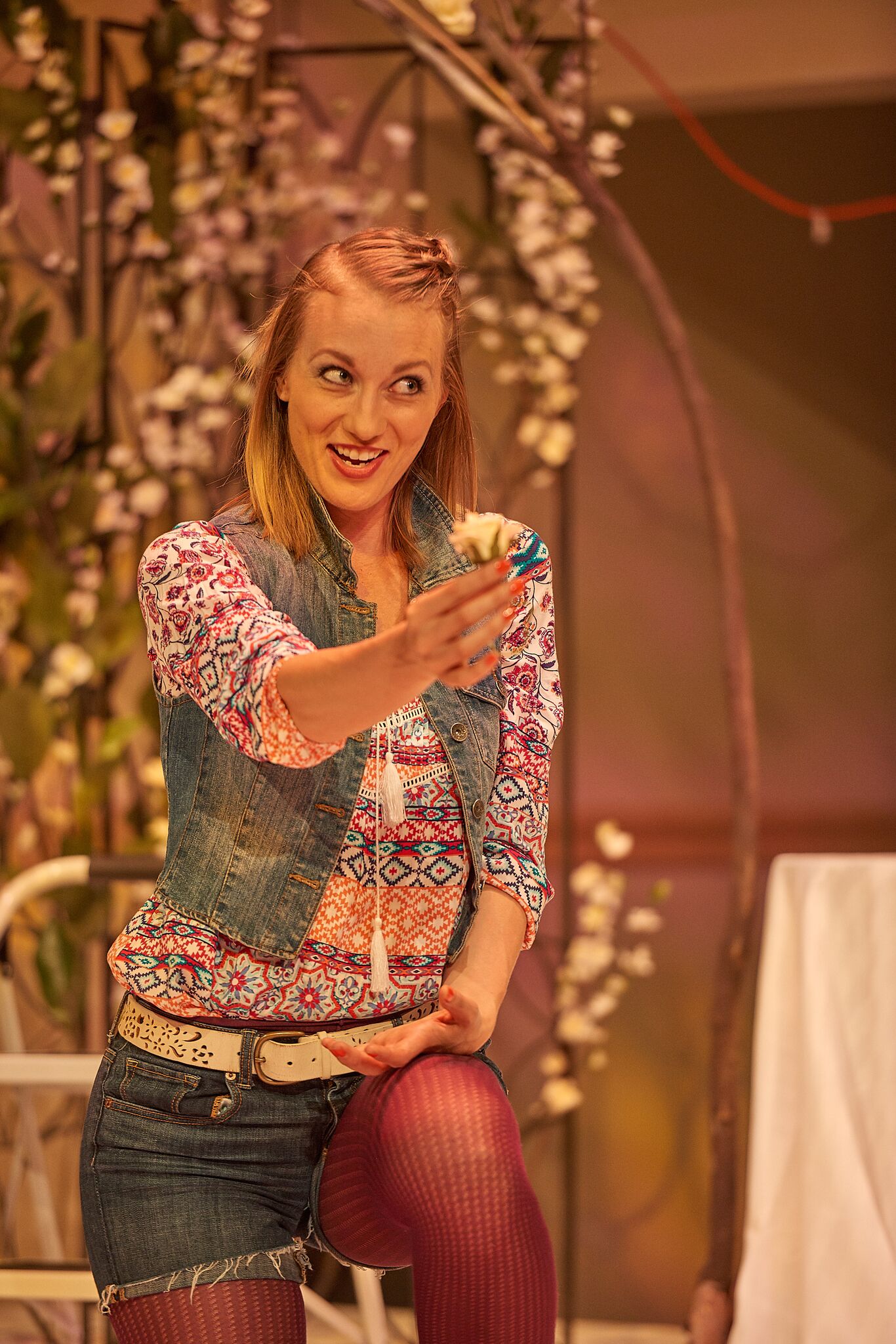 Courtney Murias a cast stand-out in comic role of 'Bino
On this night, mezzo-soprano Courtney Murias was a standout performer as 'Bino. One of the stronger vocalists in the cast, Murias is adorable in her largely comic role; she commits well to the role's various personas including lovesick lesbian and drunken bridesmaid! Her warm, secure tone never wavered; her delivery of Ivany's adaptations of the arias 'Non so piu' and 'Voi, che sapete' was vivacious and confident.
Soprano Jeanine Williams shines as Rosina, the long-suffering wife of the antagonist Alberto. She offers a polished, well nuanced performance of the Figaro character who possesses the greatest emotional range. Williams conveys Rosina's vulnerability, cunning, anger and everything in between in both her acting and singing. At times, she came across as a little precious vocally, but those moments were balanced by sheer brilliance when she allowed her voice to soar with intent and emotion. I fully expect her performance to get even stronger throughout the remainder of the run.
Tyler Fitzgerald oozes sliminess as lustful Alberto
As the main antagonist Alberto, baritone Tyler Fitzgerald is simply impressive thanks to the consistently smooth, silky vibrancy of his singing. Fitzgerald oozes sliminess as he tries to back his underlings into a corner to suit his own lustful purpose; he performed with an undeniably confident swagger that commands attention. His performance is easily the most convincing of the cast.
The strongest musical performance, however, was delivered by pianist Evan Mounce as the one-man orchestra. Mounce handles the challenge of playing a reduction of Mozart's famed score with aplomb, maintaining its charm while never overshadowing his singers.
With Figaro's Wedding, Cowtown Opera offers a clever reimagining of a well-known operatic chestnut, in a fun, energetic and accessible production.