In a spirited defense of Barrie Kosky's widely loathed Covent Garden staging of Bizet's chef d'oeuvre, Edward Seckerson (writing in the April Gramophone) extols it for "essentially reimagin[ing] Carmen for today's sophisticated theatre audience." But does a successful Carmen demand an extensive reworking of the musical text and the introduction of an amplified narrator, speaking in French for an Anglophone audience (as Kosky's staging did), or a bow to the #MeToo surge with a Carmen who righteously offs José with a pistol (as Leo Muscato's recently did in Florence, to comparable controversy)? No, not necessarily—as Paul Curran's gripping new production for Opera Philadelphia (seen May 6) decisively illustrated: its most notable side turn from the usual Carmen course—apart from the currently de rigueur time-and-site transplant, here to "the late 1950s in a nonspecific Hispanic place," tellingly evoked by Gary McCann's designs—was José's suicide after he's dispatched Carmen. That was the cap to the most exciting staging, and performance, of the final scene I can easily pluck from my long memory—one that had me, and most of the audience around me, catching our collective breath.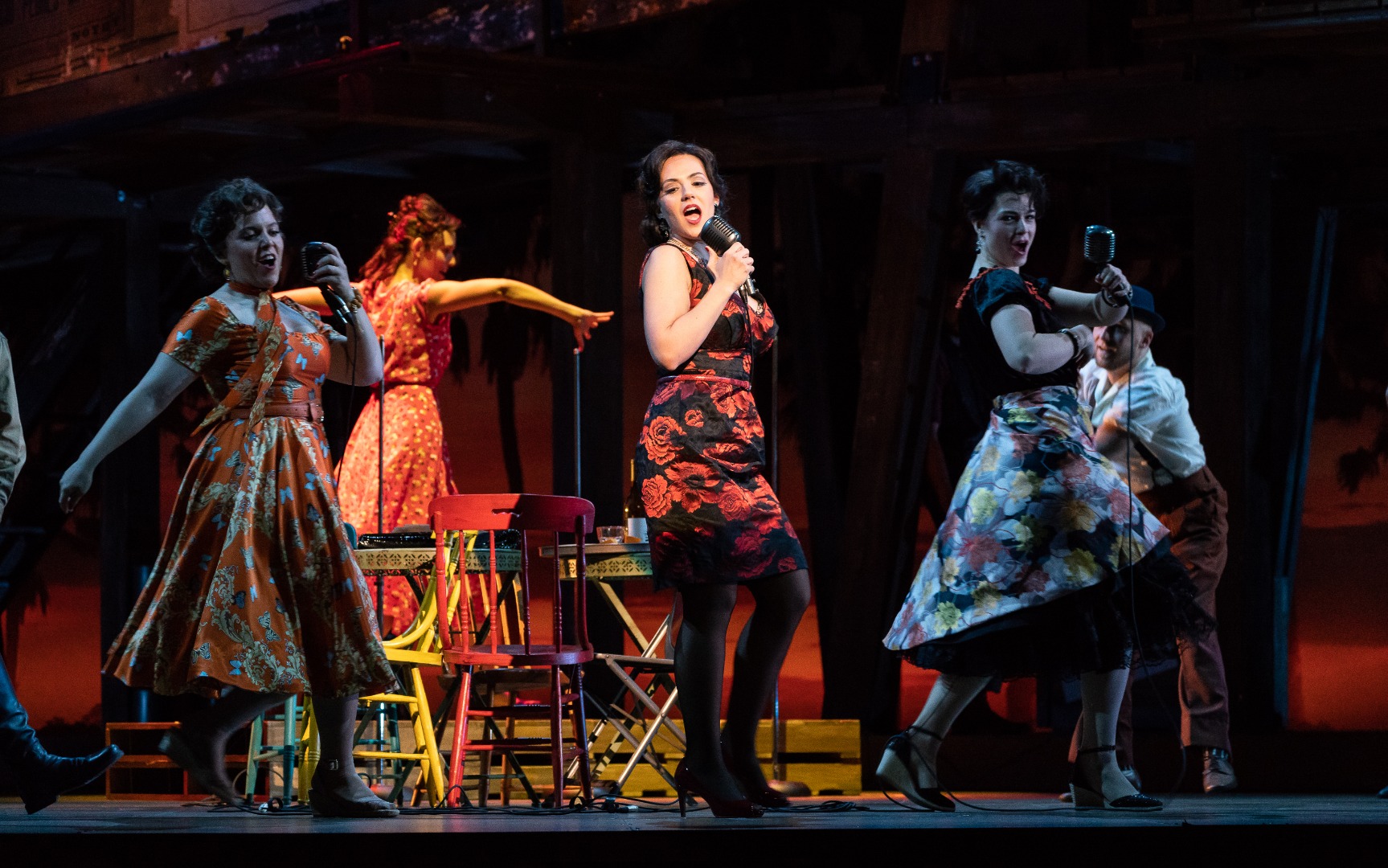 Tenor Johnson provides the vocal goods in Carmen
A good part of the excitement was generated by Evan LeRoy Johnson—of whom I'd never heard prior to this Philly engagement—a tall, blond, hunky Minnesotan with a shining spinto tenor and an easy but compelling command of the stage, and a technical finesse that allowed him a laudable soft ending to a perfectly shaped Flower Song. Sometimes nervously fidgety, sometimes loadedly still, his José ranks right up there with the best I've seen and heard (and that elite list includes, chronologically, Gedda, Vickers, the young Domingo, Alagna, and Jovanovich).
His femme-fatale foil was enacted with equal conviction by Daniela Mack, who may not have provided the vocal clout of, say, Rachvelishvili or Margaine (to name two leading recent exponents of the role) but who nonetheless provided an alert, nuanced reading in which every phrase seemed newly thought and spontaneously uttered.
Kirsten MacKinnon a non-conventional Micaëla in Carmen
As her good-girl rival, Micaëla, the up-and-coming British Columbian soprano Kirsten MacKinnon looked a picture-perfect Catholic girl dressed, for Act I, in her Sunday best for a visit to her big-city beau: in another break from the Carmen-conventional route, it was she who seemed the aggressor in the relationship, with José somewhat reluctantly seconding his mother's firm stamp of approval. (His chaste response to her avidly on-the-lips kiss prompted the first of the audience's many mother-related titters.) Vocally, MacKinnon—like her leading colleagues—had a healthy-sounding vibrato to enhance her fine instrument; unlike theirs, hers occasionally made for a bumpy line, though her shining top notes and winning presence ultimately carried the day.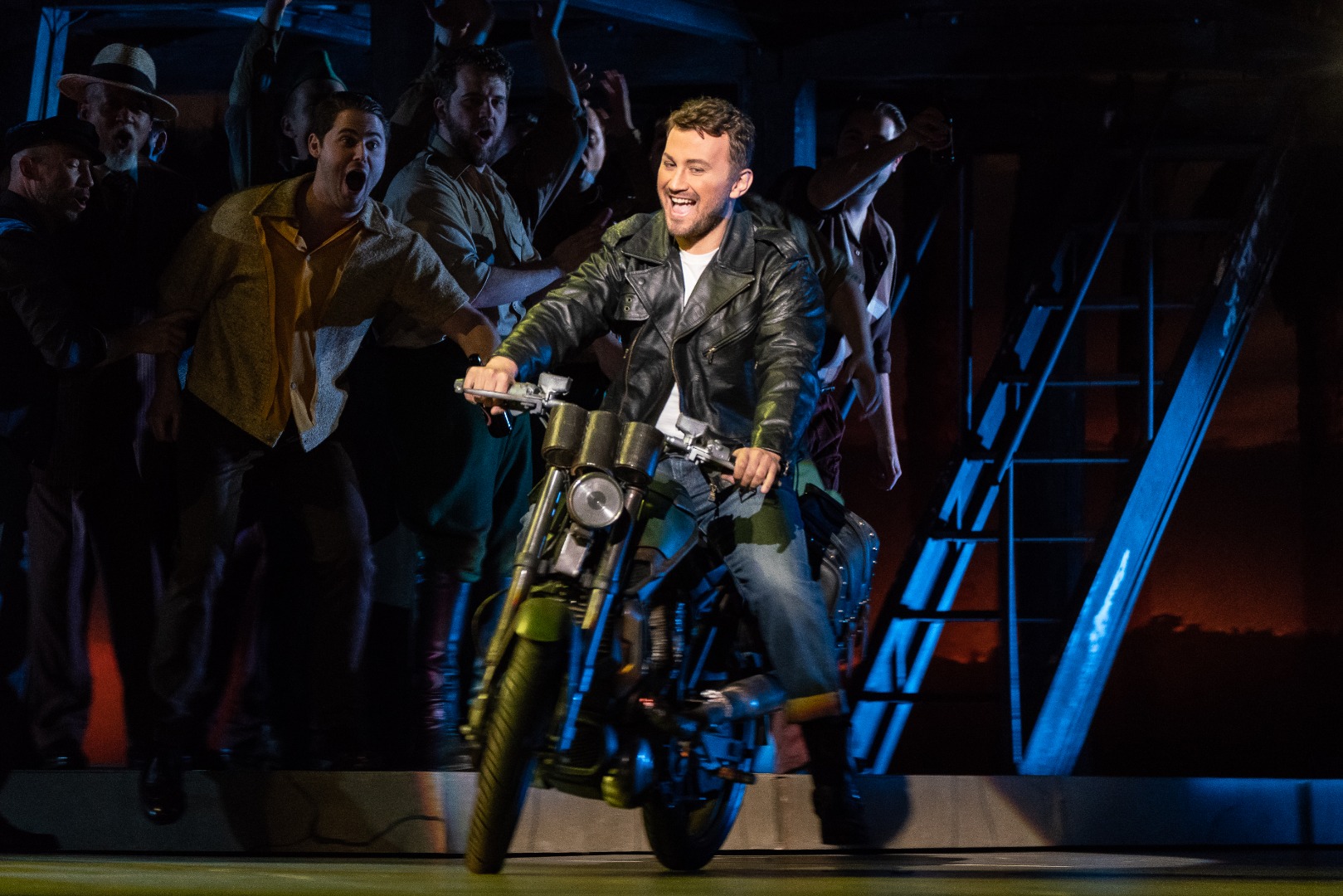 Adrian Timpau—a recent Lindemann Young Artist at the Met, who like MacKinnon has been making international waves—sported a vibrant sound to match his appearance on a motorbike, though an audibly pinched top made the Toreador Song sound no less challenging than it routinely did, and does, to generations of baritones (like him), bass-baritones, and basses. The supporting cast uniformly excelled, as did the chorus, with a special nod due the children of acts I and IV, singing with a sweet brio and uniformity that quite took me by surprise.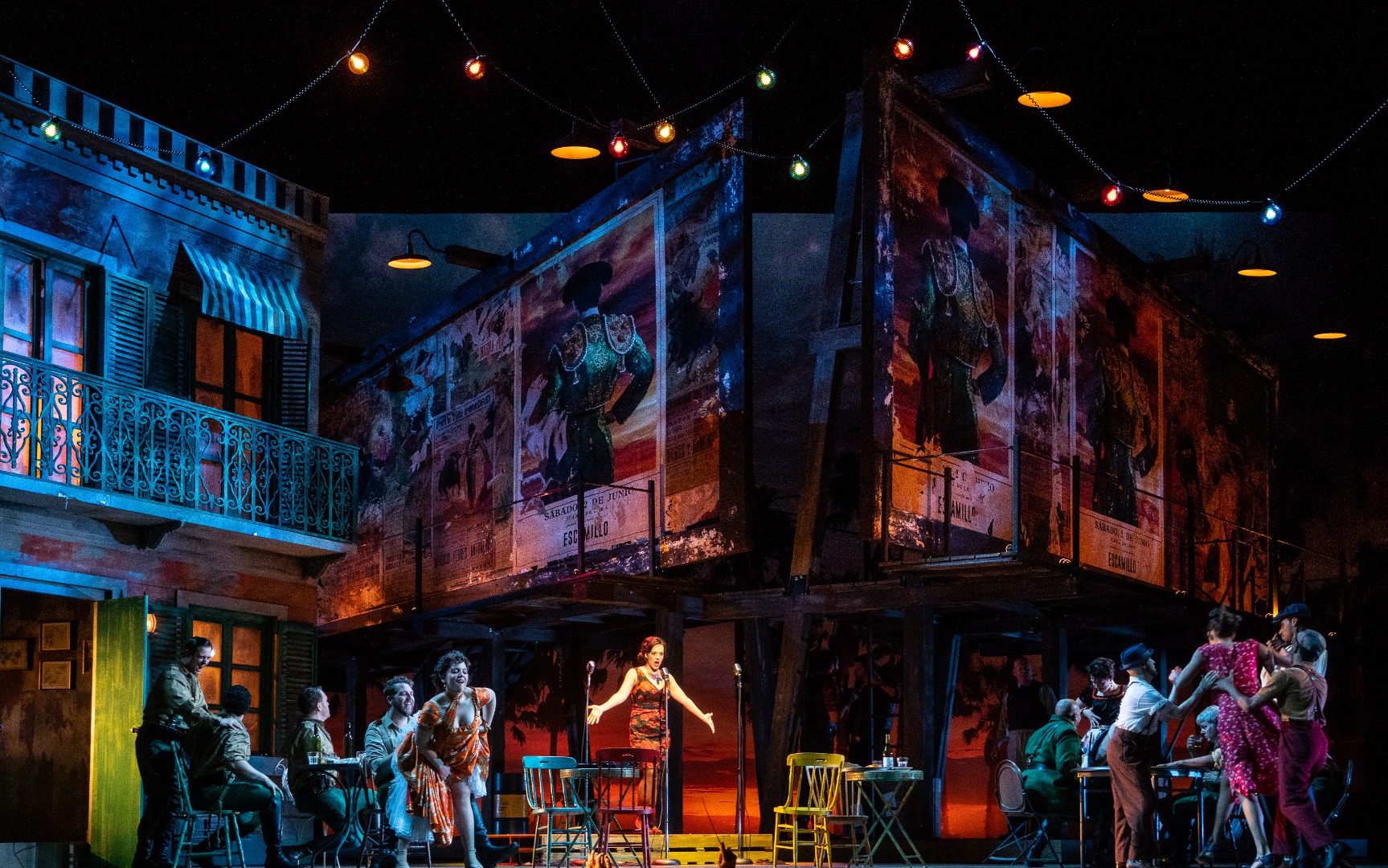 Yves Abel injects spontaneity into the score
In the pit, that well-practiced Carmen man Yves Abel—belying Seckerson's condemnation of the old-fashioned Guiraud recitatives—was surely responsible, in large part, for the lively spontaneity of the performance. I'm guessing it was he who (in tandem with Curran, of course) gave us the alluring pregnant pause before Carmen's "Tra la"s in Act I, and the queasily unsettling transition between the celebratory opening of Act IV and its tragically predestined final scene. The audience, applauding and laughing at will, may occasionally have irritated this veteran Carmen goer, but its distance from what I assume Seckerson meant by "today's sophisticated theatre audience" was a welcome vindication of Carmen's durable ability to entertain, grip, and even shock without going far afield of the composer's and his librettists' way of doing so. Thank you, Mr. Curran, and thank you, Opera Philadelphia, for gambling on so unfashionably cogent a production!