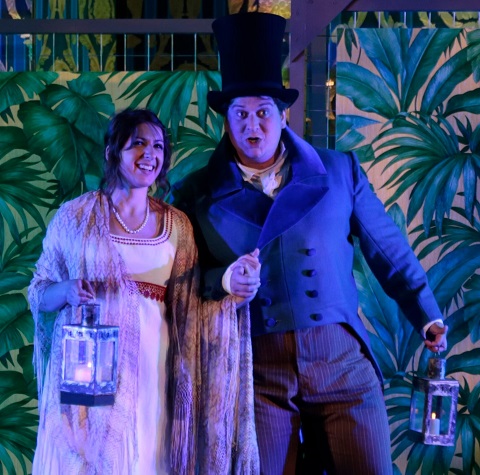 Second, summer downpours having necessitated removal into the Church of St
Mary's, the nave of which was too small to accommodate BCO's set, this
performance at SJSS provided an opportunity to see the opera as envisaged
by director/designer Jeremy Gray, in a simple staging the design of which
evoked the requisite air of intrigue and affectation. Certainly, the
performance which unfolded fulfilled both my cravings; and Gray's set –
exterior stone becoming luxurious damask wallpaper at the twist of a hinge
or two – was beautifully composed and stylishly complemented Vikki
Medhurst's Regency-style costumes. Yet, I came away contemplating the
difficulties of giving performances of a work over a time-span of a couple
of months in several venues (the opera was performed at Westonbirt School
in Gloucestershire in late August) that are so different in dimension,
acoustic and practicability.