A film fad has gripped opera stages all over the world! Directors, trying to inject a sense of forward momentum to the medium, bust out the old camcorder as the quick fix. Sometimes it's to modernize a set, sometimes to gush out a half-baked metaphor. But rarely is it more than a simple gimmick. That is with one notable exception: in 2012 Komische Oper Berlin (KOB) teamed up with 1927, a hybrid animation/theatre company, to present a rendition of Mozart's The Magic Flute constructed exclusively for the silver screen. Helmed by directors Barrie Kosky and Suzanne Andrade, the show makes style of its substance by way of an animated smorgasbord. Singers are plopped into a drawn world and, through carefully timed choreography, mime interactions with the macabre spectres, monsters, props, and sets. The resulting production has emerged as one of the decade's smash hits, touring over 22 cities including LA, New York, and Düsseldorf.
Now it's L'Opéra de Montréal's turn to play host to this modern mish-mash. One that 1927 Co-Artistic Director and animator Paul Barritt conceded was, at the time of its original run, a herculean effort.
"Eight weeks [rehearsal] is a horrifyingly short amount of time. It was just a whirlwind. It was a rollercoaster. We'd never really had a process like that before."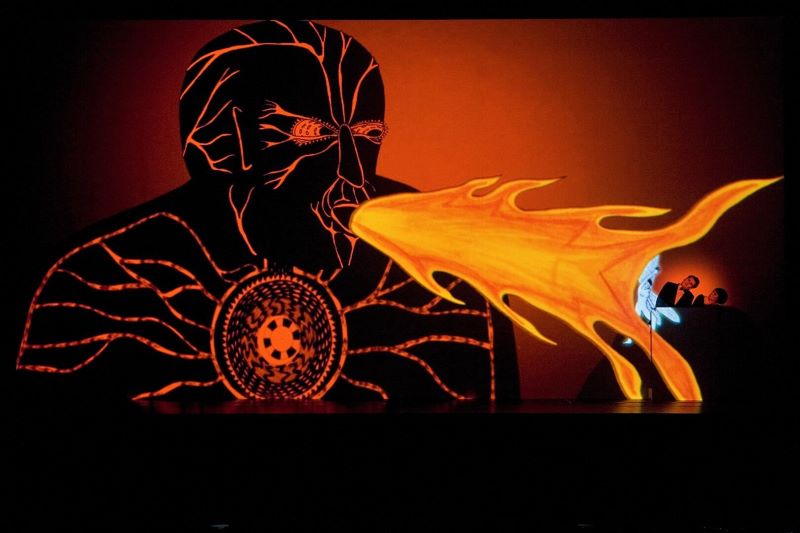 The conceit of KOB's Magic Flute is straightforward enough: performers, moving with clock-like precision, sing in front of an enormous screen fit with platforms and doors of varying heights for singers to pop-out of. Animations are then projected onto this enormous canvas, constructing a fairy tale world and blurring the lines between film and theatre.
"We built it to be pretty fail-safe, we tested everything. Me and Suzanne [Andrade] worked on it for a solid year before the eight weeks, possibly longer," explains Barritt. "We deliberately simplified it." Specifically, the animation and planned blocking were simplified to ensure the smoothest learning curve possible.  
"it's quite a lot of different work from different angles"
But simplified doesn't necessarily mean simple, and while this hybrid style was developed at 1927 well before they were approached by KOB, the scale of the 2 ½ hour piece as well as the need to offer flexibility to the conductor's tempi pushed the studio's formula to its limits.
"The basic conceit of working with animation and live performers was already well in place before Magic Flute, but what we did in [their] Magic Flute was instigate the idea of building all of the films in cues. Every filmed element is cued. Early on in the process Barrie was like, 'you can't just play a film, you can't just play a film. You have to be able to cue it like lights.'" 
"As an animator it was a nightmare," laughs Barritt, and it's not difficult to see why. Animating for flexible timing is a whole other animal compared to the structured pacing of a short film. Still, Barritt recognizes that the cue system he developed was far better at meeting an opera's needs. "We realized that [traditional structuring] was a shit system and we [needed] to start building cues… And so the whole show is built in lots of tiny little films… So you can go fast or slow and the conductor can go fast or slow. As far as the choreography… we just had to teach [performers the] method of acting with the animation… That in itself is a logistical process. To bring all of the elements together, it's quite a lot of different work from different angles."
The choreographic technique can be demanding, but with Kosky's associate director, Tobias Ribitzki at the helm, who has revived the show at OdeM, Barritt is confident that Montréal will have no problem "schlepping" the show to its house.
"Tobias is really good at directing it and it's really his show."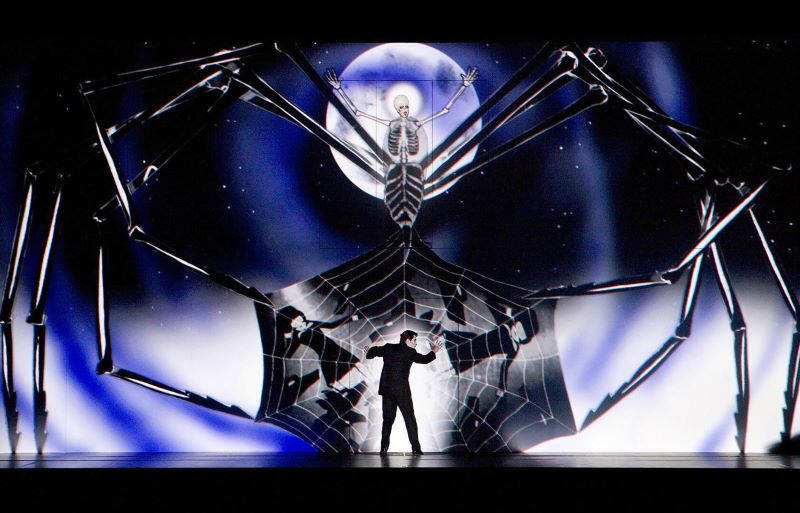 Yet for all the technical wizardry that has earned KOB's Magic Flute praise, technique without taste is moot. Fortunately, this Flute offers a visual aesthetic squarely at the service of its namesake.
"[Barrie Kosky] gave us complete free-reign which was excellent of him." In that free reign, Barritt drew on one of his greatest inspirations: Weimar Cinema.
"It was very much that, that Babelsberg era of film. It's developed out of that, alongside concurrent styles. But with [Magic Flute] in particular we made an early decision to make it like a silent film. There was an early decision to cut all the text and have it written out [on intertitles] like silent films."
Babelsberg, referring to Babelsberg Studios, was the crown jewel of Weimar Era filmmaking, which itself was at the forefront of interwar European cinema. Hollywood's dominance over film was not forgone, and Europe was poised to become a cinematic juggernaut before being crushed by the Second World War. It is, in part, why Hollywood came to be the centre of cinema in the west (Hong Kong and Bollywood notwithstanding). Still, for a brief period Europe stood on equal footing with Tinsel Town in terms of scale, and built itself as fertile ground for experimentation and artistry.
"It's the aesthetic more than anything else… especially the expressionist films."
German expressionism, draped in the cynicism of the First World War, was characterized by bleak, surrealist spaces. Films like Metropolis, Nosferatu, and Das Cabinet des Dr. Caligarii each delved into the realm of nightmares, a realm transposed to KOB's Magic Flute, where the Queen of the Night is conceived as an enormous, menacing spider; jagged, skeletal butterflies poor out of an inky, galactic space; and Pamina is dressed like a flapper, made into a ghoulish, almost Tim Burton-like facsimile of the Roaring 20s.
"For us it's about seeing the hand in the work"
"Because there's no talking it's a lot more gestural, it's a lot more over the top, it's a lot more melodramatic, and we're really into that. And again, Sue's directing style has been born out of really looking at those types of performances."
Performances like those of Buster Keaton, whose pork pie cap and pale visage is paid homage to in Tamino's costuming. That the project was born out of Berlin is especially apropos given that it was German Cinema, not Disney, which birthed animation in film with the earliest surviving animated feature, Die Abenteuer des Prinzen Achmed. 
"I'm actually calling my as yet unborn daughter Lotte after Lotte Reiniger [the director of Prinzen Achmend]," confesses Barritt with a laugh. "So yeah, she's been an influence."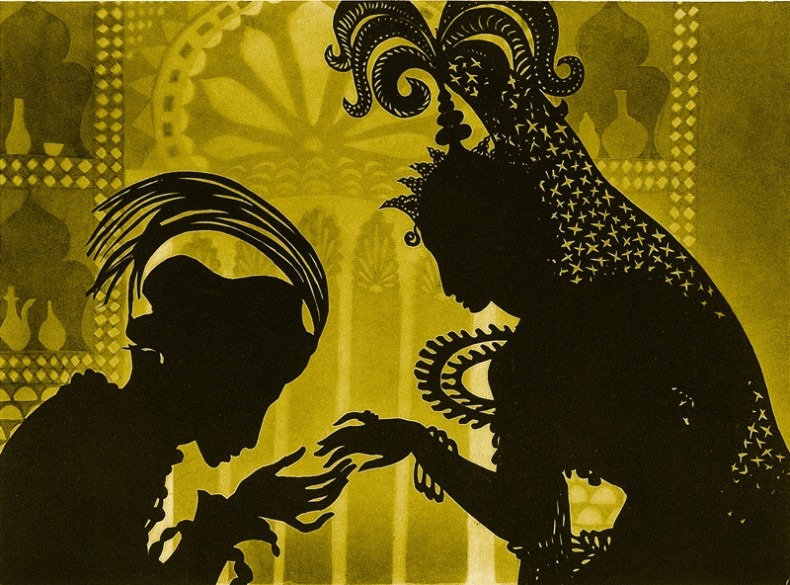 Animation's roots are tied to the human form, with shadow puppetry marking its origins. It is both inspiring, and more than a little romantic, that this history is at the fore of KOB's media-meld in Magic Flute.
When asked why go back to animation's earliest, wonkiest roots, especially at a time when it has become sleeker and more technologically driven than ever, Barritt answers with an emphatic, "because it has got charm."
"For us it's about seeing the hand in the work. Seeing texture, and wonkiness, and text in the work."
It is this texture that makes it a perfect fit for the holistic nature of theatre. One whose charm audiences will have the opportunity to experience in Montréal this month. 
OdeM's The Magic Flute runs May 7 to May 17 – get your tickets here.
---
Opera Canada depends on the generous contributions of its supporters to bring readers outstanding, in-depth coverage of opera in Canada and beyond. Please consider subscribing or donating today.