At a time when #metoo has inspired numerous operatic concepts, McGill University's production of Gaetano Donizetti's Lucia di Lammermoor interprets this tale of male domination as one of feminine retaliation. This emphasis emerges not only from the staging, but also from the casting of three different sopranos in title role for its three performances, each displaying their own unique take on female empowerment.
An Operatic Version of Outlander
Over accentuating Lucia's Scottish source, artistic director Patrick Hansen loosens the confines of Lucia's actual historical period and sets it in a fetishized Scotland reminiscent of the popular television show, Outlander. Costume designer Ginette Grenier dresses all the men in kilts, even including a fanciful kilt-like habit for the priest, Raimondo. Unlike the women, who also wore dresses made of tartan, Lucia stands out in a questionably revealing white dress. The jagged angles of Vincent Lefèvre's abstract set design allude to Scotland's rough landscape, the deterioration of Lucia's mind, and the power of the men around her. This sense of unease is accentuated by the Apparition, a silent role played by Sarah Dufrense. Mentioned in Lucia's aria, the Apparition's eerie appearance foreshadows Lucia's incipient insanity and eventual demise—or arguably her freedom. Although it's an interesting stage concept, one wishes that the Apparition was more thoroughly integrated into the staging.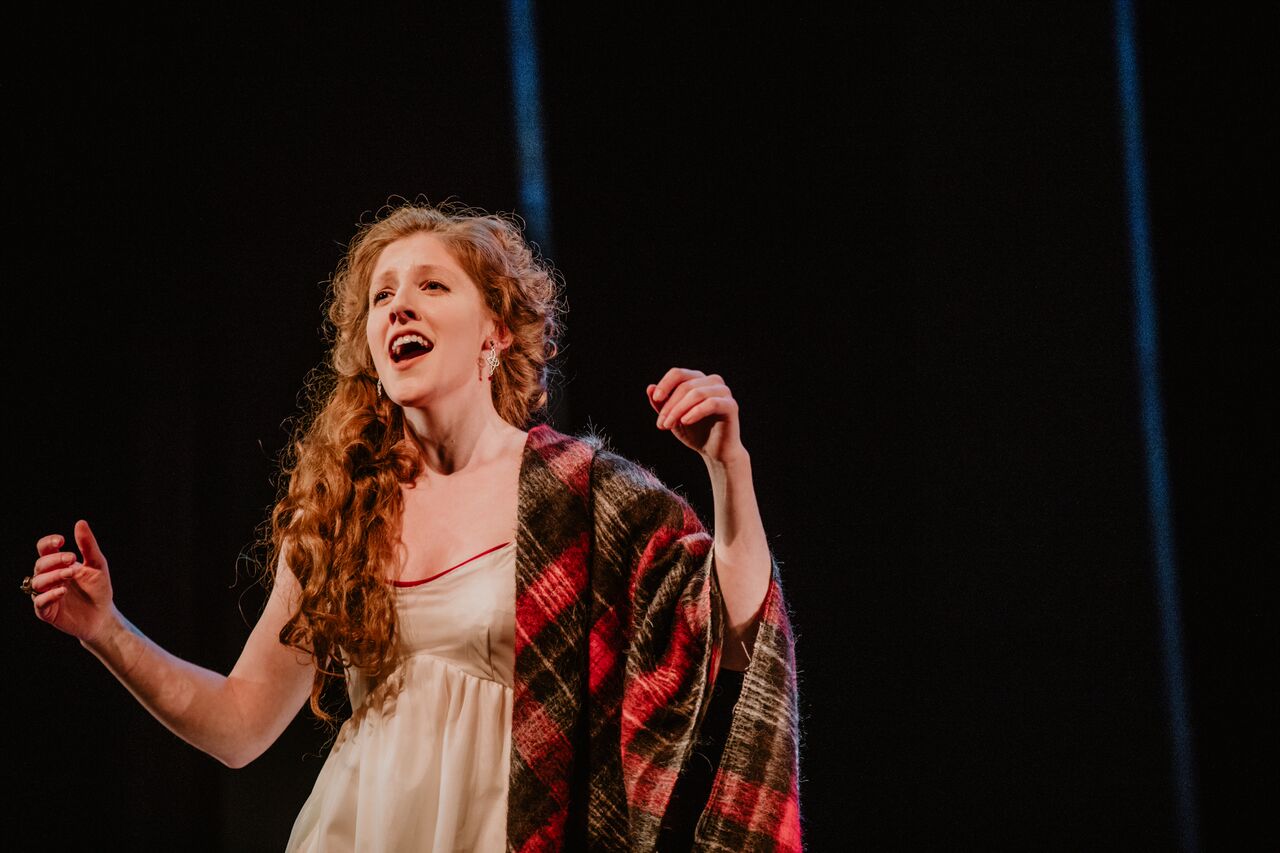 The Cadenza as Triumph
Lucia takes revenge in Act III by brutally stabbing her arranged husband to death. She then sheds her white dress and adorns herself with a garment made of blood-red fabric. This is not the traditional wedding dress covered in blood to portray the consequences of female oppression; Lucia's outfit signifies freedom via her madness and obvious bloodlust. This is most apparent when soprano Gina Hanzlik sings Lucia's last triumphant high E-flat, smiles, and then dies. The interpolated high note is no longer a scream of death, but a cry of salvation.
Despite some unfocused singing and Anglicized Italian diction, Hanzlik's penetrating top cut through the orchestra as she threw herself about the stage with thrilling abandon. The most memorable moment was her a capella cadenza at the end of her Mad Scene which in itself lasted several minutes. Composed uniquely by each McGill Lucia, the cadenza's originality emphasized how each singer was empowered to shatter the confines of performance traditions as well as her male oppressors.
Cuts Mar Performance
As Edgardo, tenor Marcel d'Entremont gave the most polished and stylistic performance of the evening. It is a shame that the most thrilling section of his final cabaletta was cut, but d'Entremont more than made up for this omission with riveting phrasing, clear Italian diction and beautiful timbre.
Despite some awkward gestures and ornamentation, bass Jean-Philippe McClish showed off his resonant voice as Lucia's confidant, Raimondo. The cover for an indisposed Enrico (Lucia's nefarious brother), baritone Bryan de Parsia, struggled to hide his unease in the role. Perhaps the result of limited rehearsal, he sang tentatively and omitted several sung lines. Soprano Amelia Lubrano made a powerful Alisa and at times stole attention away from Hanzlik during Lucia's entrance aria.
Conductor Stephen Hargreaves supported the singers attentively. Because the cast was composed of lighter voices than one would normally hear in this repertoire, it was surprising that Hargreaves did not adjust his tempi and the orchestra's dynamics to better accommodate his singers. Instead, to avoid vocal fatigue, the codas at the end of most numbers were played by the orchestra, rather than sung. This is normally done only if the performers are willing and able to add climactic interpolated high notes, which they did not. Lacking a bit of energy and verve, the orchestra attentively followed their conductor.