Musical America jumped the gun on Salzburg Festival's spectacular 100th anniversary edition planned for July 2020, already awarding them the prestigious "Festival of the Year" prize for last summer's 2019 festival. The award will be bestowed at a gala celebration at New York City's Carnegie Hall on Dec. 4th. 
Looking back now at the long, hot summer of 2019 and Peter Sellars' keynote diatribe "How many hurricanes will it take? How many heat waves, how much desertification, how much acidification, hypoxia, anoxia, melting of sea ice and glaciers, how much toxic air…." this year's festival was certainly one of the most politically outspoken in recent memory.
Clearly, Sellars was comparing today's Pantheon of reckless, climate skeptic world-rulers to Idomeneo, the titular hero of the opera he was about to stage at the Felsenreitschule. He said that the King of Crete "operated impulsively and automatically, thought he was quicker and cleverer than Neptune and that he could postpone disaster, but a tidal wave came and destroyed the entire city creating new refugees, utterly unnecessary suffering, and thousands of dead victims." 
However, the Festival's Artistic Director Markus Hinterhäuser doesn't like the word "political," preferring "relevance" when it comes to explaining his choices. "This is our great challenge: to make sure that great works of arts can be communicated in 2020. That through their intelligence and creativity, artists make sure these works have relevance, at any given time."
In overview, the 2019 Salzburg Festival, while true to its undisputed artistic excellence was indeed political, with productions broaching the controversial issues of climate change, immigration, gender tolerance, fake news, and toxic media with stinging relevance to today's world.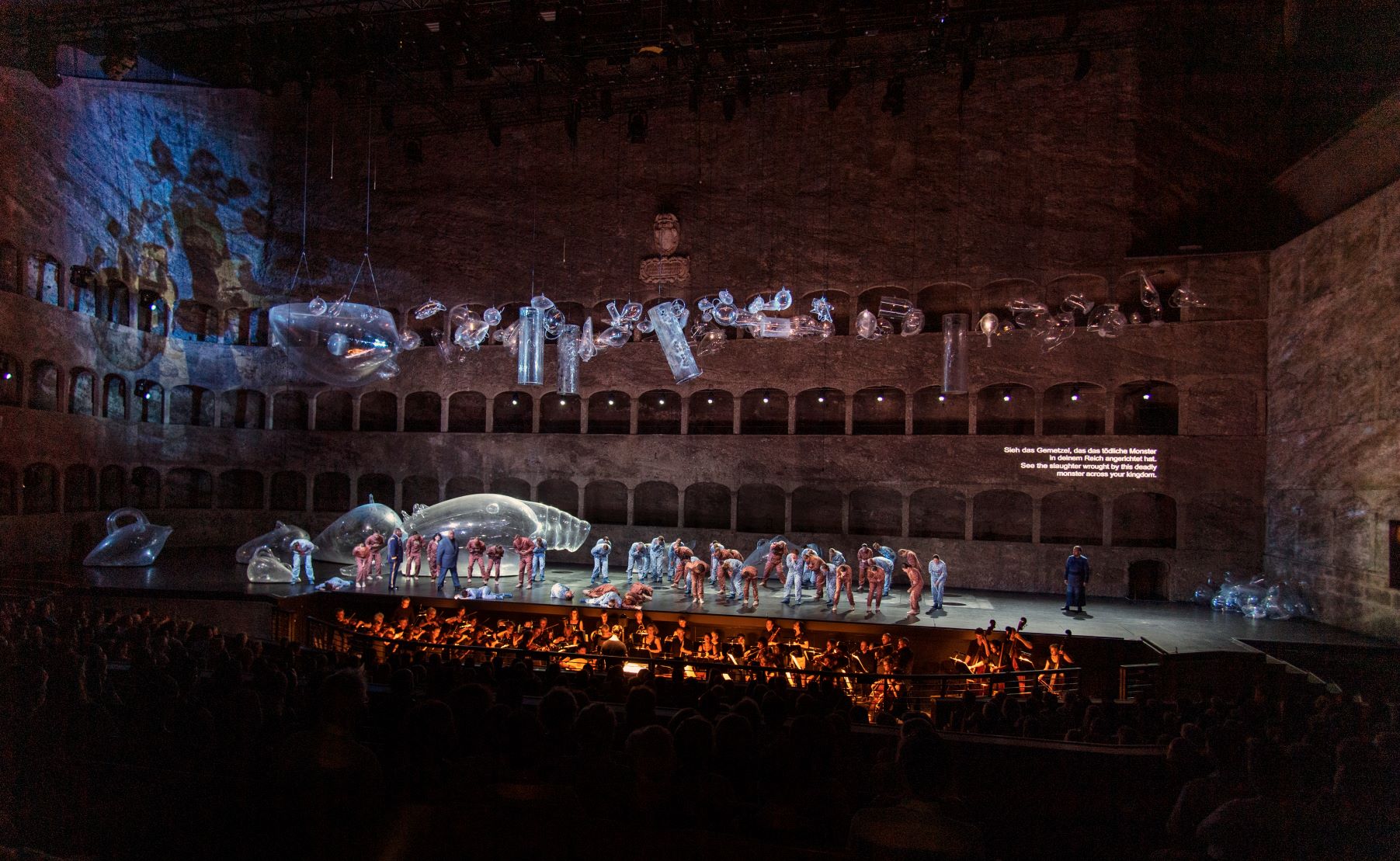 When Sellars' new production of Mozart's Idomeneo opened the season on Jul. 27th, the message was clear: we should tremble for our  lives—Neptune was on a rampage, lightning spears flashed, and a tidal wave of toxic plastic washed up on the Felsenreitschule stage. The message was chilling: the tide of irreversible climate change had reached the tips of our evening shoes and if we didn't curtail our greed and learn to love each other the end was near. Sure enough, when the crowd left the Festspielhaus, the rain began to fall and would not stop. By Monday, the turbulent Salzach threatened to burst its banks; paths were closed, the city began erecting barricades, and the river spewed plastic jetsam. 
Médée
Thank goodness the rain had stopped by the time Simon Stone's rendition of Luigi Cherubini's Médée opened, especially since he situated the drama on the outskirts of sunny Salzburg in a luxurious apartment where we were supposedly witnessing a filmed reality show starring Médée, immigrant from Georgia, and Jason, member of the Salzburg aristocracy.  While Médée dropped the children off to the Festpielhaus for violin lessons, Jason has sex with Dircé in the conjugal bed. Then—to retrieve a forgotten violin—Médée rushes back home; shock, rage, tears, and drama ensued. Divorce, fights over custody of the kids, and re-marriage built up to the tragic finale.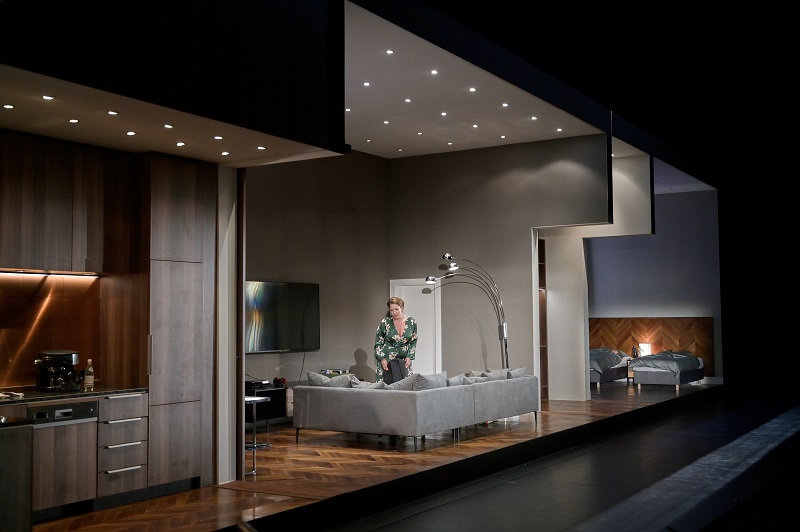 There is a poignant scene on stage with the Salzburg airport as a backdrop and Médée, now an illegal asylum seeker, confronted by a pack of journalists and armed immigration police headed by Créon, who wants to block her entry. The sequence digs its finger in the wound of Europe's refugee crisis, a crucial question that bitterly divides Austria at the moment. 
In spite of these few uncomfortable reminders of contemporary crises, Salzburg opera goers could enjoy the philanderings of the handsome Pavel Černoch as Jason, fighting a heroic battle against the role's upper register (Cherubini's original pitch might have been kinder to him). Also to be savoured were the silky tones and fearless high notes of the 32-year-old Russian soprano Elena Stikhina as Médée, the pretty-voiced Dircé of Rosa Feola, and Vitalij Kowaljow's magnificent Créon. The Ukrainian bass in particular stood out thanks not only to his voluptuous tone and irreproachable vocal line, but to his French diction, which was often clearer than that of the French native speakers in the cast. The masterful conducting of Thomas Hengelbrock at the helm of Wiener Philharmoniker conferred brisk tempi, elegant phrasing, and a coherent sense of structure to this rarely played score. (Seen Jul. 27th).
Oedipe
Achim Freyer's version of George Enescu's Oedipe made no political statement unless you extrapolate one like 'ugly is the new beautiful' from the panoply of doomsday stuffed dolls, latex gore, blow up gargoyles with pendulant genitals and other martyrized, oversized, crazed creatures that grace the stage. Freyer has been around for a long time and there are traces of just about every strain of 'operacide' in his chaotic staging, which annulled any coherent narrative or catharsis. Instead, the 82-year-old director leaned on the story's dream-like dimensions, which he riddled with disquieting symbols meant to jolt us into some deeper understanding. Luckily (if you can mentally photo-shop out the latex body builder costume complete with red boxing gloves) Christopher Maltman gave a gripping performance as Oedipe. The odds of the other singers giving meaningful performances however were stacked against them: veteran bass John Tomlinson was obliged to sing the role of the blind prophet Tiresias in muffled tones from under his sad clown costume while walking on stilts; for Oedipe's mother, Jocaste, lush-voiced French mezzo-soprano Anaïk Morel was disguised as a giant flower; perched way up in the stone arcades of the Felsenreitschule and powdered entirely in white like victims of some bad prank. The court messenger Phorbas, excellent Canadian bass-baritone Gordon Binter, and Antigone, French soprano Chiara Skerath, nevertheless came through with beautiful tone and clear declamatory vocal lines. Act IV featured the powerful male chorus of Athenian elders (complete with dangling phalli), Brian Mulligan was a strong Creon and Vincent Ordonneau a light voiced Shepherd, while Michael Colvin's Laïos and David Steffens' High Priest also made their mark.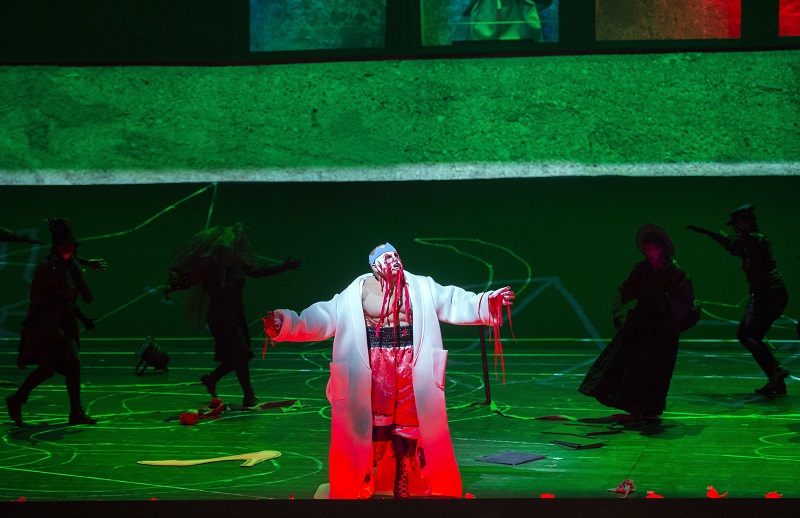 Despite some hiccups the evening was a musical triumph, thanks in large part to the singers and the Vienna Philharmonic under Ingo Metzmacher. The musicians performed with breadth and authority, woodwind solos sustained endless phrases, the brass resounded like one glowing carillon, and strings peeled out one rich legato phrase after another in celebration of Enescu's audacious masterpiece. (Seen Aug. 24th).
Orphée aux Enfers
Barrie Kosky gave his production of Orphée aux Enfers a strong feminist component with an Eurydice (the spunky and fearless Kathryn Lewek) telling us that she is a "material girl" with real desires and needs, who finds living with her witless husband Orphée (stellar Spanish tenor Joel Prieto) to be hell on earth. Kosky entrusts all spoken voices to one actor, the brilliant Max Hopp, while the singers mime the text, a technique seen at the Berliner-ensemble and which reminds one of Robert Wilson's Peter Pan or Three Penny Opera. The text is hilarious, the timing perfect, the rhythm relentless, and all this in the very French spirit of Offenbach's caustic burlesque work. The effervescent direction of Enrique Mazzola at the helm of the Vienna Philharmonic was irresistible. (Seen Aug. 26th).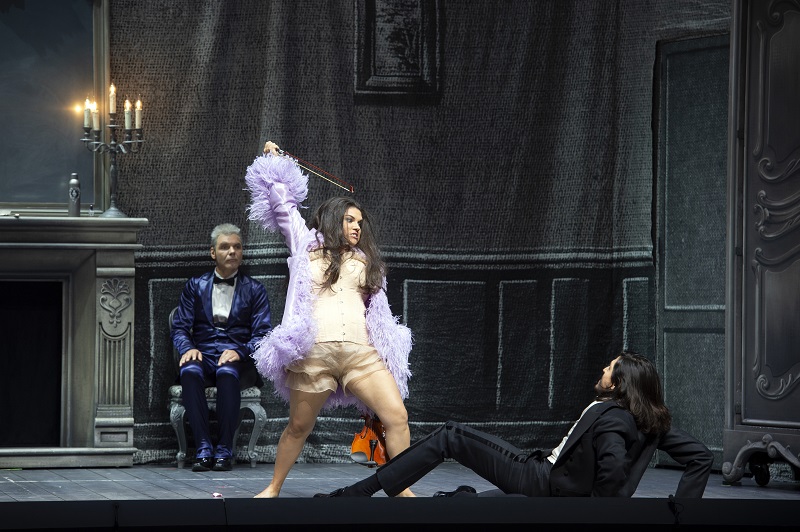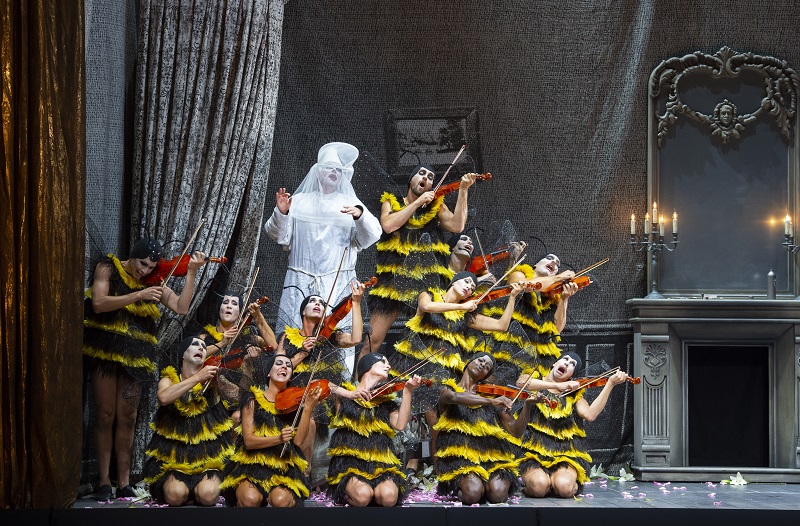 Simon Boccanegra
Andreas Kriegenburg's Simon Boccanegra started with a Twitter storm projected on the stage. The word is out: Boccanegra could be the next Doge. This was followed by comments expressing support mixed with plotting, death threats, and finally the slogan, "Make Genoa Great Again!"  It's social media's sway on the democratic process that Kriegenburg is incriminating here. His no-frills staging and intense dramaturgy made this tale of a pirate who rose to become the first doge of Genoa resolutely contemporary. This production, with its extraordinary cast of singers under Valery Gergiev's suave, understated, finely detailed direction, brought Dark Age intrigue to a human level. The love of Boccanegra (Italian baritone Luca Salsi) for his daughter Amelia (Latvian soprano Marina Rebeka), her devotion to him, the mad jealousy and remorse of Adorno (American tenor Charles Castronovo), are poignantly portrayed, as is the blind vengeance of Fiesco, which resonated deeply in René Pape's beautiful rendering of the poignant prayer "Il lacerato spirito." (Seen Aug. 27th).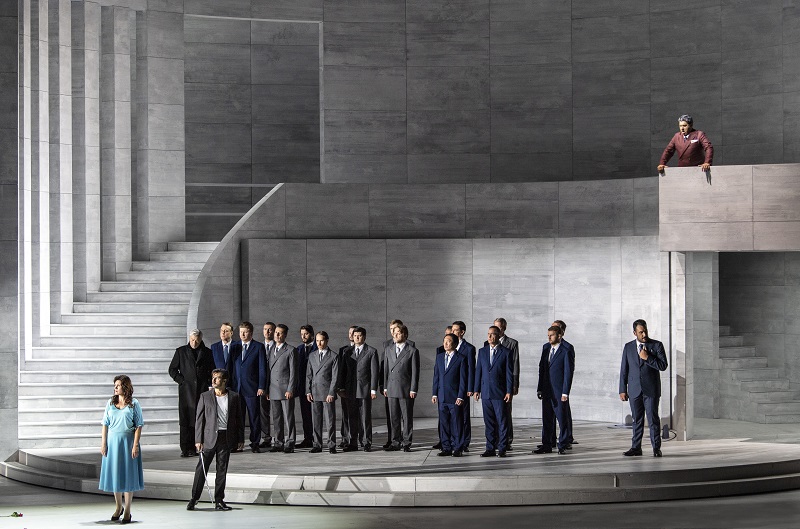 These outstanding, thought-provoking opera productions were interwoven with over 100 concerts and drama performances throughout a six-week period across the 2019 Salzburg Festival. These events were thematically and, yes, politically related and planned years in advance; a tour-de-force headed by Markus Hinterhäuser and largely meriting Musical America's prestigious prize.