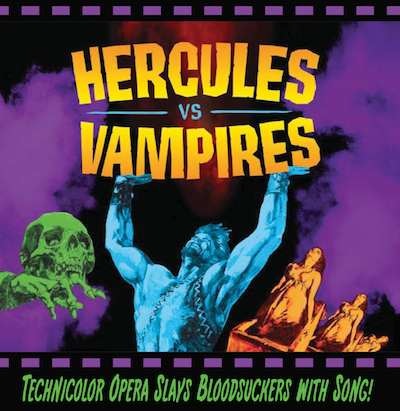 In it he replaced the spoken words of the film with recitative, arioso, aria, and an occasional orchestral interlude, the building blocks of opera. Technically, it was not an easy job because Morganelli's music had to fit into the exact timings of the film.
In April 2015, when Los Angeles Opera asked Morganelli to arrange Hercules vs. Vampires for showing in the Dorothy Chandler Pavilion, he revised it saying, "I completely re-orchestrated the score to take advantage of a bigger orchestra." He added, "There was about 10 minutes that I was honestly not happy with, so I completely tossed it and wrote new material." Arizona Opera presented Hercules vs. Vampires in its new version on October 21, 2017 at Phoenix's Symphony Hall.
In the opera, Hercules visits Acalia where blonde and beautiful Princess Dianara should have become queen after the recent death of her father, the king. However, her evil uncle Lycos has put the young woman under a spell and she is too weak to rule. Hercules, played by body builder Reg Park, consults Medea for advice and she tells him he needs to obtain a golden apple from the Hesperides and a living stone from Hades.
Francis Giacobini as Telemachus and George Ardisson as the incredibly handsome Theseus join Hercules on the journey. Eventually they have to sleep and the queen of the Hesperides captures them. Hercules climbs a gigantic tree and grabs the apple but Telemachus and Theseus end up in the clutches of the murderous Procrustes. Hercules saves them and opens up the portal to Hades where the living stone is surrounded by boiling lava.
Having fallen into the lava, Theseus wakes up in the Underworld where he meets Persephone, a brunette almost as charming as Dianara. They fall in love and he hides her on the ship that will take him back home. Eventually, Persephone erases Theseus memories of their love and returns to the Underworld taking the living stone with her. Hercules kills Lycos and saves Dianara as the opera ends.
Although the acting and stage decor in the film were a bit old fashioned, the singing was as new and fresh as a rosebud. I particularly loved Lacy Sauter's dramatic Dianara and Katrina Galka's silvery coloratura. As Persephone, Stephanie Sanchez sang velvet tones. Jarrett Porter was a commanding Hercules who faced monsters with commanding robust sound.
Anthony Ciaramitaro was a lyrical Theseus and Justin Carpenter a collegial Kyros. Paul Nicosia was a warm-toned Telemachus while bass-baritones Zachary Owen and Brent Michael Smith broadcast their evil-sounding pronouncements across the wide movie landscape.
Lately audiences are seeing a great many mixtures of opera and film. From full length opera movies, to snippets of film projected into live opera, and new scores for classic films, the mélange works and opera companies are reveling in it. Meanwhile, movie composer Patrick Morganelli is writing an opera that we can hope to experience live in a year or so. It's all good theater for us to enjoy.
Maria Nockin
---
Movie Cast/Opera Cast, and Production Information:
Hercules, Reg Par/Jarett Porter, baritone; King Lico, Christopher Lee/Zachery Owen, bass-baritone; Dianara, Leonora Ruffo/Lacy Sauter, soprano; Theseus, George Ardisson/ Anthony Ciaramitaro, tenor; Aretusa, Marisa Belli/Katrina Galka, soprano; Medea, Gaia Germani/Katrina Galka, soprano; Helena, Rosalba Neri/Katrina Galka, soprano; Persephone, Ida Galli, Stephanie Sanchez, mezzo-soprano; Kyros, Mino Doro/Justin Carpenter, tenor, Telemachus, Franco Giacobini/Paul Nicosia, tenor; Procrustes, Brent Michael Smith, bass-baritone; Composer, Patrick Morganelli; Conductor, Shawn Galvin; Lighting, Gregory Allen Hirsch.

Source: Opera Today