Our Artist of the Week is acclaimed, award-winning Canadian bass baritone John Relyea. Relyea has appeared on many of the world's celebrated opera stages including The Metropolitan Opera, Royal Opera House Convent Garden, San Francisco Opera, Canadian Opera Company, and Paris Opera. This week he opens The Metropolitan Opera's dramatic Lady Macbeth of Mtsensk alongside soprano Svetlana Sozdateleva, tenor Brandon Jovanovich, and Canadian-Ukrainian conductor Maestro Keri-Lynn Wilson who will make her Met debut. Other 2022/23 season highlights for Relyea include The Met's Don Carlo alongside fellow Canadian Etienne Dupuis, Teatro di San Carlo's Die Walküre, and English National Opera's The Rhinegold.
Are you a perfectionist?
Major perfectionist! I used to obsess over every little mistake and be very hard on myself.  But I've since learned to adopt the 80/20 rule.
Do you think singers and performers have a more powerful inner life?
Yes, I think performers find themselves often called on to bring their deeper feelings, thoughts and imagination forward to express themselves. I would add that this raises the challenge of harnessing the magnification of that inner life and keeping it onstage!
What is one very popular thing that you have no interest in?
TikTok
Which TV show did you binge-watch last?
Severance
Are you a cat person or dog person?
I love dogs. They give affection, companionship and loyalty,  and never judge!
What's your favourite non-classical band?
Soundgarden
What's your favourite movie?
'There Will be Blood' or pretty much anything else directed by Paul Thomas Anderson.
What's your ancestry? 
French Huguenot and Estonian.
When was your first singing lesson (and with whom)?
When I was 17, with my dad.
If you weren't a singer/instrumentalist/conductor, you'd be _________.
A firefighter.
Top 3 favourite composers
Wagner, Bartok, Beethoven
Top 3 favourite operas?
Parsifal, Bluebeard's Castle, Peter Grimes
Which TV show did you binge-watch last?
Because I hate both blood and violence, I naturally had to watch Spartacus. Hey, not everything has to be high art.
Which opera role do you want to be singing right now?
Boris Gudonov
Who is a singer you admired from the past?
George London
What's your favourite orchestral instrument? Why?
French horn. I think it has the most beautiful, expressive tone of all.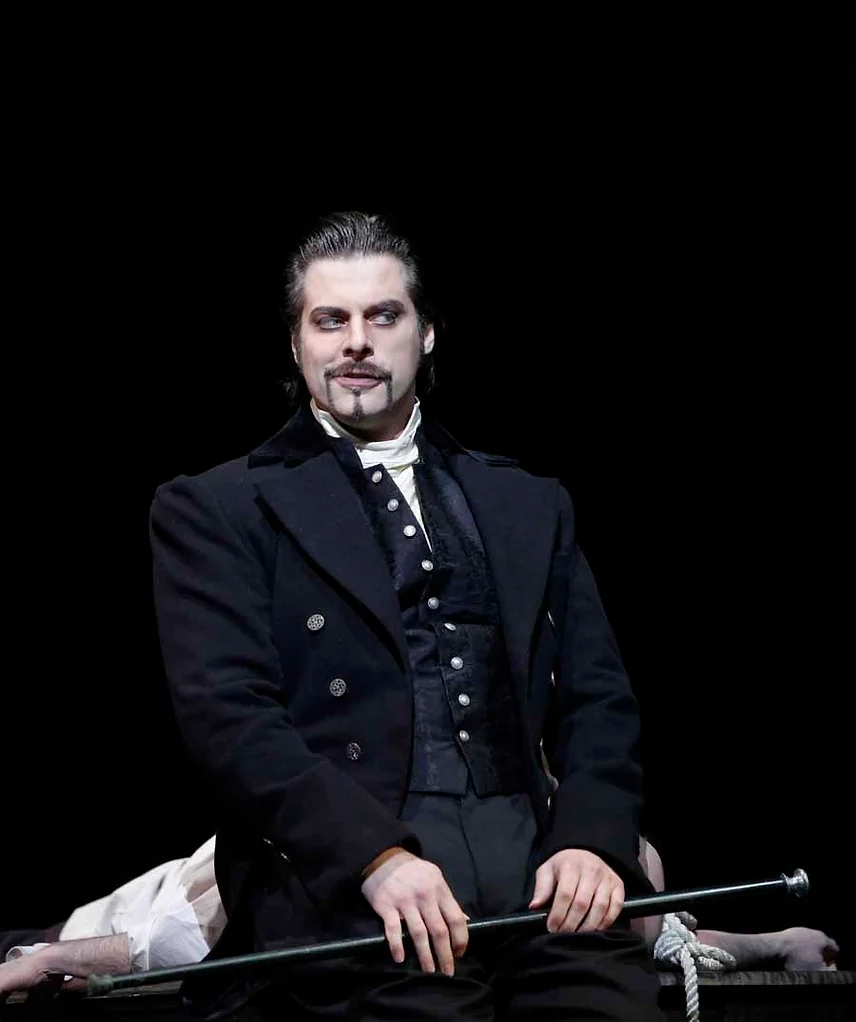 Lady Macbeth of Mtsensk
The Metropolitan Opera
Composed by Dmitri Shostakovich

CONDUCTED BY Keri-Lynn Wilson
SVETLANA SOZDATELEVA / BRANDON JOVANOVICH / NIKOLAI SCHUKOFF / JOHN RELYEA / MARIA BARAKOVA
Soprano Svetlana Sozdateleva makes an exciting Met debut as the fiery femme fatale at the center of Shostakovich's searing modern drama, joining forces with tenor Brandon Jovanovich as her illicit lover. Maestro Keri-Lynn Wilson makes her Met debut conducting Graham Vick's vivid staging, which also features tenor Nikolai Schukoff and bass-baritone John Relyea. A glimpse of the production in rehearsal:
---
Opera Canada depends on the generous contributions of its supporters to bring readers outstanding, in-depth coverage of opera in Canada and beyond. Please consider subscribing or donating today.