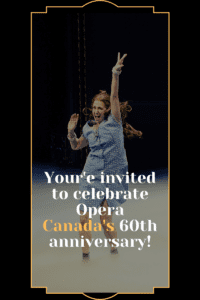 With the publication of our 60th anniversary edition fast approaching, this lavish, 94-page bonus issue of Opera Canada is set to be released in October 2020. Inside you'll find conversations between Canada's newest generation of opera stars and legendary greats; our 'opera icon' hall of fame; landmark moments in Canadian opera history, as well as Canadian artists' predictions for opera's future.
This special, anniversary edition is a free bonus for any current subscribers, and for a limited time only until October 16, 2020, it will be added to any new or renewed subscriptions. 
Act now and don't miss out by subscribing. If you're under 30, take advantage of our current $15 subscription offer. All new subscribers will receive four regular issues plus the 60th Anniversary Edition! Keep an eye out for the full release in October 2020 and be sure to subscribe to our newsletter for all of our Canadian opera updates.