Toronto Operetta Theatre's December 28 opening of Die Fledermaus was officially sold-out, the capacity audience enthusiastic about its hugely entertaining take on Johann Strauss II's enduring farce. Gustav Mahler, an early admirer who gave the work considerable kudos in 1894 when he programmed it at Hamburg's opera, viewed a good operetta as "simply a small and gay opera" and praised Fledermaus in particular for its "excellent musical diction." Since its 1874 premiere at Vienna's Theater an der Wien, it has become a repertory staple around the opera world, and with its champagne-fueled gaiety is often mounted around New Year's celebrations.
Strictly speaking, TOT staged Fledermaus-lite since, as usual, only a chamber ensemble was in the pit, here nine very accomplished musicians led with great verve by the Canadian Opera Company's Derek Bate.
Minimalist scenery and props suggested rather than showed the settings, while costuming was considerably short of sumptuous (though Alfred's gold-colored jumpsuit and the gaudy red chinoiserie of Count Orlovsky's two-piece certainly brought welcome visual humor to the mis-en-scène). There were cuts, starting with the overture, but otherwise all the familiar and well-loved numbers were in place, and the show unfolded in the mid-20th-century English translation by Ruth and Thomas Martin, augmented and tweaked by TOT General Director Guillermo Silva-Marin. There's a long tradition of interpolating contemporary and local references into operetta productions, and Silva-Marin clearly relished the opportunity. He maybe had too many digs at the too-easy mark of Donald Trump, but also set his sights on targets as varied as Ontario Premiere Doug Ford and Pop icon Taylor Swift.
In such a minimalist theatrical environment, singers and orchestra must carry the show, and for this TOT marshalled an engaging mix of newcomers and company stalwarts. As Rosalinde and Dr. Falke, soprano Kirsten LeBlanc and baritone Colin MacKey made their company debuts to great effect. MacKey's fresh-sounding baritone already has a suave timbre, and his vocal potential was evident as he led the ensemble in the "Brüderlein und Schwesterlein" number ("Sing to Love" in the translation), one of the outstanding musical moments in the whole performance. LeBlanc's instrument rings brightly throughout its range and is already big enough to predict a future in heavier dramatic repertoire. Her famous Czardas, "Klänge der Heimat" ("Voice of My Homeland"), was impressively fervent, though the scale of her sound also at times led to balance issues in ensemble.
Tenor Keith Klassen and baritone Gregory Finney brought their confident musicianship and well-honed comic acting chops to the roles of, respectively, the philandering Gabriel Eisenstein and the terminally bored Prince Orlofsky. As Rosalinde's would-be lover, Alfred, who tries to seduce her by flitting in and out of familiar operatic repertoire, Scott Rumble etched his madcap role with some fine vocalism, aided and abetted in the prison scene by TOT's Silva-Marin as the jailer, Frosch; Strauss disappeared for an entertaining while as the two tenors battled it out with Verdi's "La donna è mobile" and Di Capua's "O sole mio."
Some of the most exhilarating music in Fledermaus is given to Adele, the Eisenstein's wily servant. Soprano Andrea Núñez handled the high-flying coloratura splendidly, her technique bolstered beautifully by a rich and vibrant tonal palette. Ably filling out the cast were baritones Handaya Rusli as Frank, the prison warden, and Sean Curran as Dr. Blind, the Eisenstein's bumbling lawyer. Lori Mak, though not given much to sing, was Adele's cousin, Sally, while George Ossipov and Taylor Gibbs were amusing as Orlofsky's attendants, Ivan and Ivan.
This is the sixth time TOT has mounted Die Fledermaus in its 37-year history, all but one of the productions staged as an end-of-year celebration. It's not an easy piece to bring off, in part because the plot line is as thin as it is ludicrous, but also because the interludes and dialogue between the big, well-wrought musical numbers can come across as ham-fisted artifice. Happily, this latest TOT staging largely avoided the traps, and the ensemble happily succeeded in illustrating Mahler's definition of operetta as "simply a small and gay opera."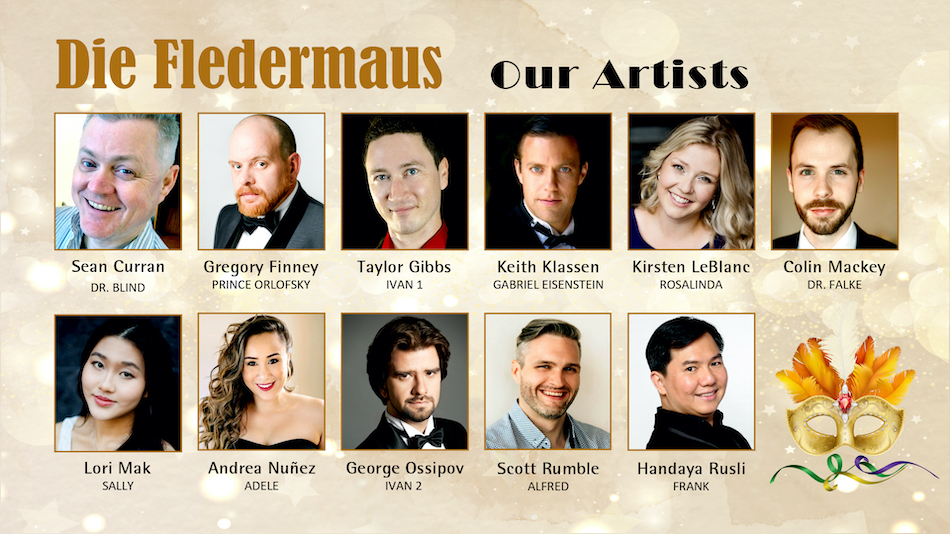 TORONTO OPERETTA THEATRE
DEC 28-31, 2022
*REVIEWED ON DEC 28, 2022
JOHANN STRAUSS II DIE FLEDERMAUS
Conductor
Derek Bate


Adele

Andrea Núñez


Eisenstein

Keith Klassen


Dr. Falke

Colin Mackey


Rosalinde

Kirsten LeBlanc


Alfredo

Scott Rumble


Sally

Lori Mak


Ivan 1

Taylor Gibbs


Ivan 2

George Ossipov


Frank

Handaya Rusli


Dr. Blind

Sean Curran