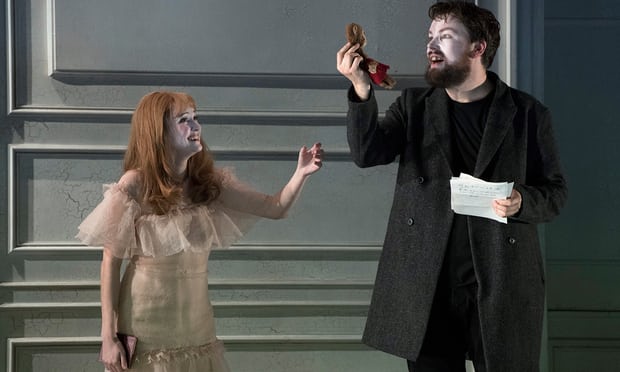 By: Tim Ashley for the Guardian (UK)
Glyndebourne, Sussex
Given its world premiere at Glyndebourne earlier this year, Brett Dean's Hamlet, regarded by some as the most successful operatic adaptation to date of Shakespeare's tragedy, has now entered the repertory for the company's autumn tour, with a new cast, and Neil Armfield's original staging reworked by Lloyd Wood. Having missed it at the main festival, I can't comment on differences or changes. But the work itself strikes me as a formidable achievement, despite occasional flaws.
The first half, criticised as overlong when the opera was first heard, also suffers, paradoxically, from moments of over-compression, where the narrative hurtles forward, occasionally at the expense of psychology: it is not until we reach the second half that Dean and his librettist Matthew Jocelyn give their characters the space to fully develop. Much has already been made of the knowing fragmentation of "To be or not to be" throughout the text, though, perhaps more significantly, Hamlet also loses his crucial remark about being "mad in craft," together with much of the riddling verbal dexterity that exposes the corruption of Elsinore. As a result we have an interpretation – by no means the first – rooted primarily in neurosis, and Dean's unsettling score seethes and rears, with echoes of Berg's Wozzeck and even Strauss's Elektra. It generates considerable tension throughout, and the big confrontations – Hamlet's rejection of Ophelia, his scene with Gertrude, his challenge to Laertes over Ophelia's grave – have ferocious power.
Continue reading…
Source: Opera News from the UK Guardian