Gianmarco Segato joins Opera Canada Publications
as the magazine's new Editorial Director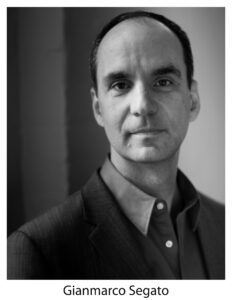 Opera Canada Publications is pleased to announce the appointment of Gianmarco Segato as Editorial Director, effective July 24th. He will be working with the current editor, Wayne Gooding, until August 15th, at which time Wayne will be retiring after a great run as editor since 1993. After an extensive national search, Gianmarco joins the organization as the 5th Editorial Director to lead the magazine during almost 60 years of continuous publishing.  David Giles, Board Chair of Opera Canada Publications, said of the new appointment: "The Board and I are confident that Gianmarco is the right person to lead the magazine through its next exciting evolution."  
Prior to taking up the appointment, Gianmarco spent ten seasons with the Canadian Opera Company, most recently as Adult Programs Manager. In this position, he wrote extensively for the company's publications, delivered and programmed its pre-performance opera chats, Opera Insights, Opera Talks and Opera Connect series, and hosted the Big COC Podcast. Previously, he was manager of the COC's Opera Shop. As a baritone, recent appearances include: The Glenn Gould School's production of Offenbach's La belle Hélène; Against the Grain Theatre's Dora Award-winning Messiah (2013 and 2015); and roles with Opera by Request in Hamlet, Werther and Adriana Lecouvreur. He is an avid cyclist, cook, late-blooming ballet dancer and enjoys seeing opera wherever he travels.
"I am so happy to be joining Opera Canada at this exciting juncture in its fabled history. Building on almost 60 successful years as Canada's go-to source for all things operatic, I Iook forward to collaborating with the Board as we move the publication into the digital age with increased social media presence and enhanced online content."
Founded in 1960 by Ruby Mercer, Opera Canada is recognized as one of the world's leading English-language publications on opera. Focusing on the development of opera in Canada and the role of Canadian in opera around the world, the magazine publishes four print and digital editions annually.  In addition, Opera Canada Publications hosts the annual Opera Canada Awards (The Rubies), a glittering celebration of outstanding Canadian achievement on stage and behind the scenes. This year's Rubies are scheduled for October 30, 2017.
For more information: email editorial@operacanada.ca or phone 416-363-0395