Our Artist of the Week is Toronto-born soprano, Elizabeth Polese. After graduating from l'Atelier Lyrique de l'Opéra de Montréal, and completing a fellowship at the Tanglewood Music Center, she joined Detroit Opera as a resident artist for the 2022-23 season. This week, Polese makes her role debut with Opéra de Montréal singing Nuria in Osvaldo Golijov's Ainadamar (March 18, 21, 23, and 26), alongside Canadian soprano Emily Dorn (Margarita Xirgu), Italian counter-tenor Luigi Schifano (Federico Garcia Lorca), Spanish flamenco singer Alfredo Tejada (Ramon Ruiz Alonso), and French-Canadian bass Alain Coulombe. Tickets are now on sale for Ainadamar.
Drink of choice?
Alcoholic: Dirty martini with extra olives. Non-Alcoholic: Lacroix. Any flavour.
Top 3 favourite operas
Le Nozze di Figaro – musical perfection. Eugene Onegin – sweeping Russian melodies and Tchaikovsky just GETS IT. The Rake's Progress – my favourite combination of comedy, chaos, excitement, whimsy, and bassoon features.
Which opera role do you want to be singing right now?
I love the heroines of English opera—Anne Trulove and The Governess, and I also fell in love with Laura Brown in The Hours.
Which opera role do you want to be singing in 10 years?
I can't wait to get a crack at Donna Elvira one day! I love her spice.
Which role do you wish you could sing, but is not in your voice type? 
The Count—I love "Hai già vinta la causa". I never get sick of that aria. And it would be fun to play a jerk for once! And Baba the Turk is my favourite character in any opera.
What's your ancestry?
Though my parents were both born in Canada, their parents came from neighbouring towns in Treviso, Italy. I've had a special bond with both my grandmothers, Co-Presidents of the Official Elizabeth Polese Fan Club, and my maternal grandmother especially loved opera. Her favourite piece was "Va Pensiero" and I inherited vinyl recordings of Caruso and Gigli from her and my grandfather.
Where's your favourite coffee shop?
Montreal: Pikolo. Toronto: Broadview Espresso. Detroit: Madcap. My personal barista Jesse has been practicing his latte art as well.
 

 

View this post on Instagram

 
What's the luckiest thing that has ever happened to you?
Meeting the love of my life at 21 years old.
What's the downside of being an opera artist?
Being away from home. And sometimes, it would be nice to be able to put the instrument back in the case at the end of the day – but we can't do that!
What's the best thing about being an opera artist?
Doing what you love as your JOB! Travelling the world (especially when your loved ones come too)! And constant, constant learning. I love the research part of this job.
Are you a cat person or dog person?
Dog person, all the way. My little sidekick Darcy makes everyone smile.
Which album did you listen to last?
I got Beyoncé tickets—so her seven studio albums are in the current rotation.
What book are you reading at the moment?
"Collected Poems of Federico Garcia Lorca" (all 884 pages of it) and "How to Pronounce Knife" by Souvankham Thammavongsa. I also recently read "Tomorrow and Tomorrow and Tomorrow" by Gabrielle Zevin and I need everyone I know to read it so we can talk about it.
What's your guilty pleasure?
Every show in "The Bachelor" franchise and other such reality TV series.
What's a big investment for an opera artist, but totally worth it?
Lessons and coachings. Having a team you trust is priceless. (Oh yeah, and the pretty, pretty dresses!)
What nickname do your friends call you and why?
I've always gone by Beth, since I was a little kid. I get variations on that theme, like Bethy, Bettina, Betsy… my favourite is La Polese because it makes me feel like a diva.
Do you have a funny joke for us?
There were two cats: one named One, Two, Three and the other named Un, Deux, Trois. They were both trying to get across a river, though one didn't make it. Which one was it? Un, Deux, Trois… Quatre Cinq. (You can thank Papa Polese for that one)
The music industry is tough and filled with rejection. How do you cope? Does it get easier?
Rejection is never easy, but I think that coping comes with the mindset you have about it. I once read something about aiming for 100 rejections in a year, meaning to keep your options open and aim high. That shifted things for me and now I try (not always successfully, I'll admit) to treat rejections as information, like maybe that opportunity wasn't the right thing for me at the time. Finding balance helps me with this a lot as well, like having friends outside of music and having different hobbies I can turn to. I love sewing quilts, reading, and lifting weights, because they require a shift in focus and are their own worlds unto themselves.
Do you think singers and performers have a more powerful inner life?
Not necessarily, but I do think that we must have easy access to it to be powerful performers.
Does your process change from role to role?
Not as much role to role as genre to genre. I always start with character development, and that continues to grow alongside my musical preparation. If I need it, I try to do language coaching first. For new music, I work the score backwards. With Mozart, I start with recits and ensembles. For everything else, I decide what the trickiest part will be vocally and start there.
What does it mean to be brave with music?
I'm a Brené Brown girly, so for me it means leading with vulnerability. That means letting the text hit you deeply, being curious and trying things out, being open to failure and admitting when you don't have the answers. I feel that making music is an empathetic experience, and that can be scary sometimes – but if even just one person in the audience has a better day after coming to a performance, it makes it worth it.
What is happiness for you?
Prosecco Fridays, being in the same place as my little family, summer in Montreal, and sleeping in!
Are you a perfectionist?
Big Yup. Working on dismantling that a little bit though.
Favourite social media platform?
I looooove TikTok!!!!!!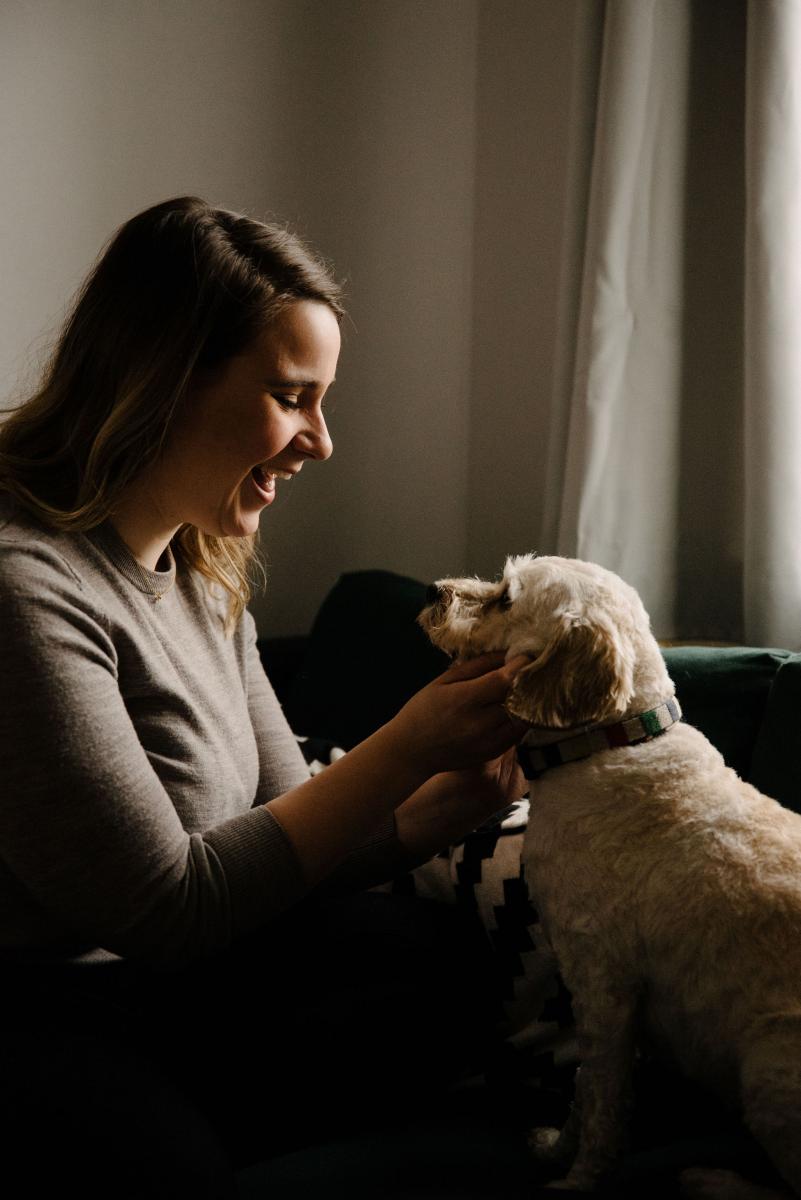 Elizabeth Polese and Darcy © Marianne Charland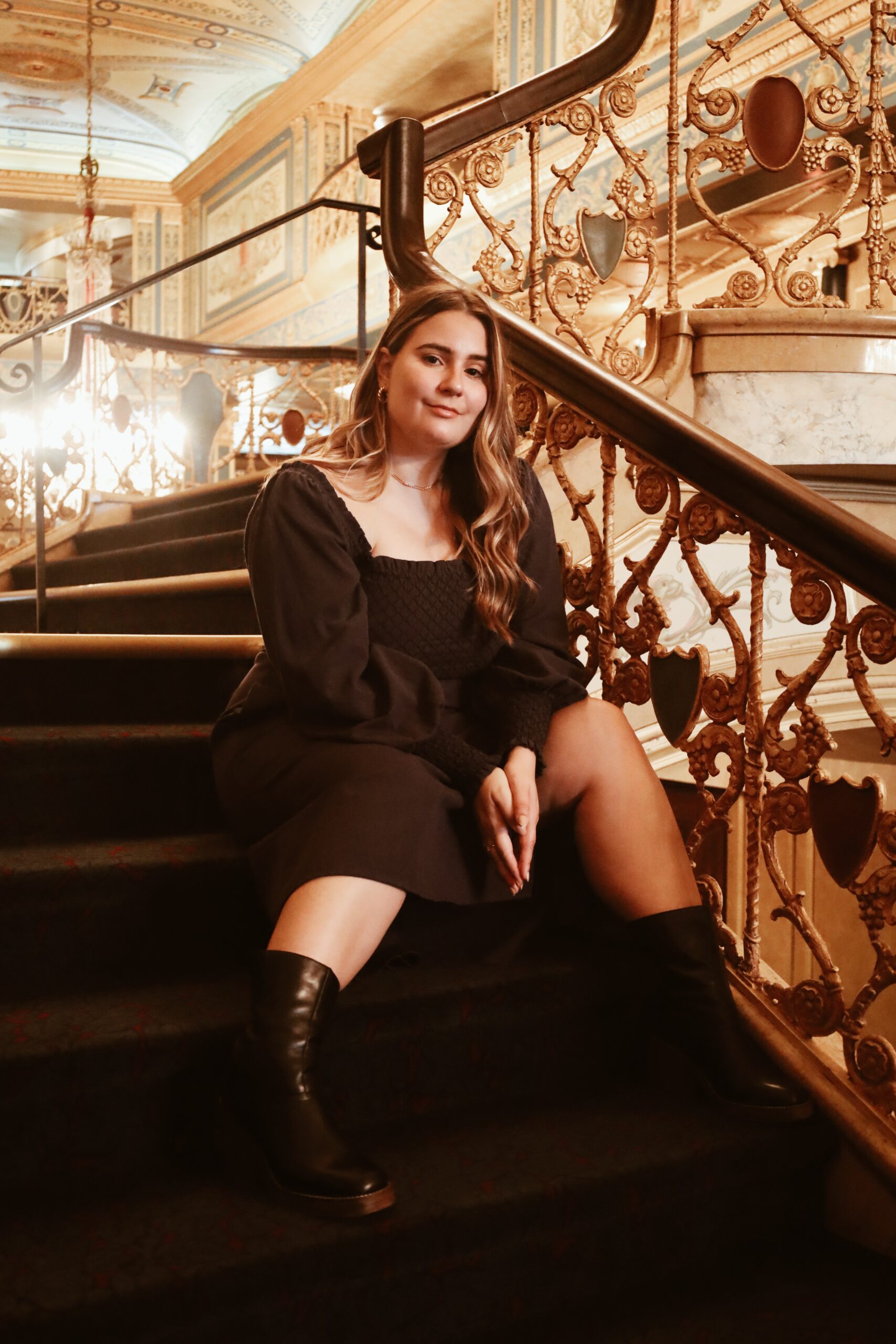 Elizabeth Polese © Micah Shumake
Osvaldo Golijov's Ainadamar
Opéra de Montréal
March 18, 21, 23 & 26, 2023
NICOLE PAIEMENT / EMILY DORN / LUIGI SCHIFANO / ELIZABETH POLESE / ALFREDO TEJADA / ALAIN COULOMBE / GEOFFREY SHELLENBERG /JAIME SANDOVAL
Ainadamar presents three images, three flashbacks to different key periods in the life of the poet and playwright Federico García Lorca through the eyes of his muse Margarita Xirgu. It features an orchestration whose striking intensity parallels the civil war that raged in Spain at the time, interwoven with the sounds of horse hooves and gunshots, where flamenco accents become the voice of pain. Spain, 1936. A harrowing civil war pits the Republicans against the Nationalists. The poet turned revolutionary and then martyr, Federico García Lorca, is shot dead by the fascists, supporters of General Franco. He is survived by Margarita Xirgu, his muse and close collaborator, who remembers the man, his ideas, and his struggle.
---
Opera Canada depends on the generous contributions of its supporters to bring readers outstanding, in-depth coverage of opera in Canada and beyond.
Please consider subscribing or donating today.