It's a shame Marcelo Buscaino wasn't on hand for the opening-night curtain call of the Canadian Opera Company's revival of Mozart's Le nozze di Figaro January 27 because he surely deserves some credit for the success of a performance that had a cheering audience on its feet as soon as the cast took a bow. The Brazilian-born, now Barcelona-based director not only succeeded in moulding that cast into a tight-knit ensemble for a kinetic, physically demanding staging, he also re-injected a liberal and welcome dose of humour into a production that has divided critics and audiences since its inception. 
German director Claus Guth created it for the 2006 Salzburg Festival, which celebrated the 250th anniversary of Mozart's birth by staging all 22 (complete and fragmentary) compositions for the stage. In a documentary about the production, Guth concedes his reading of Figaro is "bleak," conjuring the psychodramas of Anton Chekhov and August Strindberg in theatre and of Ingmar Bergman in film. Guth's approach is certainly arresting as its characters pursue ulterior motives and romantic proclivities while on the surface observing sexual and social proprieties. One striking innovation is the introduction of a mime, Cherubin as a kind of Spirit of Sexual Misrule; he's unseen by the characters but subliminally and sometimes physically encourages them to act out their hidden desires. As this more-dangerous doppelganger for Mozart's randy Cherubino runs amok, this Figaro summons sometimes-disquieting encounters with adultery, misogyny, physical assault, rampant teen libidos and even the great taboo of intergenerational sex (with women as both victims and perpetrators).  
Mozart's score is subtitled Commedia per musica—literally, comedy through music—and the designation is right for a farce that plays out in just a day with crossdressing, mistaken identities, misunderstandings, ludicrous plots and counterplots, and a parade of oddball characters. Guth, however, leached much of the humour out of his dark-hued Figaro; so it looks in a recording from the original 2006 run on DVD, and so it was after the COC purchased the production from Salzburg and mounted its Toronto premiere in 2016. Despite some fine vocal performances, the uncongenial staging lacked charm, wit and spark, so the long work—about 3 ½ hours with an intermission and some now-customary cuts—dragged on dourly.
Buscaino, however, redresses the balance and makes a much better case for Guth's staging. Aided by Ramses Sigl's amusing, semaphoric choreography, he has restored the comedic spirit of the piece in the characters' physical interactions and made the most of the dominating staircase and multiple doors in Christian Schmidt's set to give the piece a more frenetic and farcical tone. Buscaino has also clearly encouraged his singers to explore the comic possibilities of their roles through gesture, expression and body language, resulting in the vivid projection across the board of engaging and sympathetic characters. The revival does not shy away from the darker territory Guth explored but tackles it head-on with black humour. If there's a literary inspiration for this revival, it seems to me Samuel Beckett rather than Chekhov or Strindberg, and in film the comically subversive Lina Wertmüller rather than Ingmar Bergman.
More importantly, this latest iteration of Guth's production seems truer to the spirit and substance of Mozart's music, especially as revealed with Harry Bicket on the podium. Starting from a notably brisk account of the overture, his reading is lithe, fresh, elegant, accommodating of the singers and deftly paced for dramatic effect. The COC Orchestra predictably responds with grace and finesse, and cellist Leana Rutt and keyboardist Simone Luti (also the production's Assistant Conductor and Head Coach) provide elegant continuo accompaniment for the recitatives. The opening-night performance was happily one in which the theatrical and musical inputs seemed in total sync, providing a vivid framework for some of the most affecting Mozart singing we've heard in the COC's Four Season's Centre.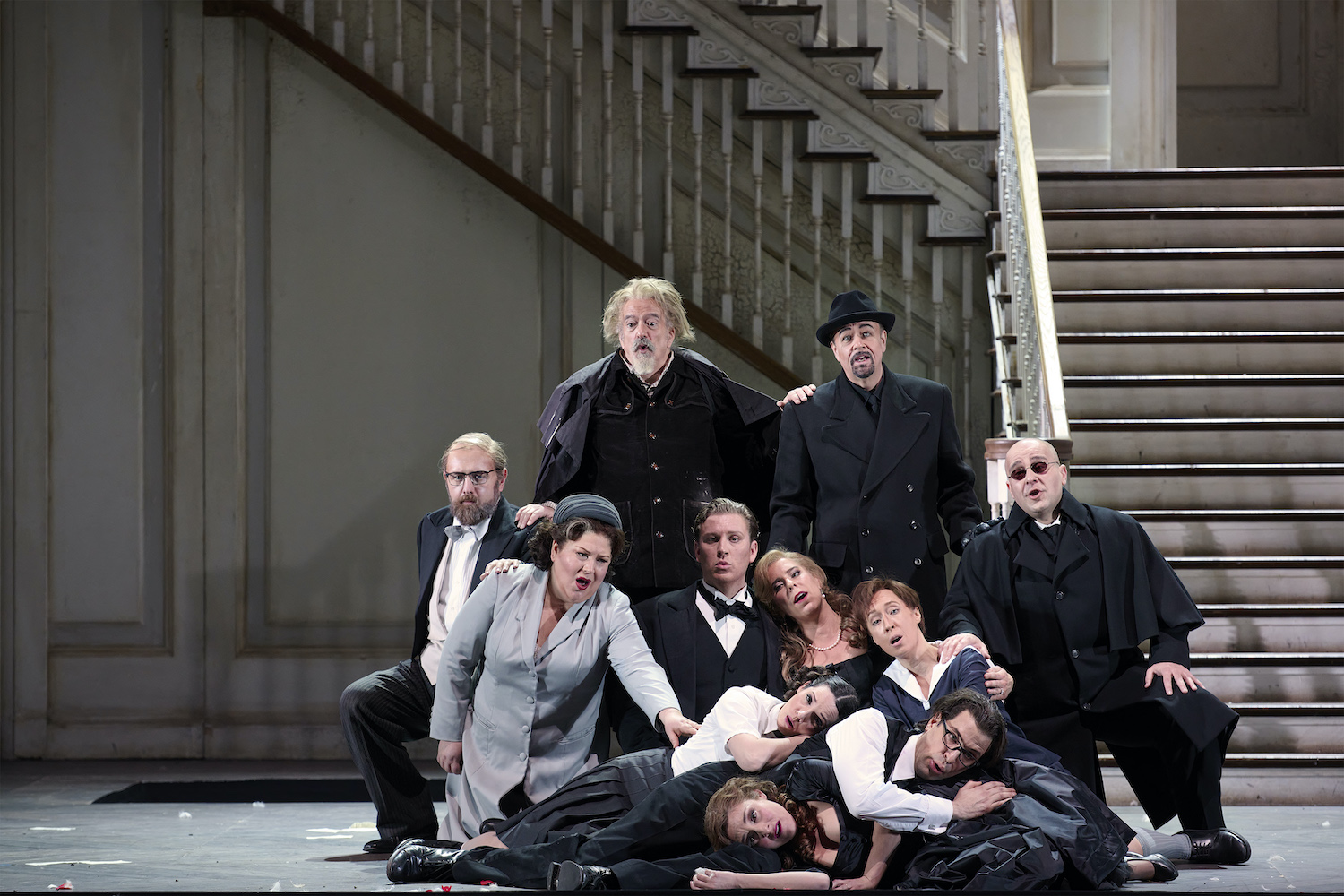 Mozart's Figaro notably relies on ensembles rather than solos for much of its musical and dramatic development, so a well-blended vocal cast is critical for its success. This revival scores particularly well in this respect, with both familiar returning artists and a couple of auspicious soprano company debuts. American soprano Andrea Carroll is a sassy and assertive Susanna, more ambiguous in her relationships than we usually see and in real control of events. She's a perfect counterpart to her mistress, the vulnerable, though not entirely innocent, Countess Almaviva of Australian soprano Lauren Fagan in a role debut. Both voices are simply gorgeous, Carroll readily handling the more intricate writing for her role and Fagan etching the lovely long lines of her two great arias exquisitely and with great feeling.
Italian bass-baritone Luca Pisaroni is a veteran of the Salzburg years of this production and returns to the COC for an eloquent, well-acted reprise of his take on the title role. This again is not your usual Figaro, a bit of a clown behind his glasses to begin with, but later more an equal partner for the smarter Susanna. Figaro's foil is the Count, strongly sung with great comic presence by COC Ensemble Studio graduate Gordon Bintner. His Almaviva is an insecure, Bertie Wooster-like Don Giovanni, unable to keep his penis in his pants but wracked by jealousy or guilt at every turn.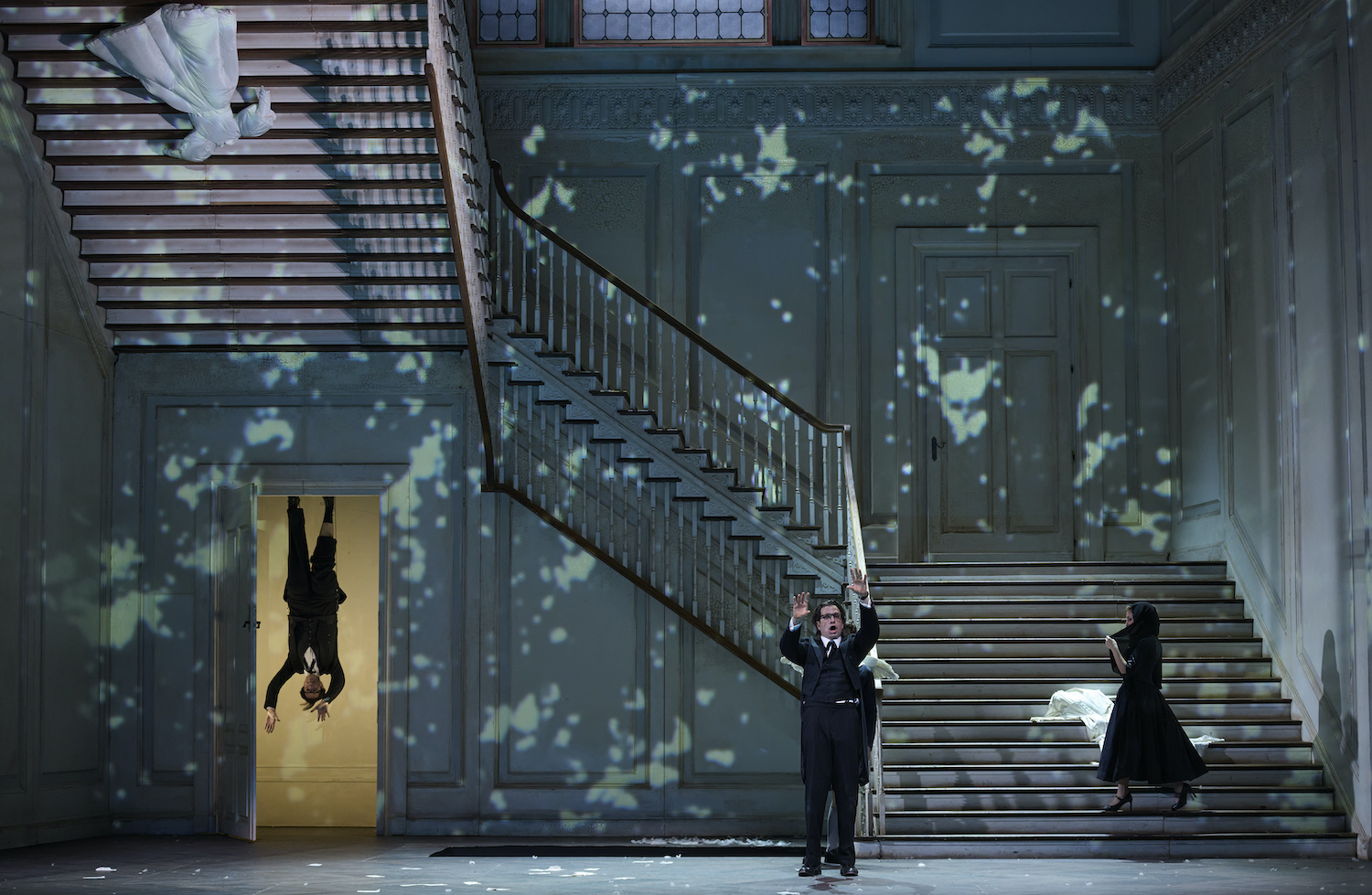 American mezzo Emily Fons has the trouser role of Cherubino down to a vocal and dramatic tee, as convincing as the awkward young boy with raging hormones as a female can be. Cherubino is at the heart of the darkness of Guth's Figaro, physically and even sadistically abused by the Count and Figaro as they prepare to send him to the army, and embraced as a sexual being by both the Contessa and Susanna (and, of course, by soprano Mireille Asselin's equally libidinous young Barbarina). He's dressed exactly like his mime alter ego, Cherubin—German actor Uli Kirsch, who created the role and has played it in every staging—and in this form the boy's wanton spirit fuel's the entire opera.
There's no weak link in the ensemble cast of this production, with entertaining and at times hilarious contributions from: bass Robert Pomakov as a vengeful, wheelchair-bound Dr. Bartolo; mezzo Megan Latham as Marcellina, overbearing as Figaro's would-be wife, doting on learning he is her son; tenor Michael Colvin as a greasily conniving Don Basilio; tenor Jacques Arsenault's blind and groping Don Curzio; baritone Doug MacNaughton's bizarrely obsessive gardener, Antonio, who seems unhinged rather than drunk; and a reduced COC Chorus, whose brief numbers were neatly integrated into the action.
This is surely the bawdiest production the COC has produced at the Four Seasons Centre, though from what we know of Mozart's character it likely would have appealed to the composer as such even though he would likely be non-plussed by its absurdist look and feel and some of the visual imagery. (The symbolism of Cherubin's apples of temptation at the outset are clear enough, but what to make of his incessant play with feathers and the occasional business with dead crows?) Just as surely, Guth's production is a provocation calculated to make an 18th-century work resonate with a 21st-century audience. This COC revival arguably makes the connection more effectively than the original Salzburg staging.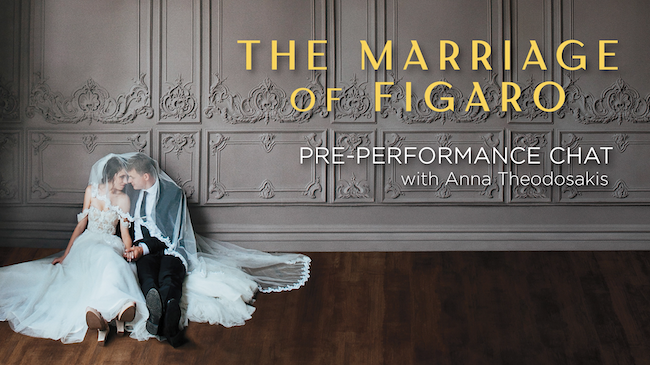 ---
Opera Canada depends on the generous contributions of its supporters to bring readers outstanding, in-depth coverage of opera in Canada and beyond. Please consider subscribing or donating today.
CANADIAN OPERA COMPANY
JAN 27 to FEB 18 2023
MOZART LE NOZZE DI FIGARO
CAST AND CREATIVE TEAMS
Conductor
Harry Bicket


Assistant Conductor

Simone Luti


Director

Claus Guth


Revival Director

Marcelo Buscaino


Set & Costume Designer

Christian Schmidt


Lighting Designer

Olaf Winter


Video Designer

Andi A. Müller


Choreographer

Ramses Sigl


Price Family Chorus Master

Sandra Horst


Stage Manager

Kate Porter

Figaro Luca Pisaroni
Susanna Andrea Carroll
Count Gordon Bintner
Countess Lauren Fagan
Cherubino Emily Fons
Dr. Bartolo Robert Pomakov
Marcellina Megan Latham
Don Basilio Michael Colvin
Antonio Doug MacNaughton
Barbarina Mireille Asselin
Don Curzio Jacques Arsenault
Cherubim Uli Kirsch

With the COC Orchestra and Chorus