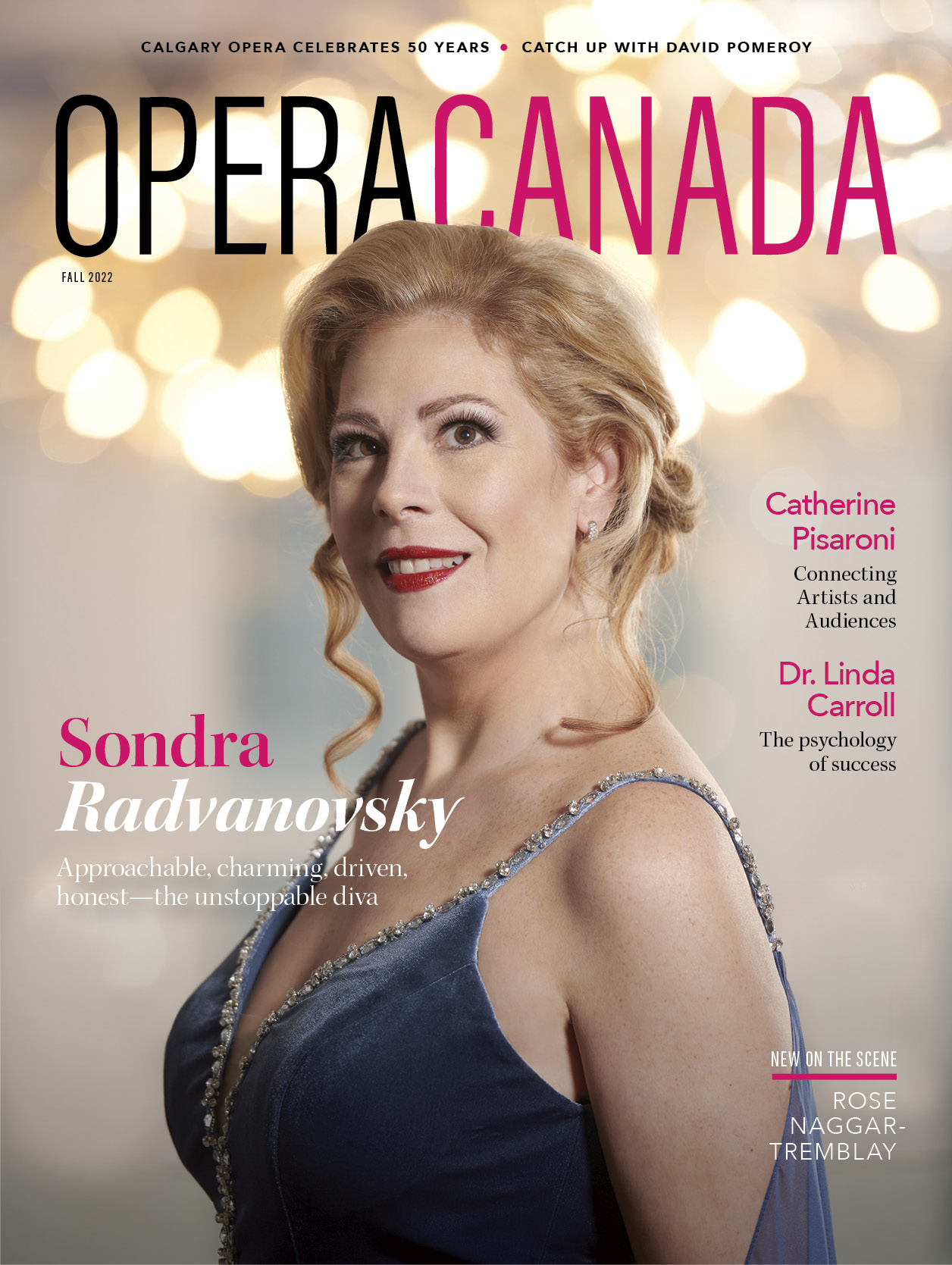 *this text was originally published in the fall 2022 print version of Opera Canada magazine
Over the past few months I have contacted  people in and out of the opera business to try to ascertain how Opera Canada can better serve our readership, Canadian artists, and our homegrown opera companies.
Thanks to all who have contributed to this much needed discussion so far. We will strive to implement many new things, particularly with respect to our online presence. It's imperative that we keep pace with our community and go the extra mile to support growth and integrity in the opera world. We strive to expand our readership to include international readers and listeners, certainly an attainable goal with Canadians playing prominent roles in every corner of the globe!
You will notice already in this issue that the regular content now incorporates a variety of perspectives: from business to teaching philosophies, to an in-depth creative project report. We continue to anchor our content with artists' voices, and we conclude with the acknowledgment of a great Canadian opera benefactor.
2022 Rubies Awards Gala
Monday, November 7, 2022 6PM
An Evening Celebrating Canadian Opera Artists
FOUR SEASONS CENTRE FOR THE PERFORMING ARTS
TICKETS & INFORMATION
I'm very excited to announce that we will soon be launching The Opera Glasses podcast; a video podcast dedicated to complementing our magazine and online content. It will be a place to hold discussions that are tougher to editorialize in print, and to expand on the current whims of the business.
In addition to our new podcast, we will now be presenting exclusive video content and including more artist features in our online offerings. Further extending our efforts to sustain online activity in real time, we will also post reviews soon after productions open and albums are released.
As we gear up for season openings across the world, we can be proud to see our Canadian artists leading the charge. To highlight a couple of our global ambassadors: Sondra Radvanovsky, featured here, recently opened The Metropolitan Opera's season in the title role of Cherubini's Medea (live HD performance is this Saturday—find a local theatre), and Gerald Finley recently opened San Francisco Opera's 100th season in the title role of John Adams's new opera, Anthony and Cleopatra.
If you have not yet visited our new calendar feature on our website, please go to check out what our Canadian artists are doing at home and abroad. To our knowledge this is the only such resource in existence at this time. If you are an artist or company and your opera engagements are not listed there, please don't hesitate to contact us—we want to include you!