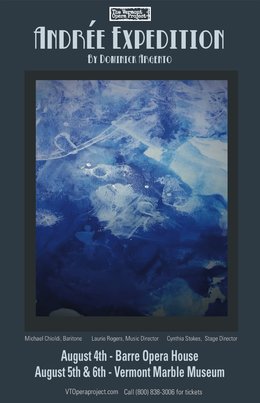 VERMONT – Internationally acclaimed, EMMY award-winning opera star, Michael Chioldi, makes his debut with the Vermont Opera Project August 4th (Barre) & 5th (Proctor). Chioldi (New York) lends his rich, powerful voice Argento's masterwork. Chioldi has quickly gained the reputation as one of the most sought-after dramatic baritones of his generation. Praised for his "warm, rich tone" (Opera News) and "deeply communicative phrasing" (The Baltimore Sun), he has received unanimous acclaim from critics and audiences around the world for his portrayals of the dramatic baritone roles of Verdi, Puccini, and Strauss. His recent performances include the title roles in Verdi's Rigoletto with the Orquesta Filarmónica de Jalisco, Macbeth with Palm Beach Opera, and Nabucco with Lyric Opera Baltimore; as Conte di Luna in Il Trovatore with Utah Opera; and as Rodrigo in Don Carlo with Austin Lyric Opera.
"It was a privilege to hear him debut this role and who, I am sure, will inherit the baton of the great Rigoletto of our time, Leo Nucci. What a great, powerful voice and what an enthralling actor. It is the most emotional and compelling Rigoletto I've seen live." – Lazaro Azar for Reforma, 2016
"Chioldi offered a powerful, virile and dramatic voice … His Rigoletto gave me goosebumps. He fulfilled and went beyond expectations, even more when considering this was his debut in the role. The rendition of his aria 'Cortiggiani vil razza dannata' was a heartrending interpretation of the desperation of a father who has had his daughter snatched away from him." – Le Nous Cultura, 2016
"Michael Chioldi's rich baritone voice powered relentlessly through the music, his earthy resonations packing a real punch." – Broadway World, 2017
A hundred years ago the conquering of the North and South Poles were two of the few remaining geographical objectives not yet reached by civilized Europeans.  On July 11, 1897, Solomon August Andrée, Nils Strindberg, and Knut Fraenkel left on a doomed expedition to fly to the North Pole in a hot air balloon.  Thirty three years later, their bodies as well as their journals, letters, and diaries were found and returned to Sweden. Most of the text for this song cycle is taken directly from those documents.
Information on Michael Chioldi can be found at www.michaelchioldi.com. Tickets can be purchased through www.vtoperaproject.com.
Source: Opera stories from La Scena