The celebrated Canadian composer/writer/teacher John Beckwith, O.C., died December 5, 2022 in Toronto at the age of 95. His long life of service to Canadian music began on March 9, 1927 in Victoria, BC, where he started piano lessons at age 6 and sang as a boy chorister in the choir of Christ Church Cathedral. He moved to Toronto in 1945 to continue his studies with Alberto Guerrero, an important teacher and mentor. Beckwith completed his Bachelor of Music degree at the University of Toronto in 1947 and his Master's of Music degree in composition under John Weinzweig in 1961. After composition studies with Nadia Boulanger during a stay in Paris , he returned to Toronto and taught on contract at the University of Toronto Faculty of Music becoming a full-time faculty member in 1955 and remaining there until his early retirement in 1990. He served as the Dean of the Faculty of Music (1970–77) and the inaugural Director of the Institute for Music in Canada (1985–91). Concurrently with his work at the University, Beckwith was active as a music critic, CBC broadcaster, editor, and public intellectual. A hard-working and productive scholar-composer, he wrote over 160 compositions, a similar number of articles, and seventeen books (including a biography of Alberto Guerrero), the last of which, Music Annals, was published this year and launched at the Canadian Music Centre in September, 2022. His richly detailed and beautifully written memoir, Unheard of, was published in 2012. Beckwith was a founding member of the Canadian Music Centre and the League of Canadian Composers, held honorary doctorates from five universities and was a member of the Order of Canada.
Beckwith wrote four operas with his frequent collaborator, the poet and playwright James Reaney (1926-2008), whom he met at the University of Toronto in the late 1940s. They shared a deep interest in creating and telling authentically Canadian stories with local references – both literary and musical—and universal messages.
Night Blooming Cereus is a one-act opera which was commissioned by CBC Radio and given its radio premiere on March 4, 1959. The cast included Patricia Rideout as Mrs. Brown, Ann Stephenson as Alice and Irene Byatt, Alexander Gray and Patricia Snell and was conducted by Ettore Mazzoleni. The first stage production took place in early April, 1960 at Hart House Theatre in Toronto, directed by Pamela Terry, conducted by Mazzoleni and designed by Louis de Niverville. There have been a number of revivals over the years, notably at the universities of Victoria, Western and McGill and by Toronto's Opera in Concert and Summer Opera Lyric Theatre. The story takes place in the Southwestern Ontario home of Mrs. Brown, whose granddaughter Alice has come to visit on the night of the blooming of Mrs. Brown's cereus flower and together they discover a deeper understanding of their lives and connection. Beckwith's beautiful score includes Mrs. Brown's poignant aria "Houses in Heaven", which was later arranged for choir.
The Shivaree is a two-act opera written over the course of 15 years from 1964 to 1978. COMUS Music Theatre of Canada gave a workshop reading in 1979 and produced the premiere production in April, 1982 at the St. Lawrence Centre, conducted by Howard Cable and directed by Paula Sperdakos, with Avo Kittask, Caralyn Tomlin, Henry Ingram, James McLean and Patricia Rideout in the cast. The darkly comic and touching story with mythological roots centres around young Daisy, whose lover Jonathan leaves her and she feels forced to accept the marriage proposal of a much older man, Mr. Quartz. On their wedding night, Jonathan returns and enlists the help of the "shivareers" to hatch a plot to regain Daisy. The score is full of beautiful lyric writing for the principals and lively chorus work for the townspeople. Daisy's Aria ("Jonathan, you were strange young man") appears in the recently-published Canadian Opera Anthology for Soprano, Volume 2. Toronto's Opera in Concert remounted a production of The Shivaree in 2002, with soprano Barbara Hannigan and tenor John Tessier.
The detective opera Crazy to Kill was given its premiere at the Guelph Spring Festival in May, 1989 with Jean Stilwell, Paul Massel and Sharon Crowther taking the singing roles, with actors Cheryl Swarts and Jay Bowen, and Marc Widner (piano) and Mark Duggan (percussion). Jerry Franken directed, Sue Lepage designed the set and costumes and Anna Wagner-Ott created over a dozen puppets for the production. Based on the novel of the same name written in 1941 by Stratford, Ontario writer Ann Cardwell, the story takes place in a mental hospital in Elmhurst, Ontario. There have been a series of murders at the hospital and Detective Fry is enlisting the help of patient Agatha Lawson to solve them. Toronto Masque Theatre produced a revival of the opera in November, 2011, with Kimberley Barber, Doug MacNaughton and Shannon Mercer. Gregory Oh was the pianist and music director, and David Ferry directed.
The fourth John Beckwith/James Reaney operatic collaboration was Taptoo!, a "documentary ballad opera" which was written in 1994 and had its first chamber production in 1999 at McGill University in Montreal with a full production in March, 2003 at the University of Toronto's MacMillan Theatre, directed by Michael Albano and conducted by Sandra Horst. Its first professional production by Toronto Operetta Theatre in January 2012, directed by Guillermo Silva-Marin and conducted by Larry Beckwith. Set in the colony of Upper Canada in the late 18th and early 19th century, Taptoo! is a brilliant and complicated story of conflicting versions of history—the founding of Upper Canada, the War of 1812 and the naming of Toronto – and the poignant personal struggles of an extended family and community. It is a work that finds both Beckwith and Reaney at the height of their creative powers, weaving in deeply original theatrical and musical references. It's an opera like no other and future productions will need the time and resources to solve its many riddles. It's worth it!
In addition to writing four operas, Beckwith restored the early Canadian operetta Lucas et Cécile, which was left unfinished at the death of composer Joseph Quesnel (1746-1809). Excerpts were first performed at the Music at Sharon festival in the summer of 1989 and the full operetta was performed, in concert with narration, by the Tafelmusik Baroque Orchestra in 1994 and was subsequently broadcast on CBC Radio. The first staged performance, with new dialogue written by Pierre Turcotte, was given by the opera company L'Opéra du Château with vocal soloists and harpsichord accompaniment in Montreal's Musée du Château Ramezay on 17 April 2000. Lucas et Cécile was staged in an English version devised by Brad Walton (dialogue) and Alexander Wiebe (lyrics) at the Glenn Gould Studio in Toronto on 25 May 2001 by the company Opera Anonymous, with vocal soloists and the Aradia Ensemble conducted by Kevin Mallon.
Beckwith wrote vocal music throughout his career, including the early Five Lyrics of the Tang Dynasty, two sets of songs to the poetry of e.e. cummings, the soprano monodrama Stacey to excerpts from Margaret Laurence's The Fire Dwellers, Four Short Songs for mezzo to texts by Wassily Kandinsky, Avowals for tenor with text by bpNichol, baritone sets to texts by John Millington Synge and Samuel Beckett and three soprano songs to texts by Miriam Waddington. There are also four sets of folk song arrangements (I Love to Dance, Five Songs from Canadian Folk Collections, Young Man from Canada and Four Songs for Baritone) one each for soprano, alto, tenor and baritone which demonstrate Beckwith's deep interest in Canada's regional music from coast to coast. An online marathon of the John Beckwith Songbook —with performances by 3641 Canadian singers including Russell Braun, Barbara Hannigan, Benjamin Butterfield, Krisztina Szabo, Doug MacNaughton, Kimberly Barber, Colin Ainsworth, Leslie Fagan and members of the Canadian Children's Opera Company—was produced by Confluence Concerts to mark the composer's 94th birthday in March, 2021.
The librettos to all of the Beckwith/Reaney operas can be found in the collection Scripts, edited by John Beckwith and published in 2004 by Coach House Press. University of Toronto graduate student Katy Clark recently completed her doctoral thesis Regionalism in the Operas of John Beckwith and James Reaney and the baritone Bradley Christensen is completing a comprehensive study of Beckwith's song repertoire which will be available soon.
John Beckwith was a deeply original and skilled composer and his song collections and four operas represent a unique and powerful repertoire that I hope will continue to be discovered, learned and performed by Canada's singers and opera companies. Their distinctiveness and brilliance are an enduring gift.
Written by Larry Beckwith with thanks to Professor Robin Elliott, Director of the Institute for Music in Canada at the University of Toronto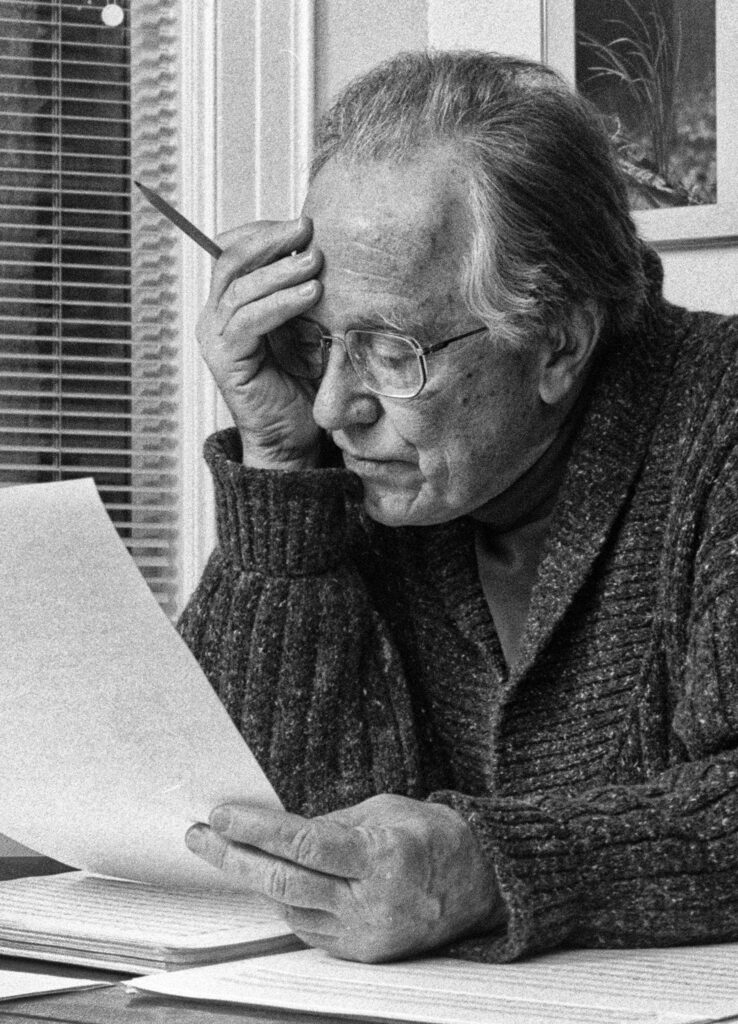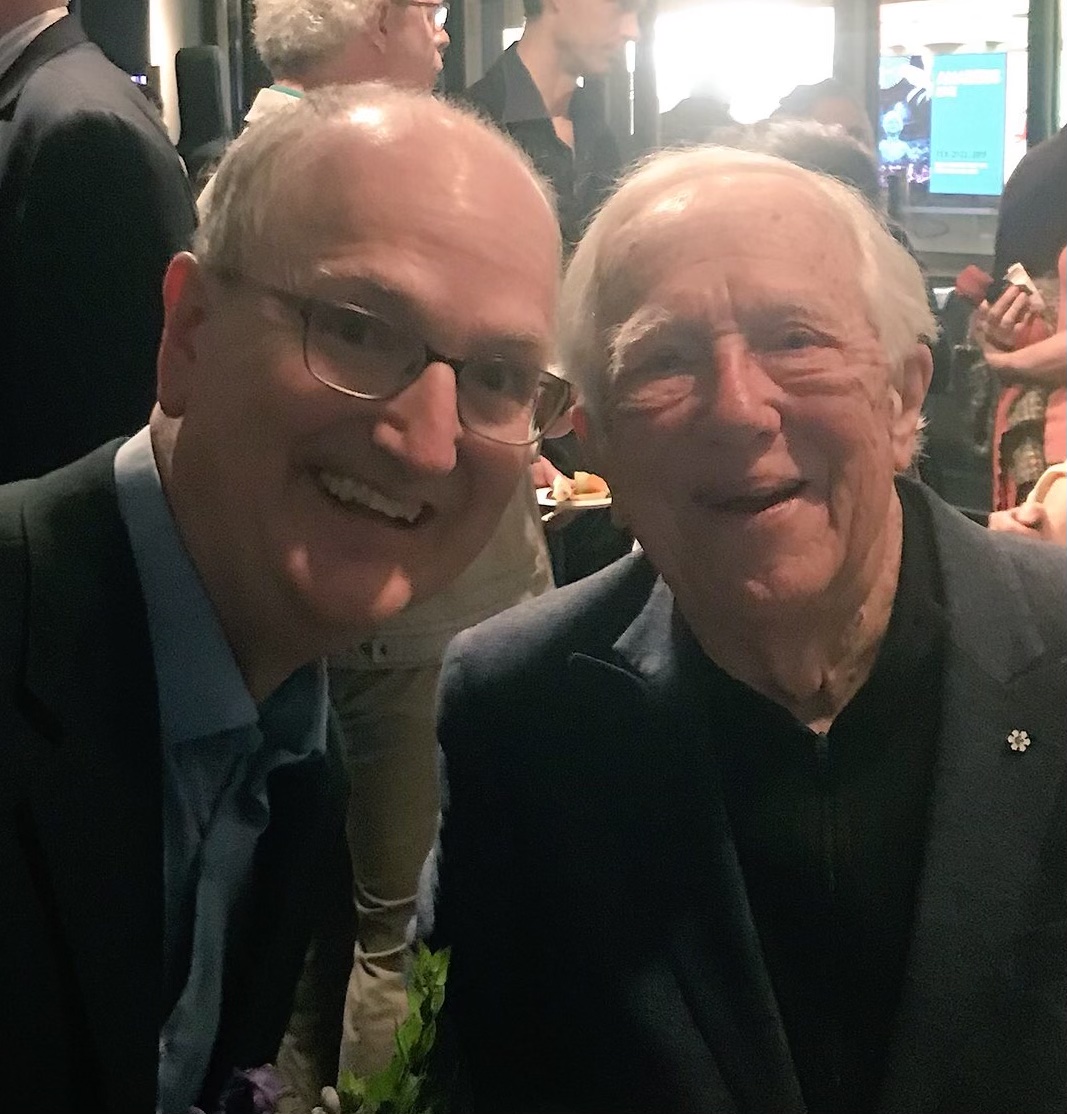 Larry Beckwith with his father, John Beckwith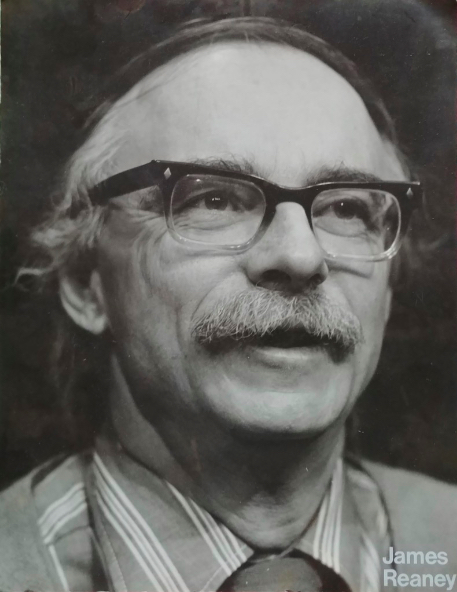 James Reaney Ⓒ Courtesy of Larry Beckwith