Canadian soprano Mireille Asselin is in her hometown of Ottawa, ON reprising the role of Zerlina in the National Arts Centre Orchestra's production of Mozart's Don Giovanni, which opened June 15 and has one show left on June 17 (tickets here). Presented in collaboration with Banff Centre for Arts and Creativity, the production features a celebrated cast of Canadian soloists (including baritones Elliot Madore and Justin Welsh, sopranos Jane Archibald and Miriam Khalil, tenor Andrew Haji, and bass-baritone Vartan Gabrielian) and Ottawa's Ewashko Singers. Joel Ivany directs, with conductor Alexander Shelley at the podium.
Up next, Asselin kicks off Opera Atelier's 2023/24 season singing the title role of Eurydice in Gluck's Orfeo ed Eurydice (Oct 26 to Nov 1; details here) with Canadian tenor Colin Ainsworth (Orpheus) and soprano Anna-Julia David (Amour).
Asselin is an alumnae of the Canadian Opera Company's Ensemble Studio, Yale University's prestigious Opera Program, and the Glenn Gould School of The Royal Conservatory of Music in Toronto. This week, she gives us a tour of Canada's lush, green capital including her favourite spots and activities along the canal.
City where you're working?
I'm currently in Ottawa, Ontario rehearsing Don Giovanni with the fabulous National Arts Centre Orchestra and am in the very happy, and rare, circumstance of having a home gig! I'm originally from here and after many years living in Toronto and the United States, returned in 2020 to the small town of Almonte which is about 45 minutes west of the city. Usually I have to hop on a plane for my gigs, so I'm very excited to be singing one of my favourite roles (Zerlina!) for a home crowd.
How long are you working on contract?
The whole contract, including 2 performances, is only 13 days long. We're putting on a semi-staged version of the piece, directed by the fabulous Joel Ivany, so we've got to fit in all that Ottawa has to offer in a short period of time!
What's the opera house like?
The National Arts Centre is a massive, impressive complex which houses four different performance spaces and has a jam-packed schedule of activities. Southam Hall (the biggest venue) is where we'll be performing, and we were lucky to have our first read through on stage this week to get used to the acoustic and get the lay of the land.
The NAC was opened in 1969, built to commemorate Canada's centenary, and it is right smack in the centre of town on Ottawa's beautiful canal with the Parliament buildings in view. The NAC underwent transformational renovations recently and the new acoustical and seating design unveiled in 2018 have made the hall practically unrecognizable from the one I knew growing up. It now has a lovely warm acoustic that's a pleasure to sing in – perfect for opera's comeback to the National Capital Region!
Where is the most peaceful place in the city above?
I'm going to take the liberty of going a bit further afield and include my little town of Almonte into this category. It's an old mill town built on the Mississippi River (no, not that Mississippi), and there's nothing I find more relaxing than going on a walk with my dog to visit the many waterfalls in the area. My favourite spot to stop is on a dam nestled in a little residential area and feel the water rush underfoot.
Best coffee or tea?
Ok this is a combo Almonte-Ottawa plug – Equator Coffee! They are a local coffee roaster with a handful of shops in the area serving the most delicious organic, fair-trade coffee. They've been at the forefront of the fair-trade movement since they started in 1998 and, conveniently for me, I can start my day with a cappuccino at their original Almonte location and get a midday pick-me-up after rehearsal at their NAC café! I also highly recommend their trail mix muffin… trust me.
Coolest bar or restaurant you've been to?
My idea of "cool" is someplace tasty and laid back. For that, I like this one particular block of Elgin Street between Frank St and Gladstone Ave which has some great old-school haunts: The Manx Pub is a cozy basement pub with a solid menu and just the right amount of worn-in feel to it; The Elgin St Diner is open 24-hours a day and serves up a Hangover Breakfast (swapping out poutine for your home fries) whenever you might be in need; and El Camino and Datsun are more recent additions next door serving up tasty contemporary Mexican and Asian Fusion dishes respectively.
An activity you have done that is unique to the area?  
In the winter, the answer would definitely be to skate the canal! It's the quintessential Ottawa experience. If you're visiting any other time of the year, I would recommend making your way to the Québec side of the river and exploring the hikes and bike trails in Gatineau Park and the town of Chelsea, which has a fabulous Nordik Spa and great restaurants. I highly recommend Les Fougères for a taste of the local "terroir" in a pretty, forested ambience and the Chelsea Pub for more relaxed fare and great beer.
Is there something unexpected that happens locally that you discovered?  
Ottawa is a really active town that boasts easy access to trails all around the Greenbelt and in Gatineau Park nearby, and this has created a thriving bike culture. Nothing demonstrates this more than the Bike Weekends that run all summer, when the city closes off all of the lovely paved Parkways that are typically filled with car commuters during the week, and bikers descend in droves to take advantage of car-free rides on Saturdays and Sundays.
Is there anything you recommend beyond what we've asked here?
Definitely pay a visit to the Ottawa Bagelshop and Deli in the Westboro neighbourhood. It's an Ottawa institution founded by the same family that runs St. Viateur Bagels in Montreal and is now being run by the next generation – my friend Liliana Piazza who is also an opera singer (hi, Lili!). They're running a new music festival all summer, with shows every Wednesday and Sunday. So make sure to pop in for some tunes and a bagel sandwich. PS: You may recognize their new bagel model… 😉
Have you had a chance to explore some galleries or museums?
I haven't done any during this particular contract yet, but I highly recommend the National Art Gallery and the Museum of Science and Technology (this one is especially amazing if you have some kids in tow). One that's still on my bucket list is the Diefenbunker – a museum housed in the literal bunker Diefenbaker had built to house key members of the government during the Cold War in the event of a nuclear attack. It's a wild, perfectly preserved 1960s time capsule and apparently also has the world's largest Escape Room..? I'll report back!
Mireille Asselin (Zerlina) and Elliot Madore (Don Giovanni) in the National Arts Centre Orchestra's production of Don Giovanni, 2023  Ⓒ Curtis Perry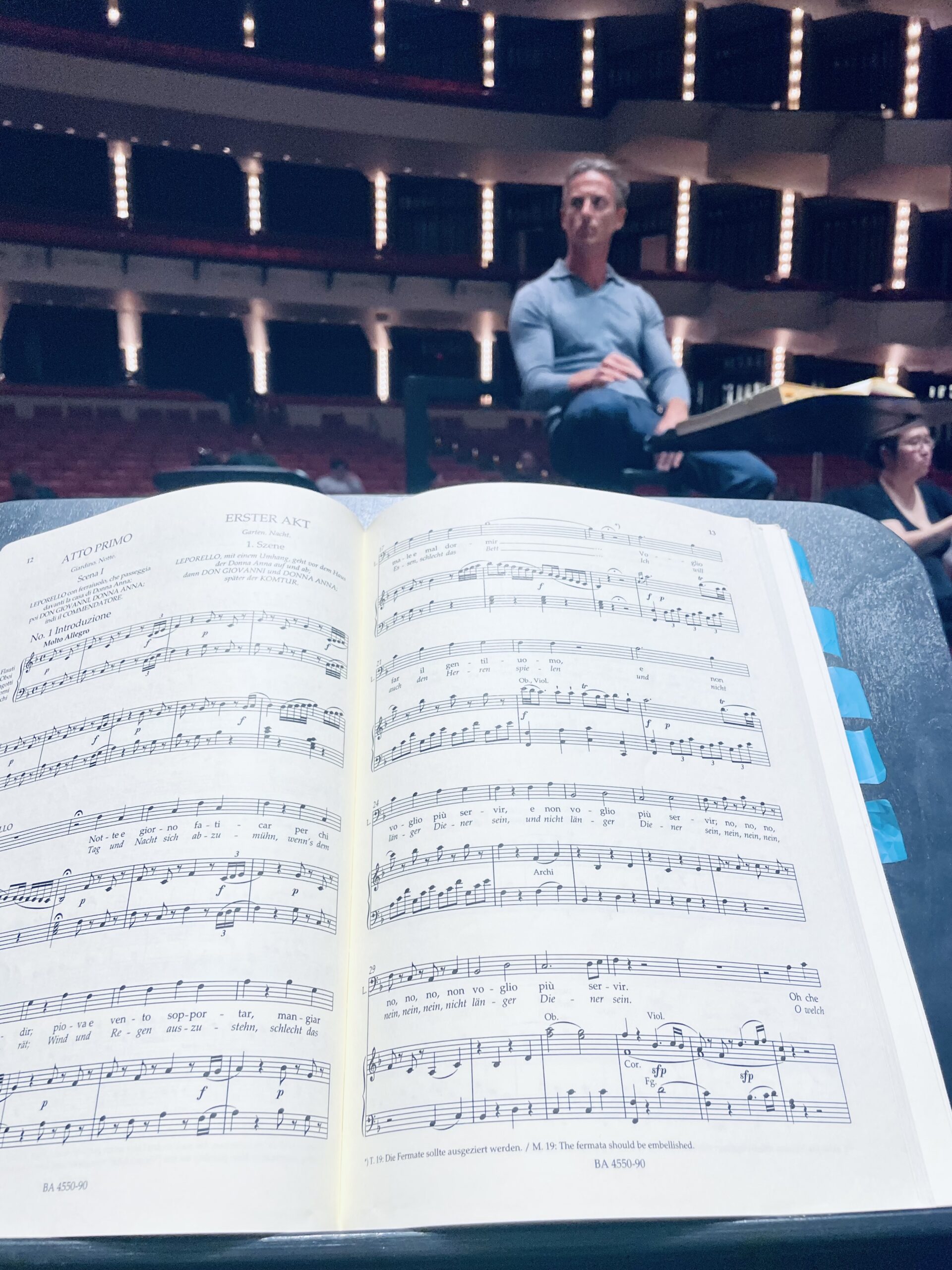 Mireille Asselin in rehearsal for National Arts Centre Orchestra's production of Don Giovanni, Maestro Alexander Shelley conducts, with Assistant Conductor Jennifer Tung Ⓒ Mireille Asselin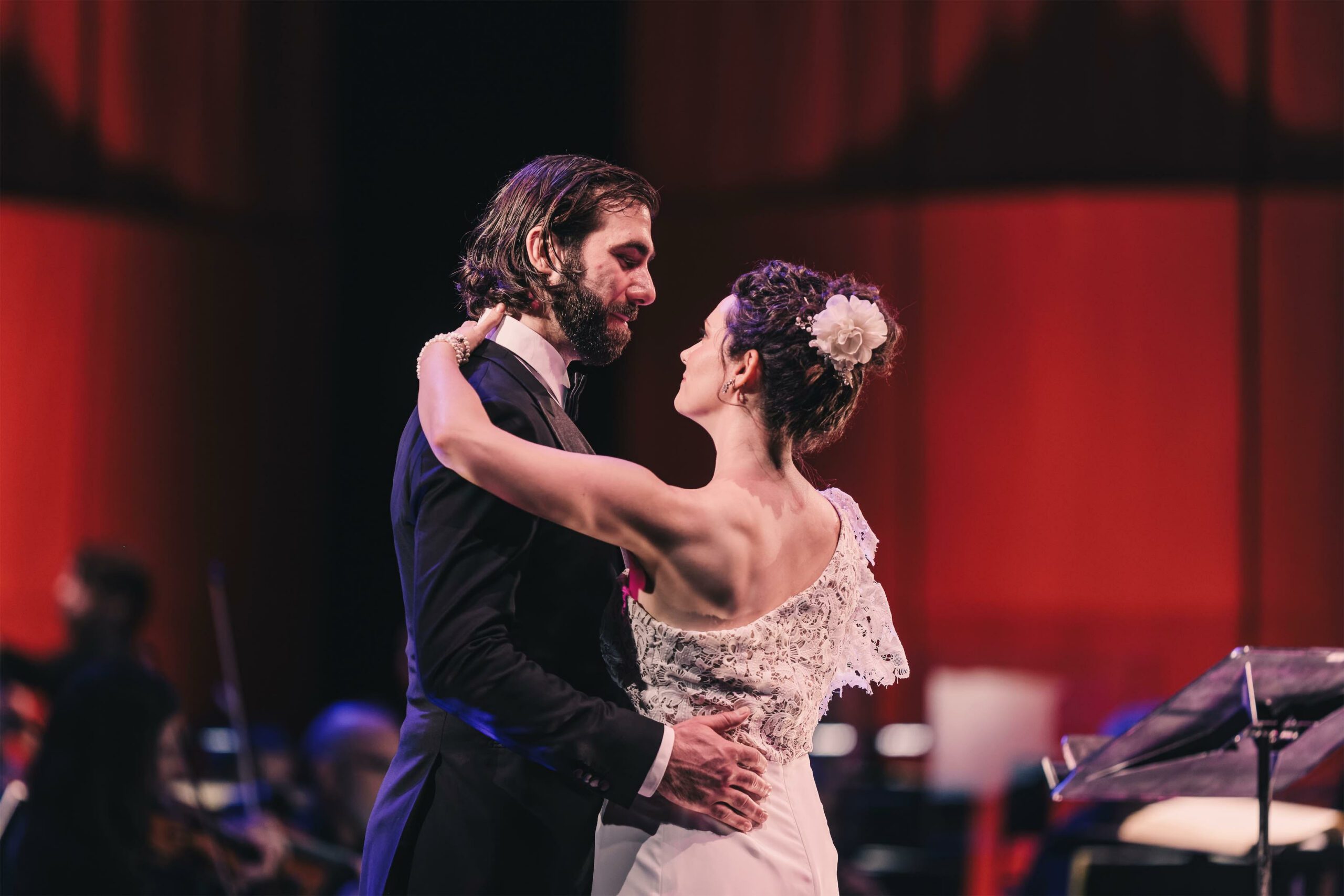 Mireille Asselin (Zerlina) and Vartan Gabrielian (Masetto) in the National Arts Centre Orchestra's production of Don Giovanni, 2023  Ⓒ Curtis Perry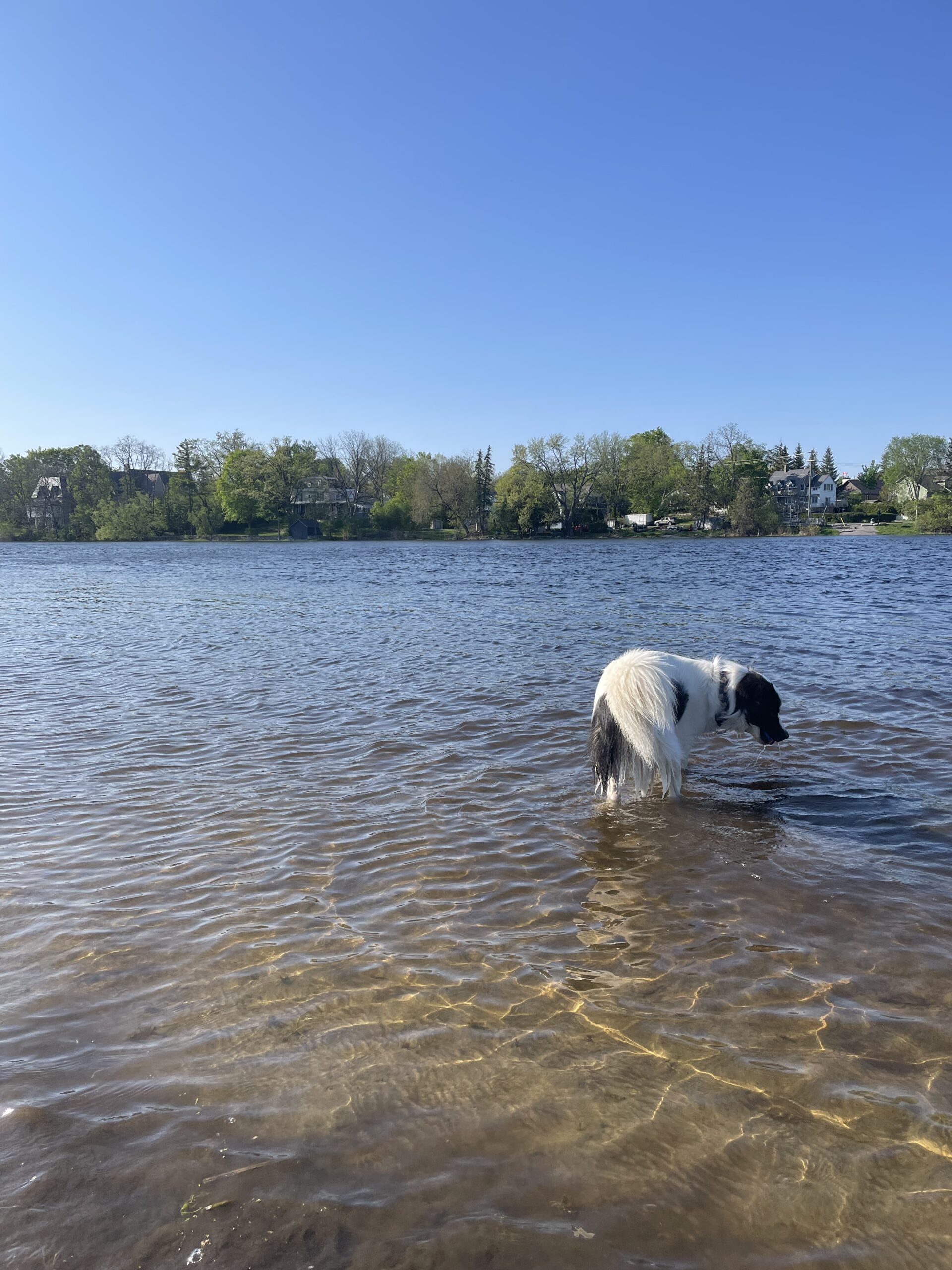 Asselin's pup Teddy wades into the Mississippi River Ⓒ Mireille Asselin
Mozart's Don Giovanni
National Arts Centre Orchestra
June 15-17, 2023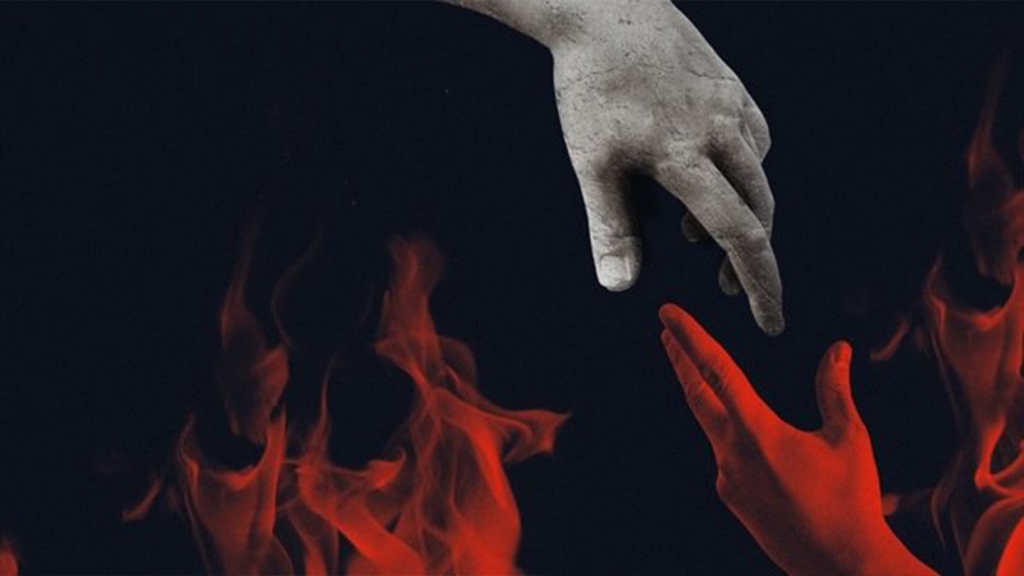 CONDUCTOR Alexander Shelley
DIRECTOR Joel Ivany
SET DESIGNER Michael Gianfrancesco
LIGHTING DESIGNER Kimberley Purtell
STAGE MANAGER Lesley Abarquez Bradley
CHORUS MASTER Laurence Ewashko
DON GIOVANNI Elliot Madore
LEPORELLO Justin Welsh
DONNA ANNA Jane Archibald
DONNA ELVIRA Miriam Khalil
DON OTTAVIO Andrew Haji
ZERLINA Mireille Asselin
MASETTO & COMMENDATORE Vartan Gabrielian
CHORUS ENSEMBLE Ewashko Singers
---
Opera Canada depends on the generous contributions of its supporters to bring readers outstanding, in-depth coverage of opera in Canada and beyond.
Please consider subscribing or donating today.