Dead Man Walking, the opera, has enjoyed a remarkable life: it's been around for twenty-three years now, performed in dozens of venues worldwide and commercially recorded twice, and it shows no signs of going away. I first encountered it in 2002, in Cincinnati, caught it later that year at New York City Opera and the following year in Detroit, and got reacquainted with it in 2017 in Washington DC. Now the opera, set primarily in a Louisiana penitentiary, has finally made it to New York's musical "big house," the Met, and on October 3 (the third performance in a run of nine) it scored another in its long string of resonant audience successes.
Dead Man—based on Sister Helen Prejean's account of her unconventional death-row ministry and on the Oscar-winning movie it inspired—was Jake Heggie's first opera, and he's since written better. Terrence McNally's libretto is dramatically cogent and composer-friendly—the late playwright was a famous operaphile and knew just where to place a big solo or duet or ensemble, and Heggie handles most of those quite well, his prior experience as a songsmith serving him nicely. His problem is the recitatives, a discipline for which his songwriting skills, it seems, hadn't adequately primed him. They're abundant in the overlong, expository act 1, their setting often obscuring the text, and clear diction was elusive—the audience laughter at some of McNally's lines was surely triggered by the back-of-the-seat Met titles, not by anything discernible from the stage. Sister Helen's 135-mile drive from New Orleans to the prison in Angola occasions an amusing encounter with a motorcycle cop, but the soul-searching monologue that surrounds it never really catches musical fire. Neither, once she arrives, do her successive conversations with the prison's chaplain and its warden. And the orchestration seldom impresses on its own.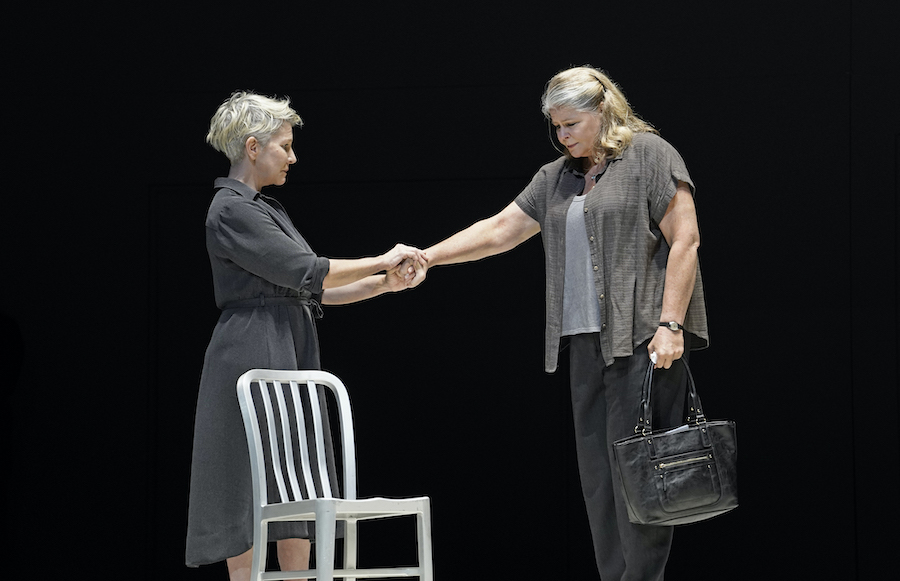 Joyce DiDonato and Susan. Graham in Dead Man Walking, 2023 Ⓒ Karen Almond/Met Opera
Act 2 works much better in every way, and at the Met Ivo van Hove's production followed suit. It's a stylized affair, with Jan Versweyveld's set—basically an empty stage with bare gray walls and a large rectangular box hovering overhead—making little attempt to replicate the story's various locales: this was a prison with no cells and no bars. There was extensive use of video, sometimes prerecorded (the hard-to-watch rape and murder of the prologue), sometimes captured live by an onstage cameraman (the harder-to-watch, very real-looking execution). The video cameras that followed, in close-up, Sister Helen and soon-to-be-dead-man Joseph De Rocher in the twin monologues that open act 2 pointed up a major problem with the production: the larger-than-life images, tracing the performers' every emotional nuance, were simply much more compelling a watch than the static stage action that was generating them. And—I'll say it again—the Met is simply too big for nearly any modern opera to make an ideal effect. I felt that way from a good seat in row S of the orchestra; I can only imagine what they were feeling up in the Family Circle.
ARE YOU COMING TO THE RUBIES ON NOVEMBER 6?
Join us to celebrate the best in Canadian opera at
The Four Seasons Centre for the Performing Arts in Toronto.
We will honour soprano Isabel Bayrakdarian,
baritone Gino Quilico,
librarian Wayne Vogan,
and change makers Michael Mori and Jamie Martino.
Performances by
Russell Braun,
Midori Marsh,
and Canadian Opera Company Concertmaster Marie Bérard,
all in collaboration with pianist Carolyn Maule.
 Still, I admired van Hove's deft work with the principals, and his staging, like the opera itself, rose to a real power as it unfolded. And musically, the Met put its best foot forward. Music director Yannick Nézet-Séguin, whom I'd heard conduct a massively scaled Verdi Requiem six days earlier, responded to this far more intimate score with the attentive care and commitment he invariably brings to new works at his New York bailiwick. And the cast was as good as I've seen and heard in this opera, down to the smallest roles, with the likes of Wendy Bryn Harmer, Chad Shelton, and Raymond Aceto making sure they got their due. Justin Austin made the most of his little scene as the motorcycle cop, and veteran fellow baritone Rod Gilfry, as the father of the murdered girl, shone in his small gift of a role. Latonia Moore made an engaging Sister Rose, though the role would be better served by a soprano with easier top notes than hers.
But it was, as it should be, the singers of the three central roles who carried the show. Bass-baritone Ryan McKinny was terrific as De Rocher, lyrical and powerful in what is, after all, the opera's title role; it was a pleasure to see this fine artist finally getting his Met due. Susan Graham, who created Sister Helen, is now playing the smaller but telling role of De Rocher's mother; she sang wonderfully and commanded her every scene like the not-so-old pro she is. And it's hard to imagine a more rounded portrait of Sister Helen than Joyce DiDonato's, which has grown fuller and deeper since she introduced it at New York City Opera two decades ago, even if the voice and manner aren't as fresh as they were back then—perhaps her frequent flatness up top could be construed as a bow to the "blue notes" of New Orleans jazz. When she and Graham joined voices for their act 2 duet, it made for something very special: how often, I wondered, have a role's creator and its current inhabitant shared such a moment in a twenty-first-century opera? Heggie, I hope, was feeling justifiably proud.
---
Opera Canada depends on the generous contributions of its supporters to bring readers outstanding, in-depth coverage of opera in Canada and beyond. Please consider subscribing or donating today.