The recent hybrid CD/SACD release of Leonard Bernstein's Candide on the London Symphony Orchestra's own label is drawn from live semi-staged performances at the Barbican in London in December 2018. That production was, in turn, based on a 2004 production for the New York Philharmonic by Lonny Price.
It has to be said that Candide is a bit of an oddity. It's quite a stretch to use Voltaire's 1759 anti-clerical satire of Leibniz as a vehicle for guying the USA in the McCarthy era. It's even harder to reposition that for a modern audience, likely familiar with neither, and Price's version is only partially successful. Maybe a more radical updating would have helped. The updating is still essentially what the original was; 1950s Broadway with two or three more operatic arias thrown in. That said, it gets a committed performance here with a stellar cast on stage and Marin Alsop and the LSO in the pit.
The Canadian interest is provided by Jane Archibald in the coloratura soprano role of Cunegonde. She is part of an impressive cast that includes American tenor Leonardo Capalbo as Candide and the splendid veteran pair of Anne-Sofie von Otter, as the Old Lady, and Sir Thomas Allen as narrator and Pangloss. Paquette and Maximilian are ably handled by Carmen Artaza and Marcus Farnsworth and a more than competent line up of soloists play multiple roles as inquisitors, governors, Bulgarian soldiers, sheep etc.
There really are only two arias that might feature in a concert programme. There's Cunegonde's "Glitter and Be Gay" which is a coloratura extravaganza knocked off with aplomb by Archibald. She's also very funny perhaps especially when suggesting she's not quite as upset at her multiple ravishments as a well bred young lady ought to be. The other big aria is the Old Lady's "I am Easily Assimilated"; a comic tour de force requiring the singer to keep switching between styles and accents despite only having one buttock. Von Otter navigates it beautifully. The two ladies also show great chemistry in their several duets. Pangloss doesn't really get an aria but Sir Thomas shines with his deft comic timing, especially in the updated bits of the narration. The nearest thing to an interesting aria the title character gets is the Act 2 "The Ballad of Eldorado". Capalbo is excellent in this and in his final duet with Archibald but one does rather feel that his considerable talents are under used. The orchestra though is terrific and Alsop produces a well paced, lively and colourful reading of the score.
This is a hybrid CD/SACD (Super Audio CD) release so there are playback options at different quality levels. For those lacking SACD capability there's a standard CD quality (44.1kHz/16 bit) track. It's actually really quite good with good balance and a reasonable level of detail. Switching to the SACD 2 channel track (2.8 MHz/1 bit) though takes it to a whole new level of detail and for those with a full surround sound set up the multi-channel SACD mix has the same high level of detail and a decidedly more solid sound stage. It makes quite a persuasive case for the SACD format.
The two disk package comes with a useful booklet with notes, bios and the full English text (though it's hardly necessary given the high standard of diction). In a praiseworthy nod to ecological concerns the only plastic involved is the two disks themselves.
How well a satire of Eisenhower Republicanism could stand up in the age of Mar-a-Lago is very much open to question and I'm not sure Candide, even somewhat updated, can really carry the freight but if a case for it is to be made then this recording does so admirably.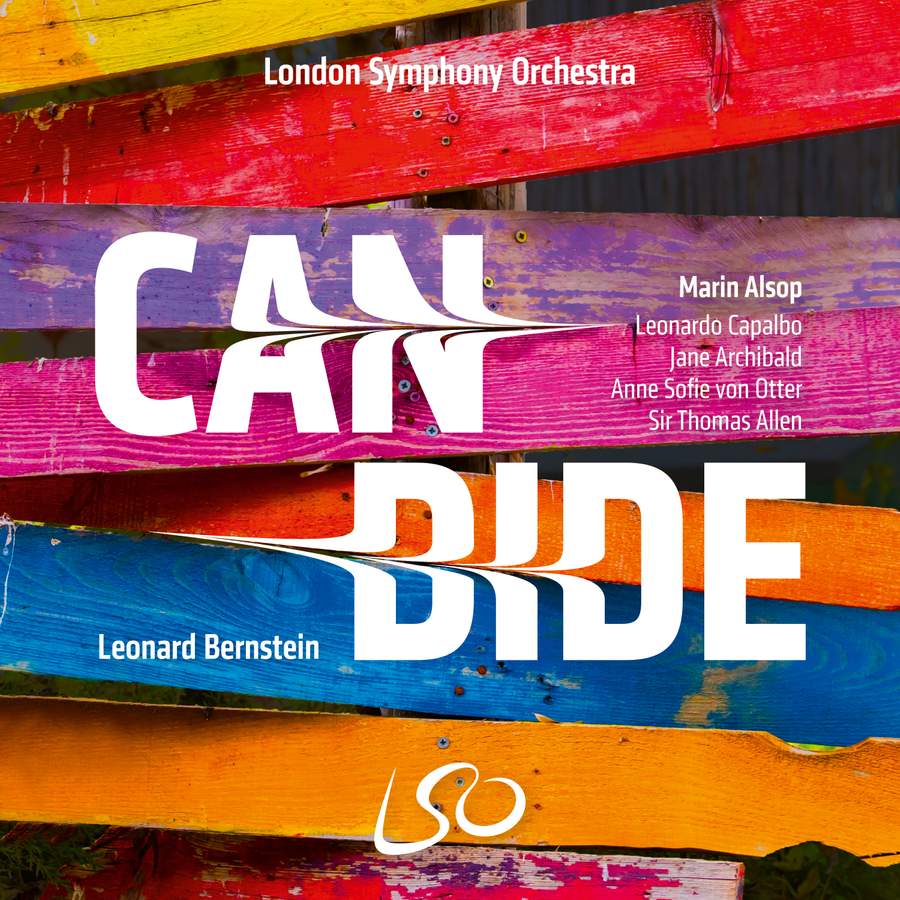 Artist(s)
Leonardo Capalbo (Candide), Jane Archibald (Cunegonde), Anne Sofie von Otter (Old Lady), Thomas Allen (Dr Pangloss/Narrator)

London Symphony Orchestra & Chorus, Marin Alsop

Label: LSO Live
Release Date: 15th Oct 2021
Catalogue No: LSO0834
Length: 1 hour 56 minutes
---
Opera Canada depends on the generous contributions of its supporters to bring readers outstanding, in-depth coverage of opera in Canada and beyond. Please consider subscribing or donating today.