Egyptian soprano Amina Edris is in Toronto, preparing for the first of five role debuts in her 2023/24 season, singing Mimì in the Canadian Opera Company's production of Puccini's La bohème, running Oct 6 to 28 (tickets here). She stars alongside Pene Pati (Rodolfo), Joo Won Kang (Marcello), Charlotte Siegel (Musetta), Blaise Malaba (Colline), Justin Welsh (Schaunard), Wesley Harrison (Parpignol), and Korin Thomas-Smith (Customs Officer).  
Her second role debut of the season will be Liù in Puccini's Turandot at Teatro di San Carlo in Naples (Dec 9 to 17 – tickets here), followed by the title role in Massenet's Thaïs at Opéra de Toulon in concert (Jan 23 and 25, 2024 – tickets here). Other debuts for Edris in 2024 include the role debut of Beatriz in the French premiere of Thomas Adès's The Exterminating Angel at Opéra national de Paris (Feb 29 to March 23 – tickets here), and the role and house debut as Rosalinde in Strauss's Die Fledermaus at Opéra de Lille (Jun 4 to 17 – tickets here).
Here Edris shares seminal moments in her career journey with us and reflects on the importance of investing in yourself as an artist. When asked about the biggest investment made by singers, she says, "paying for coachings and voice lessons often requires a hefty budget, but I consider it an investment worth making because at the end of the day, you are investing in yourself, in honing your skills as an artist, and in the longevity of your career."
What inspired you to sing?
My uncle fuelled my interest in music, and my very first introduction to classical music was through him. He plays multiple instruments, including the Egyptian lute, the guitar and Arabic percussion instruments, but he also has a beautiful singing voice. Many of my childhood memories are of him teaching me classical Arabic songs. I believe the inspiration for me to pursue singing stemmed from his encouragement and his love of the arts.
If you weren't a singer, you'd be…
An interior designer, or I would flip houses. If singing was not my path, I know for sure that I would have chosen something that would force me to be creative. I like the idea of walking into an empty space, and imagining what it could possibly look like or become.
Who is a singer you admire that is currently working?
There are several singers that I admire greatly. If I had to single one out right now, it would be Asmik Grigorian. For me, she is the definition of a complete artist, a true singing actress. She truly embodies the characters she portrays with such sincerity and authenticity. I have had the pleasure of attending a few of her performances and I have left in awe, every time.
Which role do you wish you could sing, but is not in your voice type?
Sopranos don't often have the opportunity to play the villain, or the "bad guy", so I would say Scarpia, Mephistopheles, or the four villains in Hoffmann.
What's your ancestry?
I was born in Egypt, to Egyptian parents, and I grew up in New Zealand.
What was your childhood dream job?
When I was about 6 years old, I went through a period where I wanted to be a flight attendant. My mother was a tour guide in Egypt and I would often say to her that I wanted to be a flight attendant so that her and I could travel together.
Are you happiest in the country or in the city?
Being born in Cairo, I am a city girl and I thrive on the hustle bustle energy of a big city. But growing up in New Zealand has also taught me to appreciate the calm and peaceful nature of the countryside.
What book are you reading at the moment?
Not currently reading anything, but the last book I read was The Inner Game of Tennis by Timothy Gallwey. It is about the psychological aspect of performance. My voice teacher gifted it to me several years ago, and I make it a point to read it once a year as a gentle reminder to myself.
What's a big investment for an opera artist, but totally worth it?
This may sound like a cliché, but the biggest investment for me is voice lessons and coachings. We spend money on a lot of things – gowns, shoes, music scores… opera singers have a never ending list of expenses, but none of those things mean anything if you don't invest in yourself. Paying for coachings and voice lessons often requires a hefty budget, but I consider it an investment worth making because at the end of the day, you are investing in yourself, in honing your skills as an artist, and in the longevity of your career.
Do you enjoy cooking? If yes, what is your best dish?
Absolutely. Cooking is therapeutic for me. If I could travel with all my kitchen gadgets, I would. My current favourite is chicken marinated in za'atar, pomegranate molasses and honey, served on a bed of couscous and a herb tahini dressing.
If you could be stuck in an elevator with one person, who would it be?
Adele. I wouldn't mind being serenaded by her while being stuck in an elevator. And even if she doesn't sing, she strikes me as someone who be a hoot to talk to!
What is the first thing you would do if you won the lottery?
I don't even have to think twice about this question. My husband and I have a pact that if either one of us won the lottery, first thing we're going to do is buy our respective parents their dream homes. Both of our families come from humble backgrounds, and buying them a home would be the least we could do as a thank you for the many sacrifices they made over the years .
The music industry is tough, and filled with rejection. How do you cope? Does it get easier?
Rejection in our industry is inevitable. I know that suppressing my emotions does me more harm than good, so my way of coping with it is to acknowledge my feelings. I personally like receiving feedback. If the criticism is constructive, and I am able to change it, then I go to the practice room and I work on it to improve. If the criticism is a question of taste, then there is nothing I can do about that. Does it hurt? Absolutely. But in moments like that, I like to remind myself that art is subjective, singing is subjective, my voice or artistry will not be liked by everyone, and that is ok.
Were there any directors in the past that have really inspired you?
Laurent Pelly. I have been very lucky to work with him on two productions and we have a few more projects together in the future. I love his process and his attention to detail. He comes from theatre, but has great respect for the music and the libretto, and because of that, his ideas tend to be driven and inspired by the music rather than superimposed over the top as an afterthought.
What does it mean to be brave with music?
I am sure each artist will have their own interpretation of that question, but for me, being brave with music means being unafraid to take risks.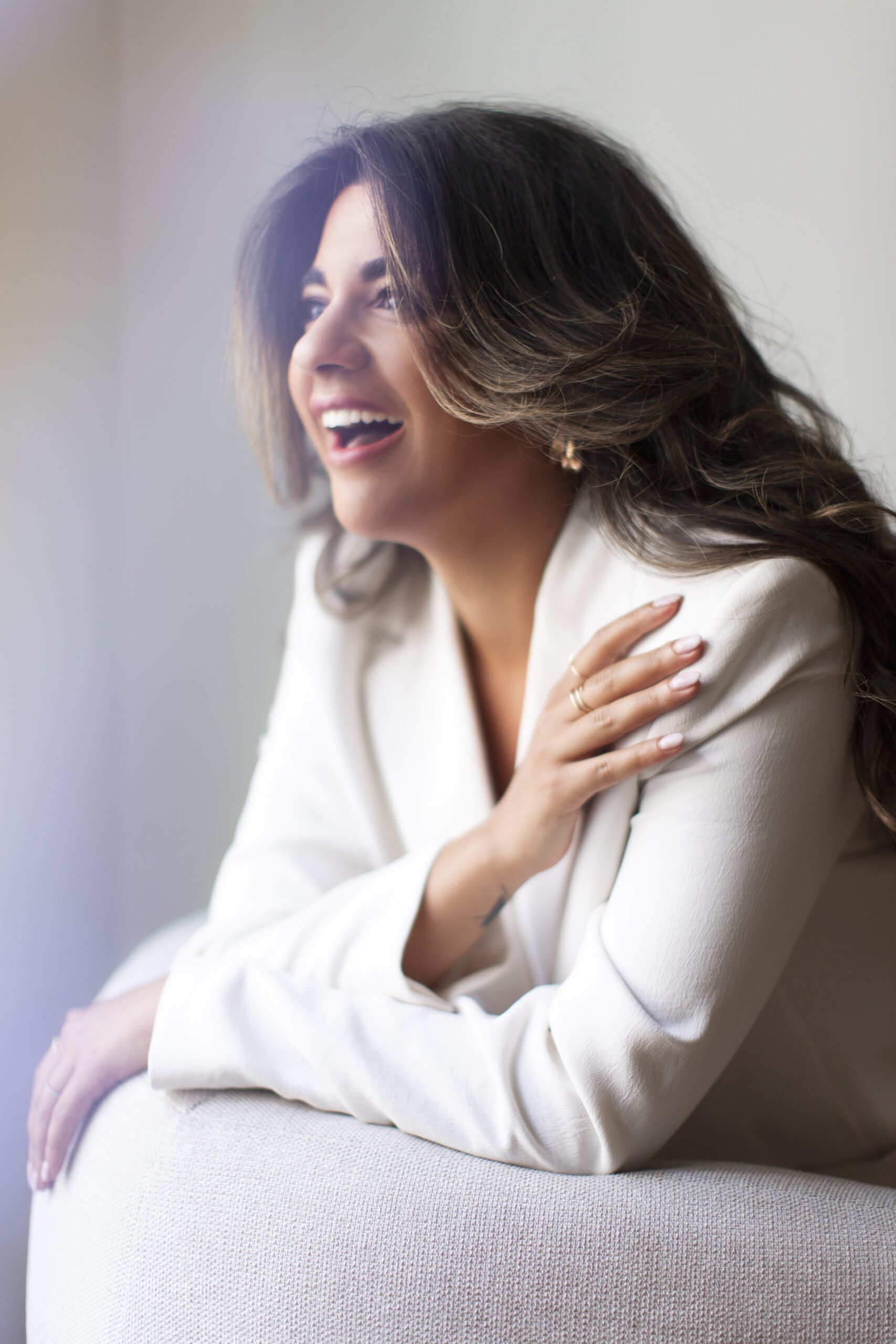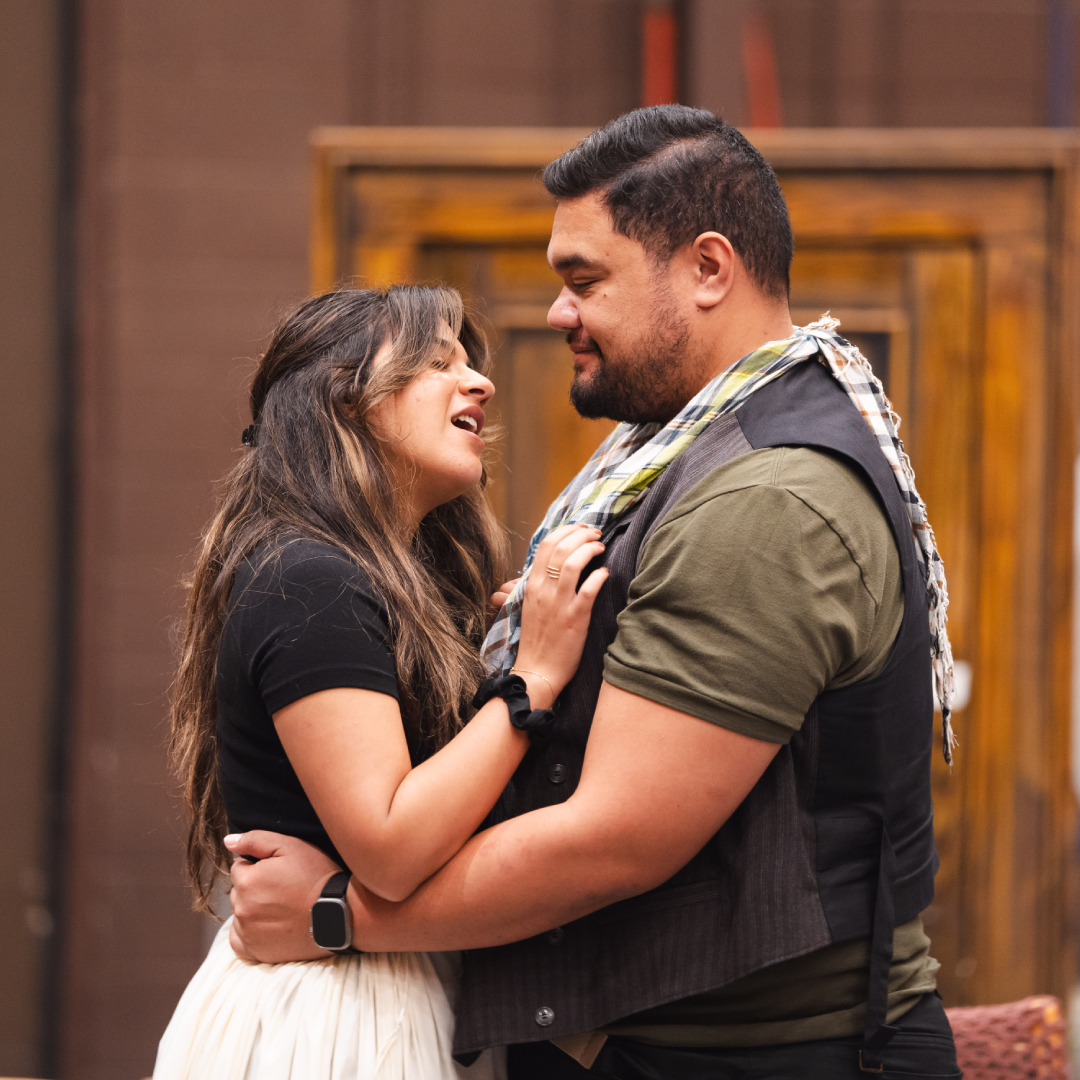 Amina Edris (Mimì) and Pene Pati (Rodolfo) in rehearsal for the Canadian Opera Company's production of Puccini's La Bohème, 2023 Ⓒ Canadian Opera Company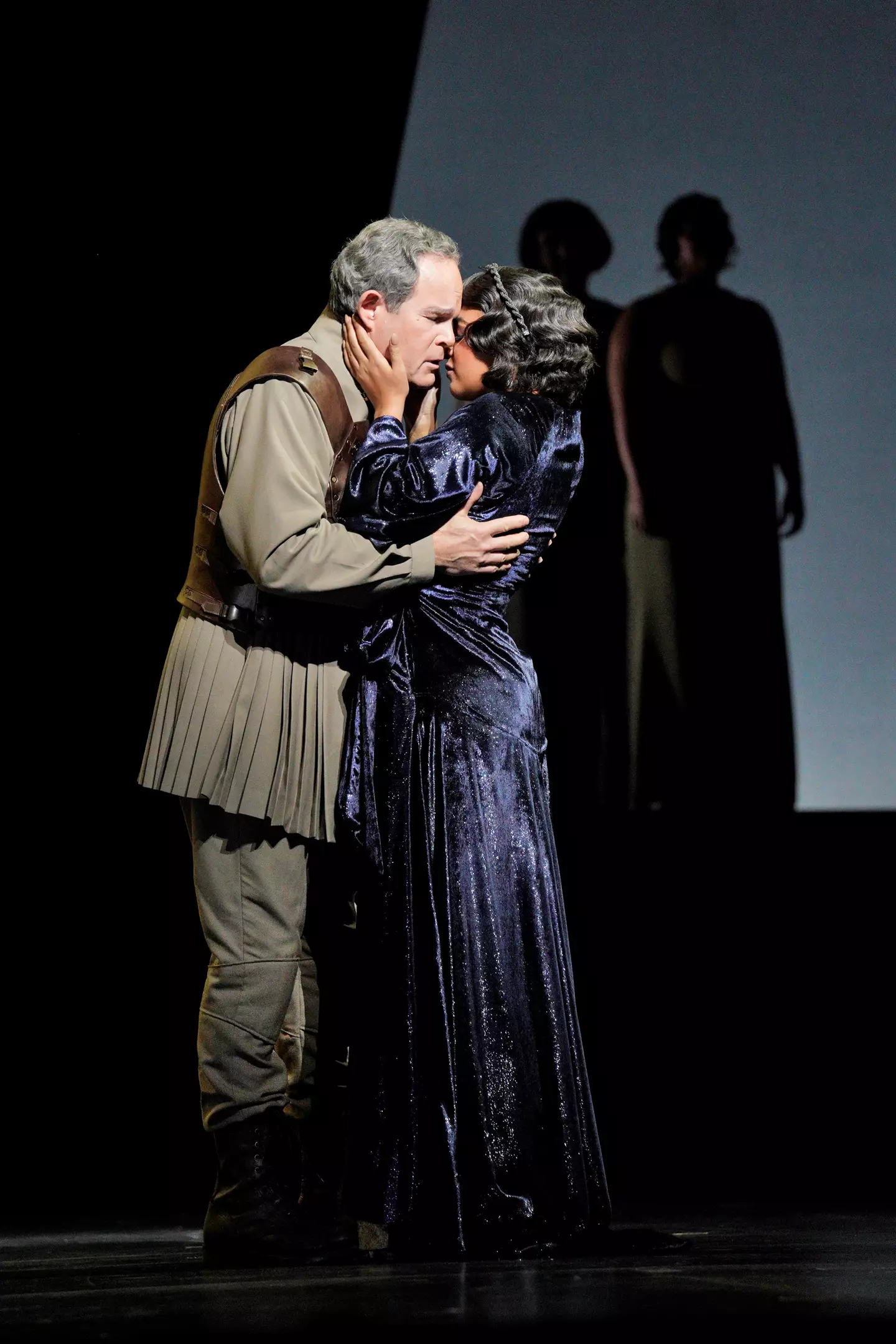 Amina Edris (Cleopatra) and Gerald Finley (Antony) in San Francisco Opera's world premiere of John Adams' Antony and Cleopatra Ⓒ Cory Weaver
Puccini's La Bohème 
Canadian Opera Company
Oct 6-28, 2023
CONDUCTOR Jordan de Souza
ORIGINAL DIRECTOR John Caird
REVIVAL DIRECTOR Katherine M. Carter
SET & COSTUME DESIGNER David Farley
LIGHTING DESIGNER Michael Clark
REVIVAL LIGHTING DESIGNER Nick Addison
PRICE FAMILY CHORUS MASTER Sandra Horst
STAGE MANAGER Jenifer Kowal
FIGHT & INTIMACY COORDINATOR Siobhan Richardson
MIMÌ Amina Edris, Jonelle Sills (Oct 22)
RODOLFO Pene Pati, Kang Wang (Oct 22 & 28)
MARCELLO Joo Won Kang
MUSETTA Charlotte Siegel
COLLINE Blaise Malaba
SCHAUNARD Justin Welsh
PARPIGNOL Wesley Harrison
CUSTOMS OFFICER Korin Thomas-Smith
With the COC Orchestra and Chorus
From a cold but charming apartment in the Latin Quarter to the bustling street scenes at the Café Momus, we follow the poet Rodolfo and his seamstress neighbour Mimì, struggling artists searching for love and life in Bohemian Paris.
These spirited scenes unfold against a set designed out of perpetually shifting painted canvases, all under the direction of Tony Award-winner John Caird. The real-life married couple of tenor Pene Pati and soprano Amina Edris star as the show's tragic young lovers.
Acclaimed director Matthew Ozawa transports the action to a modern-day prison facility, reminding viewers that Beethoven's warnings in Fidelio—about power, corruption, and tyranny—remain as relevant today as they were 200 years ago, while crystallizing the composer's vision for justice and freedom.
---
Opera Canada depends on the generous contributions of its supporters to bring readers outstanding, in-depth coverage of opera in Canada and beyond.
Please consider subscribing or donating today.