American soprano Keri Alkema delighted Canadian audiences this month when she reprised the title role in the Canadian Opera Company's production of Puccini's beloved Tosca (singing May 7, 11, and 13). The production opened May 5 and runs to May 27, with Alkema sharing the title role with Irish soprano Sinéad Campbell-Wallace (tickets here).
Alkema is a frequent performer on many of the world's stages, singing roles like Tosca, Mimì in La bohème, Eboli and Elisabetta di Valois in Don Carlo, Donna Elvira in Don Giovanni, Cio-Cio-San in Madama Butterfly, and Amelia in Un ballo in maschera. Outside of her work on stage, Alkema enjoys hosting Screaming Divas, a new online series, alongside Canadian soprano Sondra Radvanovsky where the duo talk opera with colleagues and friends—plus cocktails, of course.
When was your first singing lesson and with whom?
Honestly I don't remember but my first opera singing lesson where I knew this is what I wanted to do was with Dr. Elizabeth Graham from the University of Florida.
What inspired you to sing?
Music was a huge part of my growing up. My mom said she just had to sing to me when I was being a fussy baby and I was mesmerized by the sound and would always stop fussing to listen.
Drink of choice?
Gin & Soda with lime and a splash of bitters – DELICIOUS! 🙂
Heels or flats?
BOTH but my feet love my converse.
Favourite city that you've worked in?
That's a tough one….let's say Toronto!
Favourite place?
On or in the water. Ocean, lake, pool… love to be in it and on it.
If you weren't a singer, you'd be…
I love real estate, so being apart of that business in some way, but I'd still be tied to the arts as a main career because I love it so much… so probably a Producer, General Director, Arts Admin, or something like that.
Top 3 favourite composers
Puccini, Mozart, Verdi
What's your favourite opera house?
The COC 😉 … that is a tough one, there are many.
Which opera role do you want to be singing right now?
There are many, haha! My next to learn are Andrea Chenier, Nedda, and Manon Lescaut.
Which opera role do you want to be singing in 10 years?
I'm not sure… depends on the voice to be honest…. What I would love the next 10 years to look like is a mix between soprano and mezzo roles. I've always been told and believe that I am more a Zwischenfach, a mix between a soprano and mezzo. So it would be fun to have a mix of both on my schedule.
Who is a singer you admire that is currently working?
Sondra Radvanovsky
Who is a singer you admired from the past?
Marilyn Horne
What's the funniest thing that has happened to you on stage?
I was accidentally punched in the face. I saw stars, I had to stop singing because I was afraid to open my mouth. When I realized I could, I finished the act and had to ice my face for a few days from being bruised and swollen.
What's your favourite orchestral instrument, and why?
Oh that's hard too! I played the French Horn for years, so I am always partial to brass but I have always loved and wanted to learn how to play the viola.
What's your favourite thing about singing with an orchestra?
When everyone is in sync. When everyone is listening to each other and making music together it is the most glorious feeling… because even the audience is with you, you all are on this amazing ride together. There is also this amazing satisfaction when your breath is supporting the voice over the sound of the orchestra… it's a powerful physical feeling.
What's something most people don't know about opera life?
It is not as glamorous as everyone thinks and the lifestyle is not for everyone. Living on the road is an amazing thing but there is also a large price tag for it.
Which role do you wish you could sing, but is not in your voice type?
I would sing any Baritone role. HAHA! I love listening to them sing anything.
Tent or hotel?
HOTEL, forever and always.
What are you afraid of?
There have been some moments on planes when I thought I was gonna see Jesus, so I am not a chilled out flyer.
What is one surprising thing that you have learned in becoming an opera singer?
You are stronger than you think.
What was the first opera you ever saw?
Well the first classical music thing I saw was a Three Tenors concert in Miami. I remember being mesmerized by Pavoratti and thinking I can learn to sing like that??
Are there more musicians in your family?
Not on a professional level except for my cousins husband who is a songwriter. But the rest of them are musical, can sing , play piano, etc. except for my grandpa who LOVED to sing but could not carry a tune to save his life. He would sing in church full-voiced, and not match one pitch. But the joy on his face singing I always remember…
What's your favourite mind-calming practice?
Reading, my Peloton Bike, outside bike riding, knitting and taking 30 minutes a day to just do whatever I want to do without any guilt.
What's your favourite non-classical band?
Oh no! Too many I love to pick just one… but Pink is on a lot of my playlists.
What's the luckiest thing that has ever happened to you?
My family, my husband, and my dog Humphrey.
View this post on Instagram
What book are you reading at the moment?
I have a couple in rotation at the moment. I just finished Viola Davis' Biography, "Finding Me". On rotation is "When Breath Becomes Air", "Hello Sunshine", "A Good Hard Look", and "The Body Keeps the Score".
Which TV show did you binge-watch last?
"Ted Lasso" and "Marvelous Mrs. Maisel".
What's a big investment for an opera artist, but totally worth it?
Buying a house! … but the biggest thing I would tell young artists is to invest in the right people to help you reach your goals. Teachers, coaches, physical therapists, therapists. ENT's, manager/agent, and ears you trust to tell you the truth.
What is the best advice you have ever been given?
Trust your gut. Don't be afraid to say no, and to speak up for yourself.
What is one thing that you cannot live without?
Love and chocolate.
Were there any directors in the past that have really inspired you?
Past directors – I was covering at The Met a hundred years ago in Walküre and it was Otto Schenk's production and I understood why people fall in love with Wagner… it was stunning and gorgeous and moving…. Directors I've worked with that really inspire me and I always want to work with are Chris and David Alden, David McVicar, Lee Blakley, Paul Curran .. I know I am forgetting someone!
What is the ultimate goal of opera?
To tell a story with an unamplified sound. The power of the human voice is incredible and it is the most visceral feeling I have ever had in a theatre when I am either on the stage or when I am in the audience listening.
What's the most important lesson you learned from childhood?
Life is short so make the most of it.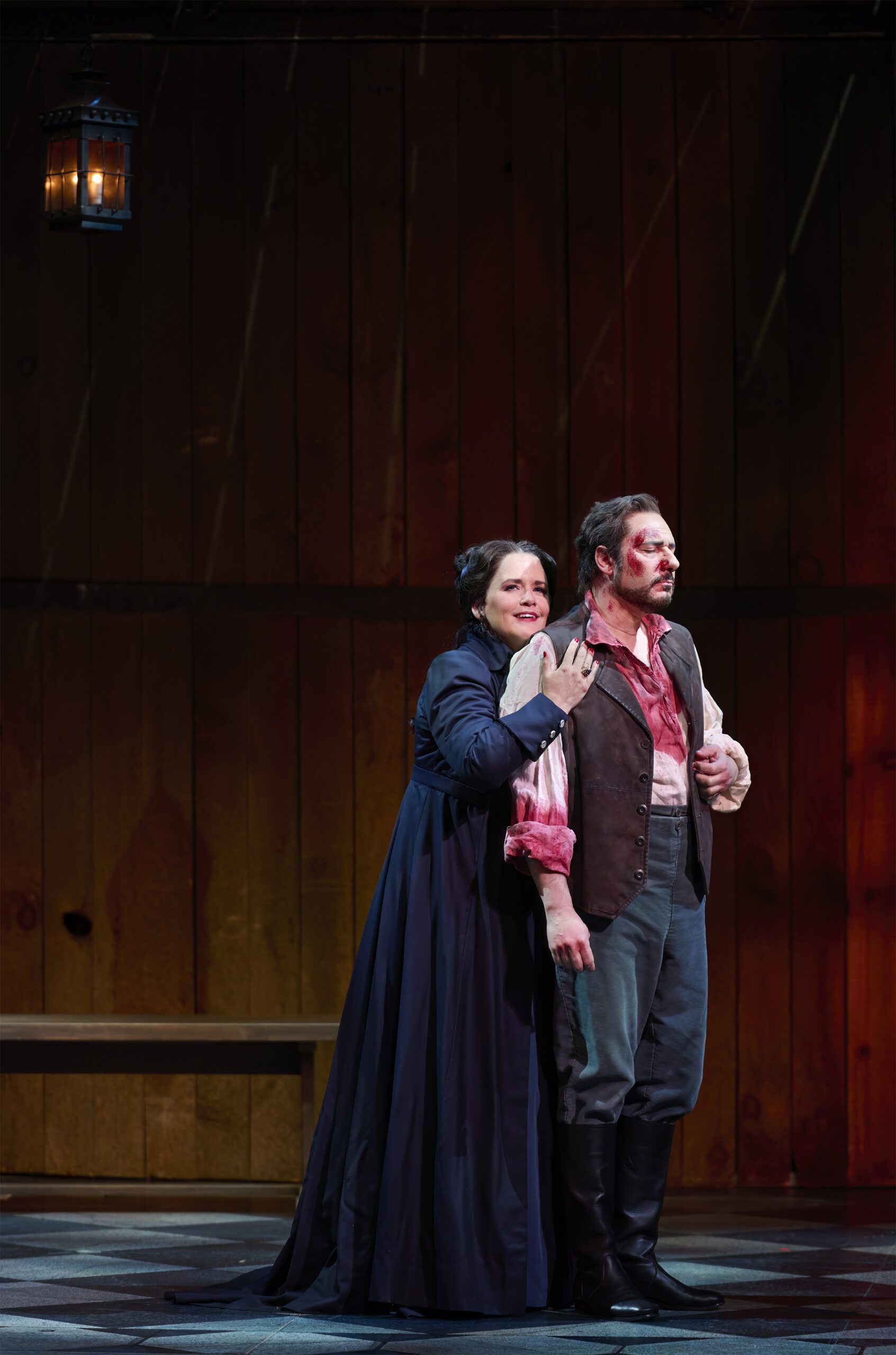 Keri Alkema as Tosca and Stefano La Colla as Cavaradossi in the Canadian Opera Company's production of Tosca, 2023 © Michael Cooper
Puccini's Tosca
Canadian Opera Company
May 5-27, 2023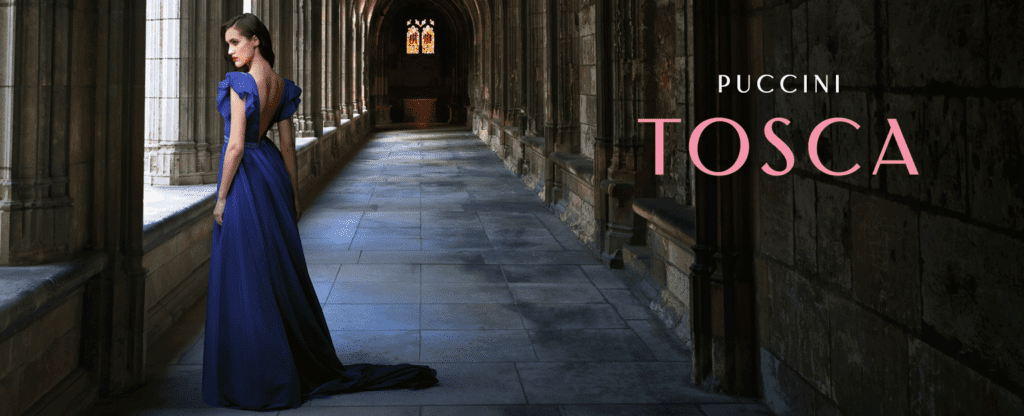 SINÉAD CAMPBELL-WALLACE | KERI ALKEMA | STEFANO LA COLLA | ROLAND WOOD | MICHAEL COLVIN | DONATO DI STEFANO | GILES TOMKINS | CHRISTIAN PURSELL | ALEX HALLIDAY | ZOYA AVRAMOVA | OLIVIA PADY | COC ORCHESTRA & CHORUS 
When Rome's corrupt police chief becomes obsessed with opera singer Floria Tosca, he imprisons her lover Cavaradossi and issues a terrible ultimatum: submit to his desires or watch her beloved die.
Twists and turns abound in this thriller from Giacomo Puccini, the master of emotional storytelling. Sopranos Keri Alkema and Sinéad Campbell-Wallace star in this fast-paced, not-to-be-missed classic.
---
Opera Canada depends on the generous contributions of its supporters to bring readers outstanding, in-depth coverage of opera in Canada and beyond.
Please consider subscribing or donating today.