On August 29, 2022, the Toronto Alliance for the Performing Arts (TAPA) hosted a press conference held at the Four Seasons Centre for the Performing Arts in the Richard Bradshaw Amphitheatre announcing 235 nominations for the 42nd Annual Dora Mavor Moore Awards, which recognize excellence in professional theatre, dance and opera in Toronto. Also announced at the press conference were the recipients of the Province of Ontario's Pauline McGibbon Award, the George Luscombe Award for Mentorship and the Leonard McHardy and John Harvey Award for Outstanding Leadership in Administration with the Victor C. Polley Protégé Award.
The 42nd Annual Dora Mavor Moore Awards show ceremony and celebration will be held on Monday, September 19, 2022 at The Elgin and Winter Garden Theatre Centre in the Elgin Theatre at 7:30 PM EST. VIP presenters at the ceremony will announce the recipients of 45 Dora Mavor Moore Awards, the Silver Ticket Award and the Jon Kaplan Audience Choice Award. The Outstanding Touring Production award will be presented as part of the Dora VIP Reception on Monday, September 12, 2022.
New this year, The Pat and Tony Adams Freedom Fund for the Arts will provide a $1,000 cash prize for each individually-named Dora Award recipient across all Dora Divisions (excluding Outstanding Production and Outstanding Ensemble recipients).
TAPA recognizes the outstanding digital/hybrid performances that were presented in 2021 and 2022, however, determined at the beginning of the season that online performances would not be eligible for adjudication for the 2022 awards due to barriers of equal access, equality practices and resources.
For the 2021-2022 award season, TAPA extended the timeline window for eligible productions, starting from May 15, 2021, to August 15, 2022, an additional three months compared to the normal adjudication period, to accommodate TAPA members' gradual return to in-person live performances. With 235 total nominations, 100 eligible productions registered. Below are some nomination highlights. An underline on multiple producer lists indicates the TAPA member(s) company.
Let's look at the opera categories!  R.U.R. A Torrent of Light, Tapestry Opera production in partnership with OCAD University, leads the Division with 9 nominations including Outstanding Production, Outstanding Performance by an Individual to Scott Belluz, Outstanding Performance by an Ensemble to Maeve Palmer, Annie Ramos, Jennifer Routhier, Sofu Gudino, Katherine Semchuk, Emily Spearing and Brayden Cairns, Outstanding New Opera to Nicole Lizée (composer) and Nicolas Billon (librettist), Outstanding Musical Direction to Gregory Oh, Outstanding Direction to Michael Hidetoshi Mori, Outstanding Achievement in Design to each of Cameron Davis (projection), Cameron Anderson (scenic) and Debashis Sinha (sound design/composition).
2022 Dora Mavor Moore Awards Nominees
Opera

Division
A Tapestry Opera and Maniac Star production presented by The Royal Conservatory of Music, in association with The Glenn Gould School
A Canadian Opera Company co-production with Houston Grand Opera and Lyric Opera of Chicago
R.U.R. A Torrent of Light
A Tapestry Opera production in partnership with OCAD University
Co-production by Canadian Opera Company, Amplified Opera, Nightwood Theatre, and Theatre Gargantua
Outstanding Performance by an Individual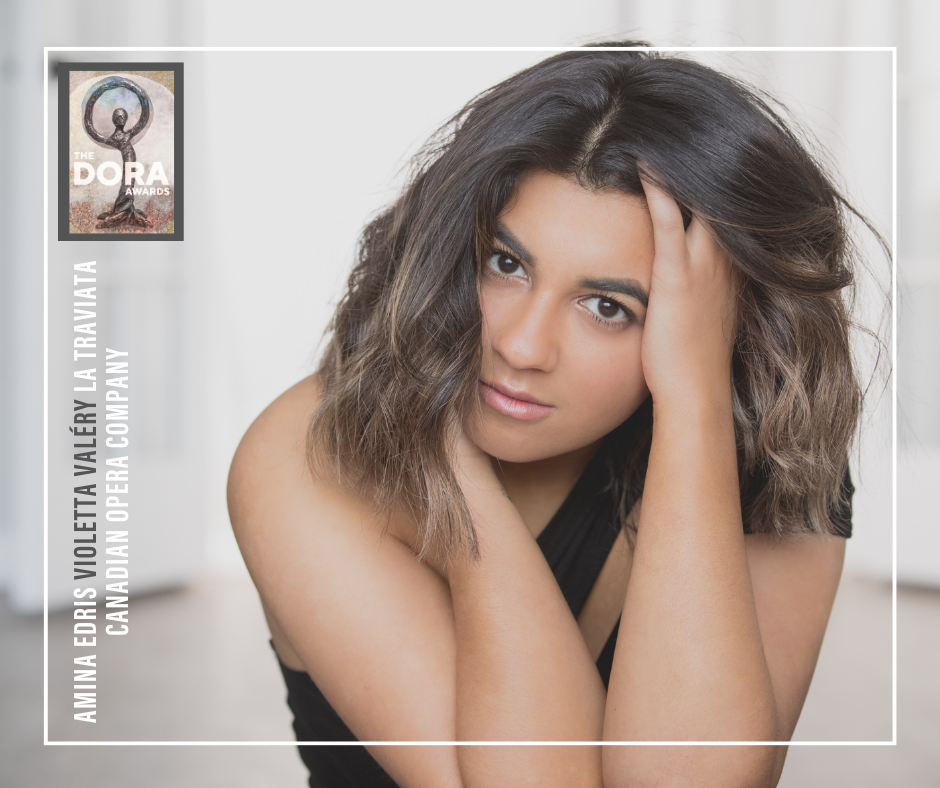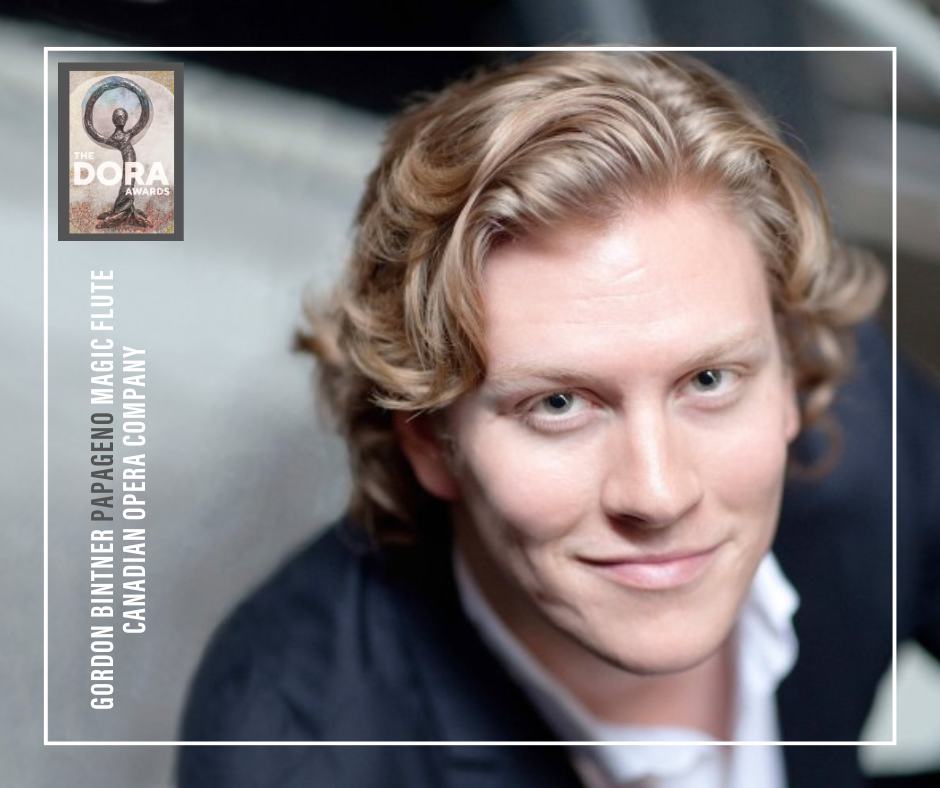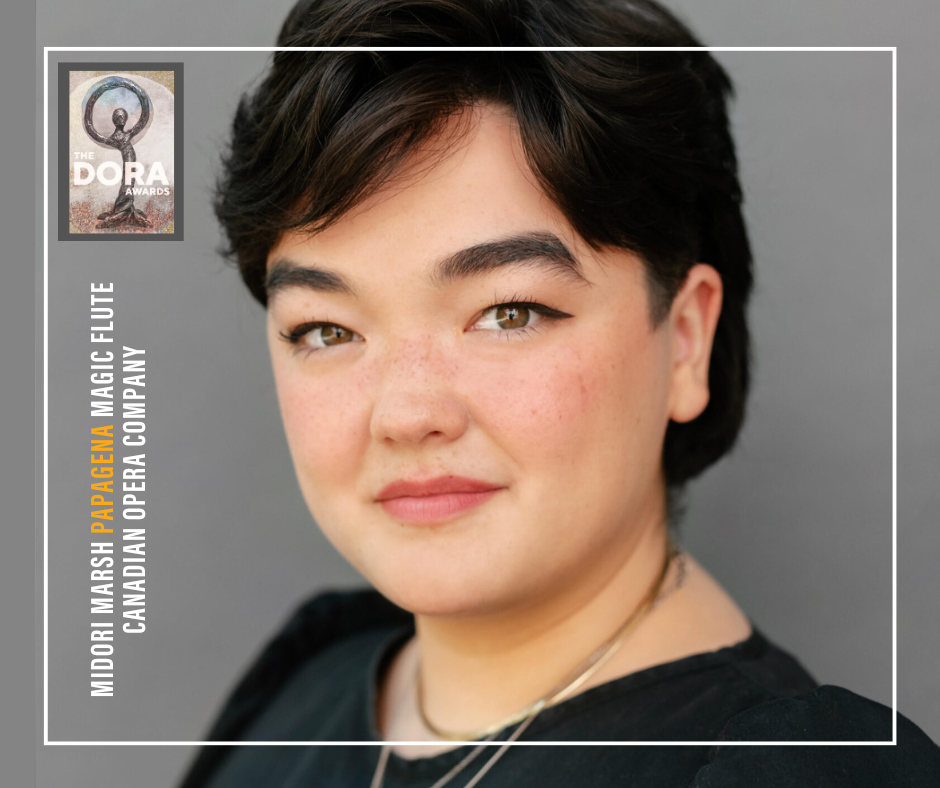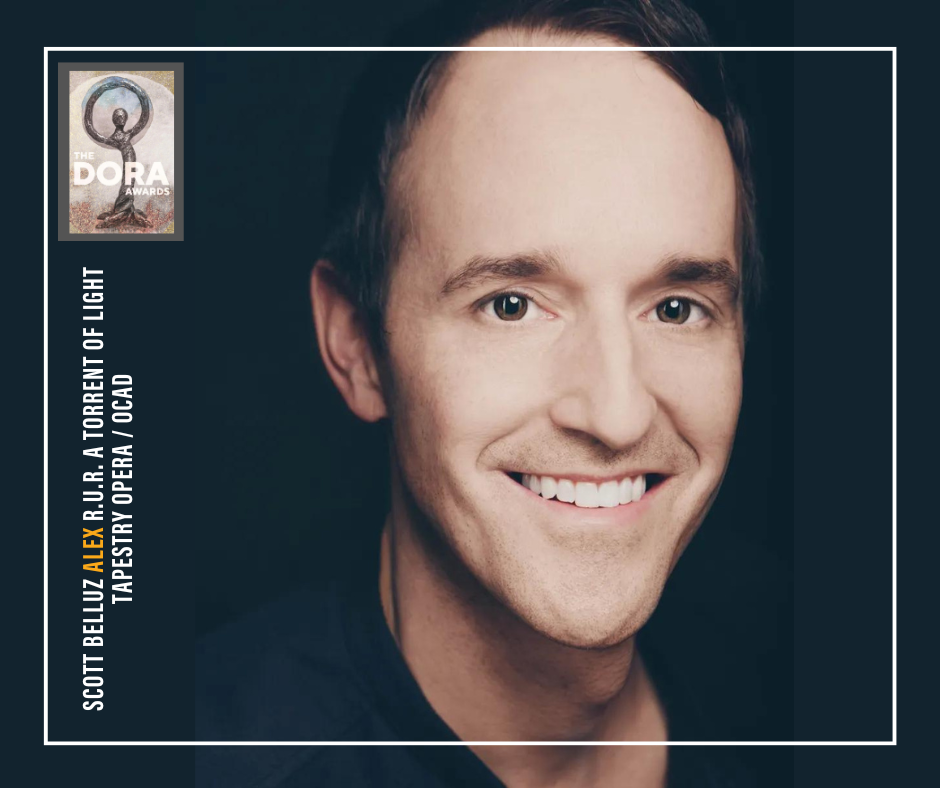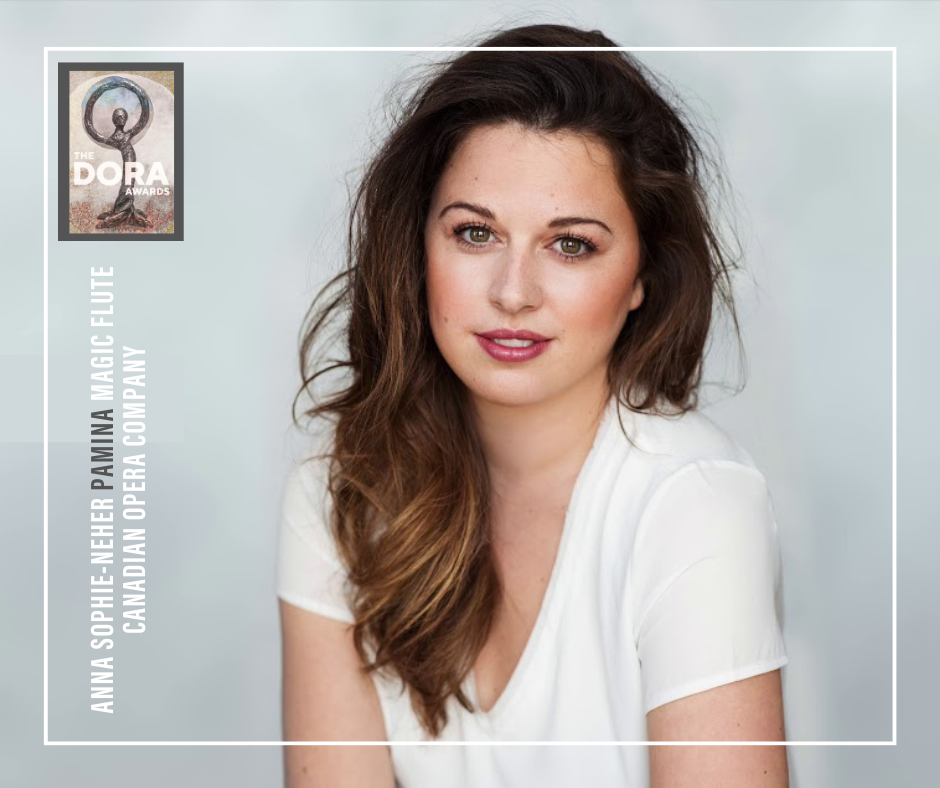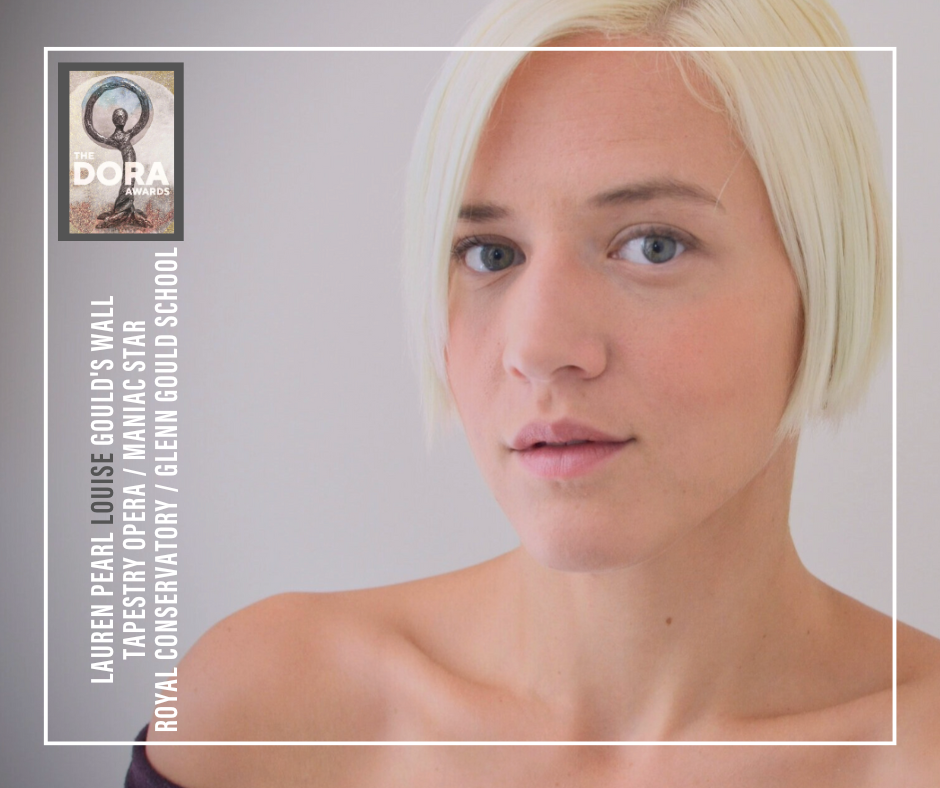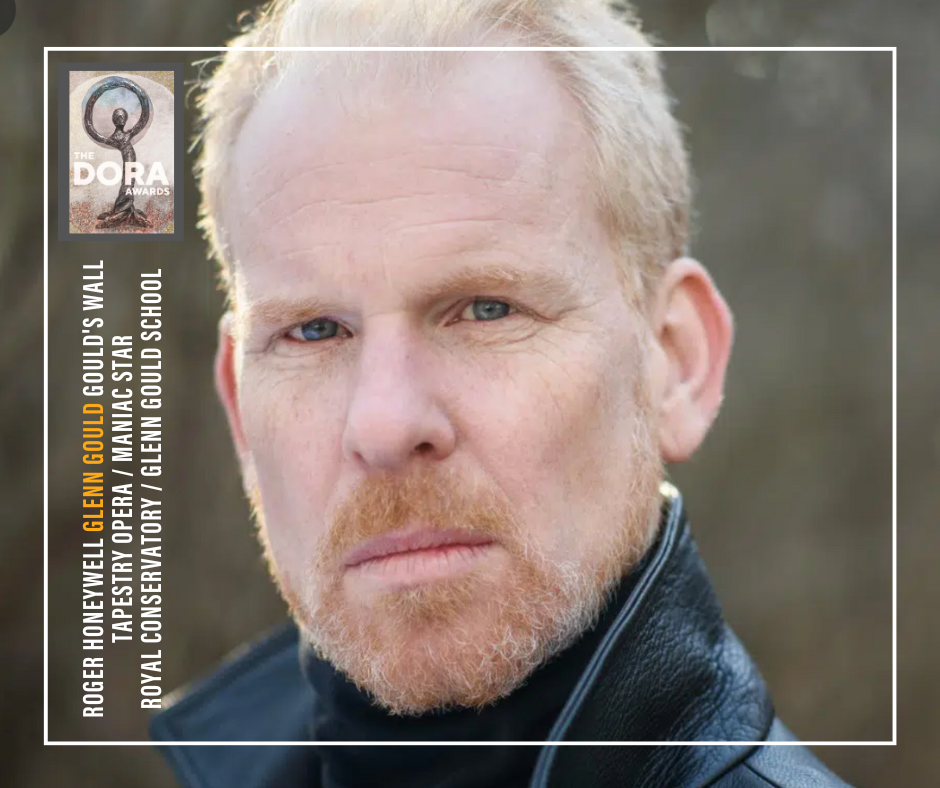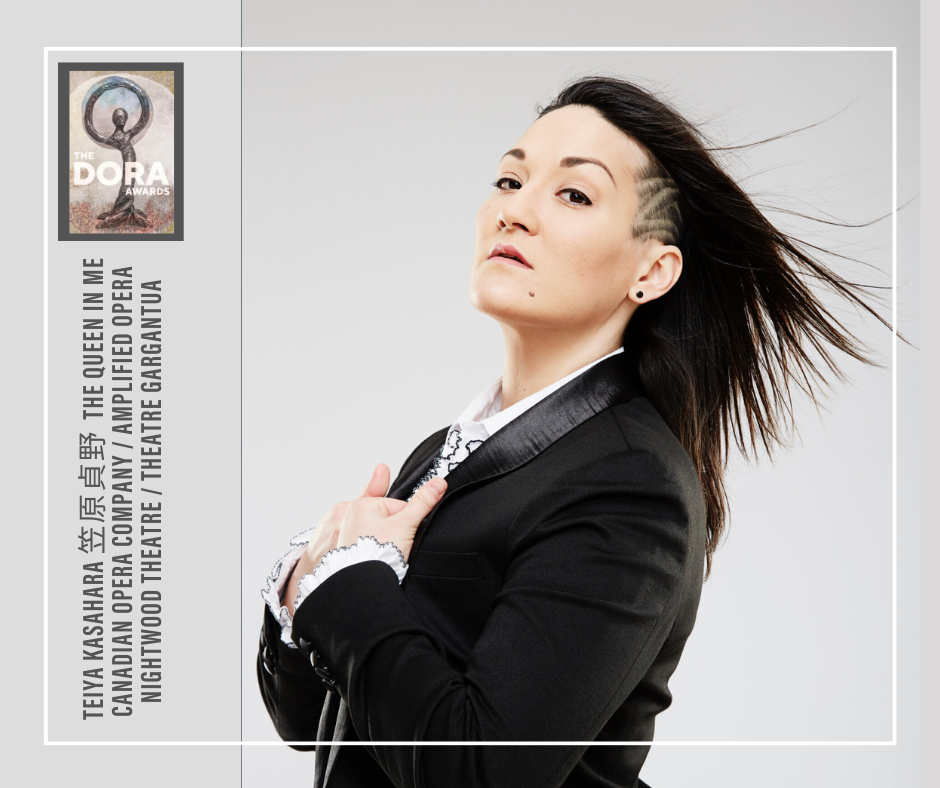 Outstanding Performance by an Ensemble
Canadian Opera Company Chorus
Verdi's La Traviata | Canadian Opera Company co-production with Houston Grand Opera and Lyric Opera of Chicago
Caitlin Wood, Andrea Ludwig, Keith Klassen, Justin Welsh, Alice Malakhov
Gould's Wall | Tapestry Opera and Maniac Star production presented by The Royal Conservatory of Music, in association with The Glenn Gould School
Jamie Groote, Charlotte Siegel, Lauren Segal
Mozart's The Magic Flute | Canadian Opera Company
Maeve Palmer, Annie Ramos, Jennifer Routhier, Sofu Gudino, Katherine Semchuk, Emily Spearing, Brayden Cairns
R. U. R. A Torrent of Light | Tapestry Opera production in partnership with OCAD University
Composer: Brian Current; Librettist: Liza Balkan
Gould's Wall | Tapestry Opera and Maniac Star production presented by The Royal Conservatory of Music, in association with The Glenn Gould School
Composer: Nicole Lizée; Librettist: Nicolas Billon
R. U. R. A Torrent of Light | Tapestry Opera production in partnership with OCAD University
The Queen in Me | Canadian Opera Company, Amplified Opera, Nightwood Theatre, and Theatre Gargantua
Outstanding Musical Direction
Gould's Wall | Tapestry Opera and Maniac Star production presented by The Royal Conservatory of Music, in association with The Glenn Gould School
Daniel Bartholomew-Poyser
The Queen in Me | Canadian Opera Company, Amplified Opera, Nightwood Theatre, and Theatre Gargantua
R. U. R. A Torrent of Light | Tapestry Opera production in partnership with OCAD University
Verdi's La Traviata | Canadian Opera Company co-production with Houston Grand Opera and Lyric Opera of Chicago
Mozart's The Magic Flute | Canadian Opera Company
Andrea Donaldson and Aria Umezawa
The Queen in Me | Canadian Opera Company, Amplified Opera, Nightwood Theatre, and Theatre Gargantua
Mozart's The Magic Flute | Canadian Opera Company
Verdi's La Traviata | Canadian Opera Company co-production with Houston Grand Opera and Lyric Opera of Chicago
R. U. R. A Torrent of Light | Tapestry Opera production in partnership with OCAD University
Gould's Wall | Tapestry Opera and Maniac Star production presented by The Royal Conservatory of Music, in association with The Glenn Gould School
Outstanding Achievement in Design
Lighting Design: Marcus Doshi
Verdi's La Traviata | Canadian Opera Company co-production with Houston Grand Opera and Lyric Opera of Chicago
Projection Design: Cameron Davis
R. U. R. A Torrent of Light | Tapestry Opera production in partnership with OCAD University
Scenic Design: Cameron Anderson
R. U. R. A Torrent of Light | Tapestry Opera production in partnership with OCAD University
Scenic Design: Myung Hee Cho
Mozart's The Magic Flute | Canadian Opera Company
Design / Composition: Debashis Sinha
R. U. R. A Torrent of Light | Tapestry Opera production in partnership with OCAD University