Kwagiulth and Stó:lō First Nations mezzo soprano Marion Newman is currently in Anchorage, Alaska rehearsing for Anchorage Opera's production of Missing (running March 10-12). Created by Métis playwright Marie Clements and Juno-winning composer Brian Current, the opera gives voice, in English and Gitxsan, to the stories of missing and murdered Indigenous women and girls—serious issues affecting Indigenous people across the Western Hemisphere, and which Newman "thinks of nearly every day, as a First Nations woman."
Newman is in demand internationally for a wide-breadth of repertoire from Vivaldi to Vivier—she is also sought out to create roles in new operas. When she is not performing, she can be heard on CBC Radio hosting Saturday Afternoon at the Opera.
Newman opened her 2022/23 season with the Welsh National Opera creating the role of Dawn in the world premiere of Will Todd's Migrations, with stories by five writers based on their personal experiences of migrations and working with refugees. She is Dora Award-nominated (for her performance in the world premiere of Tapestry Opera's production of Nolan/Burry's Shanawdithit in the title role (2019)), and her future engagements include the world premiere of Stephanie Martin's Water: An Environmental Oratorio with Grand Philharmonic Choir and the Kitchener-Waterloo Symphony (May 28), and Ian Cusson's new opera Indians on Vacation with Against the Grain Theatre, in partnership with Edmonton Opera (coming in 2025). 
Enjoy the breathtaking sites of Anchorage, as Newman takes us to some of her favourite spots!
City where you're working?
Anchorage, Alaska
What are you working on?
I'm here from February 13 to March 13, 2022 and this is my first time working with Anchorage Opera [on their production of Brian Current's Missing].
What's the opera house like?
The Sydney Laurence Theatre is the most intimate theatre in the Alaska Center for the Performing Arts. It seats 340 people and is a perfect size for a recital or a chamber opera, like Missing. There are seven singers and seven instrumentalists in this opera. Every row of seats is stepped so sight-lines are good even if someone with a tall body (like mine) is sitting in front of you. And for the singers, we can feel confident that every word and note will be heard to the back of the room!
Where is the most peaceful place in the city above?
The most peaceful spot I have encountered is the very snowy, tree lined backyard of the home where I am hosted. The house is on the side of a mountain and although there are neighbours on either side, I can't see or hear them at all. I feel like I live in a snow covered wilderness park.
Best coffee or tea?
Kaladi Brothers Coffee is the best I've had here. Alaskans are very proud of their Kaladi coffee and I've heard there are Alaskans who live outside of Alaska who have Kaladi sent to them regularly. Even the restaurants I've been to are serving Kaladi. It is rich and delicious and I understand why the tenor in our show (Anchorage resident Luke Honeck) keeps asking the newbies if we have tried Kaladi yet!
Coolest bar or restaurant you've been to?
Bear Tooth Theatre Pub!! The cast gathered on our day off to watch the Oscar nominated animated shorts at the Bear Tooth. We reserved booths, much like those you'd find in a diner, and ordered pizzas and wine to enjoy while we watched the films. One of the pizzas ordered was the Spicy Thai and I'm a convert! I can see why everyone in town orders from Bear Tooth (and also the sister restaurant Moose's Tooth) on the regular.
I had no idea that red onions, bean sprouts, carrot threads, cilantro, mozzarella, provolone and peanut sauce would be my new favourite collection of pizza toppings. I'm trying hard not to eat this every day while I'm here… I also loved Ronnie Sushi and Glacier Brewhouse has excellent after rehearsal snacks and martinis.
 

 

View this post on Instagram

 
An activity you have done that is unique to the area?
Getting up in the middle of the night to view the Northern Lights! On day one here I gave my hosts permission to do whatever was necessary to wake me up to see the Northern Lights. The first night there was a loud knock on my door at around 2:30 AM and I leapt out of bed, put my gigantic red winter coat on over my pyjamas to go and stand in awe in the driveway. Then a week later the lights were dancing again right after dinner and I have never seen anything so awe inspiring before in my life. Right above our heads the lights were turning and changing, rippling and creating a beautiful dance over top of us. It made me think of the wool fringe on the edges of a Chilkat Blanket and how they swirl when someone is dancing…   At one point it was as if the sky opened its eye and looked right at us. It was quite overwhelming and I will never forget this experience. The people from here say they've never seen a better show in all their years so I'm feeling immensely privileged that I happened to be here for it. There are stories about the Lights and The Ancestors that come from the Indigenous cultures around here. Whether or not to whistle and clap at the lights is hotly contested. My iPhone camera and only very basic photography skills managed to capture some of the wonder. Melody Courage and Michelle Lafferty's iPhones caught some great video footage too, which I'll share!
 Is there something unexpected that happens locally that you discovered? 
 Moose sightings in the downtown core… This is the first time I've seen moose just wandering down the sidewalk, nibbling on tree branches as they go. And the 51st Iditarod is happening while we are here too!
How did you find your accommodation?  
Anchorage Opera has a list of dedicated opera supporters who have spacious homes and enjoy hosting singers and instrumentalists during the run of the operas. I requested that the Canadian Indigenous singers be housed together if possible and our request was met and then some! This show, Missing by Marie Clements and Brian Current, is a tough one to embody and I wanted to know that we had each other nearby for support and friendship through the process. Evan Korbut, Melody Courage, Michelle Lafferty and I each have our own spacious rooms with ensuite bathrooms. There are three indoor sitting rooms in the house, so there is plenty of space to stretch out in without being in anyone's way.   Our absolutely lovely hosts, Tim and Brian, have been generously preparing meals for us all to share. This has been a great way to get to share and learn about each other, always with lots of laughter. There is a treadmill here, and going for indoor walks is helping me to offset the effects of the gorgeous cakes and pies that Tim keeps baking. There are two pianos and a harpsichord here and nobody complains when we takes turns practising in the house. In fact, as I write this I can hear Melody warming up in the room above me.
 What's the most important thing you think of when it comes to finding accommodation as a singer?
 
Privacy and cleanliness. I need time and space to be alone with my thoughts, to get some outside of rehearsal work done and to really sleep soundly. My dust allergy is usually bothered enough by dusty theatres… so having a clean place to live helps to keep the sneezing under control. I also like to have a kitchen space in which to prepare most of my own meals too so I can force myself to make some healthy food choices. Otherwise I'd be eating Spicy Thai pizza every day…
Have you had a chance to explore some galleries or museums?
Anchorage Opera provided the cast with free passes to the Anchorage Museum. I've now been twice. Once to take part in a panel and discussion with the community about MMIW2S and another time to see the exhibits with the rest of the cast. I particularly loved the Smithsonian exhibit Living Our Cultures, Sharing Our Heritage: The First Peoples Of Alaska where over 600 heritage pieces have been returned to their homelands so the people from here can actually engage with and study their own artifacts.   And the Art Of The North wing has many incredible pieces of art by Indigenous Alaskan's that speak to resurgence of culture and climate justice as well as addressing some of the serious issues that affect Indigenous people across the Western Hemisphere such as Missing and Murdered Indigenous people and appropriation. I absolutely delight in seeing how other artists engage with the same questions I think of nearly every day, as a First Nations woman.
Is there anything you recommend beyond what we've asked here?

If you've never been this far North, do whatever you can to come and see this land. It is so unique and stunning. Even the regular commute to rehearsals each day, no matter what the weather, nearly takes my breath away every time. No picture or painting can ever do this place justice. Marion Newman © Howard J. Davis

The beautiful Aurora Borealis in Anchorage, AK ©  JodyO Photos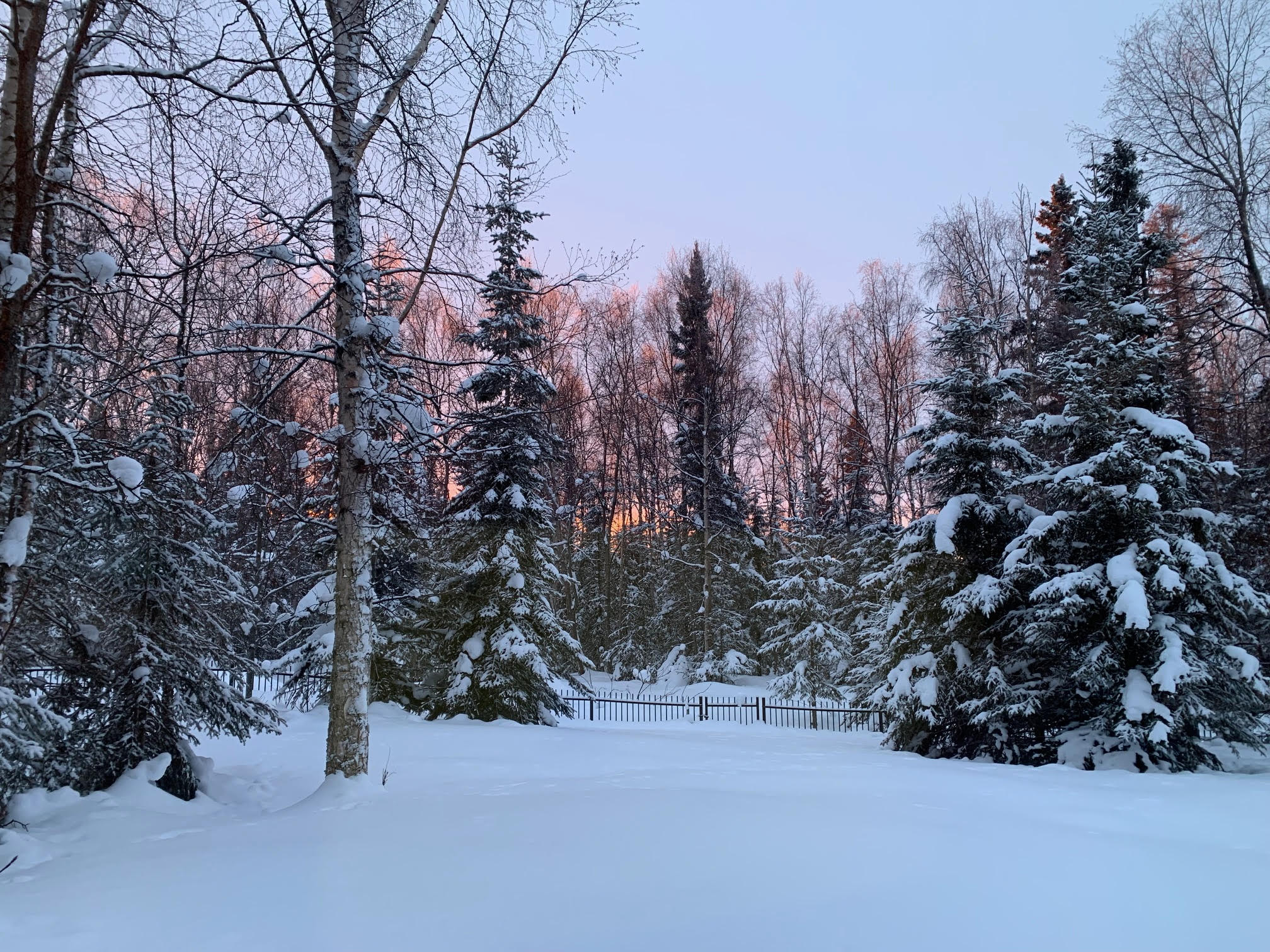 The beautiful, peaceful backyard of Tim and Brian's home © Marion Newman
Brian Current's Missing
Sydney Laurence Theatre
March 10-12, 2023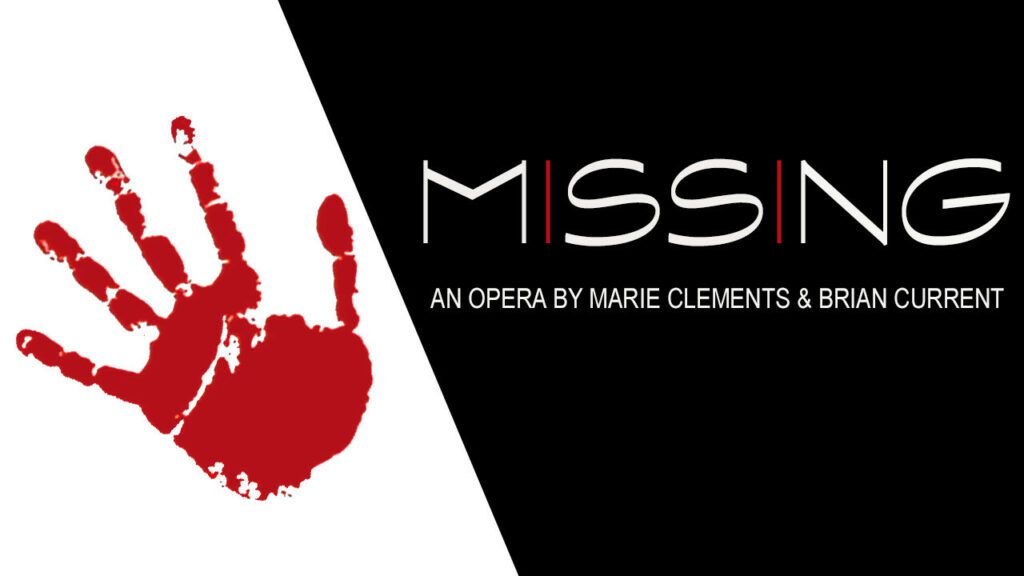 LIBRETTIST Marie Clements
COMPOSER Brian Current
CONDUCTOR Timothy Long
SET & PROJECTIONS Scott Holdredge
PIANIST/ACCOMPANIST Jenny Choo Kirby
ASSISTANT CONDUCTOR Danielle Jagelski
GITKSCAN LANGUAGE TRANSLATOR/DICTION COACH Vincent Gogag
STAGE MANAGER Helen Muller
ASSISTANT STAGE DIRECTOR Taylor Feightner
STAGE DIRECTOR Rhiana Yazzie
LIGHTING DESIGNER Cedar Cussins
COSTUMER DESIGNER Brighton Coggins
NATIVE GIRL Melody Courage
DR. WILSON Marion Newman
DEVON Luke Honeck
JESS Camille Sherman
AVA Kate Bass
NATIVE MOTHER Michelle Lafferty
---
Opera Canada depends on the generous contributions of its supporters to bring readers outstanding, in-depth coverage of opera in Canada and beyond.
Please consider subscribing or donating today.