With Pacific Opera Victoria's latest mounting of Mozart's Così fan tutti (seen April 12), the company continues its long run of gathering excellent individual voices and melding them into glorious ensembles. Vocally, this Così was superb and made a great case for ignoring the stage and simply closing your eyes to bathe in the wonder of the human voice. Alas, live opera is as much about the visual as the aural, and it proved impossible to ignore a staging that came alarmingly close to squeezing the joy out of what might be Mozart's greatest score. Only the voices saved it.
It was co-production with Théâtre des Champs-Elysées in Paris, where it premièred in March 2022, Théâtre de Caen in Normandy, and Tokyo Nikikai Opera Theatre. Opera co-productions are all the rage these days, and for good reason. The companies share the costs to develop the production and jointly own the original director's interpretation of, and concept for, the opera, as well as the sets and costume and lighting designs. Each opera house provides its own singers and orchestra. While this helps keep the price of a new production lower, and allows the partnering companies to gain some important name recognition in international circles, it does come with a downside: an unsuccessful production will have as long a shelf-life as a successful one as it moves from company to company.
Frenchman Laurent Pelly, the much-in-demand original director of this Così, sets the action not in Mozart's time but somewhere in the 1950s, inside a vast, soulless, wood-encased recording studio, with a busy array of chairs and music stands and microphones galore below, and two windowed booths for the sound engineers above. The hired singers trickle in as the orchestra plays the overture, and a recording of Così fan tutti begins. At first, the singers are locked into their positions behind their multitude of mics and cables. Soon, though, it seems the singers begin to forget they are recording a part and start to become their characters.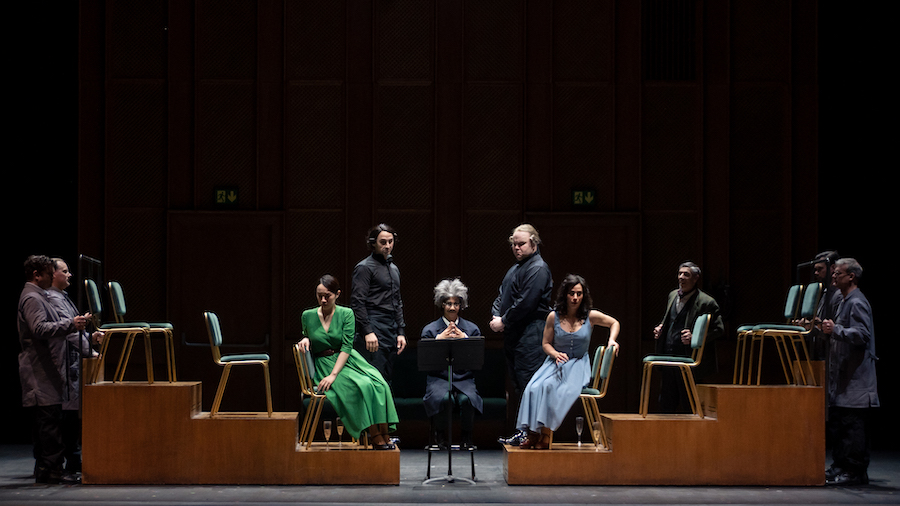 Lucia Cesaroni as Fiordiligi, Cécile Muhire as Despina, Hongni Wu as Dorabella, Owen McCausland as Ferrando, Christopher Dunham as Guglielmo, and Phillip Addis as Don Alfonso with Chorus Members © Mackenzie Lawrence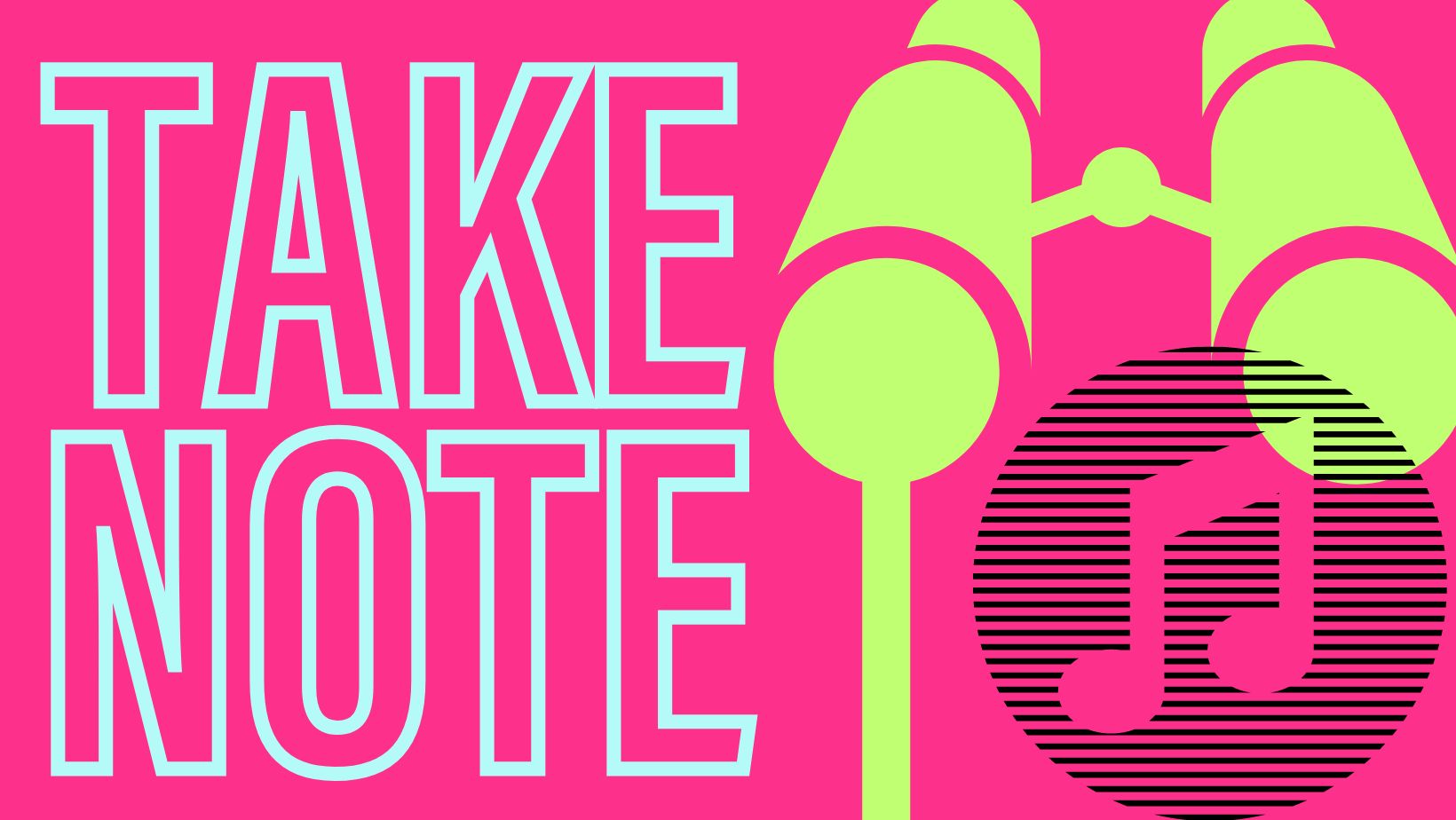 Wednesday, May 17, 2023 at 6pm
Women's Art Association, Toronto, ON
An Event To Support Opera Canada
TICKETS HERE
Not necessarily a bad concept, and if it had proceeded as I hoped it would—the looming set (by Chantal Thomas) with its hard, straight lines would recede and the drab costumes (by Pelly) would transform into colourful Audrey Hepburn-esque couture—it might have worked. Instead, the harsh reality of the recording studio kept intruding, with bustling workers continually setting up new chair-mic-music stand arrangements and large overhead mics dropping from the rafters when you least expected them. This not only made the production feel fussy, it robbed the audience of what most of us go to opera for: to be transported into a world so full of life and emotion that everyone simply has to sing. Instead, it kept hauling us back to the fact that these people were playing a role, not living it.
And that may have been Pelly's purpose, to distance us from the flimsy and irritating plot of this opera, which we must firmly lay at the door of Mozart's librettist, Lorenzo Da Ponte. Some musicians have tried to defend that plot, arguing that the music itself is so moving it adds layers of subtlety and sub-text about love, loss, and betrayal, while a few directors have attempted to overcome its blatant misogyny through clever interpretation—by making it clear, for example, that the two sisters immediately see through their fiancés' disguises, so instead of being unfaithful idiots they are brilliant jokesters.
Pelly clearly had no interest in adding much to the discussion—moving the setting to the 1950s merely substituted one sexist era with another rather than winking at the chauvinism of Mozart's time—but not even incurious, insensitive direction could keep POV's fine set of voices down. (Pelly's associate director in Paris, Christian Räth, set the production on the Victoria cast.)
Tenor Owen McCausland was a boyish, funny, and sweet-voiced Ferrando who was clearly heartbroken when he realized that his true love Dorabella (compelling young Chinese mezzo Hongni Wu, in her Canadian debut and a bright future in front of her) had so quickly fallen for his friend Guglielmo (agile, robust baritone Christopher Dunham). Soprano Lucia Cesaroni brought lovely, secure tone and emotional heft to Fiordiligi's great Act 2 aria "Per pietà, ben mio perdona," where she confronts her own shameful desire for another man, while baritone Phillip Addis's Don Alphonso was a sonorous agent provocateur, all too easily leading the callow young men into an ill-fated bet on their fiancées' fidelity.
It was soprano Cécile Muhire's character Despina, maid to Dorabella and Fiordiligi and partner-in-crime to Don Alphonso, however, who had the clearest, most well-developed character on the stage—and she ran with it. Her young voice slightly under-powered now and then, she brought much needed energy and a welcome touch of bawdiness to this otherwise rather flat interpretation of Mozart's comic masterpiece. (Where was Don Alphonso's cynicism and cruelty, Guglielmo's swagger, Dorabella's giddiness? Another miss by Pelly.)
But, really, in the end, who cares about interpretation or character development when the ensembles alone were so brilliantly performed? In duos, trios and sextets, this cast was a joy to listen to. The combination of Wu and Cesaroni, in particular, was a match made in heaven. They were simply gorgeous together. But all of the ensembles were great: powerful, beautifully blended, bringing the magic of the music fully to the fore, ably and sensitively supported by the Victoria Symphony Orchestra under Timothy Vernon. A pit band that would have pleased Mozart himself.
---
Opera Canada depends on the generous contributions of its supporters to bring readers outstanding, in-depth coverage of opera in Canada and beyond. Please consider subscribing or donating today.
PACIFIC OPERA VICTORIA
APR 12 to 18 2023
MOZART COSÌ FAN TUTTE

CAST AND CREATIVE TEAMS
Fiordiligi
Lucia Cesaroni


Dorabella

Hongni Wu


Ferrando

Owen McCausland


Guglielmo

Christopher Dunham


Don Alfonso

Phillip Addis


Despina

Cécile Muhire

Pacific Opera Chorus and Supernumeraries
The Victoria Symphony

Conductor Timothy Vernon
Stage Director Laurent Pelly
Associate Director Christian Räth
Assistant Director Sarah Jane Pelzer
Set Designer Chantal Thomas
Costume Designer Laurent Pelly
Associate Costume Designer Jean-Jacques Delmottes
Lighting Designer Joël Adam
Costume Design Assistant Mallory Goodman
Lighting Design Assistant Lisa Van Oorschot
Chorus Master | Associate Conductor Giuseppe Pietraroia
WML Assistant Conductor Naomi Woo
Accompanist Kimberley-Ann Bartczak
Stage Manager Christopher Sibbald
Assistant Stage Manager Katerina Sokyrko
Assistant Stage Manager Becca Jorgensen