PIVOTING FROM A 35-YEAR INTERNATIONAL SINGING CAREER, SOPRANO AND EARLY MUSIC SPECIALIST SUZIE LEBLANC TOOK UP THE POST OF ARTISTIC AND EXECUTIVE DIRECTOR OF EARLY MUSIC VANCOUVER (EMV) IN JANUARY 2021. SYLVIA L'ÉCUYER SPOKE TO SUZIE ABOUT WHAT THE FUTURE HOLDS.
I ASKED SUZIE IF this new role was what she had planned for the second act of her professional life. "The first act was of course the singing career, and then, there was a mini act, a beautiful one. Teaching at McGill was something that I had embraced as a kind of second act until I was whisked away to Vancouver, which I was not expecting at all."
This is not Suzie's first managerial post. In 2005, she had founded Le Nouvel Opéra, a chamber company dedicated to performing mostly lesser-known works of the baroque era, and some contemporary music. "I had to let it go this year to take up my new position in Vancouver, but it had grown enough legs to be handed to the next person. The new Artistic Director, Rona Nadler, is a wonderful musician, a harpsichordist, singer, composer, and choir director. She also took over the direction of Cappella Antica at McGill University which I had been doing. To know that Le Nouvel Opéra is in the hands of a young woman who has very similar passions and inspirations to me is the best possible outcome."
When I wondered what convinced Suzie to accept this new challenge, she smiled.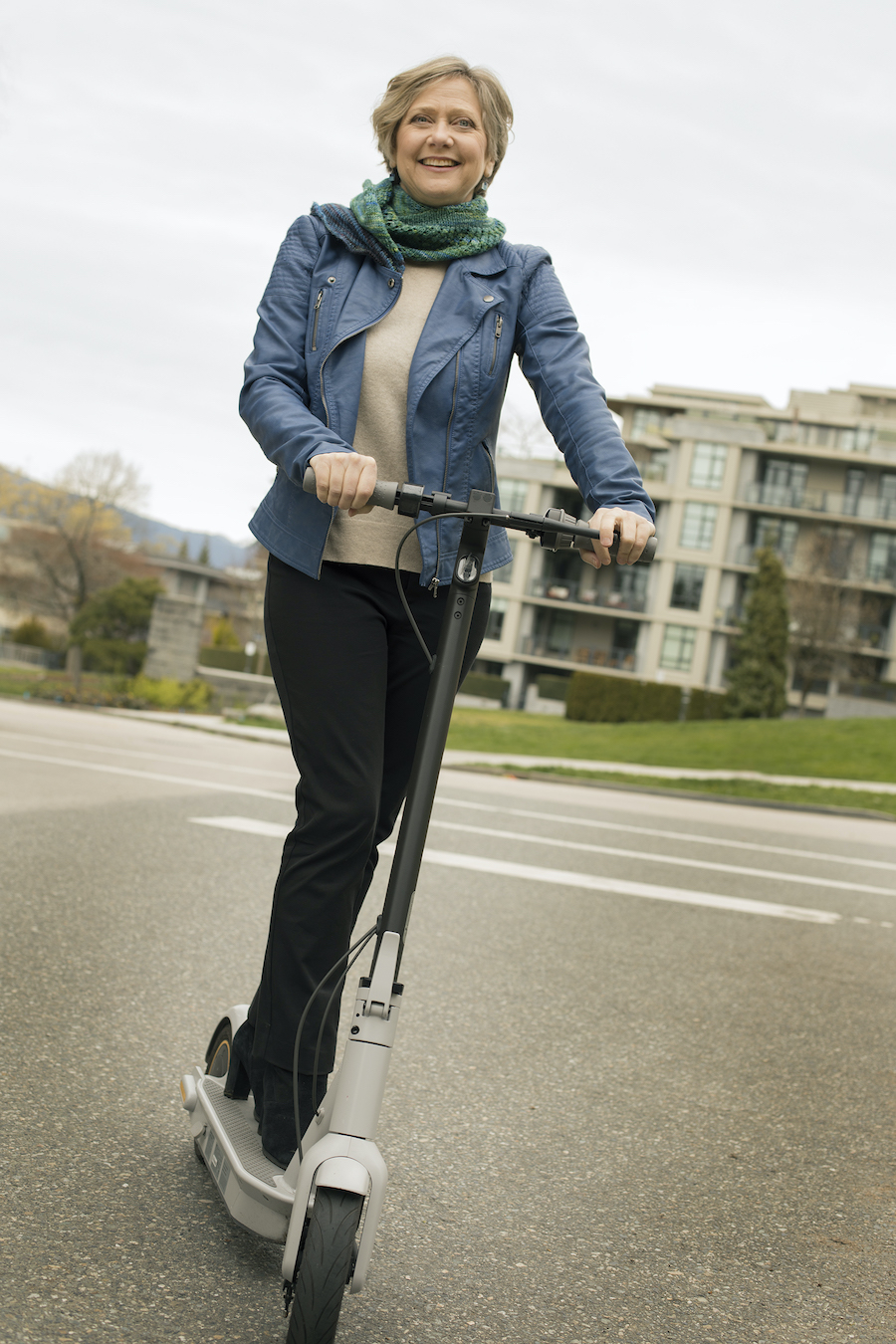 Suzie LeBlanc discovering the city of Vancouver on her new scooter Ⓒ MARK MUSHET
*this text was originally published in the summer 2022 print version of Opera Canada magazine
"The timing was perfect. I had been questioning myself, like everybody else during COVID. What would be the next phase of my artistic life? I really enjoyed teaching at McGill, my students, my colleagues, but I also knew that at my age, being close to sixty, I might not get a full-time position at a university…

I was looking at different options and when I received the offer, I thought I might go through this process, first because EMV is a wonderful organization, and because I would find out a lot about myself while preparing for the interview."
A big attraction for her was the feeling that she was coming back to a family that she had grown to know over the years. After her 1984 performance in Vancouver as a very young singer, lutenist Ray Nurse, leader of the New World Consort which had lost their solo soprano singer, asked her to join the ensemble. She auditioned the next morning and was immediately offered the job.
In Vancouver, Suzie replaced countertenor Matthew White who had taken the role of Executive and Artistic Director in 2013 after the departure of José Verstappen who had been managing the organization since 1979. In 2016, Mathew White had integrated the management and administration of the Pacific Baroque Orchestra (founded in 1990) into EMV's operations. What White did not do, however, was maintain his singing career. I was curious to know what Suzie's intentions were on this delicate subject.
"You will be surprised but during the process of the interview, I became more and more aware that it was a very full-time job and perhaps because I had been singing for so long, for 35 years, and COVID happened, there were hardly any performances and they were all happening online, it was discouraging as a singer… I was quite ready to embrace a life where I would do almost no singing. And it was the board of directors in the interview that asked me if I wanted to continue singing. And I said, oh well I have done the singing thing, maybe I am ready for something completely different. And they said: but we would really like you to keep on singing! And I burst into tears of gratitude because I was ready to let it go because I would not have time!"
Obviously, the board was aware that Suzie is a favorite of the Vancouver audience. So, she keeps on singing, but on a smaller scale. The plan is, as of fall 2022, to sing mostly in BC and avoid exhausting travel. "I made a couple of exceptions; I will go to sing in Italy; I love that country so much!"
Thanks to Matthew White, an online season was all planned from January to June 2021. Suzie's first task was to prepare the summer festival. But it was still a short turnaround. Luckily, with the Nouvel Opéra in Montreal, she had planned a four-day festival honoring 17th century women performers and composers. These concerts were filmed, offered during the summer festival, and became part of EMV's Digital Concert Hall, another of Matthew White's initiatives. To complete the summer offering, since European artists could not travel, Canadian and local artists took to the stage. Suzie was delighted to find out that the early music world in BC is growing. "It is not the Mecca that Montreal is but there are many musicians with an interest in historical performance moving back to BC." With all the cancellations of European groups and rebooking of concerts planned in 2020, this helped in planning the 2021-22 season.
There is a LIVE festival in the summer of 2022, with some events being held indoors, others outdoors at the beautiful Van Dusen Gardens. The summer of 2023 will see the second biennale "City of Ladies" (after the book by Christine de Pisan) celebrating Women in Leadership. It will include a project with renaissance opera, concerts of early music and new works, as well as performances by artist-in-residence Catalina Vicens, a harpsichordist from Chile now living in Italy and founder of the ensemble Servir Antico.
EMV has a very loyal audience. "It feels like a family, but of course we are trying to attract a new one." One way of doing so is the Passport Series, co-created with Kiya Tabassian from the Constantinople ensemble where early music from different cultures—Western, Eastern, Ottoman Empire, Chinese—is featured.
"The series is full of discoveries, and it is really a joy. Last year Constantinople and the Corsican vocal ensemble A Filetta collaborated for the first time here! I saw a new kind of audience at that concert. I also want to reach out to the Francophone, Persian and Asian communities here… We have a podcast now and for the Passport Series I would like to have interviewers that come from these cultural backgrounds."
"One of my goals for my tenure here is to create many collaborations with local organizations in Vancouver. This summer we are collaborating with Vancouver's new poet laureate Fiona Lam and we have plans with the Queer Art Festival in the future. I also wish to create links with non-cultural organizations, ones dealing with environmental, food and sustainable energy issues. There are ways to use music to connect people."
Growing up in New Brunswick, Suzie feels close to nature in her new seaside home: "I got myself a scooter and I discover Vancouver by scooting around town. It is a nice way to clear the mind and to look around.
---
Opera Canada depends on the generous contributions of its supporters to bring readers outstanding, in-depth coverage of opera in Canada and beyond. Please consider subscribing or donating today.