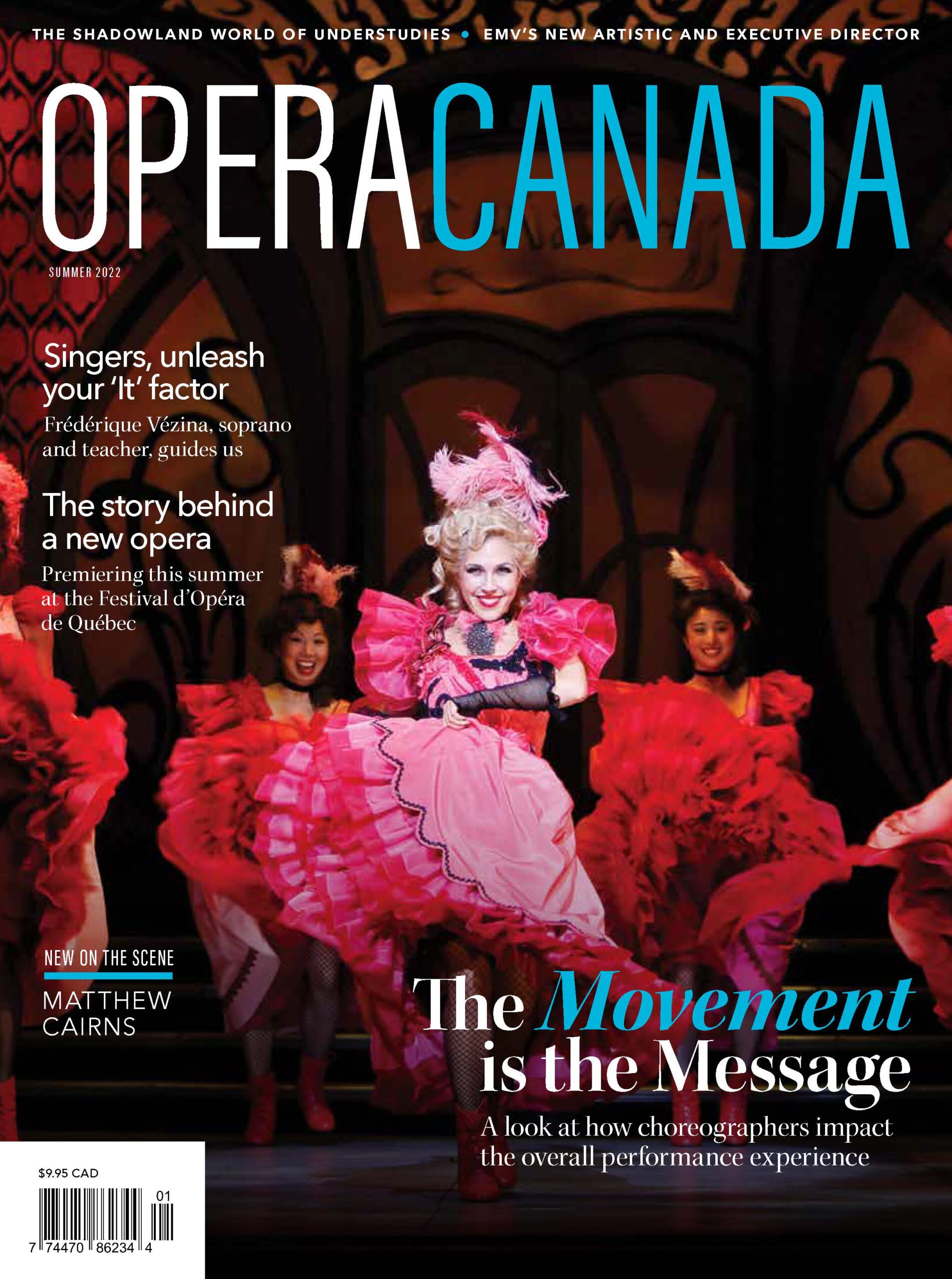 *this text was originally published in the summer 2022 print version of Opera Canada magazine
The business of opera has always fascinated me: the behind-the-scenes discussions and decision making about everything from casting to marketing to ticketing to development initiatives, the occasional drama (endless energy), the costumes, the colours and the royal diadem: the music and voices. The music is what makes my world go around. I've always called my work in opera a lifestyle rather than a job—I understand that to be a common mindset for those living the opera life. Perhaps it's no mystery how I ended up married to an opera violinist!
Taking on the role of Editor-in-Chief for Opera Canada is a real honour. I remember scoping out new issues at my local magazine store while growing up in Ottawa. I was lucky to have grown up surrounded by a rich musical tradition. One might ask what's in the water in Ottawa? Ottawa has brought Gerald Finley, Matthew White, Daniel Taylor, Joshua Hopkins, Philippe Sly, Mireille Asselin, Miriam Khalil, Wallis Giunta, Sharleen Joynt, Donna Brown and Joyce El-Khoury to the international stage—to name a few! Then there's Julie Nesrallah, radio-host extraordinaire with a mezzo voice to match. Ottawa-native Thierry Tidrow, currently composer-in-residence for Oper Dortmund, is writing great operatic works. Also, I can't forget Bryan Wagorn, Assistant Conductor at the Metropolitan Opera, who is regularly accompanying A-list opera stars around the world! At the end of the day, one can likely attribute this opera boom to fine educators and mentors.
Beginning in the next issue, this magazine will start to regularly feature opera professionals working in various business roles, from general administrators to publicists to artist agents. All of these jobs play such a momentous role in how opera and artists are shaped today and the perceptions of these professionals help forecast the direction, struggles and successes within this beautiful art form. I look forward to giving continuous real estate to these conversations and, hopefully, encouraging discussion with you in the process!
Another regular feature I'll be introducing will focus on Canadian educators in Canada and abroad—without them, we are lost. The art of singing is very abstract and a challenge to put into text. I hope to feature key voice teachers and opera coaches to learn their approach and overarching philosophy. I think this conversation will fascinate both studying singers and non-singers alike.
We will, of course, continue to focus on featuring Canadian artists working on opera stages in Canada and around the world. If you are on social media, please consider engaging with us on Facebook, Instagram and Twitter, and check out our redesigned website right here.
---
Opera Canada depends on the generous contributions of its supporters to bring readers outstanding, in-depth coverage of opera in Canada and beyond. Please consider subscribing or donating today.