Deborah Lau-Yu is the founder and principal at PALETTERA Inc., an award-winning design studio that specializes in storytelling and branding.
LC: With an arts, design and entrepreneurial background, how do you bridge these worlds? What can business take from art and vice versa?
DLY: It starts with process. You create something, and the next step is influenced by how you managed the last step. It's an endless cycle of improving and reacting to make something of worth, of finesse. In entrepreneurship, there are so many factors influencing your creation. From the fun parts like painting to the practical (HR, accounting). The spectrum is so wide that you're constantly adapting. In art, I look for the quality, the craftsmanship, the meaning. This must transfer to the business as a whole, whether in design or in music. As an entrepreneur, I ask: what is our mission? How and why do we create?
LC: We exist in subjective industries, but what could be more objective? What could we in the performing arts do better?
DLY: If I go to a show, I see that from a branding perspective, they 're undersold. The programs, the ads, the banners, the product are not presented in a contemporary way. You have a world-famous conductor presented with their name and a black and white headshot from the 80s!? Compare this to Hollywood celebrities' publicity. Sometimes tacky, but always louder. So often in the arts, the materials read 'corporate'. There's a dancer on the banner, but remove that image and everything else looks like it's from an institutional bank. And even the banks are warming up their image! We could captivate someone before they even think of buying a ticket.
LC: True or false: art for art's sake. Beauty for beauty's sake.
DLY: Beauty is about quality, craftsmanship – the luxury of someone actually cutting a dress, a leather bag that will last generations. In Chinese, 'business' comes from Shāng, which is life and yè which is meaning. When you're in business, you lose sight of the meaning of life. As an artist, using the Chinese, I know I'm on the right track because I'm creating meaning for life and I'm creating jobs, too!
LC: You're also the creator and Editor-in-Chief of Fête Chinoise Magazine and its entire universe — tell us about that.
DLY: Fête Chinoise is a community and platform to deepen the connection between identity and Chinese culture. We present meaningful stories, artful experiences and objects of art. Our annual events, charity projects and signature gala create the highest quality presentation of Chinese culture and heritage in contemporary Canada.
LC: Our communities in Unionville/Markham are representative of the immigrant and first-generation experiences in Canada. These groups are not monoliths and require varied outreach. And yet, in the classical arts, let's take our own examples, Chinese and Italian patronage are still under-represented demographics. All the kids with whom we grew up took piano. Current wisdom says that music education at a young age will pay dividends in appreciation and patronage later. So, what's the disconnect here?
DLY: We were a Cantonese family from Hong Kong. My mom was from a poor family and received scholarships for her two degrees at U of T. Our piano lessons were expensive, paid in cash to a lady who worked at the IBM. For her it was a side gig. And for us it was a backup plan, knowing you could make good money teaching piano. My mom was that tiger mom who made sure we had access to everything— swimming, math tutors, piano, etc.
From a cultural perspective, [the arts] aren't regarded as equal for earning potential. In Ontario, it's new arrivals and first generation Canadians, there's no old money Chinese here. Compare that to a Chinese family in BC—they're five generations in. There is built wealth and they are more philanthropic.
LC: How do we get more Deborahs into the theatre and keep them as patrons? There's a huge divide between the downtown core and the suburbs and all the big-budget organizations cater to a fraction of a huge and affluent city. Administrators don't get in their cars and go out to Unionville! (*Notable exception: read about Mark Williams and the TSO in Brampton in Stage Business here).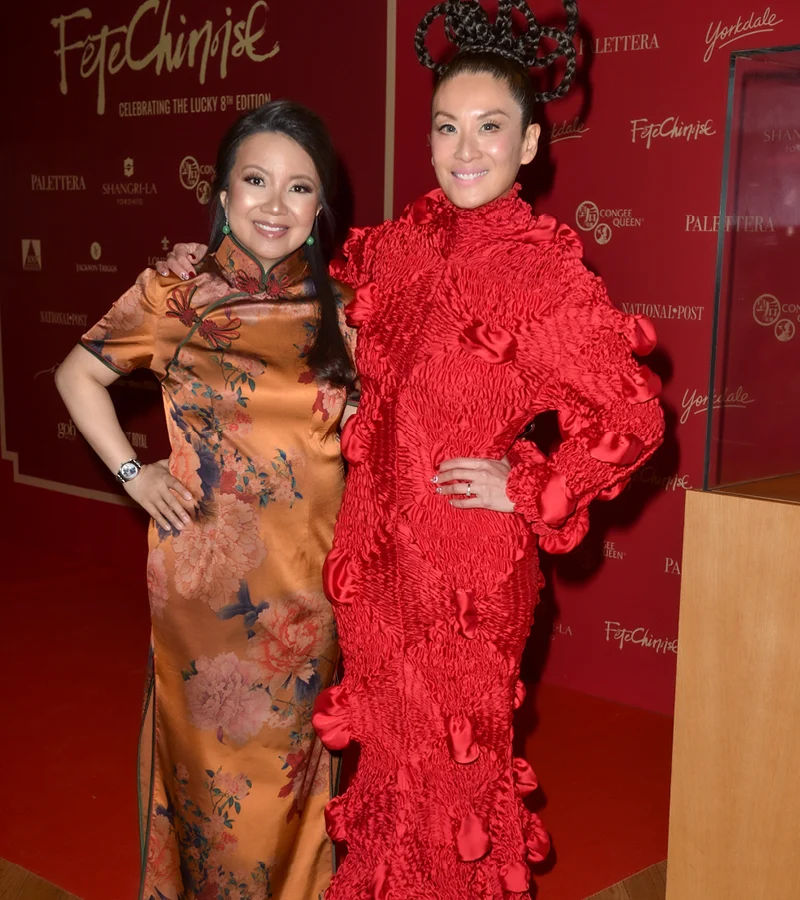 Fête Chinoise Editor-in-Chief and Creative Director, Deborah Lau-Yu with the pre-exhibition VIP dinner's official Master of Ceremonies, Lainey Lui  Ⓒ Photo Courtesy of 
DLY: Joe Hisaishi [beloved composer for the outrageously popular Studio Ghibli anime films] came to Toronto with the TSO this past June. They could have sold a week of shows up here. But the orchestra, they might not have seen the potential. It's a missed opportunity. Consider the ripple effect of his coming to Markham: how many more people would understand that: a) the TSO exists and b) it programs great stuff ! Suddenly everyone is a prospect. They get the emails, the package, and share with their friends.
Or the National Ballet Gala, Mad Hot Ballet. Luxury brands host tables for clients who spend a lot of money on their product. And they'll look classy, but these aren't really the people who should be in the room. Some might not be evangelists for your art.
LC: They're not community builders.
DLY: These events raise money, but they do little except reinforce societal polarization in the society pages. Take away the preferred clients and see who's left. That room is probably 90% wrong. Markham, Vaughan, Richmond Hill have so much potential. Ultimately, I hope we can make room for those interested in supporting the arts.
LC: We can leave our communities and this country a little more beautiful than we found them.
DLY: I believe we can.