Nikkei Canadian settler Teiya Kasahara 笠原 貞野 is in Toronto, preparing to sing the roles of Priestess and Jules in the Canadian Opera Company's production of Kye Marshall & Amanda Hale's Pomegranate. The production opens June 2, and runs to June 4 (tickets here). The ground-breaking, lesbian love story is told by a stellar cast of Canadian voices, which also includes mezzo-soprano Adanya Dunn, soprano Danielle Buonaiuto, mezzo-soprano Catherine Daniel, and baritone Peter Barrett.
Kasahara is a queer/trans non-binary opera singer and interdisciplinary performer-creator, known for exploring the intersections of gender, sexuality, and race using elements of opera and theater, as noted in their first original work The Queen in Me which had its world premiere in June 2022 at the Canadian Opera Company (co-produced by the COC, Amplified Opera, Nightwood Theatre and Theatre Gargantua). Coming up for Kasahara: They will perform at the Toronto Summer Music Festival in Amplified Opera's reimagined rendition of Puccini's famous opera, Madama Butterfly, titled The Butterfly Project 蝶々さんのプロジェクト (or, The Ballad of Chō-Chō san) on July 12. In 2024, they will also perform with the Toronto Mendelssohn Choir as a soloist in Verdi's Requiem on April 27 & 30, at Koerner Hall in Toronto.
Kasahara is a graduate of the Canadian Opera Company Ensemble Studio and the University of British Columbia, and the 2022 recipient of the Joseph S. Stauffer Prize in Music (Canada Council for the Arts).
Drink of choice?
A really good ginger beer cut with some carbonated water, ice, and freshly squeezed lime.
Coffee or tea?
Coffee. Black. No other way. (Americano or espresso preferred.)
What was the first opera you ever saw?
Ingmar Bergman's 1975 film of Mozart's The Magic Flute. The first live production I saw was Robert Ward's The Crucible, by UBC Opera in 2000.
What's your ancestry?
My father immigrated in his late 20s from Japan. He was from Niigata. My mother was born in Germany and immigrated as a child to Alberta. Her family was born in the Ukraine.
What's your favourite mind-calming practice?
I weight lift about 4-5 times a week. This actually calms my mind because it forces me into my body with every single muscle firing, coordinated with breath. It's methodical, logical and I love feeling strong.
What's your favourite non-classical band?
I started listening to Kishi Bashi over the lockdown, and eventually got to see him and his band live. His music is so diverse, fun, euphoric, beautiful, and dreamy.
What's the best meal you've ever had?
It wasn't the best meal, but it was the best sashimi I ever had. My wife had booked us this very "rustic" Airbnb in an old Kyoto-style nagai-uchi. Just think of a damp, cold, old wooden house that reeked of cigarette smoke. The person who was hosting us happened to cook us dinner that night, and he pulled out all the stops and served us "chūtoro" (medium fatty tuna). It was melt-in-your-mouth amazingness. I had never tasted such delicious tuna. I was in epicurean heaven and it made the experience worth it, especially while jet-lagged in Japan for the first time.
What's your guilty pleasure?
My guilty pleasure right now, is "The Legend of Zelda: Tears of the Kingdom". That game is beautiful, and allows my curiosity to run wild. It's a great distraction from the stress of daily life.
Do you enjoy cooking? If yes, what is your best dish?
I do enjoy cooking (when I have time). I've learned everything from my father and brother about cooking and food. I think I've perfected teriyaki chicken by watching my brother make this numerous times as an adult. If you're a foodie and in the Vancouver area, you won't regret following him on Instagram – @yoshfood.
 

 

View this post on Instagram

 
What is the best advice you have ever been given?
When you're frustrated, try to find humility in the situation. There's always something to learn and more to be aware of. Take a moment to step back, listen, absorb, process.
What is something most people don't know about you?
I think a lot of people don't know I'm trans. I had my first professional gig at 21, and at age 22 I had moved across the country to sing with the COC. I was presumed female at birth, and I didn't have the representation, let alone the vocabulary to understand my sexuality and gender and how that relates to my voice type etc as a teen or young adult. So, when I work with people who either knew me in my 20s, or just make assumptions of who I am based on my voice, they assume female/woman/she/her because I still sing soprano repertoire. But I'm not cis-gendered. I'm trans non-binary and my pronouns are they/them.
Does singing help keep you young?
I think singing has helped keep me fit and strong. It was easier to recover from the COVID-19 virus because of the diaphragmatic breathing that has become innate to me. Singing allows me to connect to my body when doing any physical activity, meditation, or even mindful sitting, standing, etc. So, it hasn't necessarily kept me young, but it has kept me vitalic.
Does your process change from role to role?
I think with anything, one's process evolves. It becomes more efficient—it "levels up" when we learn from others, from those we look up to, and I think it has to, depending on the role if it's more dramatically or musically challenging. Time is such a huge privilege to have these days, so I think I try to maximize the amount of time when learning a role, and letting it get into my bones.
Does performing in different locations impact your performance?
Totally. I think a big lesson I have remembered as both a creator and performer is "know your audience." Also, as a Gemini, depending on where I'm performing and who I'm performing for, certain traits will be accentuated more in my performance, or I may have more or less comfort. But it's always embodied, it's always my whole voice—it's just picking and choosing which colours/textures I use on any given canvas.
Are you a perfectionist?
As a child I used to be a perfectionist, and that mindset runs deep. It's hard to unearth. As I've aged, I'm realizing that perfection doesn't exist, but it is something else that I'm after: it is a synchronicity, harmony (not just in the musical sense), beauty, joy, catharsis, collaboration, a feeling of safety, being held, understood, seen. Those feelings, moments, and energies are what I try to strive towards in all aspects of my life – especially in making art – striving towards these ephemeralities with balance, patience, trust and gentleness.
Teiya Kasahara 笠原 貞野 as the Bartender in Pomegranate at Buddies in Bad Times Theatre, 2019 Ⓒ Dahlia Katz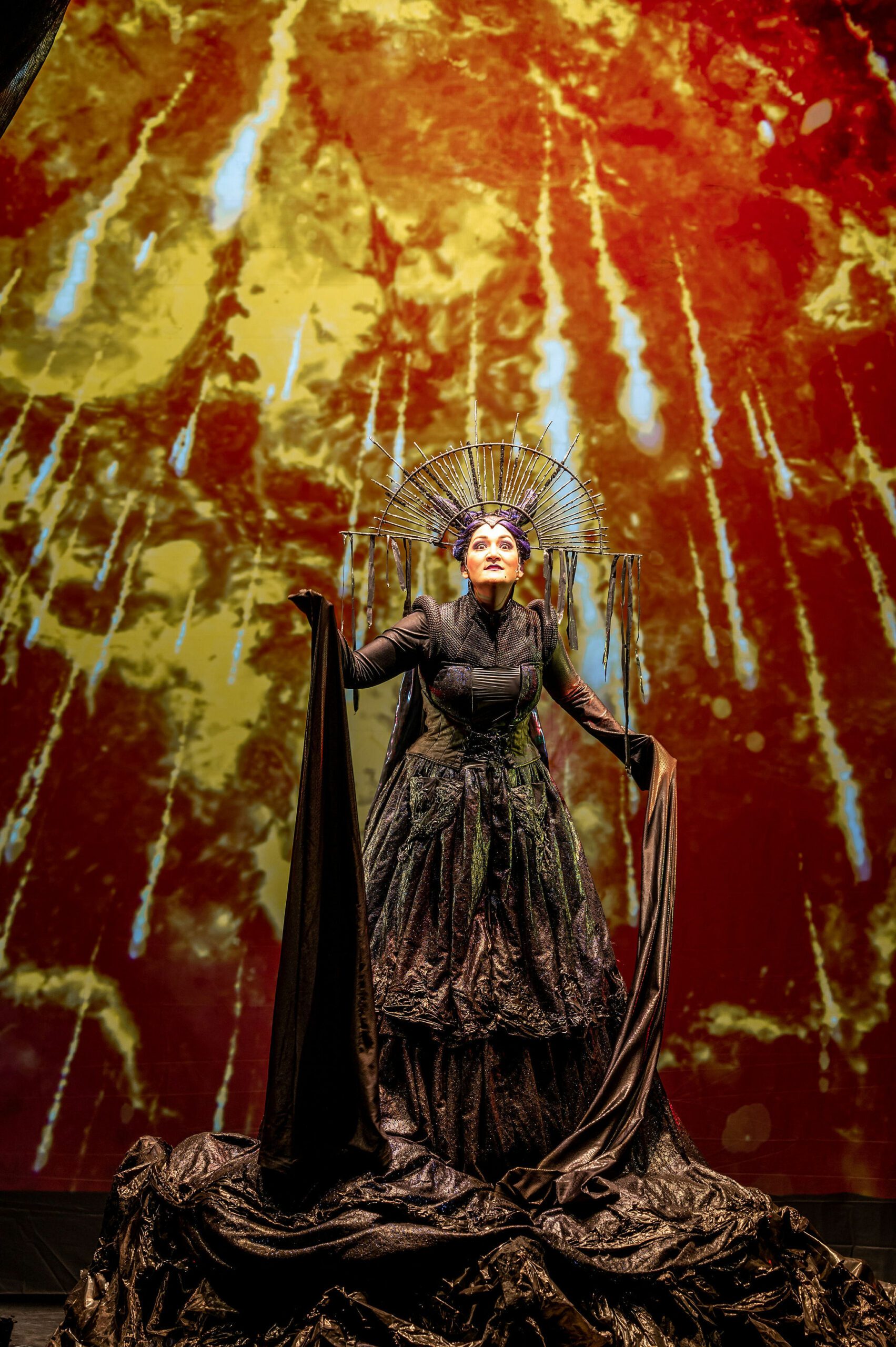 Teiya Kasahara 笠原 貞野as the Queen of the Night in The Queen In Me Ⓒ Dahlia Katz / Canadian Opera Company
Kye Marshall & Amanda Hale's
 Pomegranate
Canadian Opera Company
June 2, 3 and 4, 2023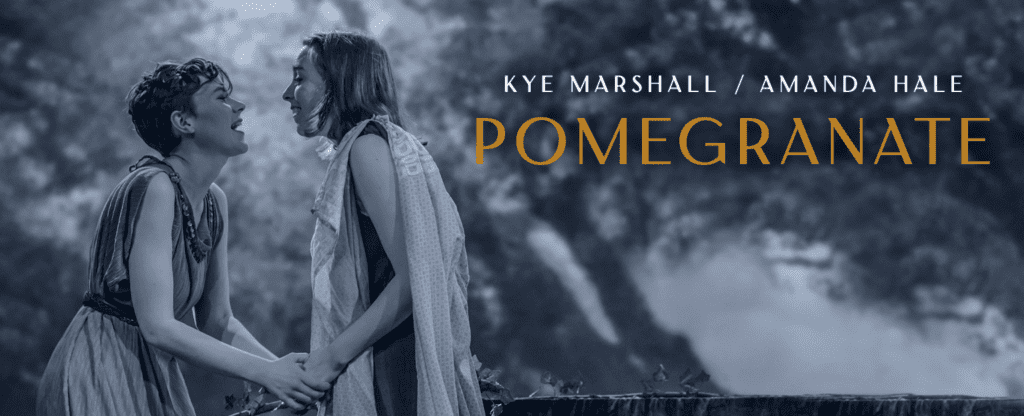 ADANYA DUNN | DANIELLE BUONAIUTO | CATHERINE DANIEL | PETER BARRETT | TEIYA KASAHARA  笠原 貞野 | COC ORCHESTRA & CHORUS
A ground-breaking, lesbian love story about Suli and Cassia, who seek to express their love for each other freely in the face of impossible odds. As the time-shifting narrative moves from a women's temple in ancient Pompeii to a Toronto lesbian bar in 1981, the orchestral music alters as well, from harp accompaniment to electric piano.
The couple struggles to repair their love in the face of homophobia and an impossible ultimatum, while fragments of memory endure, revealing a transcendent love for the ages.
---
Opera Canada depends on the generous contributions of its supporters to bring readers outstanding, in-depth coverage of opera in Canada and beyond.
Please consider subscribing or donating today.