Canadian tenor Charles Sy is in Stuttgart, Germany preparing to reprise the role of Il Conte d'Almaviva in Staatsoper Stuttgart's production of Rossini's Il Barbiere di Siviglia (singing July 4, 6 and 10). The production opens on June 21 and runs to July 10, with Sy sharing the leading the role with Mexican tenor Alberto Robert (tickets here).
Toronto-born Sy is a member of Staatsoper Stuttgart's ensemble, and former member of the company's Opernstudio. Upcoming highlights include two performances with the London Symphony Orchestra and Canadian conductor Barbara Hannigan: Half Six Fix: Stravinsky's Pulcinella on Sept 20, and Radical Magic – The Sound of Stravinsky on Sept 21. Sy is an alumnus of The Juilliard School and University of Toronto.
We caught up with him to reflect on opera, life lessons he's learned along the way, and how to cope with the music industry's ups and downs.
What's a big investment for an opera singer, but totally worth it?
Learning to speak foreign languages. This sounds obvious and is something that is mentioned to us as young singers quite often, but I feel like it took me thirty years to finally understand just how life-changing it really is. There are, of course, the obvious benefits in regards to nuance and artistry that come from singing in a language that you can actually speak. But when I think about all of the people in my life who I would have never been able to meet or have experiences with because I did not speak German (and they did not speak English), I come to the realization that my life would not be as enriched as it is now.
Learning another language opens up a whole new perspective of the world to you. There is a whole group of people who you now have the opportunity to develop a relationship with and learn from. A rich stack of literature and media that you originally had no way of exploring becomes available to you.
As an opera singer, you are tasked to embody the lives and circumstances of a wide variety of people from throughout time and from all around the world, many of which are nothing like us. And it is the exposure to these new perspectives and experiences outside of what you are accustomed to that feeds your soul and benefits your life both as a person and as an artist.
Favourite city that you've worked in?
Banff. Still one of my absolute favourite places in the world. The view from any perspective is absolutely stunning. I used to get up early every morning to walk up and down Tunnel Mountain and it was a great way to get the day started.
Are you happiest in the country or in the city?
In the city. I was born in and grew up in the city and have grown accustomed to the idea of having everything I could possibly need within arms' reach. That being said, after living in Germany for four years, I have acquired the love and need to walk through nature and am grateful for the many beautiful forests around Stuttgart.
Favourite social media platform?
Facebook. I have heard from the youths that this means I am old. But as a person who has traveled quite a bit and has developed relationships with people from all around the world, I am so grateful that Facebook allows me to keep in touch with so many people that mean a lot to me.
Are you a cat person or dog person?
Why not both? But if I had to choose one, I would probably say dogs. Simply because the loyalty and unbridled, unconditional love that they exude is enough to make me cry.
Top 3 favourite composers
Donizetti, Mozart, and Britten. These composers have been very kind to me throughout my career
If you weren't a singer, you'd be…
A cardiologist. My aptitude test in high school stated anesthesiologist, which made sense since I have always been interested in science and am very detail oriented. I always knew that I wanted to be a doctor because my mother has had congestive heart failure throughout most of my life. So when it came down to choosing a specialization, cardiology made sense since cardiologists have always been such an important part of my life and are a big reason why my mother is still with us today.
Do you enjoy cooking? If yes, what is your best dish?
I absolutely love cooking. Korean is my favourite type of cuisine. Whenever I need some sort of comfort food on a cold winter's day, I often will make Gamjatang, which is a Korean pork bone soup with just enough spice and a big punch of flavour that is so incredibly satisfying to enjoy.
What is the first thing you would do if you won the lottery?
I would buy my mom a house and pay off her mortgage. As a child of immigrants, I acknowledge all of the sacrifice and hard work that my mom had to go through in order to give me the opportunities that I had. I absolutely would not be where I am today if it were not for her unending support and encouragement.
Do you believe in fate?
Yes and no. I do believe that there is a lot of luck and chance involved when it comes to the opportunities that present themselves to you. But if you are not striving to prepare and better yourself, you may find yourself ill-equipped to take advantage of an opportunity before you. It is in this way that you define your fate or at least influence it.
What's your favourite mind-calming practice?
Journalling. It was something that took me a really long time to get on board with. But as a hardcore overthinker, being able to just dump my thoughts out and sort through them has been a lifechanger. Especially in a career that can be quite stressful and anxiety inducing. I now begin every single day with a journal entry reflecting on the day before and planning for the day that is yet to be.
What is the best advice you have ever been given?
I have been very fortunate to have had many influential mentors throughout my career, but one particular moment that sticks out to me and is something I still live by to this very day was some advice from Wendy Nielsen when I graduated from the Canadian Opera Company ensemble studio: "Keep balance as the goal and remember that singing is, despite its all encompassing nature, just your job. It does not define you as a human being, it is simply part of you."
The music industry is tough, and filled with rejection. How do you cope? 
It is really tough. I think there is also an extra layer to the rejection when you are an opera singer. When someone says that they don't like the timbre of your violin or your piano, there is always the option of getting a new one. But when someone says that they do not like your voice, it is difficult to separate that from the idea that they just do not like you. It is such a personal blow to the ego when your instrument, which is your own flesh and blood, is rejected.
Eventually, your sense of self-worth becomes intertwined with your accomplishments as a musician and you find yourself in an incredibly vulnerable position, where rejection has the power to topple your entire sense of being.
This is where the advice from Wendy kicks in. I am a person who has been rejected. I am not a reject. I have failed. I am not a failure. The rejections become a part of my life and experience, but they do not define my entire journey. Knowing this makes the rejections and failures much easier to deal with.
Do your on stage experiences also feed into your personal life?
They have certainly made me more empathetic. There are always two sides to every argument. When you spend most of your time personifying characters from pages in a book, you learn to see the world from new perspectives. It is important to remember that antagonists in stories and evil villains often do not think that they are evil. They often have rationalized their behavior and justified their actions.
To a less extreme extent, back in the real world, the people around you generally do not act towards you with malice. When there is conflict, it really helps to pull back and try to understand the situation from their perspective. These internal justifications and rationalizations do not necessarily mean that they are in the right, but taking the time to understand how they came to their conclusions can often help you resolve the situation amicably.
What's your favourite thing about singing with an orchestra?
There is a huge adrenaline rush of power that comes from singing with an orchestra, and it is one of my favourite things about opera as an art form. While studying in New York, I attended and enjoyed my fair share of broadway musical theatre, but there is something about experiencing an unamplified human voice that soars through the performing venue on the wave of sound that is the orchestra, that feels incredibly human. No speakers or microphones to get in the way of the pure sound and connection between the music on stage and the people in the audience.
Every time I have the opportunity to sing with an orchestra, I am incredibly humbled and grateful for the experience. There is a sort of mind meld that has to happen between every single participating member of the music making, and as a soloist, it sometimes feels like you have been handed the keys to the big shiny luxury car. A great sense of leadership is placed in your hands and the unending support from the orchestra makes you feel like you can accomplish anything.
Are you a perfectionist?
Absolutely. I have always attributed my hard work and success to my perfectionism. By consistently holding myself to high standards, I have pushed myself further than I ever thought possible. But as I get older and delve deeper into this career, I am slowly learning how to let go of this expectation.
There is a very fine line between being motivated to be the best possible version of yourself that you can possibly be and facing the consistent inevitable failure of persistently setting the bar unrealistically too high.
The striving for perfection will only get you so far, before the anxiety that comes from chasing an ever-changing high standard begins to cripple your capabilities. Success becomes an expectation and no longer a goal, and the higher you climb, the stronger the ever-looming feeling of having so much more to lose encompasses your entire mentality.
Once you learn to let go of these expectations of perfectionism and greatness, you begin to be satisfied and fulfilled by the steps involved to acquire success, rather than by the result of the success itself. And paradoxically, by letting go of your need to be perfect, you let go of the anxiety that comes with the possibility of failure, and open yourself up to the possibility of achieving your original goal of greatness.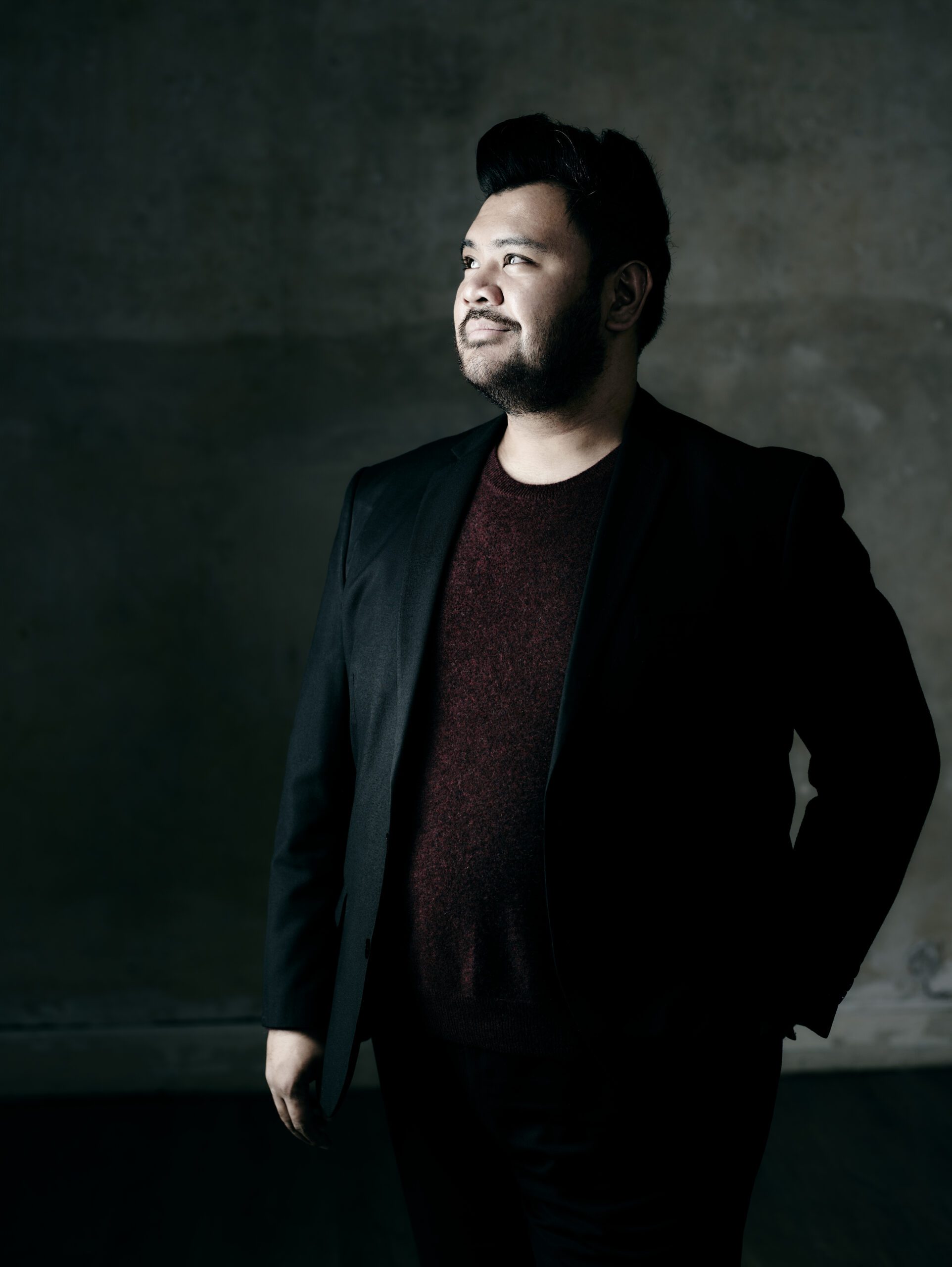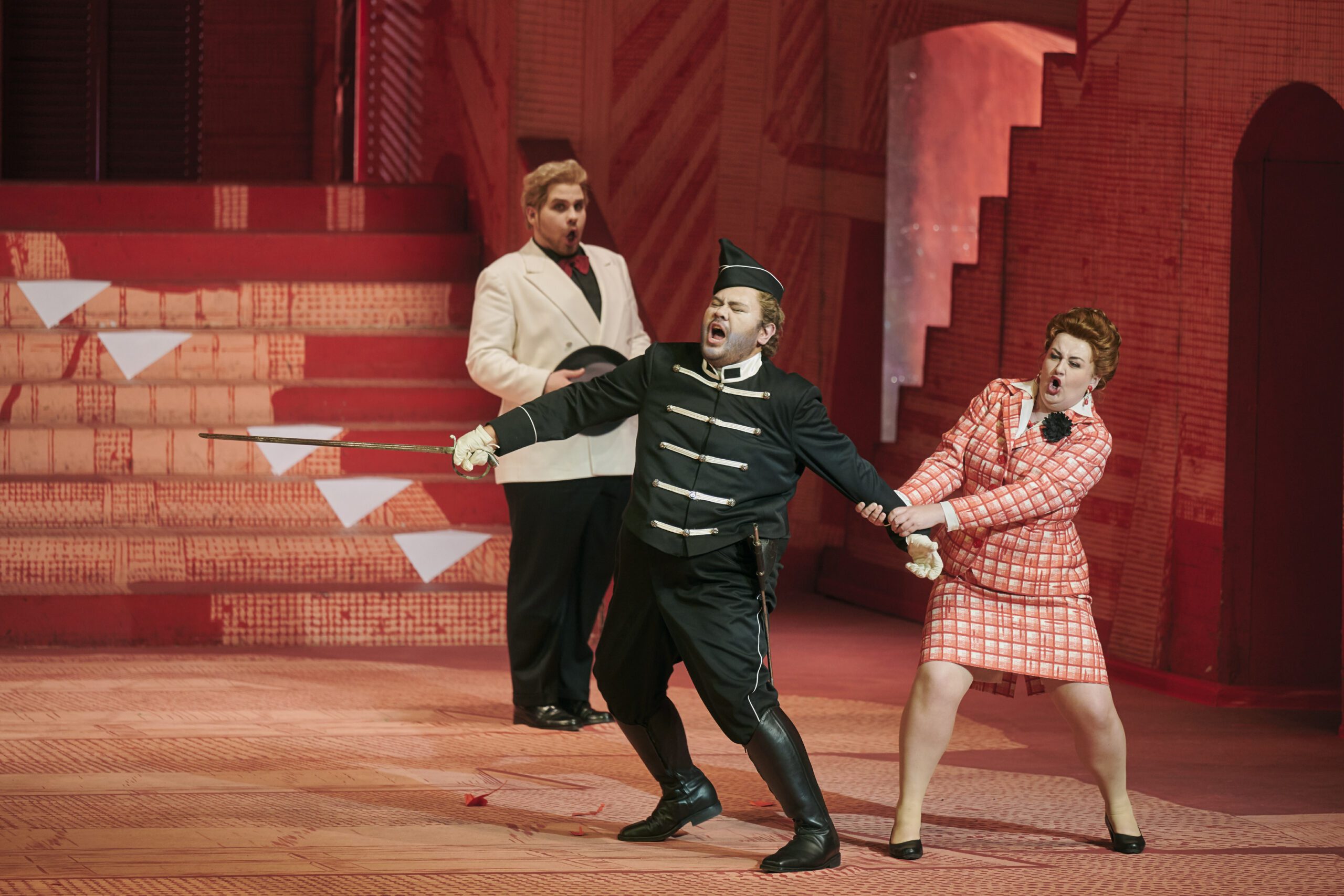 Michael Nagl (Basilio, left), Charles Sy (Il Conte d'Almaviva), and Clare Tunney (Berta, right) in Staatsoper Stuttgart's Il Barbiere Di Siviglia Ⓒ Martin Sigmund
Rossini's Il Barbiere Di Siviglia
Staatsoper Stuttgart
June 21-July 10, 2023
MUSICAL DIRECTION Vlad Iftinca
DIRECTION Beat Fäh
SET & COSTUMES Volker Pfüller
DRAMATURGY Peter Ross
CHOIR Bernhard Moncado
THE COUNT ALMAVIVA Alberto Robert/Charles Sy
BARTOLO José Fardilha
ROSINA Linsey Coppens
FIGARO Johannes Kammler
BASILIO Gerard Farreras
FIORELLO Jorge Ruvalcaba
BERTA Catriona Smith
AN OFFICER Stephan Storck
In his opera Rossini brought together a string of well-known "commedia dll'arte" characters of which he formed an irresistible comedy – full of intrigue and charade: the mercenary guardian Doctor Bartolo and his conniving henchman Basilio, his wealthy charge Rosina and her secret lover Lindoro (alias Count Almaviva) and finally the barber Figaro himself, The opera's world premiere in 1816 was accompanied by boos and catcalls – only to get firmly established in the world of opera shortly after. Rossini's work by now has developed into one of the most popular and most frequently played operas world-wide.
---
Opera Canada depends on the generous contributions of its supporters to bring readers outstanding, in-depth coverage of opera in Canada and beyond.
Please consider subscribing or donating today.