Our Artist of the Week is Canadian bass-baritone Gordon Bintner. After graduating from the Canadian Opera Company's (COC) Ensemble Studio, Bintner began making regular appearances internationally at the world's leading opera houses including The Royal Opera House Covent Garden, Opéra National de Paris, San Francisco Opera and the Lyric Opera of Chicago. Until last season, he was an ensemble member at Oper Frankfurt where he continued to broaden his already impressive repertoire, tackling roles like Count Almaviva and Figaro (Le Nozze di Figaro), Papageno (Die Zauberflöte), and Don Alfonso (Così Fan Tutte).
Bintner's upcoming season includes a return to the COC stage (this week!) singing the Count in the company's production of Mozart's The Marriage of Figaro (under the baton of Harry Bicket) and his return to the Royal Opera House singing Albert in Massenet's Werther from June 20 to July 4.  He's also doing a recital singing Beethoven, Busoni, and Vogel at Wigmore Hall with Greek violinist Leonidas Kavakos and Russian-American pianist Kirill Gerstein on March 5, 2023 (tickets available here).
 Tickets are now on sale for the COC's The Marriage of Figaro, running January 27 to February 18. 
Who inspired you to sing?
My mom and sisters. My mom would sing to us as kids, and taught me how to sing harmony. My sisters both took singing lessons, and I wanted to do what they were doing, so I went on to study voice, as well.
Drink of choice?
I don't drink much, but a beautiful red wine with dinner is a treat.
Favourite city that you've worked in?
Paris.
Favourite place?
Home with my fam.
Who is a singer you admire that is currently working?
Sir Thomas Allen. Doesn't get better.
Who is a singer you admired from the past?
Cesare Siepi.

What's the strangest/funniest thing that has happened to you on stage?
Locked in a glass box in my underwear?
What's your favourite orchestral instrument? Why?
Oboe. Such a beautiful and unique colour. Round, yet piercing. A great oboist blows my mind.
What's your favourite thing about singing with an orchestra?
Making music. Listening, reacting, riding the wave.
Tent or hotel?
Um, hotel.
Coffee or tea?
Coffee.
What was the first opera you ever saw?
Così fan tutte.
What's your ancestry?
Scottish and Norwegian.
What's your favourite mind-calming practice?
Long walks.
What's your favourite movie?
Zoolander. Or Sandlot. Or The Shawshank Redemption.
What's your favourite non-classical band?
At the moment, Gregory Porter.

Where did you go to school?
McGill University.
What's the luckiest thing that has ever happened to you?
Meeting my wife (Canadian soprano Simone Osborne), having our beautiful daughter.
What's the best thing about being an opera artist?
Bringing art to life. Storytelling. Sharing music with others. Exploring a character and their range of emotions, motivations, perspectives.
Are you a cat person or dog person?
Dog, but I have a soft spot for cats, too.
What's the best meal you've ever had?
Mom's roast chicken dinner, every time.
What was your childhood dream job?
Performer. Be it dance, theatre, singing.
Are you happiest in the country or in the city?
City, with nature nearby.
Which album did you listen to last?
Laufey (an incredible Icelandic jazz singer, check her out).

Which TV show did you binge-watch last?
White Lotus
Do you sing in the shower?
Ohhhhhh yup.
Do you enjoy cooking? What is your best dish?
I do. Turkey dinner or lasagna come to mind.
What is something most people don't know about you?
I was a skateboarding, jazz drumming ballet dancer when I was a kid.
The music industry is tough, and filled with rejection. How do you cope? Does it get easier?
Be about my business. Do what I do. If they like it, great. If they don't, fine. If I'm proud of what I do and feel I've done my best, I'm at peace.
Do you believe in fate?
I believe that everything happens for a reason.
How old were you when you discovered opera?
20.
What's the most important lesson you learned from childhood?
Be good to others.
Simone Osborne (Adina) and Gordon Bintner (Belcore) in the Canadian Opera Company's production of The Elixir of Love, 2017 Ⓒ Michael Cooper
Mozart's The Marriage of Figaro
Canadian Opera Company
Jan 27 – Feb 18, 2023
LUCA PISARONI  / ANDREA CARROLL / GORDON BINTNER / LAUREN FAGAN / EMILY FONS / ROBERT POMAKOV / MEGAN LATHAM / MICHAEL COLVIN / DOUG MACNAUGHTON / MIREILLE ASSELIN
When Count Almaviva attempts to seduce Susanna on the eve of her wedding, Figaro and Susanna join forces with the spurned Countess to deliver an unforgettable lesson in love.
Mozart serves up the most luminous and profound music for this subversive story of servants who topple their masters and women who prove wiser than the men around them. Claus Guth's acclaimed production features the return of COC Ensemble Studio grad Gordon Bintner.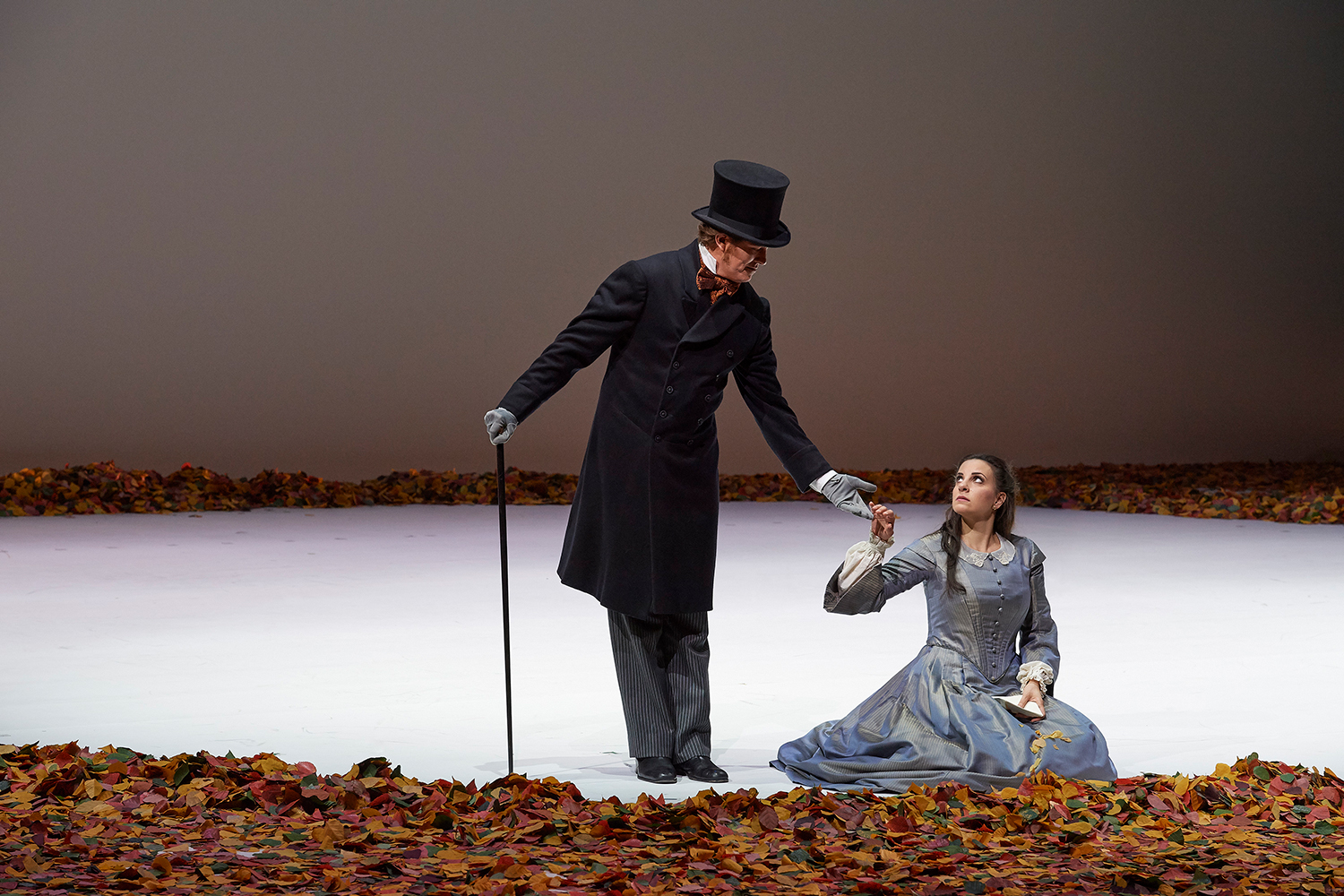 Gordon Bintner (Eugene Onegin) and Joyce El-Khoury (Tatyana) in the Canadian Opera Company's production of Eugene Onegin, 2018 Ⓒ Michael Cooper
---
Opera Canada depends on the generous contributions of its supporters to bring readers outstanding, in-depth coverage of opera in Canada and beyond.
Please consider subscribing or donating today.