The Canadian Opera Company mounted its John Caird staging of Puccini's La bohème for the third time in a decade October 6 with a performance that was endearing if not on opening night as emotionally affective as it might have been. A co-production with Houston Grand Opera and San Francisco Opera, the staging is handsomely presented in designer David Farley's sets, which involve multiple paintings that might have been created by Marcello as structural elements and a clever construction that allows rapid and almost seamless changeovers between Acts 1 and 2, and 3 and 4. Mounted with this frequency, though, the production is becoming a bit stale to COC subscribers at least and it's probably time for the company to try another take on what is perennially one of the opera world's most popular sells. The remount unfolds dramatically enough under revival director Katherine Carter except for some rather forced choreographic interventions to show characters in exuberant mood, but the pervasive sense of déjà vu tends to sap the emotional drama in Puccini's musical portrayal of starving artists falling in and out of love.
With such familiar fare, casting is key, and here the COC scores well with what is notably one of the most diverse ensembles the company has assembled for a single production. Egyptian/New Zealand soprano Amina Edris and Samoan tenor Pene Pati, spouses in real life and here singing Mimì and Rodolfo together for the first time, had the right chemistry for the principal pair of young lovers. Pati enjoyed a distinguished company debut, his tonally rich lyric tenor free at the top and nicely even through its range. He conveyed the fickle character of the jealousy-prone Rodolfo most effectively. Edris, most recently with the company as Verdi's Violetta, seemed a bit less invested as Mimì at first, though was more convincing in the character's more-vulnerable second half and etched the death scene touchingly.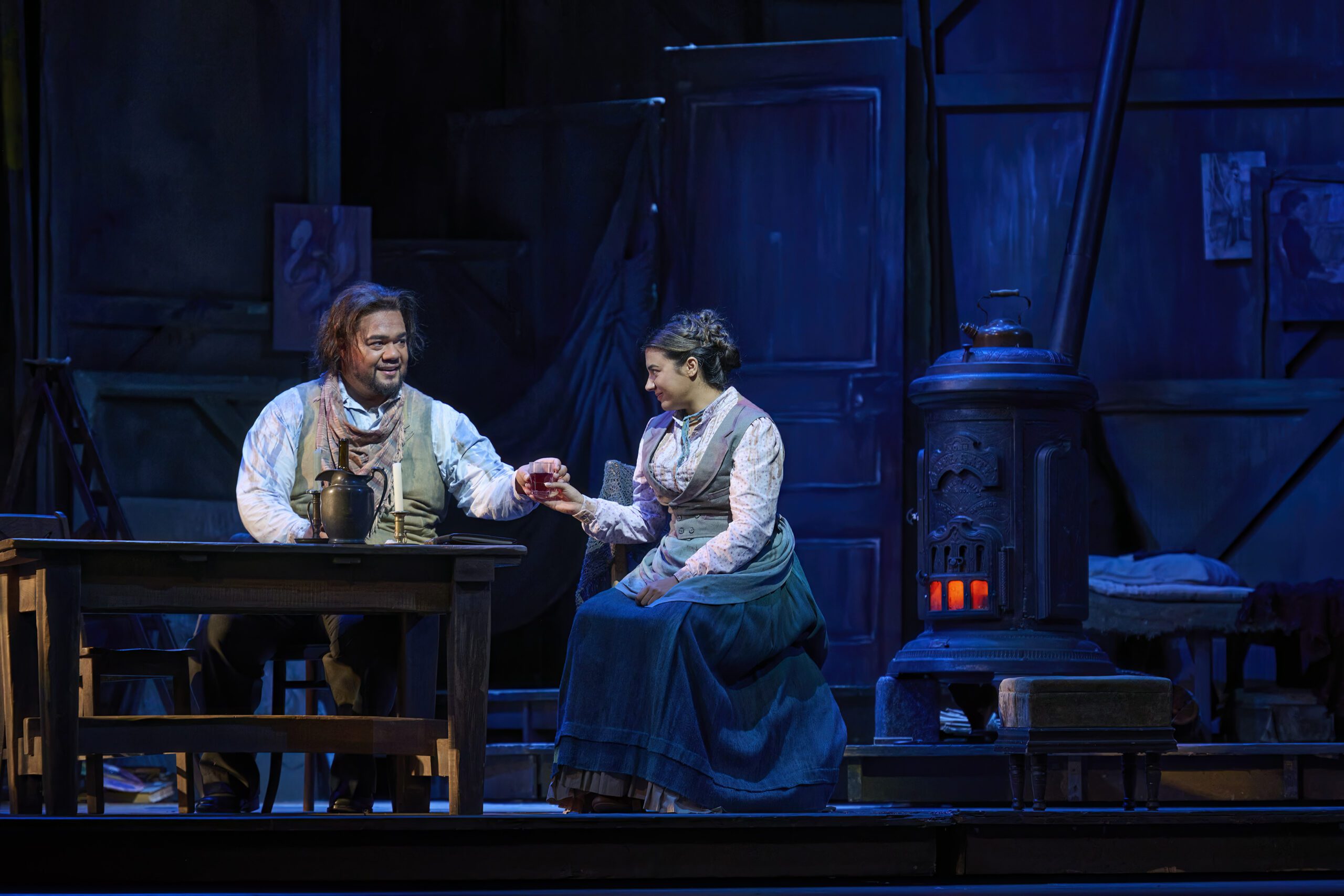 Pene Pati (Rodolfo) and Amina Edris (Mimì) in the Canadian Opera Company's production of Puccini's La Bohème, 2023. Ⓒ Michael Cooper
The volatile relationship between Marcello and Musetta was well sung and acted by Korean baritone Joo Won Kang and Canadian soprano—and current member of the COC Ensemble Studio—Charlotte Siegel. Their more comical, on-again off-again affair came alive through committed singing both solo and in ensemble.
Rounding out the male quartet of Bohemians, Congolese bass Blaise Malaba made his company debut as the philosopher Colline, singing farewell to his great coat to raise funds for Mimì's medicine with grace, while Canadian baritone Justin Welsh, a member of the Ensemble Studio more than a decade ago, made a welcome and distinctive return to the company as the musician Schaunard. Canadian baritone Greg Dahl, as always, made the most of his assignment musically and dramatically, here taking on the double-bill of the hapless Benoît and Alcindoro.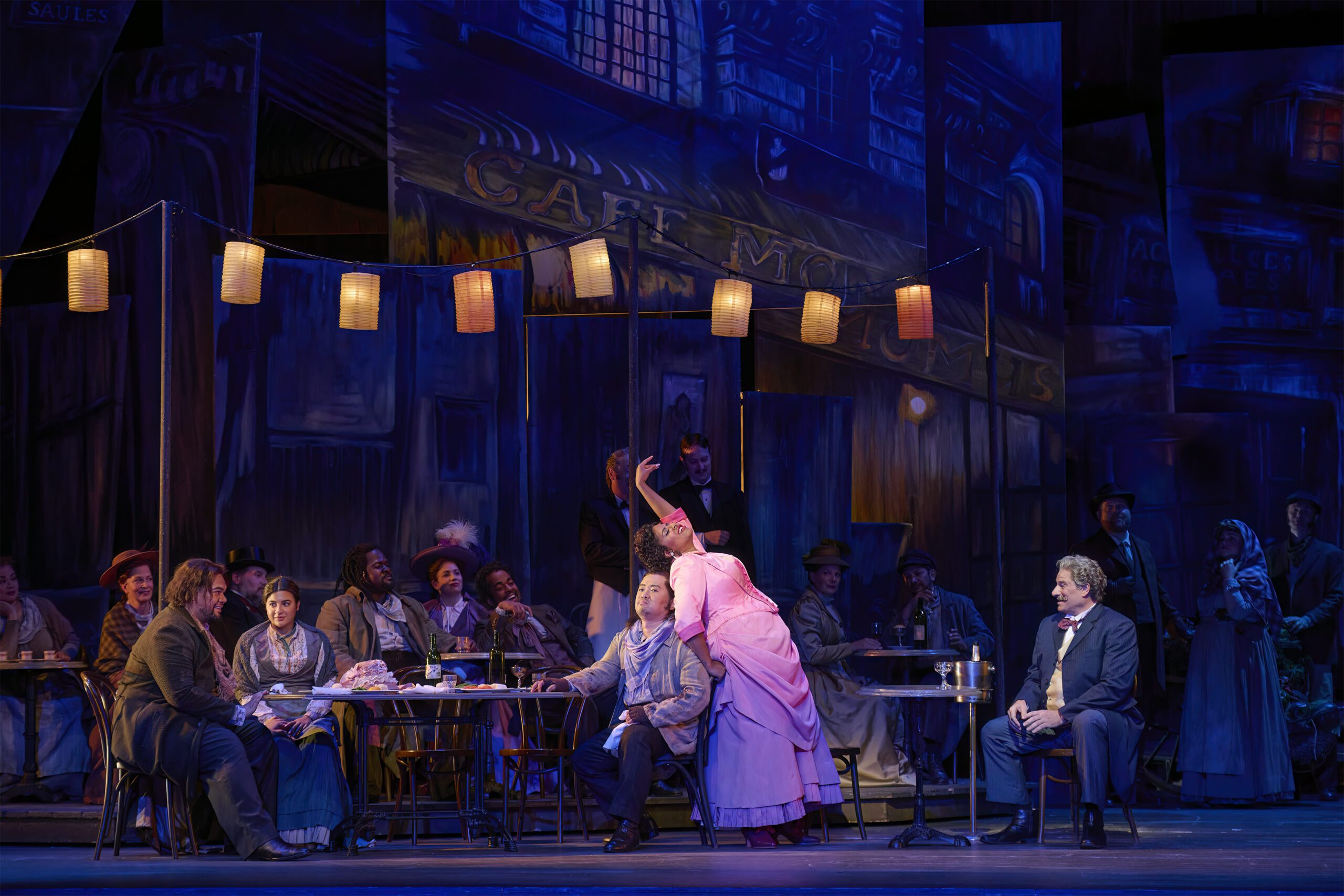 A scene from the Canadian Opera Company's production of Puccini's La Bohème, 2023 Ⓒ Michael Cooper
The Canadian Children's Opera Company enlivened the streets around Café Momus with great gusto, and Chorus Master Sandra Horst's COC Chorus, though with a limited role in this opera, handled it with customary assurance. Canadian conductor Jordan de Souza, whose career is on the rise around the opera world and is now General Music Director Designate of Germany's Opernhaus Dortmund, returned to the COC podium to conduct a lively, well-paced account of the score that was rich in colour and detail.
The balance between stage and pit was a bit off at times from the perspective of my mid-orchestra seat, but overall, the ensemble was well-tuned and in sync. The attractive power of La bohème is such that even after seeing it countless times, you can be sucked right back into its world after just a few bars of its propulsive orchestral opening. Happily, this COC remount, though so familiar in form and content, rises far above routine in performance.
---
Opera Canada depends on the generous contributions of its supporters to bring readers outstanding, in-depth coverage of opera in Canada and beyond. Please consider subscribing or donating today.