In Opera Canada's new Q&A series, we've asked arts writers across the country to weigh in on how the Canadian opera industry is handling the prolonged pandemic environment. First up…Lydia Perović.
What are your feelings on the types of programming being offered, mostly in lieu of live performances, by Canadian opera companies? Do you think it will successfully engage opera audiences?
The digital output depresses me. Companies are damned if they do, and damned if they don't. If they do it, the videos that come out will have to compete with everything else available digitally that's only a couple of clicks away, including the whole of YouTube, Netflix and most TV channels. If the companies have generously shared productions from their video recording vault over a long stretch of time, like the Met has, the novelty inevitably wears off and the point of saturation comes. If they have no recordings to share, like Canadian and most North American companies, this absence will be noticed too.
There are maybe a handful of digital endeavours over these last however many months that were actually memorable and accomplished the intended goal, and one of those is the streaming of the COC's Hadrian. The twitter conversations were wild; haven't seen that much excitement over any opera streaming in a long time. Early on in the lockdown, the Sondra Radvanovsky/Keri Alkema video conversation series "Screaming Divas" was good entertainment – for the most part lively, well edited and not-too-insidery. Iestyn Davies impersonating Alan Bennett in short video bits was also good fun for a few days. But as the months progressed, I stopped wanting to watch anything opera-related on the screen of my laptop. (Exceptions are rare: I'm curious about the operatic sketches that Tapestry Opera announced for November, for example – I'll check them out.) Whether online offerings by the opera companies and artists create an insatiable desire in newbies to experience the real thing, remains to be seen. I, personally, doubt it.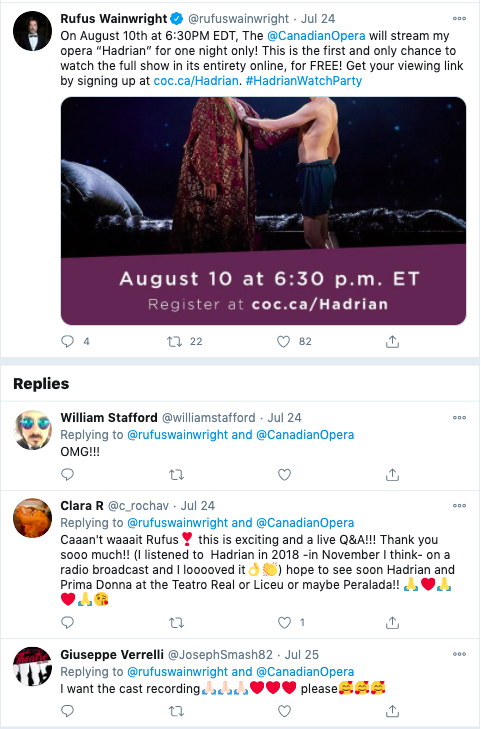 Looking back, this is some of what I paid for during the lock-down: Simon Stephens' Sea Wall delivered by Andrew Scott; annual subscription to a stand-up comedy channel Next Up; a short Zoom play with Miriam Margolyes; the feature film Arab Blues on Tiff/Bell Lightbox website; and various podcasts, substacks and YouTubers. I pondered paying for a Renée Fleming recital and a concert which included Sarah Connolly, but opted against. (See under: online recitals, depressing.) I did not pay for any of the Royal Oper House streamings on offer. If I try to analyze what all these things that I purchased have in common, it's that they always involve original content of some kind; and it's content that's natural to the digital format. 
Should Canadian companies be doing more to produce some type of live performances?
As an audience member, I will of course say yes: and I primarily mean the companies and orchestras that have been paying their artistic staff all this time. Summer was an opportunity, but that opportunity is now gone – there's very little wiggle room now as we move indoors, what with Ontario and Québec going back to Stage 2. Summer and even late spring, I was hoping to see live performances that would find ways to incorporate the spacing of the audiences and performers in the drama itself – or the masks, the covering, the veiling. 
A libretto can incorporate the notion that singing is dangerous – life-threatening potentially. It could be speculative fiction – if Fifth Element had an alien diva, the covid-age opera could have a super-spreader diva? It could be the near future, say something like Margaret Atwood's Oryx and Crake, and a sect called Intimacy-Seekers – people who still believe in face-to-face and skin-on-skin contact – could be roaming the post-industrial wastelands, or squat in the half-constructed condos of Toronto. 
The necessity for digital mediation could also be incorporated into drama: Stephen Hawking had to talk through a digital aid, and so perhaps a covid-opera could have cyborg-like characters who have to speak into digital mouth shields? 
Or, opera can go docu-realistic: what has covid done to dating, moving it entirely online, farewell any kind of sex that's not cybersex? What of travel bans and people with families in other countries? And are there characters more deserving of operatic treatment than the personal support workers who took care of the isolated elderly, and the short-term guest workers who toiled on Ontario farms, sometimes in unsafe conditions, so our tables can be filled with summer abundance. Opera has known this at least since Wagner: there's always an underclass that makes the comforts of the upper class possible. It too deserves the spotlight.
What are your observations on how Canada is supporting its opera artists, and implications how this could change post-pandemic? 
With CERB, Canadian government created a good stop-gap measure for freelancers–and that way did much better than many, notably the UK government, which left a lot of its freelancers hung out to dry. After CERB, it is going to be very tough, chiefly because entire industries are shut down. Artists who can't travel internationally for work will not work locally either because there will be no work in Canada. There should be–should have been–a long-term strategy for the re-opening. Is this worrying anybody on any level of government?
Do you perceive there to be national differences in the 'will' to produce opera during these pandemic times? 
Obviously, and also a difference in how eagerly the audiences are demanding it, and willing to risk inconvenience for it. This is becoming a cliché but it looks like in Canada it's only Quebecers who can't imagine their lives without the arts. The rest of us appear to be Americanized on that score – we are fine with getting our arts from American screens. 
The differences are not only national, but regional, between cities, and company to company. We are now amidst the second wave of closing and cancellations in European countries and elsewhere. Several German regional houses have had cancellations of productions, Czechs are temporarily locking down again, as are other parts of Eastern Europe and there have been the odd cancellations in France. 
But the biggest news is the work that goes on and keeps seeing light of day. And there's a lot of it! Here's what happened at Théâtre du Capitole in Toulouse on Oct. 9th – as an example. One of the orchestra musicians tested positive earlier and several others had been in close contact with their colleague, but instead of cancelling, the theatre's directors asked the rest of the orchestra to stay home, and music director Speranza Scappucci and another musician provided a keyboard reduction of the score and the recitatives were improved. And the show went on. It must have been one memorable Cosí, that one! (Which also had a Canadian mezzo, Julie Boulianne.) 
I've also been following Canadian conductor Judith Yan on Instagram, and she just landed in Hong Kong this week, where she is scheduled to conduct, and is currently quarantining in her hotel room before she can join the rehearsals. All of this gives hope. As does Koerner Hall, which has kept going, modestly, all this time. Will they survive the latest Ontario indoor-gathering edict? I don't dare look at the news.  
LP's writing has appeared in the Los Angeles Review of Books, the Literary Review of Canada, the Believer, the WholeNote, the Globe and the Star, among others. She's working on her third book, a collection of essays.