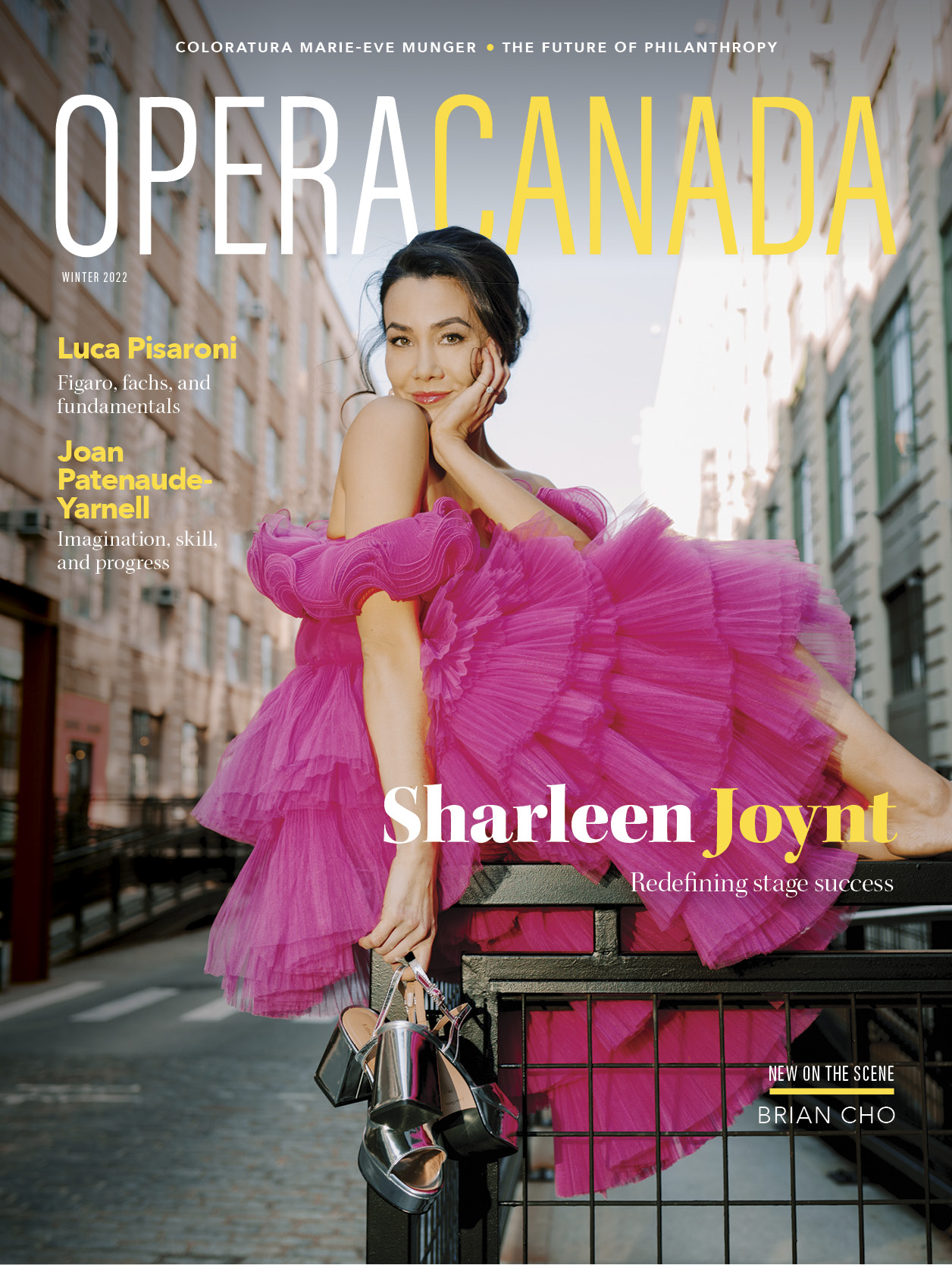 *this text was originally published in the winter 2022/23 print version of Opera Canada magazine
There's palpable energy within our industry as we approach the new year; a hunger to dive deeper into what the future of our art form looks like. 


We know we need to ask ourselves more questions, collaborate more, invite more perspectives into the discussion, and ultimately experiment more—not just with what is on stage, but with the inner administrative workings too. This magazine issue underscores this movement:
This issue's cover features Ottawa-native Sharleen Joynt. She blazes her own path, knows her strengths on and off the stage, and shows us that professional life off the stage is imperative to her success on the stage. In other words, we are human and should celebrate and engage our individuality; it's not a one-way road to success.
New York-based Canadian pedagogue Joan Patenaude-Yarnell's vantage complements this idea, as she encourages singers to embrace their imagination and tilt their perspective around tackling the audition circuit.
Internationally renowned bass-baritone Luca Pisaroni, soon to be on the Canadian Opera Company stage in his signature Figaro role, takes a moment during his feature to touch on the German Fach System, a voice categorization system our industry has cumulatively used more over the years since its inception at the end of the 19th century.
Lucia Cesaroni looks into what drives philanthropists in a conversation with some of Canada's leading supporters.
On a personal note, I had the privilege of witnessing the opening night of the world premiere of Kevin Puts's The Hours at The Metropolitan Opera starring Renée Fleming, Kelli O'Hara, and Joyce DiDonato with Canadian maestro Yannick Nézét-Séguin on the podium. When I consider what makes a great opera, I think it's one that forces us to evaluate the human condition—look at our own lives in a new light. After experiencing The Hours, I found myself doing exactly that; it penetrates with its effective musical painting of the emotional struggles, and the final trio was transcendentally cathartic. My initial reaction was that the future of opera is bright, especially with new and relevant productions like this one. [*you can read Patrick Dillon's review here]
Last, but not least: Opera Canada is an Official Desjardins Charity Partner for the Ottawa Tamarack Race Weekend May 27-28, 2023. If you are interested in running/walking a race and supporting the magazine, we'd love to have you on our team! Of course, you can always support our team with a donation as well. I will be running my first marathon, but there are several other distances to walk or run too—let's do it and raise money to support international coverage of our Canadian opera artists! runottawa.ca