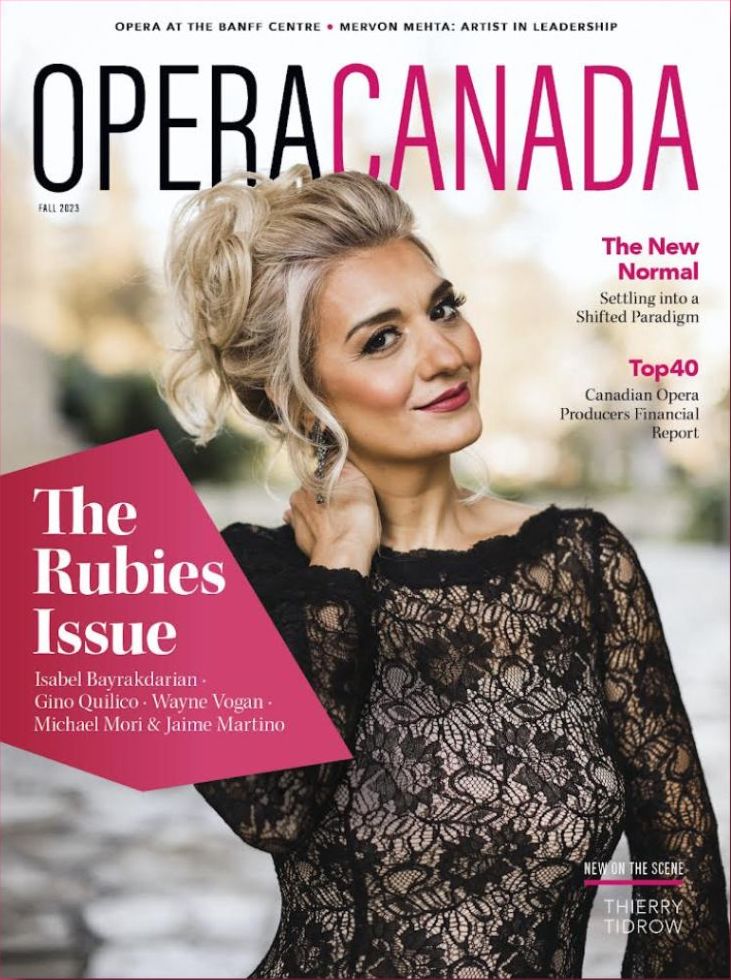 *this text originally appeared in our
2023 fall print issue
On November 6, 2023, we will gather at The Four Seasons Centre for the Performing Arts in Toronto to celebrate the best in Canadian opera. This year we honour baritone Gino Quilico, soprano Isabel Bayrakdarian, music librarian Wayne Vogan, and industry change makers, Jaime Martino and Michael Hidetoshi Mori.
Gino Quilico: Baritone of a Generation
The Canadian baritone sat down with Bill Rankin to look back on his upbringing, his career, and his ongoing impact on the opera scene
Gino Quilico grew up in an itinerant household, listening to his mother Lina, an accomplished pianist and coach, and his famous dad, Louis—known as "Mr. Rigoletto" for his signature Verdi role—prepare his roles. The opera singer's life took the family from their New York home to London and then Paris and then Rome, and back to New York, and on to Toronto, with his sister and him in tow.
ARE YOU COMING TO THE RUBIES ON NOVEMBER 6?
Join us to celebrate the best in Canadian opera at
The Four Seasons Centre for the Performing Arts in Toronto.
Performances by
Russell Braun,
Midori Marsh,
and Canadian Opera Company Concertmaster Marie Bérard,
all in collaboration with pianist Carolyn Maule.
During his formative years, Gino saw his father perform. He was shaken when the baritone was killed in Don Carlos. "I cried when he died on stage," he said. Gino met opera stars in his father's orbit. He remembers the big kiss he got from Leontyne Price, but Louis was just his dad, and the celebrities "were just people to me." He didn't appreciate their place in his father's world, and although he heard a lot of opera around the house, he had no designs on an opera career. Musically, Gino began playing guitar in Italy, and performed in Toronto clubs in his late teens. He didn't see himself going into the family business, but a paying gig as an adjunct chorus member in a Canadian Opera Company (COC) production flicked a switch. It wasn't the singing, though, that turned him toward opera. It was opera's theatricality: "What seduced me then was when I finally went to rehearsals, put the makeup on and the costumes on, and went on stage, I felt that magic, I got that bug. I was suddenly very much in love with what was happening. And that's when I went to my father and said, 'Can you teach me how to sing?' "
After a two-year "apprenticeship" with his father and mother, as he calls it, Gino enrolled in the University of Toronto's opera program in his early 20s. By the time he left U of T, where his father was still influencing his training as an instructor there, Gino said he felt "solid," and the blinkers were on. Opera was his only focus. Out of school, he got a small role singing the corporal in La fille du régiment at the COC, and then sang Marullo in a COC production of Rigoletto, where his father played the title role. He sang with Maureen Forrester in Menotti's The Medium, and picked up other bits of work, including the role of Papageno in Milwaukee.
His big break came when the newly appointed head of the Paris Opera, Bernard Lefort, came to Montreal in 1979 to scout for talent. Gino, then 24, auditioned for him, made a strong impression, and off to Europe he went, as an opera singer in his own
right. "This is where my life really changes. (Lefort) immediately offers me a contract for three years at the Paris Opera. That was the beginning of the launch of my career in Europe. I made most of my career in Europe," he said. And that career eventually made him a go-to Figaro and Marcello in La bohème to begin with, and eventually he was tapped to sing the title role in Don Giovanni, a part he had explored as a student in Toronto. His first Don was at Aix-en-Provence in his late 20s. Eventually, he sang it at the major houses in Europe and elsewhere.
In his prime, Gino was a lyric baritone with high notes, as he puts it, and so the writings of Mozart and Rossini were best
suited to his instrument. He'd been advised to avoid Verdi in his younger days, a composer his father had built his reputation on. One role, whether he was offered it or not, was out of bounds. He vowed never to sing the role of Rigoletto. "I will never sing it. I don't even do it in concert because I can't," he says. In my ear, it has my father in it. I just can't. It belongs to him. I can't go there." Later in his career, Gino did sing a few Verdi roles—Ford in Falstaff at the Met, and Iago in Otello with Opéra de Montréal.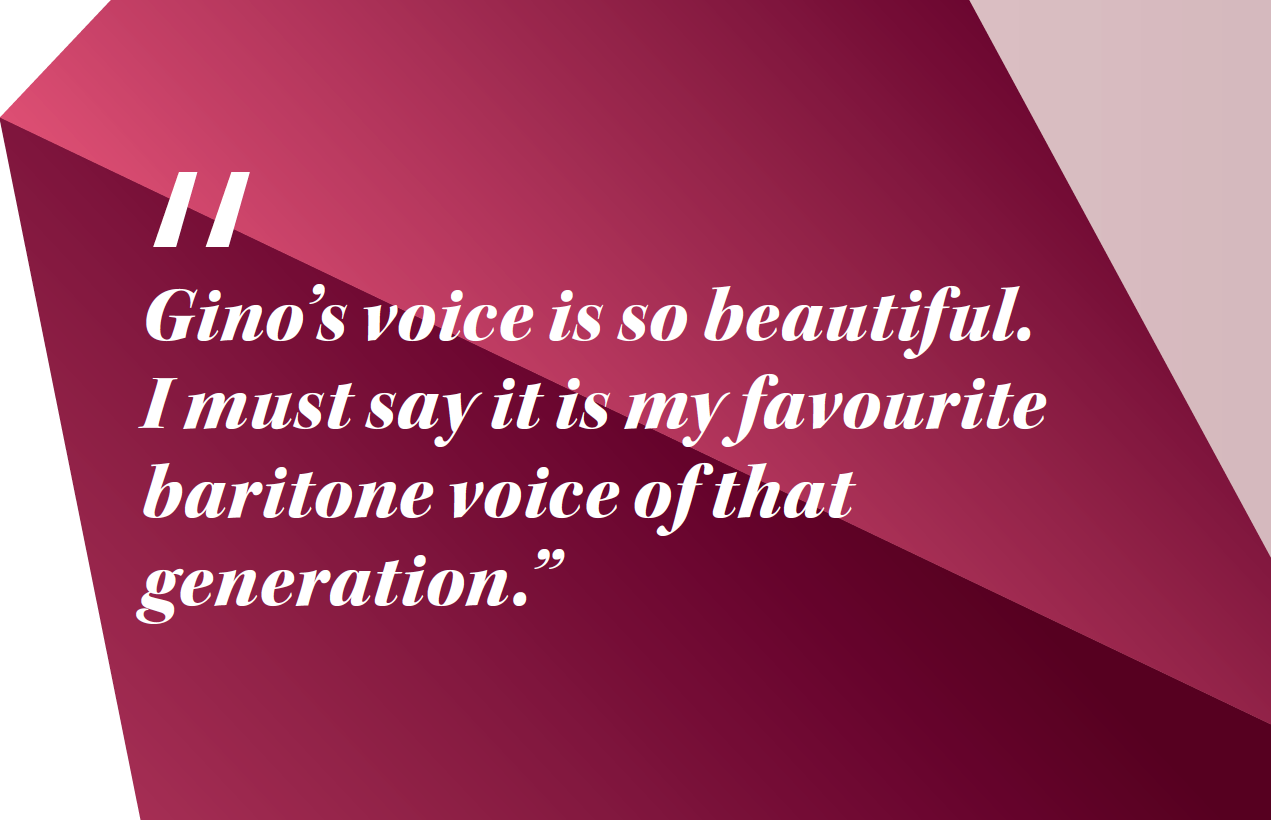 Besides that early appearance in the Toronto production with his father, Louis and Gino ploughed different fields, both geographically and professionally, one mainly in North America, the other in Europe. But the two baritones made history in November 1987, when father and son appeared at the Met together. Gino had just recently made his debut there in Massenet's Manon; Louis had been a regular there for the past twenty-five years, after his debut in January 1973, singing the part of Germont in Verdi's La traviata.
The New York Times reported in advance of the father-son performance that November 1987, that the elder Quilico said he was his son's biggest booster, hardly his rival. Gino told the Times: "My father was all for my career. From the moment I became interested, he totally encouraged it." The report said, "as people gathered outside the younger Quilico's dressing room, Louis said hello to each of them, and added: 'I'm the baritone's father.' "
Gino has worked with the who's who of opera greats, including Pavarotti, Carreras, Domingo, Vickers, and Freni, among others. American soprano Barbara Hendricks, who made her Paris Opera debut around the same time as him, collaborated on a number of productions with him, as well as several recording projects and opera films, including La bohème in 1988.
"It was always a pleasure working with Gino," Hendricks said in an interview from her home in Sweden. "Gino's voice is so
beautiful. I must say it is my favourite baritone voice of that generation. Watching and working with him, he's such a natural
actor, never doing too much and always very subtle," she said. "I don't know any colleague whoever expressed not wanting to
work with Gino."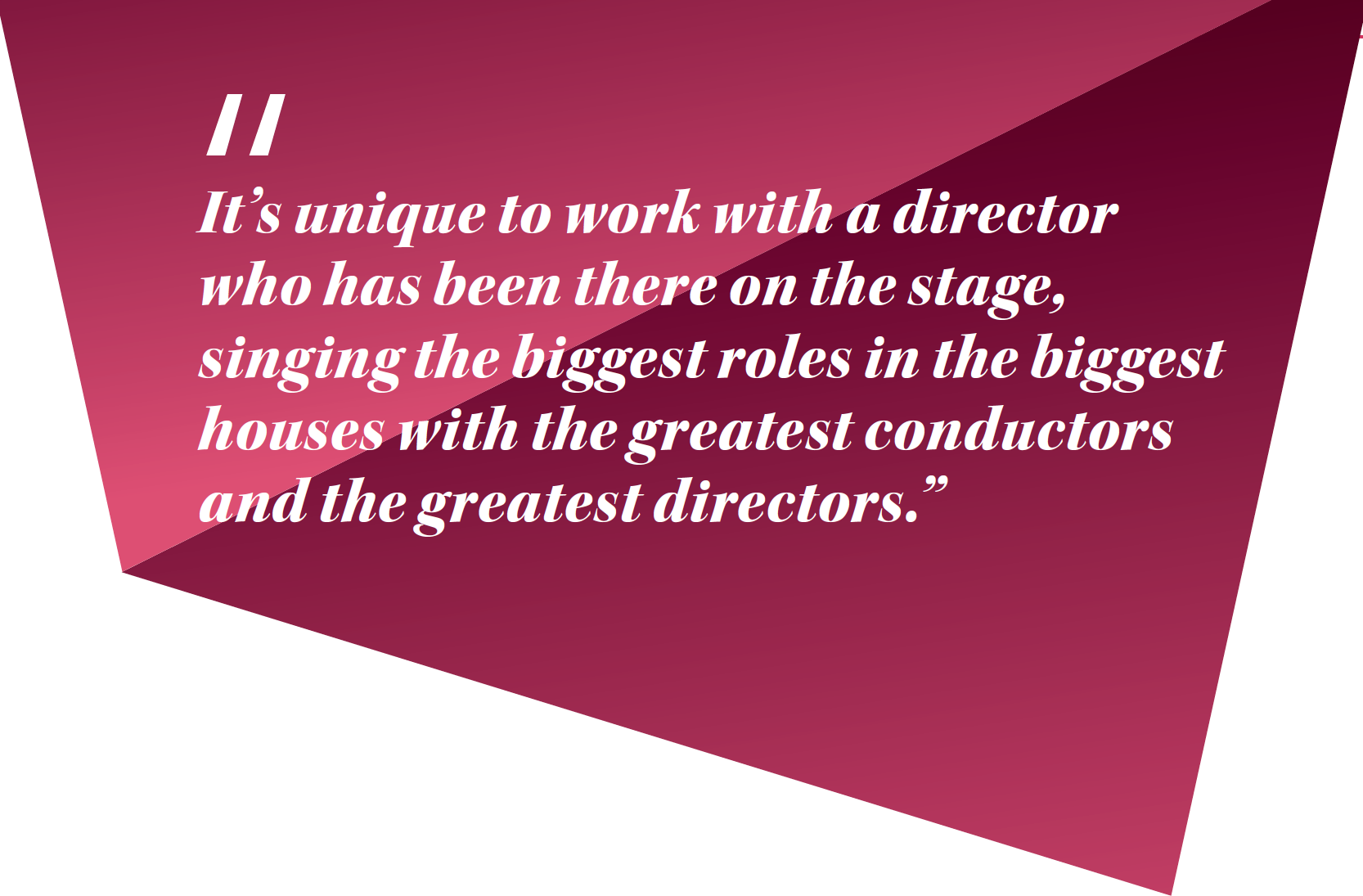 A terrorist scare in Paris, where he just missed being blown up, led him to move his family to London. But shortly after resettling, the IRA bombed Harrods, one of his regular haunts. Those incidents drove him back to Canada in 1986, fi rst Toronto and then to Montreal, where his parents had grown up. But he continued to travel a lot for work. In 2005, he said he
was singing Don Giovanni in Seoul. He'd spent much of his career on the road. It had cost him a marriage, and he didn't want his new wife to suffer the same hardships his family had experienced earlier in his career. He decided he would stick closer to home, and there, in Montreal, a new phase of his artistic life began.
That change in direction brought other opportunities. He performed in Luc Plamondon's French Canadian rock opera
Starmania, and played Jean Valjean in a Québec City production of Les Misérables. He was Quasimodo in Plamondon's musical Notre Dame de Paris.
The reinvention of his career also included some entrepreneurial ventures. He created a show he fi rst called Musical
Voyages and later renamed Serata d'Amore, a collection of French melodies, French pop songs, some Broadway tunes, and some opera, with a narrative. He toured it around Quebec in a Dodge Caravan, three musicians, a technician and all the equipment. "I was travelling like I'd gone back forty years to my youth," he said. He's since taken the show to several American venues, and it's always a work in progress. He's currently working on some Tony Bennett favourites for a future show, to honour the recently deceased American crooner.
Gino has appeared on more than 25 opera CDs, including a Grammy-winning recording of Berlioz's Les Troyens. And he
has continued to record in other genres, including a popular Christmas album called Secrets de Noël, released in 2015. He and
Hendricks have done a disc of popular operetta duets. Over the past decade, Gino has added teaching and directing
to his array of accomplishments. His teaching method is a distillation of the techniques his father taught him many years ago.
And in the summers of 2015 to 2017, he tried his hand at directing. He led students in productions of La bohème and Carmen
at Brazil's Santa Catarina Music Festival. His cohort there, conductor Catherine Larsen-Maguire, believes Gino uncovered
a whole other aspect of his talent during those summers. "It was absolutely incredible working with him," Larsen-
Maguire said. "It's unique to work with a director who has been there on the stage, singing the biggest roles in the biggest houses with the greatest conductors and the greatest directors. I personally learned so much from him. The students learned so much from him."
Gino isn't itching to return to the opera stage. He would enjoy playing some of the buffo roles baritones, including his father,
often take later in their careers, such as Leporello instead of the Don or Dr. Bartolo instead of Figaro. Although his private
teaching and his crossover projects keep him engaged.
Like his father, Gino received many accolades over his distinguished opera career, including an Order of Canada. And now
he receives a well-deserved Ruby to acknowledge his unique contribution to the opera world.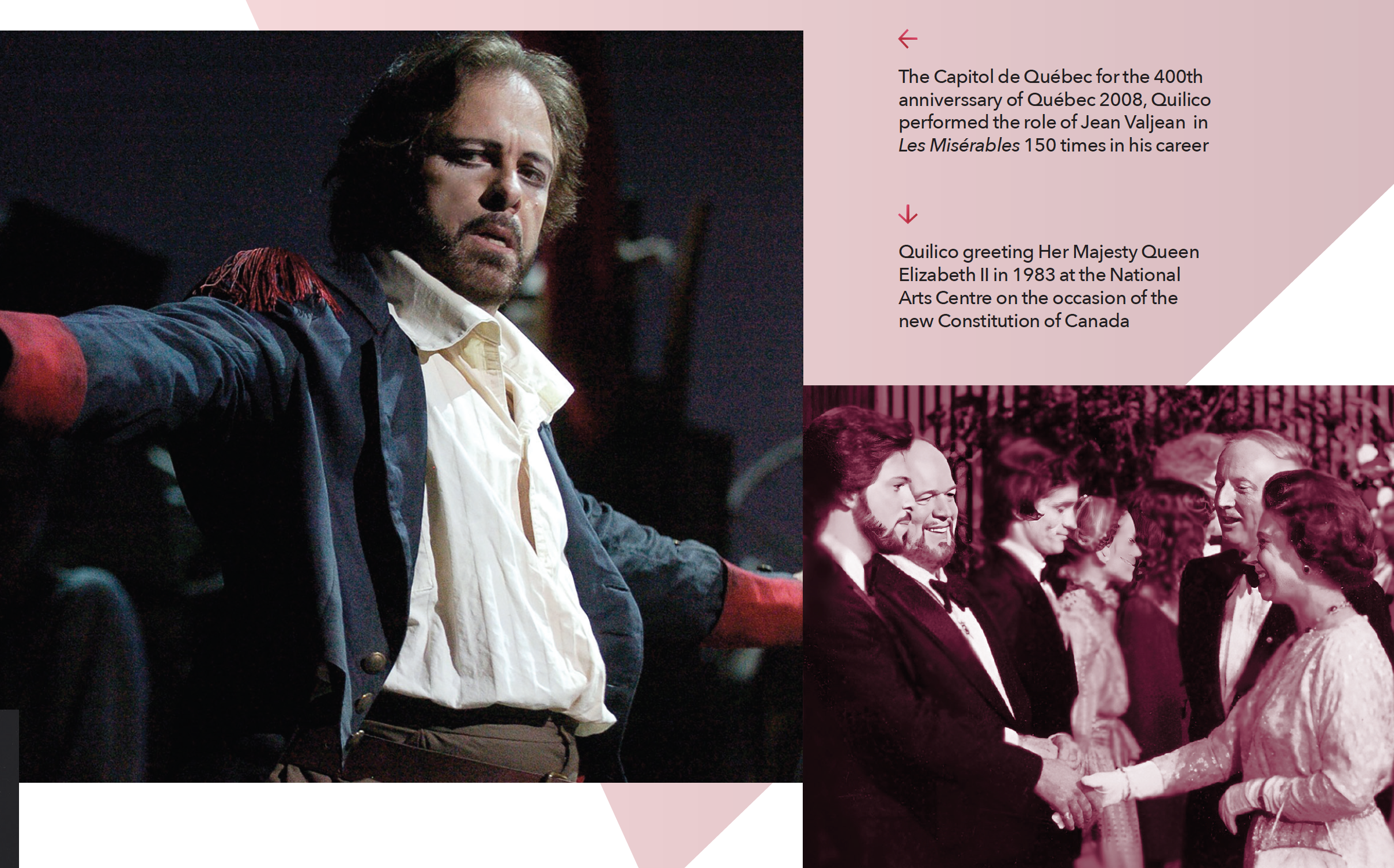 Ⓒ Courtesy of Gino Quilico