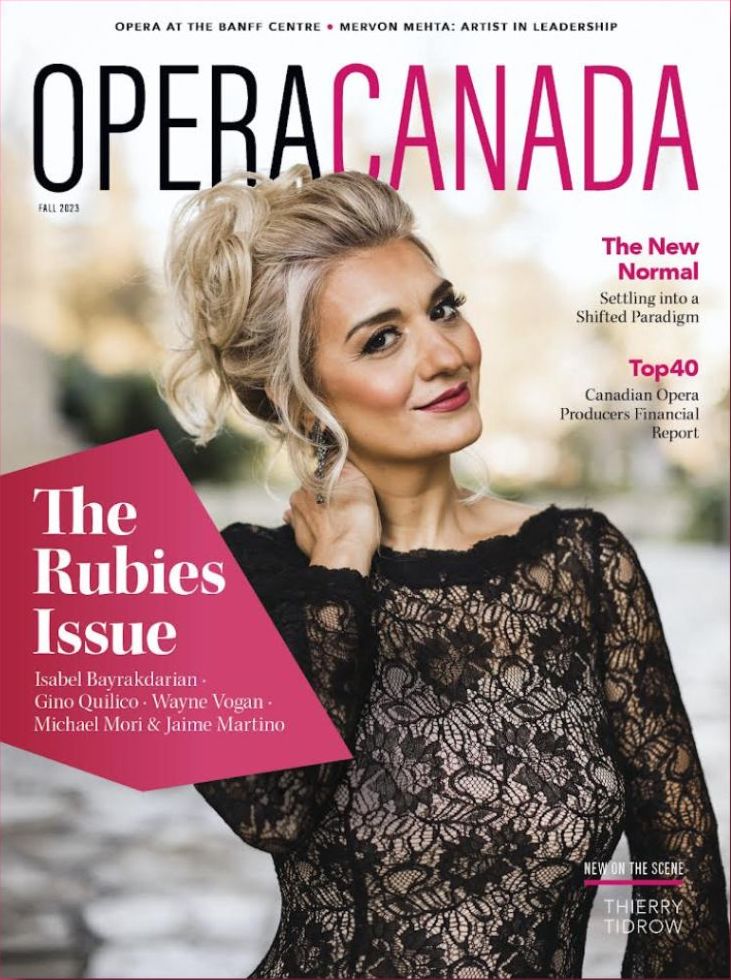 *this text originally appeared in our
2023 fall print issue
On November 6, 2023, we will gather at The Four Seasons Centre for the Performing Arts in Toronto to celebrate the best in Canadian opera. This year we honour baritone Gino Quilico, soprano Isabel Bayrakdarian, music librarian Wayne Vogan, and industry change makers, Jaime Martino and Michael Hidetoshi Mori.
The Rubies: Wayne Vogan—Unsung Hero
Joseph So shines the spotlight on the Canadian Opera Company's longtime music librarian—Vogan's success behind-the-scenes translated into success on the stage
For the past 30 years, Wayne Vogan was the COC Orchestra's Performance Librarian. His job description? "To make sure that the right music is in the right place at the right time," says Vogan. It sounds simple, but in reality it's a highly complex and very important job, one that requires deep musical knowledge, great organizational (and people) skills, and above all, meticulous attention to detail—"that borders on the obsessive," quips Vogan.
ARE YOU COMING TO THE RUBIES ON NOVEMBER 6?
Join us to celebrate the best in Canadian opera at
The Four Seasons Centre for the Performing Arts in Toronto.
Performances by
Russell Braun,
Midori Marsh,
and Canadian Opera Company Concertmaster Marie Bérard,
all in collaboration with pianist Carolyn Maule.
A native of Moncton, New Brunswick, Vogan graduated with a BA in Music from Mount Allison University, and a MA in Musicology from the Eastman School of Music. He got into opera while at Eastman, as a rehearsal pianist and stage manager in opera productions, which he found to be a lot of fun. After Eastman, he moved to Toronto and worked as a freelancer before joining the COC in 1986 as a member of its music staff. In 1993, Vogan became the COC Orchestra's librarian when his predecessor, Robert Sutherland, left to become the librarian at the Metropolitan Opera.
Wayne is held in high esteem by his colleagues. The orchestra librarian reports directly to Roberto Mauro, the Director of Artistic Planning, who has nothing but praise for Vogan: "Wayne has a wealth of opera and orchestral knowledge and has been vitally important in supporting the musical excellence of our orchestra, chorus, Ensemble Studio, house conductors, mainstage artists, as well as international visiting conductors and soloists. We are so grateful for his humour, warmth, intelligence, and musicality."
Vogan also worked closely with the late COC General Director Richard Bradshaw, and his successor on the podium, Music Director Johannes Debus. When I reached out to Debus for comment, his response was unequivocal: "There are wonderful librarians around the world, but there's only one Wayne Vogan, a legend in the field, respected, revered and loved by all his peers," says Debus. "His love for the art form, his dedication to the specific work he is doing and the people he is interacting with, always with kindness, generosity and a smile, plus his great sense of humour and wit make him a unique personality in this field and simply a very fine Mensch. Being a repetiteur and coach himself he knows the opera and its players from the inside. He knows its greatness as well as its short-comings, and knowing such shortcomings he is doing everything he can to minimize such risks. Wayne is a 'buon pastore', a good shepherd." 
It's not just the Maestros who valued Vogan, but also the orchestra musicians, the "rank and file" so to speak. Paul Langley, a retired bassist at the COC, says it best: "As the stage librarian, I worked very closely with Wayne for many decades. Being an orchestra librarian requires a vast amount of knowledge. Wayne went way above the job description in order that rehearsals and performances ran smoothly. He took great pride in his work. It was a pleasure to work with him." I caught up with Wayne for a chat about his long and distinguished career:
JS: What drew you to a career as an orchestra librarian?
WV: After graduating from high school, I wasn't sure what I wanted to do. I had played piano most of my life, so music seemed a good idea. However, I wasn't sure. I considered teaching music history, being a librarian, or going into arts administration. When I was in graduate school for musicology, I got a job playing for opera rehearsals, and later doing some coaching. That seemed like fun, so for a while I worked as a freelance pianist, organist and coach. Later I joined the COC music staff. For twenty years I also served as chorus manager. I've been in the library since the 90's.
JS: What does it take to be a good orchestra librarian? If a young person wants to pursue a career in this field and ask you for advice, what would you say?
WV: An official degree in music is not absolutely essential, but the mixture of knowledge that a degree provides is very necessary. A person interested in this work should have performing experience so that they understand the potential problems that the players and singers might have. They should have score-reading skills so that they can foresee potential problems. They should be good at proofreading. They should have an attention to detail that borders on the obsessive.
JS: Looking back, what gave you the most satisfaction in your long career? And what part of your work that you could do without, or was least interesting to you?
WV: Most satisfaction? It sounds a bit corny, but a show going well after a long and difficult preparation period. Least interesting part of the job? Changing markings in the orchestra parts back to the way they were three productions ago!
JS: I know there are library science programs in universities, but are there programs specifically geared to training orchestra librarians? Would a specialized program be beneficial?
WV: When I started work as a librarian, I knew of only one librarian who had a "library" degree; now there are several. While some library/information science degrees contain content that might be specific to the performance library, most do not. As in many other jobs, there are several skills that can only be learned by working with someone who is actually doing them. Fortunately, there are now some summer intern programs that give opportunities to young people who are interested in the business.
JS: Is it fair to say that musical knowledge and ability (both technical and musicological) are essential for an orchestra librarian?
WV: At MOLA (Major Orchestra Librarian Association) Conferences, I often hear our job described as "making sure that
the right music is in the right place at the right time." This is more complicated than it sounds. Finding the right music alone can take a great deal of time, since it can involve researching various editions for version, accuracy, quality, legibility, pageturns and cost. Works like Carmen, Hoffmann, Boris Godunov, Coronation of Poppea, and anything Baroque come to mind.
One might then have to present these findings to people with varying points of view (e.g., conductor, director, administration) for a decision on which edition to choose. This reminds me: the ability to deal with people with varying points of view is very helpful in the library.
JS: What are the most memorable moments in your career? Funny or sad or scary or tense moments? How do you deal with the various demands and requests from musicians and conductors?
WV: There have been many tense moments. Years ago, we were planning a concert program with one singer. The singer cancelled a short time before performance date, replaced by a singer of a different fach. This meant that most of the music for the concert needed to be changed. I ordered the new music from the publishers, but one of the pieces did not arrive until thirty minutes after the first rehearsal had begun!
JS: That must have been a nail-biter! Given the advance in computer technology, it must be having a major impact in the work of a librarian, and in the field of library science in general. I see pianists and instrumentalists using iPads instead of paper scores, for example. Where do you see the profession heading?
WV: Without a doubt, scanning is the most important technological advance that has been made since I started working in the library. There have been many others advances of course, but scanning set many changes in motion. The downside of this is that many musicians and academics seem to believe that everything is already scanned and can immediately be sent to them at the press of a button—this is wrong. There are many instances where one edition of a piece may have been scanned, but other editions have not. People who believe that all physical libraries can be eliminated are misinformed. The possibility of the profession becoming obsolete? I don't think so. There is no reason to believe that the music received at an opera company, by purchase or rental, will not need proofing and correcting any less when it is received in digital form rather than paper format.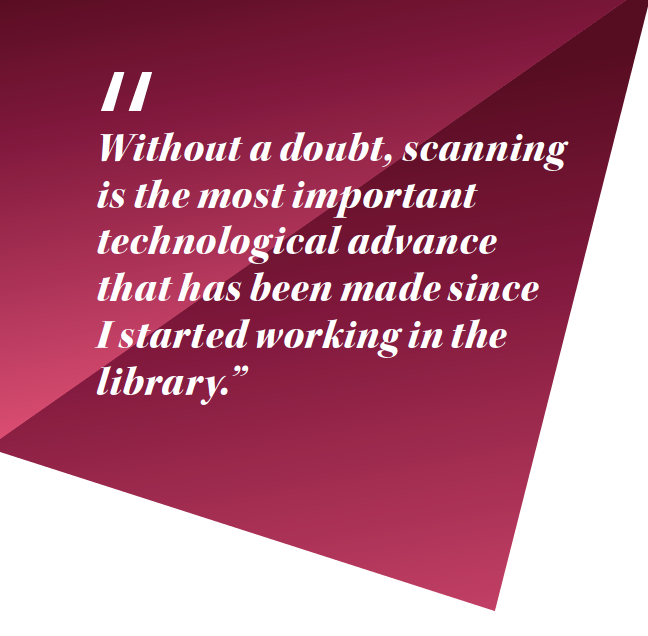 JS: If you were to do it all over again, would you have the same career? What would you do differently?
WV: When I was growing up, I had never heard of a "performance librarian," so it certainly wasn't something that I was aiming toward. You asked what I might have done differently—that's difficult to answer. I'm lucky to be able to say that most of the things I have done I have enjoyed (but to be honest, not all). If I were to do it again, I would have done more teaching.
JS: Did you have a role model, or a mentor? Someone who inspired you and who helped you to become the person and the professional that you are?
WV: I can think of Bob Spillman, my opera teacher at Eastman. He was good at what he did, and his good work ethic helped prepared me to go into library work. Leopold Simoneau and Pierette Alarie—I played rehearsals and was head coach at their Opera Piccola in Victoria, BC. Robert Sutherland, my predecessor at| the COC, was very helpful to me. And I have been fortunate to have had two really good music directors at the COC, in the late Richard Bradshaw and Johannes Debus. They were good colleagues and friends.
JS: Now that you are retired, what's going to be your "next chapter"?
WV: I'll be back at the COC next season—I've been offered a contract as a consultant from September to May about library matters. Other than that, I'd like to do something different, maybe something like historical research, which I enjoy…
JS: And as a long-time COC audience member, I thank you for your years of devoted service, and wish you all the best for the future, wherever your "next chapter" takes you.