These are troubling times and Tapestry Opera's decision to go ahead with a live stream version of its Songbook X program on Mar. 21st was a welcome diversion. Traditionally, the Songbook concert is the culmination of a week in which a group of young singers work with mentors on numbers from Tapestry's extensive back catalogue of Canadian operatic compositions. This year of course, there was no such gathering and instead, we got a collection of (mostly) Canadian opera excerpts, art songs and piano solos performed by the planned mentors, mezzo soprano Krisztina Szabó and pianist Chris Foley. The show was live streamed via YouTube from the Ernest Balmer Studio in Toronto's Distillery District and MC'd by Tapestry's Artistic Director, Michael Mori.
The evening got off to a lively start with the title number from Ivor Novello's 1935 musical Glamorous Night—a reminder of what, perhaps, we are currently missing. Then, it was onto a series of numbers that explored the 'dark side.' There was an aria from John Estacio's Ours which deals with the aftermath of the slaughter of the Newfoundland Regiment at Beaumont Hamel; the intense "Ava's Aria" from Gareth Williams' Rocking Horse Winner, treating themes of social anxiety and loss of status, and the very funny "Cuba Libre" from Andrew Staniland's Dark Star Requiem, his brilliant oratorio about AIDS. They were choices that allowed Szabó to display her considerable emotional range, the last also showing her flair for comic timing.
Foley's first piano solo was Ann Southam's Spatial View of Pond, a beautifully played hypnotic exploration of minimalism and twelve tone technique. Art song followed. First, two songs from Ian Cusson's setting of Joy Kogowa's Where There's a Wall. These combine a singable vocal line with a very sparse piano accompaniment which privileges the text. Then came two songs from Jeffrey Ryan's setting of Emily Carr letters and journals, Miss Carr in Seven Scenes. All of these received a sensitive treatment of the text with some humour in the exuberant Carr pieces.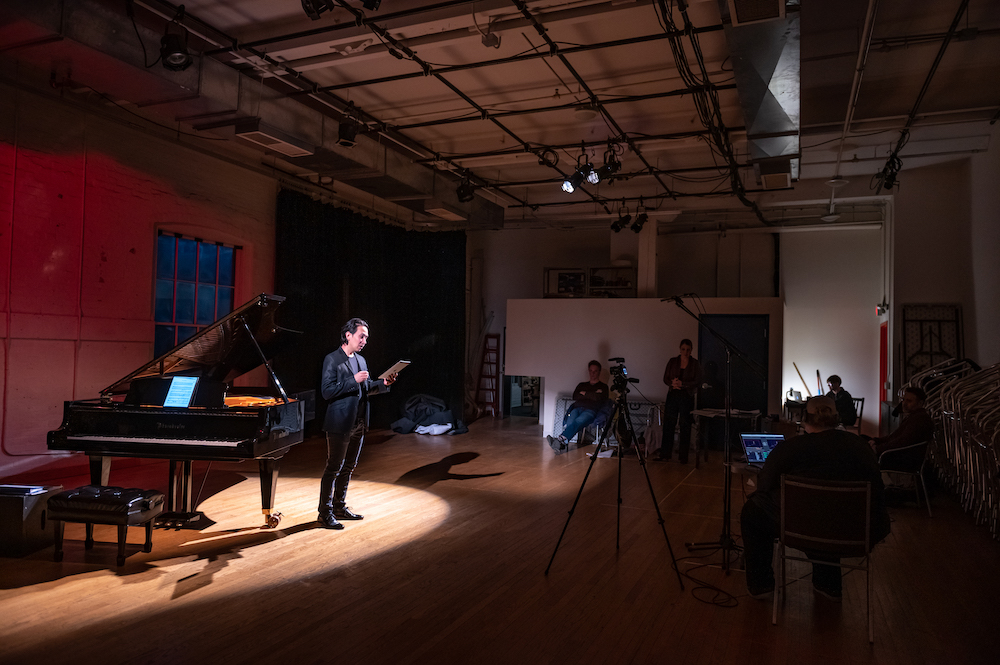 Solo piano framed more excerpts from Tapestry's operatic back catalogue. Two of the Four Nigerian Dances by Joshua Uzoigwe, and Laura Elise Schwendinger's Point of Balance both sounded impressive on the giant Bösendorfer concert grand (one of only 12 in Canada). Between them came Ivan Barbotin's Oubliette, an affecting number about a woman emerging from years of being kept in a cellar and Elisabeth Mehl Gren's Merk's Dream—another emotional number in which a father tries to prepare his autistic daughter for his impending death.
The final set paired the Komponist's Aria from Strauss' Ariadne auf Naxos with Schubert's "An die Musik." It would be hard to find two pieces that better express the need for music in our lives and the heartfelt and intense performances they received served to drive that message home. If we needed any driving!
These were terrific performances and Tapestry and Michael Mori deserve high praise for making it happen. It didn't really feel like a 'live concert' though (how could it?). In the comfort of my apartment I felt 'socially distanced' and there were a few technical glitches (handled swiftly and with some humour). Web casting also doesn't help the, at best, dry Ernest Balmer acoustic (probably drier than usual due to lack of an audience). The piano sounded fine but I felt that some of the accustomed bloom of Szabó's voice was missing making her sound slightly metallic. That said, if I can't have 'live' I'll surely take this over nothing at all!
You can view the concert on Tapestry's YouTube channel here: