For opera fans who are also movie buffs, a highly anticipated event of the 2023 TIFF (Toronto International Film Festival) is Seven Veils, a new film written and directed by Canadian opera director and filmmaker Atom Egoyan. It is based on his 27-year-old production of Richard Strauss's Salome, which premiered at the Canadian Opera Company way back in 1996, and subsequently given revivals in 2002, 2013, and just this past winter.
Seven Veils was shot at the time of the Salome revival last February, with all scenes taking place inside the Four Seasons Centre, onstage and off, with not a single outdoor scene. This 107-minute feature is based on ideas originally developed and executed by Egoyan in his 1996 production, some of which had since been modified in subsequent revivals. But much of the details are resurrected as part of the story here.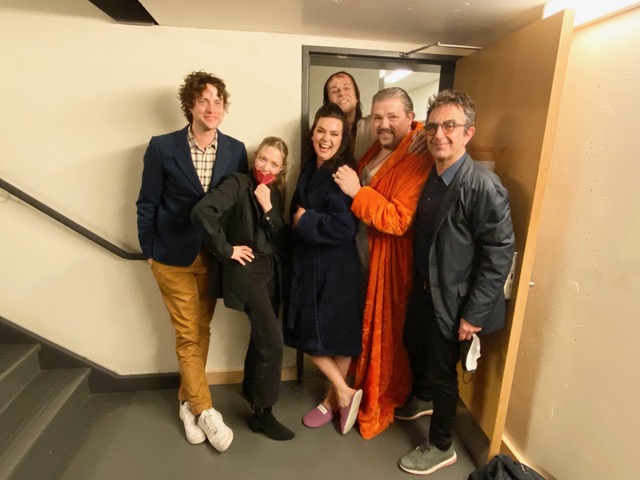 A candid off-camera photos of Seven Veils actors Douglas Smith and Amanda Seyfried with soprano Ambur Braid, baritone Michael Kupfer-Radecky, tenor Michael Schade, and director Atom Egoyan
After watching the avant-premiere of Seven Veils at the Four Seasons Centre to an enthusiastic audience on Friday night, I came away with the feeling that this film likely serves as an intense and personal statement by Egoyan. In his directorial vision, the key to understanding Salome's obsession with John the Baptist is through her past, her being a victim of sexual abuse. Egoyan has created a backstory, told during the climactic "Dance of the Seven Veils", with video sequences to illuminate Salome's traumatic upbringing.
I recall in its premiere run in 1996, the filmed sequences elicited shocked reactions from the opera audience. One member of the press was particularly outraged by the suggestive images of Salome being sexually assaulted by the five Jews, minor characters in the opera. For those of us who saw the most recent revival, much of the implied sexual violence has been toned down into near non-existence, perhaps a result of the original negative reactions.
But the original staging is resurrected in Seven Veils, including much of the original film footages that had disappeared in subsequent revivals.  The central character of Seven Veils is a young stage director, Jeanine, played by Amanda Seyfried, who had previously collaborated with Egoyan in the movie Chloe. Jeanine is tasked with restaging a production of Salome created by her late mentor, Charles, an unseen character, with whom she had a troubled, love-hate relationship.
In the rehearsals, it's gradually revealed that Jeanine had an emotionally scarred upbringing. She's repeatedly haunted by memories of Charles, not helped by her own troubled relationship with her current partner Paul, played by Mark O'Brien. The various flashbacks of her own difficult childhood represent an uncomfortable melding of Salome's story with her own, an example of life imitating art, so to speak.
Jeanine's work to revive the production is further complicated by several other characters in the movie. The props creator Clea, played by Rebecca Liddiard, schemes to get her partner Rachel (Vinessa Antoine), who is the Salome cover, the chance to sing a performance. Clea herself is faced with the sexual advances of Johann, here strikingly impersonated by the German baritone Michael Kupfer-Radecky, who sings Jochanaan in the opera.
There're more twists and turns. Jeanine's efforts are further complicated by her attraction to Luke (Douglas Smith), an old friend, who's also the Jochanaan cover in the opera. These tangled relationships in the movie, while intriguing, strike me as a weakness in the storytelling. Unless you're totally familiar with Egoyan's take on the opera, the multiple additional characters and their complex relationships may be rather confusing and somewhat of a diversion from the central focus on Jeanine.
As an avid opera fan, I confess that I got vicarious pleasure out of seeing opera singers on the silver screen, namely Ambur Braid (Salome), Michael Kupfer-Radecky (Jochanaan), Michael Schade (Herod), Karita Mattila (Herodias), Frederic Antoun (Narraboth), Catherine Sproule (Page) and others. Some have more of an acting role than others, and I am happy to report that they all acquitted themselves honourably.
Given the way the movie is structured, Seven Veils isn't so much a case of straight-forward storytelling as that of a hybrid, stylistically a cross between a piece of fiction and a documentary, and to be sure a connoisseur's piece. Despite the occasional longueurs, I do find it quite intriguing, even riveting, and I speak as a lover of this Strauss masterpiece. One relishes an opportunity to experience its magic, and here with the added bonus of Egoyan's adept theatricality, it's an opportunity too good to pass up.