Australian actor Cate Blanchett has won kudos for her portrayal of a fictional international conductor in the movie Tár, but she comes closer to the real world as Executive Producer of a new documentary, Knowing the Score, which charts the professional ups and downs of fellow Australian Simone Young. Formerly the artistic leader of the Bergen Philharmonic, Opera Australia and the Hamburg State Opera, Young is now back in her hometown as the first female Chief Conductor of the Sydney Symphony Orchestra. Her career is studded with similar accolades—first woman to conduct both the Vienna and Berlin Philharmonics, first woman to conduct at the Vienna State Opera, first woman to record a complete Wagner Ring cycle and complete cycles of Bruckner and Brahms symphonies. Young, however, gives short shrift to a "first female" resume of her career in a forthright, Australian way: "What does being a woman have to do with conducting?" she asks in the documentary. "My tits don't get in the way."
Still, that she's a successful female conductor rather than just a successful conductor is one of the themes of the documentary, and current statistics show she's still working in a traditionally (white) male preserve. When the classical music website Bachtrack compiled its 2022 annual report based on global listings of opera, concerts, and dance performances, it found only 12 women among the 100 busiest conductors.
That's an improvement over the one in 100 recorded in 2013, the five in 100 in 2018 and the eight in 100 in 2019, but change at that tempo suggests it will be decades before we see gender parity on the podium. Canada echoes the global imbalance. According to numbers current as of January 2022 cited by Toronto-based Tapestry Opera, only 15% of the Music Director positions at Canadian orchestras and opera companies were held by women. The details behind the bald percentages are more striking. Of 61 titled conductor or music director positions in Canadian orchestras with budgets of more than $1 million, nine were held by women; of 13 conductor or music director positions in the seven opera companies that had such titles, only two were held by women.
Spurred by the stark statistics, Tapestry launched a $1-million fundraising campaign to underwrite a five-year pilot project aimed at developing career opportunities for aspiring female and non-binary conductors and music directors. Now in its second full year of operation, the Women in Musical Leadership (WIML) program provides three-year fellowships to cohorts of two candidates selected in each of the programs first three years. This is not, however, an entry-level initiative.
"We were looking for people with some conducting experience, and applicants generally already have undergraduate or graduate degrees in music," says Camille Rogers, Tapestry's WIML Program Manager. "Then we try to tailor the program to each."

In Year 1, the fellowships went to Juliane Gallant and Jennifer Tung; in the year two, the successful candidates were Naomi Woo and Maria Fuller. All have already started to build substantial resumes. Fuller, for example, raised in a musical family in Saskatchewan, originally aspired to be a concert pianist, and holds a bachelor's degree in piano from McGill University, as well as a master's in piano, a diploma in opera coaching and a master's in orchestra conducting from the Cincinnati Conservatory of Music. She already has professional experience as conductor, pianist, vocal coach, composer and arranger (and plays trumpet, to boot), but sees it all leading to one goal. "I'm very determined to conduct," she says. "The greatest manifestation of my skills seems to be on the podium."
Fuller describes working in WIML as "being an assistant on steroids." Podium time and access to experienced conductors are both the most important and the scarcest resources for any aspiring conductor. A principal objectives of WIML is to meet that obstacle by arranging a minimum of eight placements a year for its conducting fellows with performing organizations across Canada. While Tapestry is the prime mover and administrator of WIML (and itself provides placements), the program operates as a network in which companies take the fellows on to their music staffs for particular projects that may last for days or weeks. Pacific Opera Victoria (POV) is the lead partner in the network, alongside the Toronto Symphony Orchestra as the lead orchestral partner, but the full roster includes around two dozen companies covering opera, orchestral and choral music, chamber music, and, through Niagara on the Lake-Ontario's Shaw Festival, music theatre.
New-Brunswick-born Gallant, who besides degrees from Université de Moncton, University of Ottawa and the Conservatoire de musique et d'art dramatique de Montréal is also a graduate of the Guildhall School of Music and Drama and the National Opera Studio in London, England, has a special interest in opera and has had experience working with smaller companies in Europe. WIML has helped her develop her expertise further on productions at POV, Tapestry, Vancouver and Manitoba Operas, though she's also grateful for the networking and opportunities to widen her musical horizons.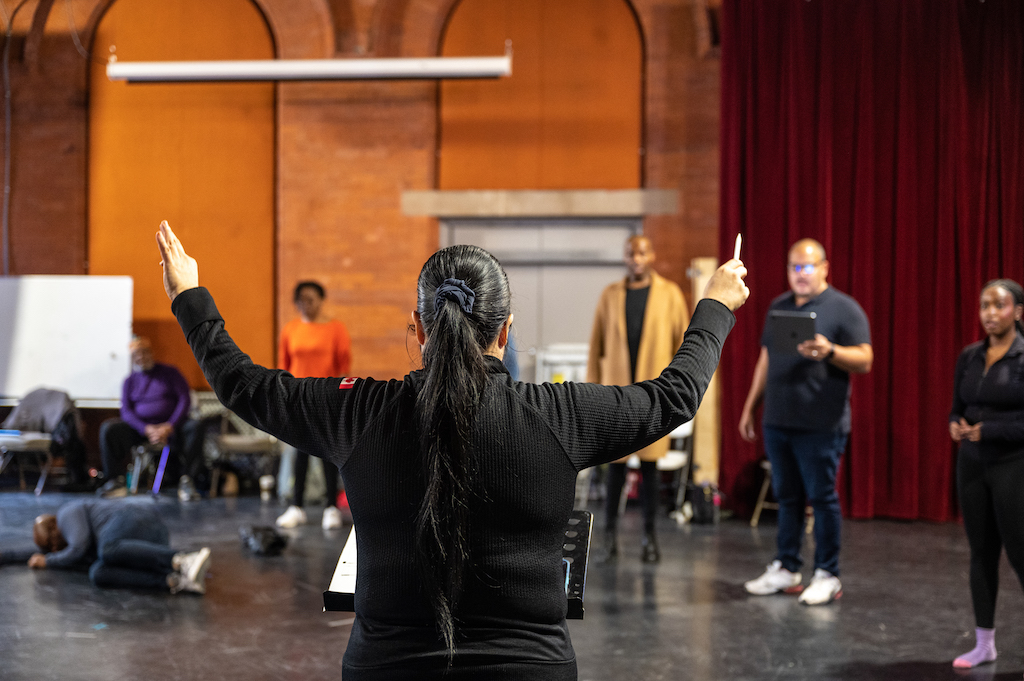 Maestro Jennifer Tung (center) conducts a rehearsal of Cusson/Ambrose's production of Under the Sea — a world premiere presented by Tapestry Opera and the Obsidian Theatre Company Ⓒ Tapestry Opera
With financial contributions from participating companies as well as some public funding, Tapestry picks up accommodation and travel expenses for WIML fellows and also offers an annual stipend. Each conductor receives $35,000 in Year 1, rising to $40,000 in Year 2 and $45,000 in Year 4. The financial support gives them the freedom to make the most of the program's extra-financial values. While the placements provide the key practical experience and opportunities to work with and observe experienced professionals— and build their own relationships and networks in the process—WIML also has a panel of conductor-mentors on call to provide advice and guidance as the participants progress through the program.
One of these, Rosemary Thomson, Music Director of the Okanagan Symphony Orchestra and Artistic Director of Opera Kelowna, has no doubts about the value of the program. When she was coming up, all her teachers and mentors were male — including Bramwell Tovey in Winnipeg, Richard Bradshaw in Toronto and Hans Graf in Calgary — but regretfully missing was a perspective she and her fellow female mentors bring to WIML.
"I see when I'm working with the young women now, even 30 years later when there's much more acceptance of women on the podium, there's still a difference in how they build their confidence. People still talk about a 'female conductor.' Even by naming that, there's this suggestion that it's different from a male conductor. When you don't see yourself represented, it's much harder to see yourself in that role."