Jenna Simeonov shines the spotlight on Livingston's melody-driven, genre-mixing musical world and her creative process.
In my most recent conversation with Cecilia Livingston, the Canadian composer was recovering from her day spent "being walloped" by Richard Strauss's searing, soaring score for Salome. "It's just a relentlessness that I both admire and respect," says Livingston of Strauss's music, adding with a wry smile, "and also I'm not sure I'm going to emulate."
Livingston is deep into her first season as composer-in-residence at the Canadian Opera Company, a post that clinches the Toronto native's place among Canadian composers with a knack for voices — and drama. The residency is designed to be tailor-made for each composer who holds it, and Livingston's output during this time will likely feel quite different than that of her predecessor at the COC, Ian Cusson. At the moment, Livingston is taking a moment to be very fly-on-the-wall, shadowing the likes of Music Director Johannes Debus and observing as they bring big scores from the page to the stage.
"That's what I find most interesting," Livingston says, "just seeing the level of musical detail work that's possible when you're working with excellent singers and an excellent conductor." And while Livingston was being walloped by Strauss, her own music was traveling to stages across the globe. Star Canadian mezzo soprano Emily D'Angelo just sang recitals at Toronto's Koerner Hall and Barcelona's L'auditori, headlining Livingston's Penelope—the 2014 Odyssey-inspired work for voice and piano that Livingston originally wrote for soprano Alexandra Smither. And over at Carnegie Hall, soprano Hera Hyesang Park just gave the premiere of Breath Alone, Livingston's song cycle on text by Anne Michaels.
The Canadian composer is already an established favourite among today's singers, judging by the far-flung performances of her work. Her operas are already award-winning: her 2019 Anne Frank-inspired commission for Loose Tea Music Theatre, Singing Only Softly, earned two Dora Award nominations and won the inaugural Mécénat Musica Prix 3 Femmes; her Pay The Piper, co-composed during her three-year residency for Glyndebourne Opera, won Best Opera in the 2022 RESEO Youth Music Awards; and late last year, her Soundstreams commission, Garden of Vanished Pleasures, was a finalist for Opera America's Awards for Excellence in Digital Opera.
Still, an A-house residency is no minor moment in a composer's career. The cornerstone of Livingston's residency will surely be the yet unnamed new COC commission scheduled for production in 2025. The details are still to come, but Livingston says the work will tell a story that has global urgency, and that's also "very personal and close to home." The opera will be "my most ambitious project to date," she says. 
They may have the brand recognition, but in bringing on Cecilia Livingston, the COC wins, too; they've brought under their wing a composer with deep love for voices and stories. "This is the only thing I've met in my life that continues to fascinate me," says Livingston of her craft. "It's the most interesting thing I've ever encountered."
 Livingston's composing career has its roots at the University of Toronto. She started in arts and sciences, and by the time she left, Livingston had earned three degrees, including a DMA in composition. Now, she is an associate composer of the Canadian Music Centre, and Vice-President of the Canadian League of Composers. She writes for instruments of all sorts—solo piano, chamber orchestra, even vibraphone quartet— yes she's made a clear place for herself as a composer for the voice. In 2013, she joined Tapestry Opera's formative Composer-Librettist Laboratory, and wrote her first chamber opera in 2013—her Edgar Allen Poe-inspired Masque, with a libretto by Duncan McFarlane—for Toronto-based indie opera company Opera 5. She wrote her next opera in 2016, Freud / Jung with McFarlane's libretto, during her two-year fellowship with American Opera Projects in New York. Then came a three-year residency at Glyndebourne, and now comes the COC.
Livingston certainly comes honestly by her skills in dramatic composition, no doubt; yet it's her teamplayer abilities that have earned her success in the opera world — and her unwavering curiosity about storytelling. It's a good thing, since the days of the composer-as-supreme-leader are long gone, replaced by the (near) democracy of the opera workshop. 
When she's in the workshop stage, Livingston takes the opportunity to assert her vision for the piece, get people invested in its development, and show it has potential. When possible, she opts to workshop a large excerpt, even if it's not entirely orchestrated or the details aren't fleshed out. "I would prefer to have a piece workshopped when it is a complete, living, breathing animal," she says, "rather than, like, 'Here's its arm.'"
Livingston's priority in a workshop setting is pacing, and how the opera's structure holds an audience. That's difficult to find when the focus is on a tiny snippet, which is why she sometimes ignores the workshop guidelines for the sake of great work. "I've certainly had the experience of having written the whole piece, and [only] bringing the desired chunks," she admits with very little shame. "Because I need to know what the whole piece is."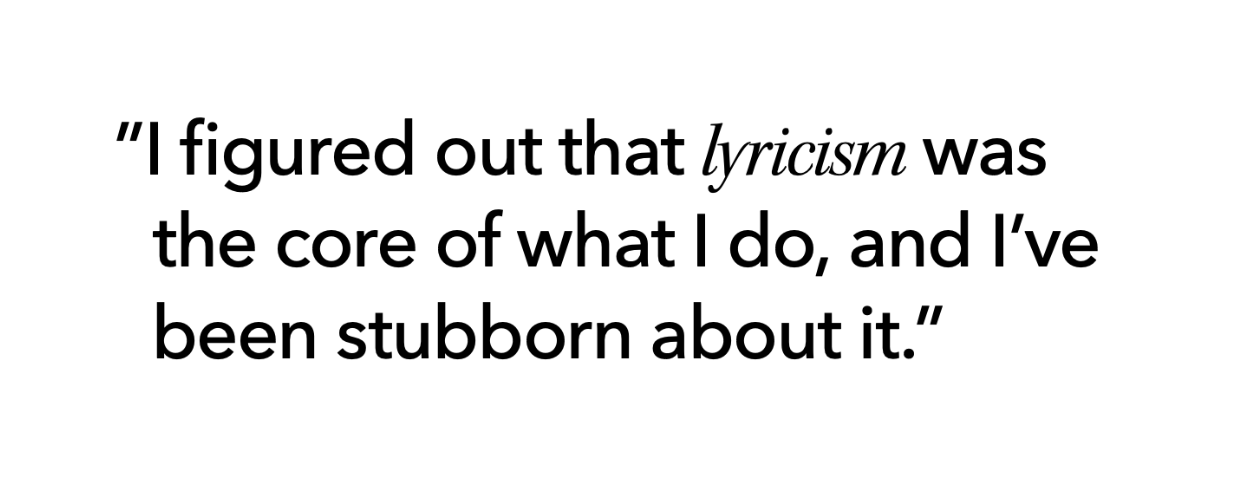 Workshops also mean Livingston hears constructive criticism — willingly or otherwise — and she mustn't take it all too personally. Livingston herself is famously humble, but she knows well what it feels like to have her pride bruised at work. "There is an ego in creating," she adds. "There has to be. You have to have a single-mindedness about that, and the confidence in your own ideas."
Livingston enjoys mentoring young composers— most recently, at the University of Montreal's Composition Circle — and she advises young composers to examine any emotion that they may feel with critique of their work. "It's always okay, I think, to take time with feedback," says Livingston. "Ask yourself where it's coming from, why that person might want to share that comment, and whether or not it is something that you can embrace in a way that retains the integrity of your own vision."
The art of not taking things personally is a great challenge for any professional. And for Livingston, an ego-free creative environment only fosters better relationships with the artists who help bring her work to life — particularly the performers. Singers are historically left to feel as though they're at the bottom of the operatic pyramid — irony be damned — with less to offer a workshop process than a conductor or stage director. "Often singers don't feel that they have permission to offer their own insight into how the piece feels to perform in their bodies."
But for Livingston, singers are the keepers of secrets that every composer needs to know. "Ask questions of creators," she urges today's singers. Composers aren't often proficient singers themselves, and they need to know when a singer doesn't feel harmonically supported, or if a line isn't quite falling in the right place. Livingston feels strongly that "it should feel easy to say things like, 'Could this be a semitone higher?'"
"I think for me, the danger is that a lot of the projects I undertake carry a lot of emotional weight," says Livingston, nodding to projects like her Holocaust-inspired opera, Singing Only Softly. "It's not that I was thinking about Anne Frank constantly, but that I was in the spaces that I was trying to create, emotionally. And I did find myself at the end of writing that piece quite, sort of, wrung out."
Paradoxically, living in the world of the story she's creating is one of her favourite things about the composing process; when a deadline isn't looming and there's room to revel, Livingston indulges in her "desire to stay in the world of the story."
It's the day-after-day that makes a real composer — not just in bearing the emotional toll of her story subjects, but the daily grind of composing and meeting deadlines. She went through one period where Sunday mornings were all about arias ("I had three hours, and by the end of the three hours there needed to be an aria."), and she sometimes borrows a brutal calendar system from a fellow composer, which calculates how many bars of music she'd need to compose each day in order to create ten minutes worth of music by her deadline. "I just found that calendar deeply encouraging," she says, weirdly loving the ruthlessness of the countdown.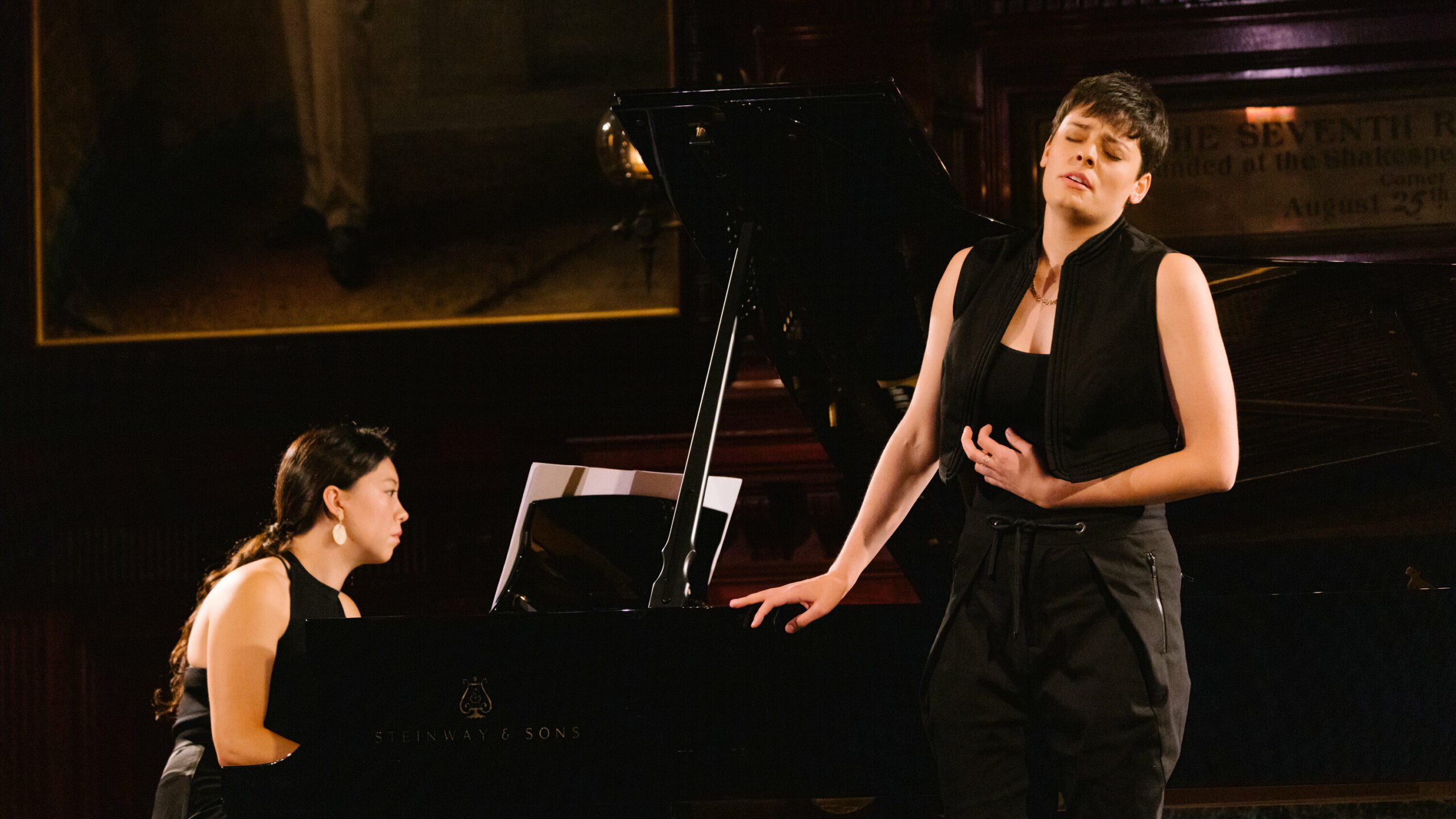 Emily D'Angelo at NYC's Park Avenue Armory performing Livingston's monologue Penelope dubbed "superb" in
The New York Times Ⓒ Da Ping Luo/Park Avenue Armory
Sometimes inspiration comes from looking outward, too. Livingston has a keen ear for great music in pop culture, and she hears an exciting renaissance in film and television scores. She recommends listening to the original music for the Princess Diana biopic Spencer (2021), scored by Radiohead's Jonny Greenwood. And thanks to COVID-19, Livingston had plenty of time to discover David Buckley's score to the TV series, The Good Wife, and its spinoff, The Good Fight. "There's so much play with Baroque pastiche," she says, fully nerding out. "It's incredibly wittily done. I can't remember the last time that TV scoring perked my composer ears up through the sort of cleverness and wit of play with historical forms."
The next few years will be big for Cecilia Livingston. Her COC residency will take her at least through 2025, and she'll be multi-tasking the whole time. Though famously humble, Livingston isn't oblivious to the interest in her music. She takes pride in her bent toward lyricism, and in how she reaches outside of classical music, into the sounds of the American Songbook, Radiohead harmonic progressions, even jazz "and other terrible crimes."
"I figured out that lyricism was the core of what I do, and I've been stubborn about it," she says. Stubborn about her style, maybe, but open to evolution—that's a solid balance, and one that bodes well for Canada's operatic future. In the closest thing to a brag she can muster, Livingston smiles: "Watch this space."