Our Artist of the Week is American bass-baritone Kyle Albertson who stars as Prometheus in Pacific Opera Victoria's production of Braunfels's The Birds. His 2022 season was a busy one—he performed the title role in Der fliegende Holländer and Wotan in Opera Graz's Der Ring an einem Abend, and sang Angelotti in the Metropolitan Opera's production of Tosca. Coming up next Albertson heads to New York to cover the role of Leporello in The Met's production of  Don Giovanni from May 5 – June 2, and to Pittsburgh to sing the title role in Pittsburgh Opera's production of Wagner's Der fliegende Holländer from November 11 to 19.
Pacific Opera Victoria's The Birds closes tonight, tickets are available here.
When was your first singing lesson and with whom?
I was 17 and in high school. My choir director, Steve Carstenson, was giving me lessons, but suggested I take privately with a college professor. The professor told me I didn't have enough natural talent… BUT I found another one who did, and here I am, still singing, and I am pretty sure that first professor isn't even teaching anymore.
Who inspired you to sing?
My grandpa was a farmer, but he sang in church every Sunday.  He was the only person in a very small church singing the bass line to the hymns.  Many times, the bass line ended up being louder than the melody. I loved that.
Drink of choice?
Whiskey
If you weren't a singer you'd be a… 
Political advocate
What's your favourite non-classical band?
Dave Matthews Band
Top 3 favourite composers?
Mozart, Wagner, Puccini
Top 3 favourite operas?
Tosca, Candide, Das Rheingold
Which opera role do you want to be singing in 10 years?
I'll be content just to be singing in 10 years!
What's the funniest thing that has happened to you on stage?
I was singing the father in Lakme. The director wanted me barefoot on stage, but backstage I had to have slippers for safety reasons.  At the end of the First Act, I was to come on stage, look menacingly at the tenor, come down stage and stab him and then run off.  I was a little late for call to stage on opening night, and was a little flustered when stage management sent me on stage, but that's no excuse for me forgetting to take my slippers off. My pink, fluffy bunny slippers. I slipped out of them as I moved down stage to stab him, but the final picture of the act was the soprano cradling the dying tenor, with my pink fluffy bunny slippers right behind them…
What's your favourite movie?
"Tombstone" starring Kurt Russell and Val Kilmer.
Which role do you wish you could sing, but is not in your voice type?
Carmen
What are you afraid of?
Snakes and Gremlins
Coffee or tea?
Coffee!!!!
What was the first opera you ever saw?
Nabucco at the Metropolitan Opera.  I was blown away by the voices and spectacle of it all.
Where did you go to school?
University of Northern Iowa and DePaul University
What's the downside of being an opera singer?
It can be very lonely.
Are you a cat person or dog person?
I. Love. Dogs.
What was your childhood dream job?
To be a rockstar.
What is your spirit animal?
I am a bear. I am very protective of me and mine, can be provoked to grumpiness, and like to sleep a lot.
Which album did you listen to last?
Bob Dylan, Highway 61 Revisited.
Which TV show did you binge-watch last?
DC's "Doom Patrol".
What is the best advice you have ever been given?
'Don't ever give up' and 'Be a better person than you are a performer.'
If you could be stuck in an elevator with one person, who would it be?
Hopefully someone who could fix the elevator!
What is one thing that you cannot live without?
Oxygen.
What is the first thing you would do if you won the lottery?
Give my parents whatever they wanted.
What is one very popular thing that you have no interest in?
Fashion
Do you approach singing and upcoming projects differently today than you did at the beginning of your career?
God I hope so. I would hope I have learned something in these past years.
Who has been inspiring you lately?
My mom.
The music industry is tough, and filled with rejection. How do you cope?
It is never easy to hear you are not wanted, but I feel it does get easier.  It is just someones opinion, nothing more.
Which of your roles has had the greatest impact on your perspective?
Lt. Horstmayer in Kevin Puts's Silent Night.
What is happiness for you?
Good friends, laughter, and a comfy chair.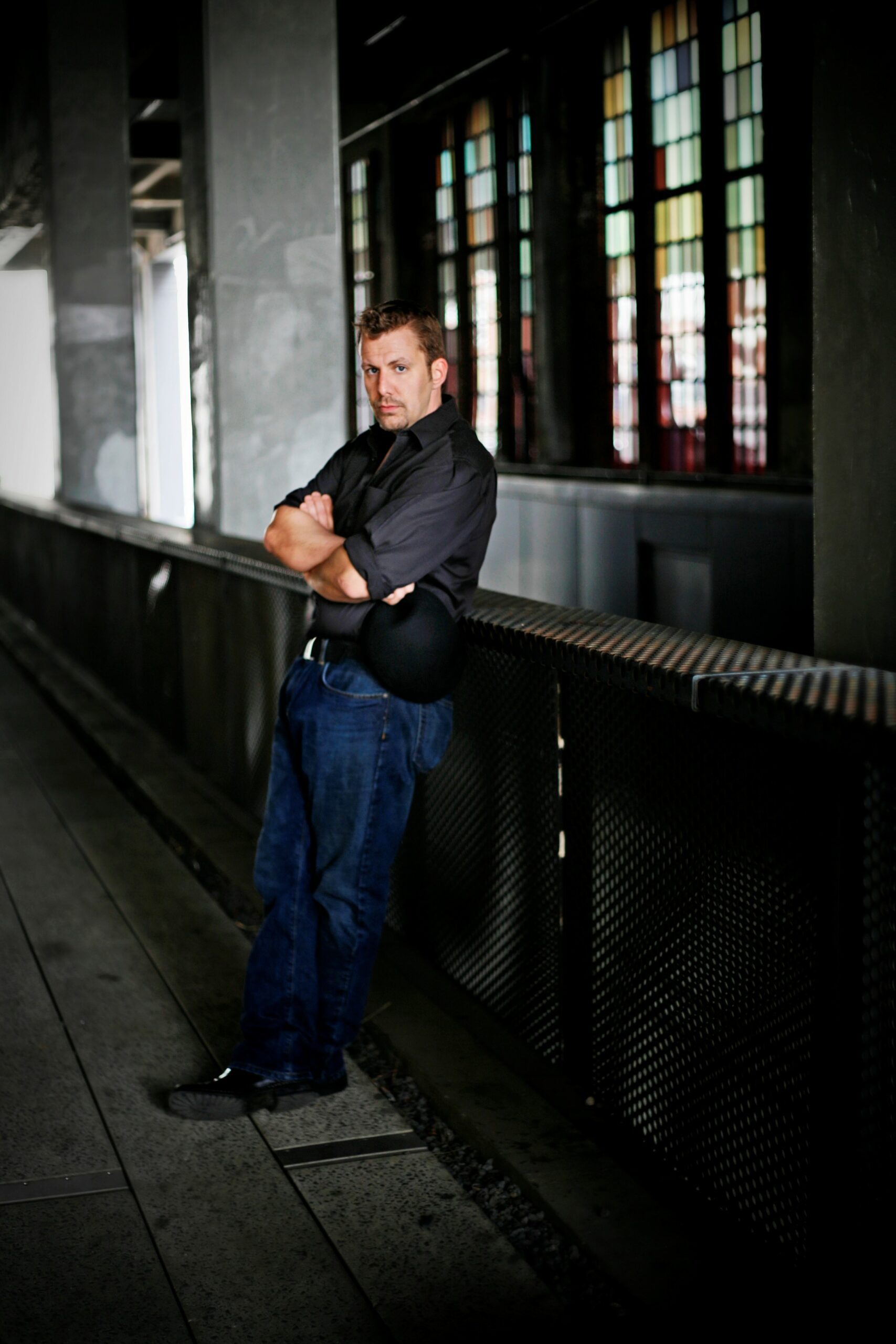 Kyle Albertson © Rebecca Fay
Braunfels's The Birds
Pacific Opera Victoria
Feb 22 – Feb 28, 2023
CLAIRE DE SÉVIGNÉ / ADRIAN KRAMER / PETER BARRETT / KYLE ALBERTSON / JUSTIN WELSH / JACQUELINE WOODLEY / REBECCA CUDDY / NATHAN KEOUGHAN
When two disillusioned humans journey into the realm of Thrushes, Wrens, and Ravens, their ill-advised counsel leads to a thunderous reckoning with the gods. Good Hope and Loyal Friend don't set out to destroy the utopian world of the birds – they simply want to rule it. In this tale of suspicion and persuasion, danger, and desire, when warnings of wise Eagles and fearsome titans are ignored, the wrath of Zeus himself rains down on the Citadel of the birds.
With sumptuous melodies that dance through the air evoking the scent of flowers, and radiant arias fitting a Nightingale, this lavish comedic opera begs you to ask yourself – what do you long for?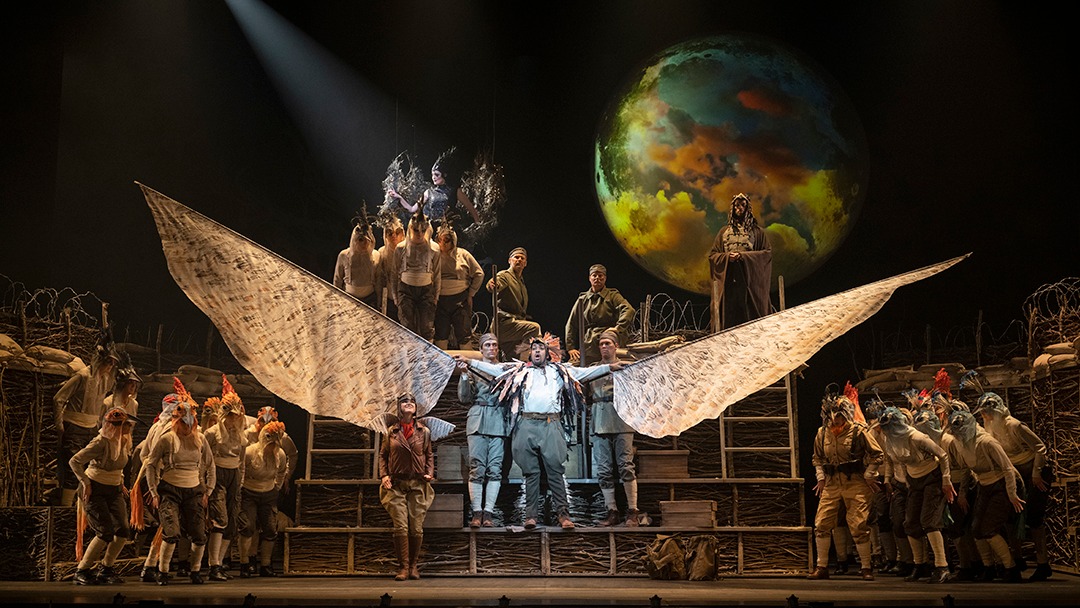 The ensemble cast of Pacific Opera Victoria's The Birds © Pacific Opera Victoria
---
Opera Canada depends on the generous contributions of its supporters to bring readers outstanding, in-depth coverage of opera in Canada and beyond.
Please consider subscribing or donating today.