Canadian soprano Jacqueline Woodley is in Vancouver preparing to sing one of Handel's most ambitious cantatas, Apollo e Dafne with Early Music Vancouver. She performs alongside Canadian tenor Tyler Duncan and the Pacific Baroque Orchestra. Also on the program will be Vivaldi's Bassoon Concerto in B-flat major ("La Notte") featuring bassonist Nathan Helgeson and Händel's Overture to Agrippina. Performances are in Vancouver and Victoria on September 15 and 16 (tickets here).
Up next, Woodley is Montreal-bound to sing Händel's Messiah with Orchestra Classique de Montréal conducted by Jacques Lacombe on Dec 13 and 14 (tickets here); the other soloist are all Canadian (soprano Sydney Baedke, mezzo-soprano Lauren Segal, tenor Antoine Bélanger, and bass-baritone Gregory Dahl). Woodley is an alumnae of McGill University and the Canadian Opera Company's studio ensemble. 
We sat down with Woodley to chat all things opera—from early career inspirations to what it means to be brave in music, and how she defines success. In her words: To be brave in music is "to create something that can only exist in that moment, that will be slightly different each time because it is living…"
When was your first singing lesson, and with whom?
My first singing lesson was in my hometown of Port Elgin, ON with Jackie Hawley. I remember coming home from the lesson so excited, setting up the music stand in my living room, and singing to my parents the few lines that I'd learned. I'm pretty sure the piece was called "The Ferryman".
Jackie was a huge part of my singing life growing up, as she also became the conductor of my childhood choir. Together with Jeanette Steeves, my second voice teacher, they were the pillars for my love for singing and the ones who introduced me to so much wonderful music.
What inspired you to sing?
Even though I sang a lot as a child, it wasn't until I was a teenager that I saw my first professional opera production, at Hamilton Opera. My Nana bought us season's tickets and we would go together. This was my first experience hearing such powerful voices and getting drawn into such gripping stories.
The highlight of these years of operas with my Nana was hearing Sally Dibblee sing Floyd's Susannah. The music, the words, the acting – I will never forget how I felt walking out the doors of Hamilton Place after that opera. I realized in that moment that this is what I wanted to do, make people feel such things via music!
Favourite city that you've worked in?
I really loved San Francisco. But I was also there with a group of women I'd performed a lot with, doing a role close to my heart (Svadba), so that might have been part of the magic.
Favourite place?
The beach at Lake Huron where I grew up.
What's your favourite orchestral instrument?
I think my favourite orchestral instrument is the cello. Its warmth, its strength, its wide array of colours, its wide range, its singing tone, the grounded support it offers…
Which role do you wish you could sing, but is not in your voice type?
Carmen, Rigoletto, Salome, Cavaradossi.
Tent or hotel?
Hotel. Although I wish I was a person that could answer tent.
What book are you reading at the moment?
A kid's novel about the American Civil War with my son. (I have a few chapters read of Vienna Nocturne for my own fun reading, but I am struggling these days to find the time…)
What's your guilty pleasure?
Wine and chocolate. And reading in the bath when no one is home.
Do you sing in the shower?
No, I don't sing in the shower, I make my to-do lists. I think I need to buy a shower marker so I remember more of the things I think of though…
If you could be stuck in an elevator with one person, who would it be?
My husband.
What is one very popular thing that you have no interest in?
Tiktok.
Does singing help keep you young?
There's no magic singing potion for grey hairs and wrinkles (although yay for wigs!), but yes, I absolutely think singing keeps us young! Singing keeps us physically active, and mentally and emotionally growing. We are also constantly making new pathways in our brains, working and reworking, learning and creating, forging new relationships, diving into new languages, new musical styles, taking on new characters, getting into their skin and psyche, the list is endless!
I love that the search is never over: there will never be a moment when the repertoire is exhausted, the knowledge 100% acquired! So I think all of this keeps us rather young.
What does it mean to be brave with music?
I love this question! To me, being brave with music is daring to be in the moment, allowing yourself to be vulnerable yet alive, to create music with others in a way that is true to yourself, without ego. It is responding to the score and your collaborators in the moment to breathe life into the music, to create something that can only exist in that moment, that will be slightly different each time because it is living, the sum of all its parts of that performance.
How long do you spend preparing to get into a character?
Preparing a character happens over a period of time. I think we often are preparing without even realizing it, just simply walking around or doing menial tasks. In a way, it stays with us and evolves from rehearsal to rehearsal, whether we're "working" or not. On the day of a show, I love to arrive early to the theatre to take my time putting together the pieces of the puzzle, preparing the character.
I love spending time at the theatre, standing onstage before anyone is around, warming up slowly, doing physical and vocal exercises, makeup, costume, having quiet time to review bits of staging or music. This all helps me "get into a character". Even when I'm doing concert work, I've realized that I like arriving early to do all these things, in a way creating a character from putting together the same puzzle pieces as when I arrive to do opera.
Are you a perfectionist?
I hate that word as it means so many different things to different people. But am I ever happy with myself? No. ☺
What does success look like to you?
Being able to feed, clothe and house myself and my family, being fed creatively by the projects I do, feeling useful as a contributor to society.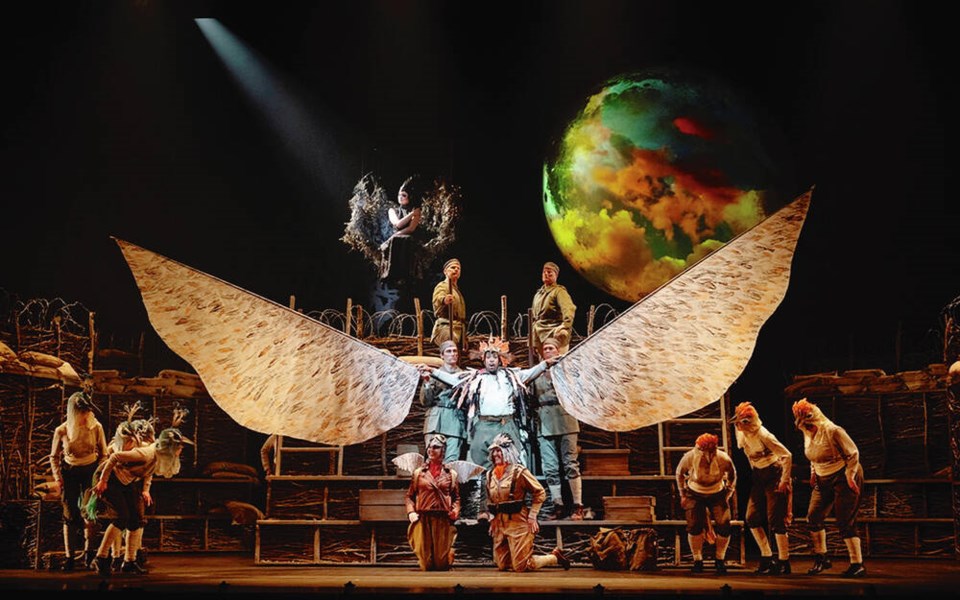 Justin Welsh, Jacqueline Woodley, Rebecca Cuddy and Claire de Sévigné with chorus members in Pacific Opera Victoria's production of The Birds Ⓒ David Cooper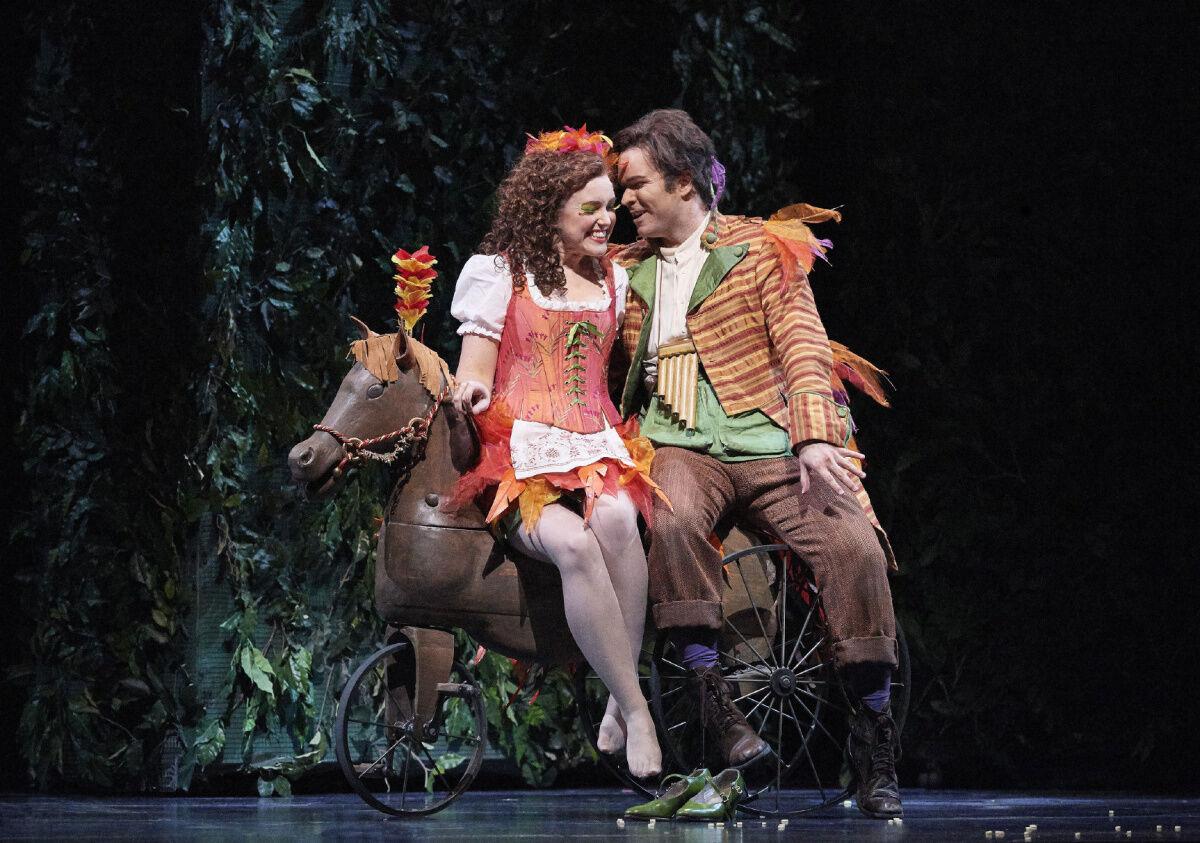 Jacqueline Woodley (Papagena) and Joshua Hopkins (Papageno) in the Canadian Opera Company's production of Mozart's The Magic Flute, 2016 Ⓒ Michael Cooper
Händel's Apollo e Dafne
Early Music Vancouver
Sept 15 and 16, 2023

CONDUCTOR Alexander Weimann
SOPRANO Jacqueline Woodley
BARITONE Tyler Duncan
BASSONIST Nathan Helgeson
Pacific Baroque Orchestra
In Apollo e Dafne, Händel retells the ancient story of a boastful god's frustrated love and a determined nymph's unbending resistance. This dramatic cantata, completed after Handel's return from Italy, exudes the fresh vitality and self-assurance of a newly famous composer at his homecoming and hints at the future glories of his opera career.
The Pacific Baroque Orchestra also presents Vivaldi's Bassoon Concerto in B-flat major ("La Notte") featuring bassonist Nathan Helgeson and Handel's Overture to Agrippina.
---
Opera Canada depends on the generous contributions of its supporters to bring readers outstanding, in-depth coverage of opera in Canada and beyond.
Please consider subscribing or donating today.