Our Artist of the Week is internationally acclaimed Philadelphia-born soprano Karen Slack, who opened Edmonton Opera's Tosca this week singing the title role. A well recognized voice on many of the world's leading stages, Slack's performance has already earned praise from critics and audiences alike. Outside of her work in performance, Slack is a multi-talented powerhouse serving as Co-Chair of the Women's Opera Network with OPERA America, Co-Director for the Opera Program at the Banff Centre for the Performing Arts, and Artistic Advisor for Portland Opera. Don't miss her on stage in Tosca, running now until Oct 28!
What/who inspired you to sing?
I attended the Philadelphia High School for Creative and Performing Arts where I was a vocal major and sang in the choir, My choral teacher David King loved opera and introduced us to the greatest singers in history. I always had a high and powerful voice so I naturally gravitated to the sound the opera. It was when I heard a recording of Jessye Norman sing Isolde and Maria Callas sing Norma that it inspired me to pursue voice lessons.
Drink of choice?
WINE
Favourite place?
I love the beach!
Top 3 favourite composers
R. Strauss, Puccini, Stevie Wonder
Top 3 favourite operas
Tosca, Elektra, Otello
Which opera role do you want to be singing right now?
Tosca for sure but I'd love to sing Ariadne auf Naxos.
Which opera role do you want to be singing in 10 years?
Siegliende in Die Walkure.
Who is a singer you admired from the past?
Anna Tomova-Sintow
What's your favourite orchestral instrument? Why?
Cello. It reminds me of all the qualities I love about a voice. Warm, strong and rich from top to bottom.
What's something most people don't know about opera life?
That no matter how gifted you are or how hard you work most of it is completely out of your control. The only things you can control are how well you sing and how prepared you are on day one. Other than that, your career possibilities are always in the hands of others.
Which role do you wish you could sing, but is not in your voice type? 
Rigoletto.
What are you afraid of?
Losing my love for the art form because the constant grinding and striving for the successful career is difficult.
What's your favourite non-classical band?
Earth, Wind and Fire
Where did you go to school?
The Curtis Institute of Music
What's the downside of being an opera artist?
You spend a lot of time alone either studying for the next project and living on the road.
What's the best thing about being an opera artist?
Traveling the world of course but sharing my gift with people with whom I would never have had the opportunity to meet if not for this art form is always one of the best things about this career.
Are you a cat person or dog person?
CATS
What was your childhood dream job?
To be a veterinarian.
What's your guilty pleasure?
I absolutely love going wine tasting.
2022 Rubies Awards Gala
Monday, November 7, 2022 6PM
An Evening Celebrating Canadian Opera Artists
FOUR SEASONS CENTRE FOR THE PERFORMING ARTS
TICKETS & INFORMATION
Which colour best symbolises your personality?
Yellow- Happiness, gentleness, humor and warmth.
What nickname do your friends call you and why?
In the opera world everyone knows me as Kiki. My friend tenor Simon O'Neill gave me that name when we were in the Merola Opera Program in San Francisco. I don't remember why but I think he gives everyone a nickname.
When did you know you wanted to be an opera singer?
At the age of 16 years old I attended a final dress rehearsal of Bizet's Carmen with Denyce Graves in the title role at the Opera Company of Philadelphia. I knew after watching this performance I wanted to pursue opera.
What is one very popular thing that you have no interest in?
TikTok
Were there any directors in the past that have really inspired you?
Yes! John Copley at Santa Fe Opera. When I was in the YA program he directed Strauss' Elektra and I watched him like a hawk at every rehearsal interpret each character and direct each artists with clarity, passion and understanding of what it means to breathe life on the stage.
How long do you spend preparing to get into a character?
It normally takes me about 6- 8 months to fully prepare a role. I use the rehearsal room to truly discover who my character is and what she wants. Nowadays, I believe most artists have much less time to prepare a singular role because of all the responsibilities and artistic/passion projects we are involved in.
Do your on stage experiences also feed into your personal life?
Absolutely! I try hard to not let the things that happen to me in my career affect my personal life. Leave it at the stage door, the rehearsal room, or in an email is something that I constantly have to remind myself.
What's the most important lesson you learned from childhood?
To treat everyone like you want to be treated until they show you something different.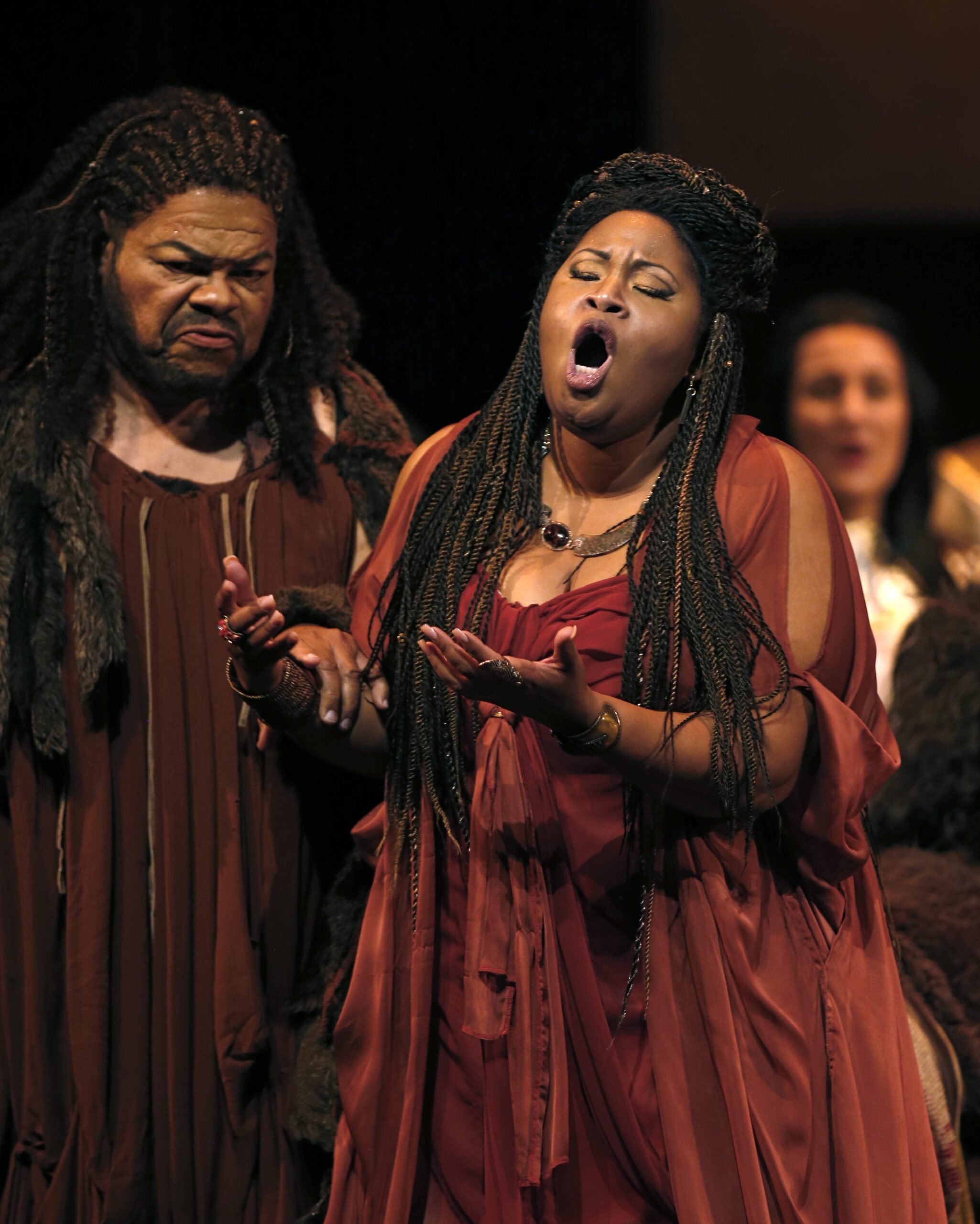 Tosca
Edmonton Opera
Composed by Giacomo Puccini
Oct 22-28, 2022
KAREN SLACK / DAVID POMEROY / PETER BARRETT / PETER MONAGHAN / JIN YU
A divided Italy, threatening authority, a talented painter, and a singer whose voice transcends weave throughout this piece of love and deception and cruelty in 19th century Rome. Giacomo Puccini's masterwork, based on the play by Victorien Sardou, has dazzled audiences with its music and setting since premiering over 100 years ago. Enjoy this return to grand opera with familiar faces on stage such as Canadian David Pomeroy, and new faces such as renowned American soprano Karen Slack, making her company debut as Tosca! Featuring the Edmonton Symphony Orchestra & The Edmonton Opera Chorus.
---
Opera Canada depends on the generous contributions of its supporters to bring readers outstanding, in-depth coverage of opera in Canada and beyond.
Please consider subscribing or donating today.