Manitoba Underground Opera closed its 2023 Odyssey festival with notably the Manitoba premiere of Verdi's The Corsair (Il Corsaro), performed on the deck of the historic 17th century Nonsuch (replica) ship now permanently "docked" at the Manitoba Museum. The 15-year old company has honed its reputation staging site-specific productions at a variety of innovative, often surprising locales, including the Canadian Museum for Human Rights, St. Boniface Cathedral, Winnipeg Art Gallery, and even deep within the Tyndall stone walls of the Manitoba Legislative Building, among others.
Its latest show stage directed by Edmonton-born Sawyer Craig, who also helmed MUO's mixed repertoire show Lost Voices in 2019, as well as last summer's children's tour of John Davies' Goldie B. Locks and the Three Singing Bears, might well be its most inspired yet, in which the whole became much, much bigger than the proverbial sum of parts.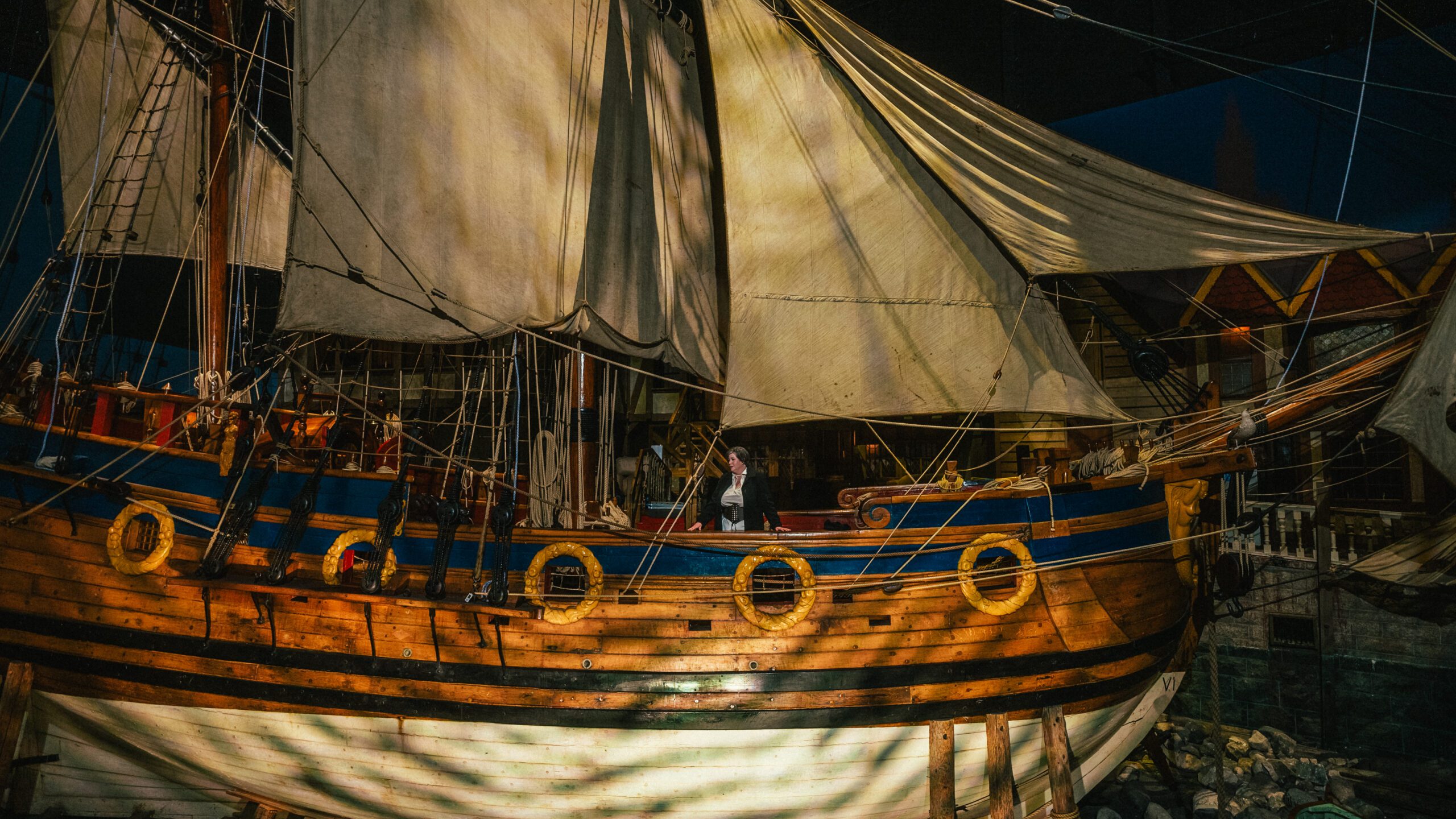 A scene from Manitoba Underground's production of The Corsair , 2023 Ⓒ Paul McKeen
The original merchant ship, the Nonsuch, sailed into Hudson Bay in 1668-69 as the first trading voyage for the later named Hudson's Bay Company. Its full-sized replica commissioned by the HBC to mark its tercentenary in 1970 arrived with great fanfare after being built in England. After sailing down both Pacific and Atlantic coasts of Canada and the US, she was presented to the citizens of Manitoba, and placed on permanent display in its own cavernous Nonsuch Gallery in 1973 that lures crowds of tourists each year.
Verdi's rarely performed tragic melodrama based on Lord Byron's 1814 long poem The Corsair, and featuring Francesco Maria Piave's Italian libretto has long been relegated to the towering shadows of its more popular cousins: Rigoletto, Il Travatore, and La Traviata, to name just a few.
With the production billed as a "queer opera," Craig's bold vision inspired by real-life same-sex pirate lovers Ann Bonny and Mary Read, who lived in the Caribbean during the mid-1800s, adds fascinating subtext by having its male protagonist, Corrado, traditionally sung by a tenor, now portrayed by a woman.  The MUO show also neatly sidesteps the (ostensibly) rescue opera's troubling Eurocentricism with its own ocean of colonial beliefs, as well as deeply entrenched Islamophobic views by "re-branding" its antagonist, originally named Pasha Seid, replete with his own harem, as sadistic British Privateer, Skeleton (bass-baritone Stephen Haiko-Pena).
The highly anticipated Manitoba debut of acclaimed Punjabi-Canadian mezzo-soprano Simran Claire as the chief buccaneer proved well worth the wait, as she crafted a full-blooded pirate who swaggers and brandishes a sword just as easily as she belted out Act I's troop-rallying "Sì, di Corsari il fulmine." She also delivered a heart-stopping "Eccomi prigionero!" – with English surtitles cleverly projected on the ship's sails throughout the performance – after being imprisoned by Skeleton in Act 3. Performed a cappella, every lyrical phrase dripped with emotion as Claire's character tells Skeleton's prisoner Gulnara (soprano Janice Marple), now in love with Corrado, that she is incapable of murdering the despot in revenge.
Another highlight comes during the final trio, as Corrado, Medora and Gulnara express their feelings of freedom during "Per me infelice vedi costei," the ensemble's well-matched voices entwined into a cohesive fabric of sound, until the deadly conclusion in which both Medora and Corrado perish.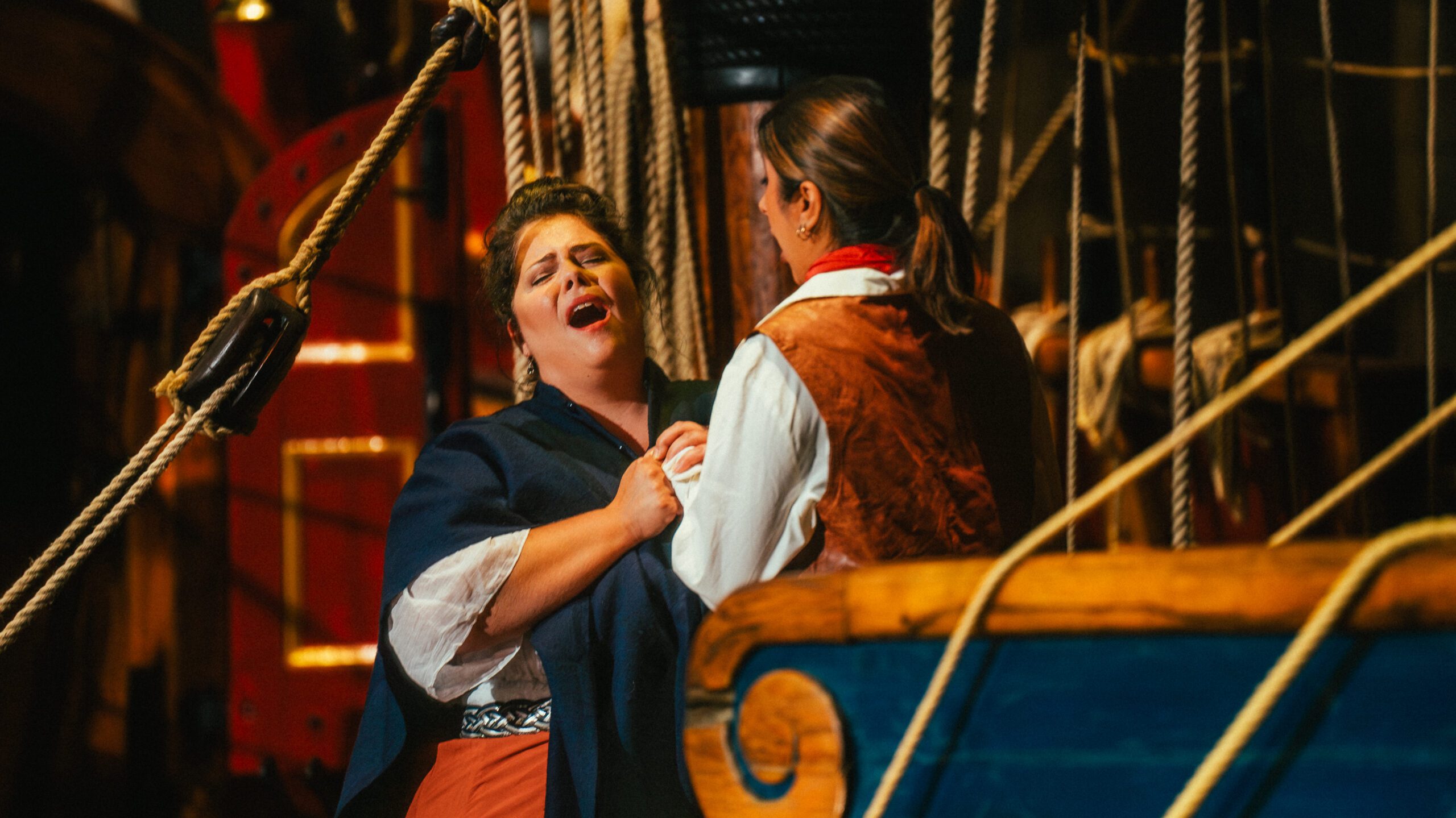 Ashley Boychuk (Medora) & Simran Claire (Corrado) in Manitoba Underground Opera's The Corsair, 2023 ©️ PJ Jordan
Marple similarly performed her Act 2 aria "Ah conforto è sol la speme" to stirring effect, while Boychuk showed off her ringing high notes and effortless colouratura runs during her opening aria "Non so le tetre immagini," sung "onshore" at the gallery's side that further heightened the show's dramatic intensity, as well as adding satisfying spatial layering.
Haiko-Pena as the opera's lone male easily held his own among the sea of women with his booming vocals displayed throughout, including his compelling Act II aria "Audace cotanto, mostrarti pur sai?" in which he condemns Corrado, who has stormed Skeleton's ship, to a grisly death.
A compact chamber ensemble comprised of: Miona Milovanovic, violinist; Patricia Vanuci, cello; and Lee Houghton Stewart, piano were skillfully led by conductor Maria Fuller, also tucked away offside with the sold out run's audience "landlubbers" watching from the gallery's promenade. The acoustics were particularly rich in the soaring hall during the opening night performance, and the balance between orchestra and singers clear and clean. A small quibble is Act 2's fiery scene in which flames from Skeleton's ship lick the sails, with mere flickerings of light in the otherwise dramatic setting feeling watered down.
The production's overall tenet of female empowerment, autonomy and self-determination extended to an all-women, eight member pirate crew that swigs ale and deliver rousing chorus numbers from the (now) re-christened ship "Luna." It also speaks to today's more inclusive, gender fluid 21st century society of equal rights for all – including women who might choose to become pirates.
Some of these re-imagined versions truthfully fall flat, and the prickly, enduring question of revisionism persists, whether that pertains to historical facts, politics, commemorative statues, theatre or opera. However, thanks to Craig's keenly smart, insightful and sensitive direction, all these concerns became simply washed away, thanks to her crew of strong, committed singers setting sail on a visually stunning, authentic set, making this final port of call on MUO's months-long Odyssey launched last May, sing.
---
Opera Canada depends on the generous contributions of its supporters to bring readers outstanding, in-depth coverage of opera in Canada and beyond. Please consider subscribing or donating today.