Last night at Montreal's Maison symphonique, the second group of six singers who advanced through the first round of the 2018 Concours Musical International de Montréal's (CMIM) Aria competition got their turn. They were accompanied by British conductor Graeme Jenkins and the Orchestre symphonique de Montréal in the second of two semi-finals.
First up was South Korean tenor Konstantin Lee. There is something very old-fashioned about his presentation. In his traditional tuxedo, he took an unvarying stance with chest held high, limiting his gestures to a few stock 'tenor' poses. For those old enough, or for YouTube fans, think vintage Richard Tucker in concert. Lee sings with bright, carrying tone; high notes are very secure and in Puccini's familiar "Che gelida manina" from La bohème, he showed he can vary his vocal colour, beginning the aria with a tender mezza voce (medium volume tone). He sang this, and his Donizetti and Massenet selections well, but it was all very generalized in terms of characterization…almost as if he was trying to project a very clichéd notion of 'operatic tenor' rather than inhabiting each character individually.
Czech Republic tenor Petr Nekoranec has a completely different kind of voice from Lee's. His light, bright, flexible tone is made for the Mozart and bel canto repertoire. He demonstrated this with a beautiful account of "Un aura amorosa" from Mozart's Così fan tutte sung with the sweetest tone imaginable, launching the repeat of its 'A' section with a hushed piano that made everyone sit forward in their seats. In Prince Ramiro's aria from Rossini's La cenerentola, Nekoranec showed off his virtuosity with secure runs and hair-raising acuti (really high notes!). He also displayed a winning stage demeanour, subtly drawing us in to his performance with nuanced care for text.
John Brancy is one of only two singers competing in both the Art Song and Aria sections. He opened with an aria from Mendelssohn's oratorio Elijah, listed in the program by its familiar English title, "It is enough" but sung in German. Since the work was premiered in England, in English, the choice of language was a little off-putting given the North American context. Throughout his program, Brancy performed with his customary beauty of tone, attention to dynamics, careful pointing of text and dramatic responsiveness. His medium weight baritone projected well in the Maison symphonique's live, warm acoustic—one wonders if it would do so well in a less forgiving hall, especially in works like Tchaikovsky's Eugene Onegin (he performed the title character's final aria) with its heavy orchestration. Brancy was very affecting and subtle as Britten's doomed Billy Budd, rarely rising above an intense piano in the character's pre-execution aria.
The sole woman in this evening's round was Canadian/Tunisian mezzo-soprano Rihab Chaieb. In Charlotte's devastating breakdown as she admits she loves Werther, Chaieb gave us the one truly authentic moment of the evening, projecting all the character's pent-up frustration through gorgeous vocals, barely moving physically, but absolutely clear in her dramatic intention. Likewise, she conveyed the Composer's cry that "music is the highest art" with conviction but unfortunately, Strauss's aria from Ariadne auf Naxos got the better of her this evening with its brutally taxing high tessitura. Its top notes emerged raw, and in a different vocal colour from the rest of her rich, luscious range. Don't forget this role was premiered by a soprano, and is still often sung by higher-lying voices.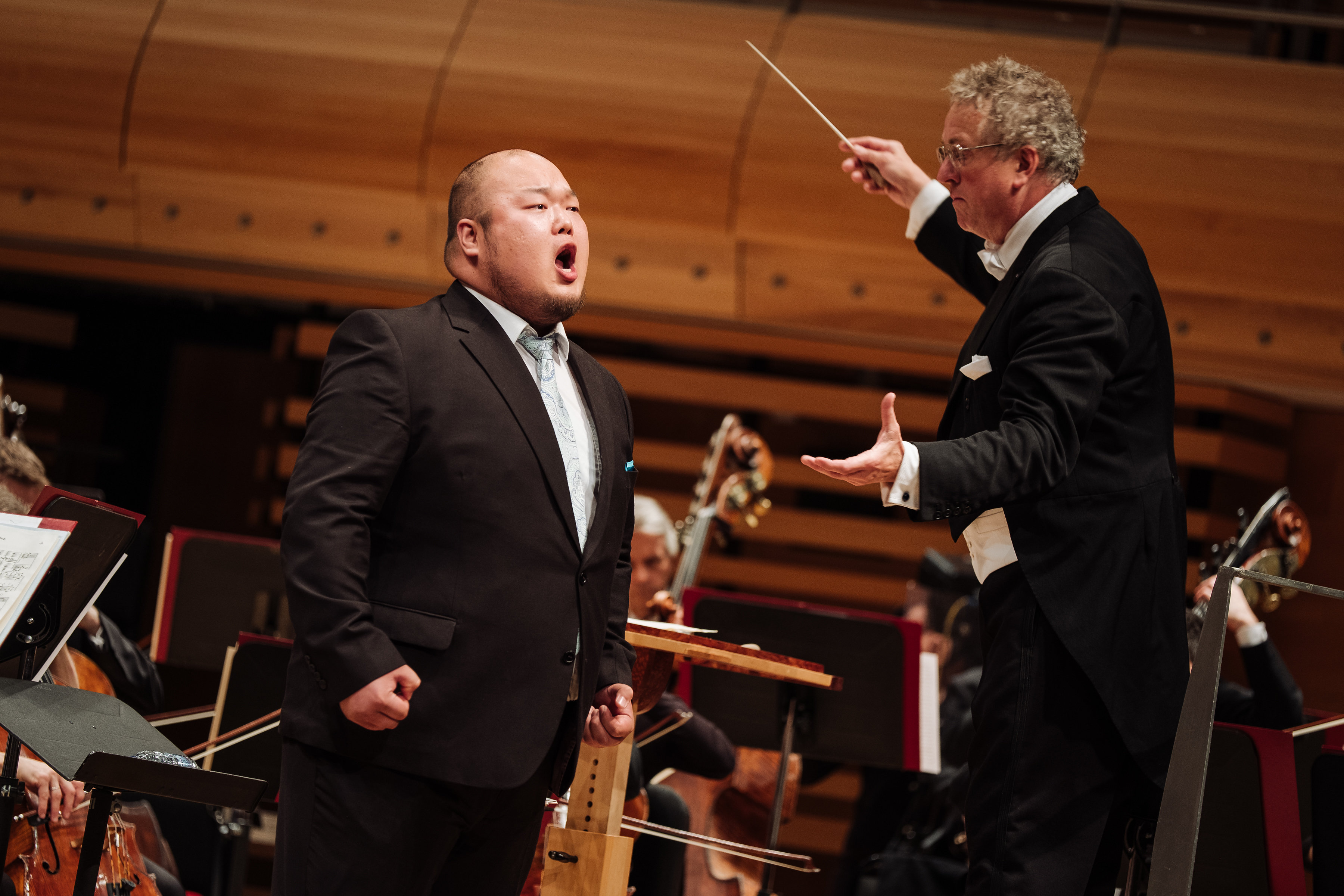 Next, another tenor! Mario Bahg from South Korea possesses a beautiful lyric tone, just the right vocal weight for his aria selections. The audience especially enjoyed his rendition of the Italian chestnut commonly known as "Federico's lament" from Cilea's L'arlesiana—one of those operas rarely heard in its entirety, known today almost entirely for this aria only. Bahg did nothing wrong vocally, but paid almost no attention to creating a dramatic moment in any of his selections. Maybe 'aria fatigue' was setting in, but there was little to compel the listener here other than some beautiful tone.
The evening's final singer was Russian bass Mikhail Golovushkin who began with a classic of his homeland, Prince Gremin's tribute to his young wife, Tatyana, from Tchaikovsky's Eugene Onegin. This, he presented with proper gravitas and rich, dark tone. Next came a Verdi rarity, Silva's aria and cabaletta from Ernani sung with great propulsive energy. Perhaps best was his "Vous qui faites l'endormie", one of Mephistopheles' arias from Gounod's Faust. Here, Golovushkin was able to have some fun, and leave 'serious bass' territory behind, taking great delight in delivering the devil's sarcastic 'ha ha ha's'. His tone is rich, maybe not the darkest and most voluminous, but it suited his repertoire.
Six finalists were announced after a brief pause, chosen from all twelve singers who had competed Monday and Tuesday evenings. They are: Emily D'Angelo (Canada/Italy), Andrew Haji (Canada)—the only two singers chosen from the first round— Konstantin Lee (South Korea), John Brancy (United States), Mario Bahg (South Korea) and Mikhail Golovushkin (Russia).
Opera Canada's take: OK, I wouldn't be human if I didn't say some of these choices were different than my own! The biggest surprise was that Czech tenor Nekoranec didn't make the cut. To my ear, his was one of the most beautiful voices in the competition, used with utmost taste and vocal security. It would have been nice to hear a 'different' type of tenor in the finals, especially since his performance was so polished. The inclusion of Lee and Bahg puzzles. It goes without saying that opera productions today demand that singers not only have their vocal technique in order, but also need to be masterful method actors. Given the choice among other contestants who were so much more attuned to the 'communication' aspect of their art, the advancement of not one, but two 'park and barkers' was a little perplexing!
Special mention also goes to soprano Dilyara Idrisova and bass Jongsoo Yang who could easily have advanced to the final.
One also has to question how few women were in the semi-finals—only three in fact, and now in the final, just one. This number is so not-reflective of the number of young female singers in conservatories, or in the early stages of the career world wide, that their absence here has been duly noted by many audience members and fellow writers.
The finals will be held Thursday, June 7 at 7:30 p.m. You can watch the live stream here.