Giuseppe Verdi's Il trovatore is about a hallucinating witch and two men who do not know they are brothers. They both love the same woman. It is one of the great sing-fests in all of opera, lavishly piling glorious (often famous) numbers atop one another. The blood and thunder plot—ridiculed by the Marx Brothers—becomes a gripping support for Verdi's astonishing virtuosity.
Sir David McVicar's production (restaged here by Roy Rollo in Charles Edwards's settings, Brigitte Reiffenstuel's costumes, and Jennifer Tipton's lighting) continues an imposing life since its 2006 and 2009 openings in Chicago, San Francisco and the Metropolitan Opera. The action, thoughtfully transposed to the wars of Goya's Spain, unfolds under a towering wall that rotates to unveil specific settings with opulent, if muted, local color and richly varied, minutely detailed crowd scenes.  Its vertiginous staircases impose threat and danger. 
As Ferrando, Canadian Robert Pomakov's vivid—his eye-popping–account of the backstory sets up the entire plot. His strong bass-baritone lacks resounding low notes, but his crisply drawn, matter of fact character lent credibility to this opera's strange world both at the start and as he threaded his way through crucial scenes.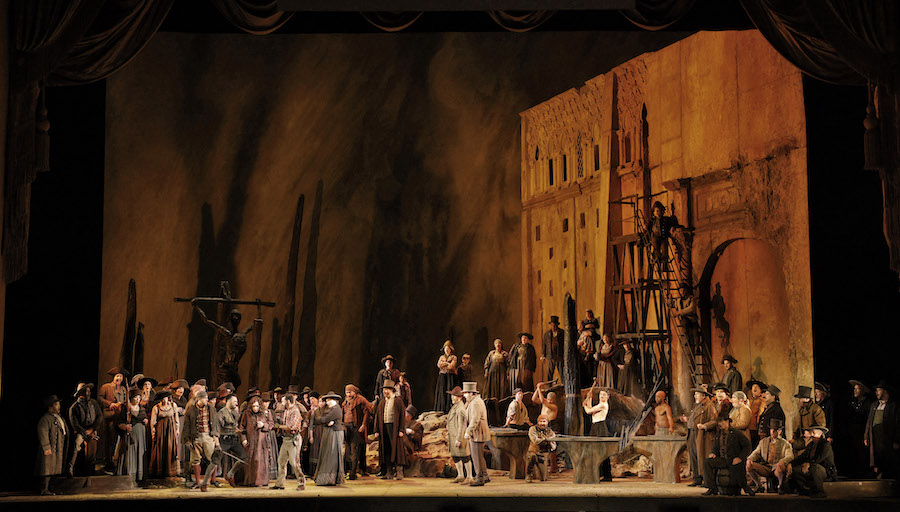 Verdi's Il trovatore with Ekaterina Semenchuk as Azucena and members of the San Francisco Opera Chorus. @ Corey Weaver
The daunting part of Leonora, by turns, demands bel canto lightness and the rich intensity called spinto in Italian. Angel Blue, venturing her role debut in this trovatore, has mastered both. Her lovely, evenly balanced tone and fine technique put the audience in her empathetic hands. In some passages, she seemed just to be singing the notes (not surprising for a first outing), but often her voice shone with intensity.  Her acting honors the minimalist diva tradition, while unbecoming costumes did her no favors. Inez her companion, the Canadian Mikayla Sager, accompanied Blue with fine authority.
Verdi bestowed some of this opera's most thrilling music on his doomed hero Manrico. Arturo Chacón-Cruz's bright tenor flowed gracefully through the bold phrases and soaring high notes that punctuate his impassioned narrations and arias. His "Di quella pira" and the big final duet with his supposed mother Azucena left few floor boards in place. Any tenor singing now lives in the shadows of giants, but Chacón-Cruz deserves a place in the light.
The Count di Luna harasses and ultimately destroys all three of the other protagonists.  He is a bad man with some gorgeous music that requires elegance of tone, yet with an edge of threat. George Petean's baritone is underlain by some strong vocal technique, yet enveloped by a monotone sound that veered more into threat than beauty. 
The Azucena lies at the heart of this work.  In fact, Verdi initially considered The Gypsy as his title.  During composition, he enlarged the role of Leonora, but a potent Azucena can dominate, even carry a performance.  Although her long, difficult, and hyper-intense music demands vocal power, it also requires underlying bel canto skills. Ekaterina Semenchuk stepped in for another singer who left during rehearsals. She enabled this production by offering a dramatically quite creditable portrayal, with some formidable, loud high notes. Even at close range, however, her middle and low notes could be faint and limited in tone.
Eun Sun Kim has brought fresh life to the San Francisco Opera. At once classically trained and also young, energetic, and committed, she seems unafraid of challenges. She has, for instance, announced a years long ambition to conduct at least one opera by Verdi and one by Wagner each season. She enjoyed enormous success with Dvorák's Rusalka here in 2019, and was appointed Music Director soon after. She has risen to scores as diverse as Poulenc's Dialogues of the Carmelites and the world premier of John Adams's Antony and Cleopatra. 
In my view, however, Kim has just partly found her way as a conductor of Verdi. Perhaps she was too deferential to the singers, for many beauties of this music seemed lost to the ear. Certainly, this performance included a very fine orchestra, producing countless lovely moments under Kim. It was far from amiss. Nonetheless, even more than other scores by Verdi, Il trovatore insists essentially upon drive and propulsion. This is not a matter of tempi, for Kim's could be rapid.  Rather, Verdi assumed subtle adjustments in pace, rhythm, and accent that sweep the listener forward. Beyond this, and despite the conventional rum-tum-tum of this period's Italian operas, the Verdi orchestra needs to sing and surge, especially in the strings.  The orchestra can become a kind of vocal instrument. In short, Kim's version was polite and muted–traits never to be found in this opera. 
---
Opera Canada depends on the generous contributions of its supporters to bring readers outstanding, in-depth coverage of opera in Canada and beyond. Please consider subscribing or donating today.